This post was sponsored by Johnson & Johnson as part of an Influencer Activation for Influence Central and all opinions expressed in my post are my own.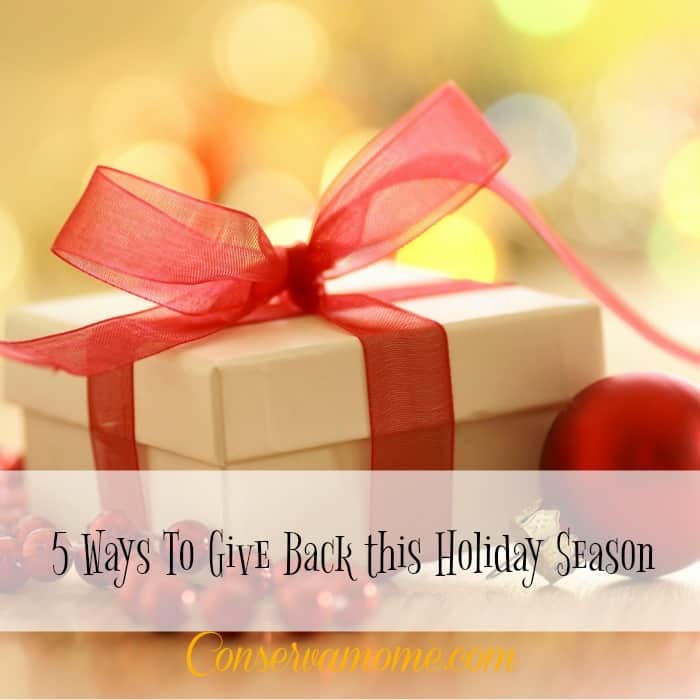 We are blessed. No matter how we look at it. If you're reading this post chances are you have a roof over your head, food in your refrigerator and electricity/oil to run the heater in the cold winter months. Sadly for many even those necessities are hard to get. During the Holidays that weight of this burden might be even larger. Whether it's the fact that many don't have enough food to eat or are just feeling the emotional burden of the holidays, it's important to see how you can give back.
There are so many ways to give back this Holiday Season, here are 5  easy ways to do so:
Help out at a soup kitchen or help donate time to a cause. Donating your time and efforts even if it's for as little as an hour. Maybe it's helping a local organization with a food drive or a local Cub Scout Pack collect cans. There's so many ways you can give a little that will mean a lot.
Help bring a meal to a family in need. Don't know who to help? Ask your local church or School. Many times during the holidays they have tons of request for help and they can't accommodate the need. So whether it be by a gift card or an actual purchase that's an easy way to give.
Toy Drive: There are hundreds of toy drives going on around us you just have to look. We get our kids tons of gifts, why not share the love to others. While picking up your kids gifts,grab a second for another child in need. Local Fire Departments, Schools and even stores have collection boxes available.
Bring some holiday cheer to someone in need.The holidays can be hard for those that are alone or sick, bringing them your company can be huge.  My kids school always goes to a local Senior home to sing them Christmas Carols. The
Don't have time to do any of the above or want to give even more back? Donate a Photo! Yes as easy as that!  You can give back in a big way just by sharing your picture through the free Donate a Photo app, Johnson & Johnson donates* $1 to one of its trusted non-profit partners, chosen by you! There's so many neat causes to choose from that will make you feel good about giving. One great cause you can support is Save the Children, a longstanding global partner. Or, purchase a gift from the Save the Children "Gifts of Joy" holiday catalogue.
We are so blessed each and every day, Giving back just a little during this holiday season will be a wonderful way to spread the joy and give those in need the respect and love that they need as Human Beings.
*Johnson & Johnson has curated a list of trusted causes, and you can donate a photo to one cause, once a day. Each cause will appear in the app until it reaches its goal, or the donation period ends. If the goal isn't reached, the cause will still get a minimum donation.
Save
Save
Save