Mothers don't have to have all the fun when it comes to Breastfeeding. Did you know dad's can actually be a huge help with breastfeeding? Here are 6 Ways Dad Can Help with Breastfeeding and make it successful for all.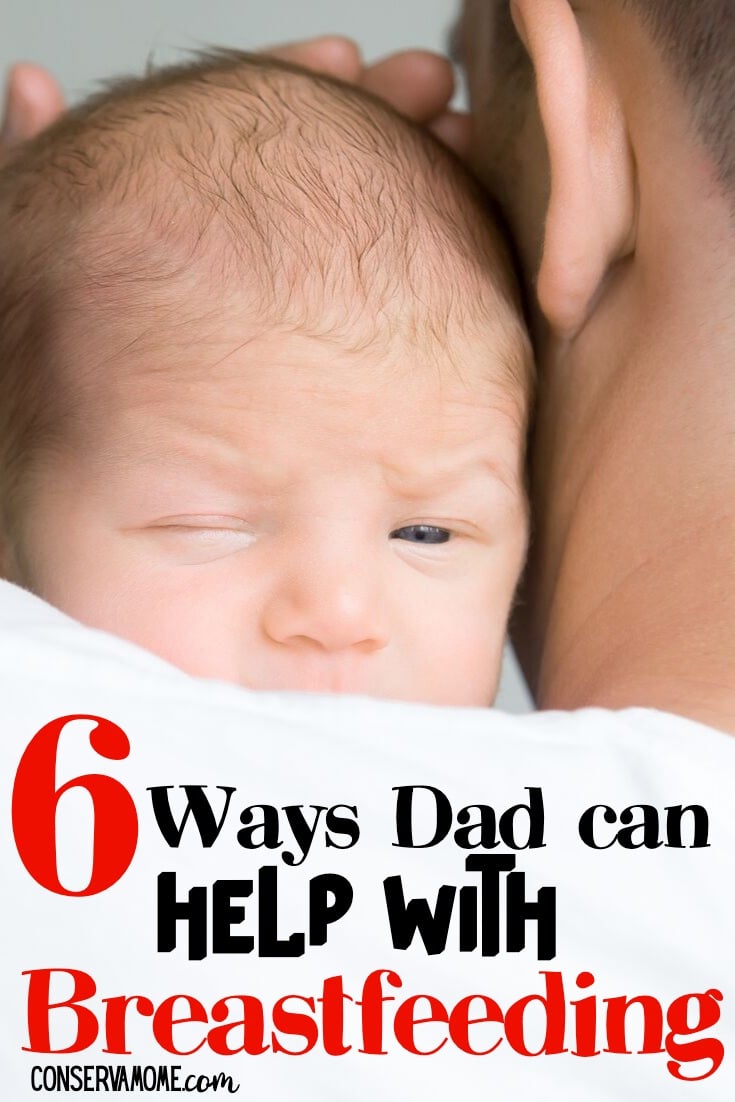 6 Ways Dad Can help with Breastfeeding
Breastfeeding can be extremely stressful. We've all heard about the benefits of breastfeeding . But for many women the pressure of it all can be a lot. It's also something that may make you feel alone, especially when it comes to help from a spouse.
Especially, when breastfeeding isn't going the way you thought it would.
However, it doesn't have to be something that you "do on your own". There are many ways in which your spouse can help make this process easier for you. Most important giving you the ability to have a successful breastfeeding experience.
So check out 6 Ways Dad Can Help with Breastfeeding.
I should preface this post by stating, I'm not going to teach you how to physically help Dad Breastfeed. Nope. These are ways in which he can help support you on this breastfeeding journey, which will be one of the hardest at the beginning of your little one's life.
So Dad's these are ways you can make life easier for your lady.
Be Supportive:
Never question your lady's ability or intent to breastfeed. Breastfeeding is hard! NEVER question the ability, issues or even lack of intimacy that may occur while your wife gets her foot into the breastfeeding door. Just be the supportive husband during this new adventure.
Help her De-stress:
Stress hinders milk production, so it's important to make sure that your lady is as unstressed as possible. Sure that's easier said than done considering you've all probably had less sleep than ever in your life. However, help with the little things like make sure she's comfortable. Offer a back rub (Because her shoulders will hurt after a few weeks of breastfeeding positions). Offer to bring her a pillow to prop her up, etc.. Sure you may not be there all the time but when you are, make sure and treat your lady like breastfeeding queen she is.
Bring her a Drink:
I remember when my oldest was born a wise lady told me to make sure I drank a cup of water every time baby nursed. That was some of the best advice I got. Because remember your body is producing milk, and you need to be hydrated. So making sure you're always hydrated is important. This is where dad comes in. Chances are when baby starts getting hungry moms will be focused in on that many times you get stuck with a sleeping baby and no ability to move. So dad's make sure your lady has a cold beverage (preferably water) by her side to help her stay hydrated and producing liquid gold.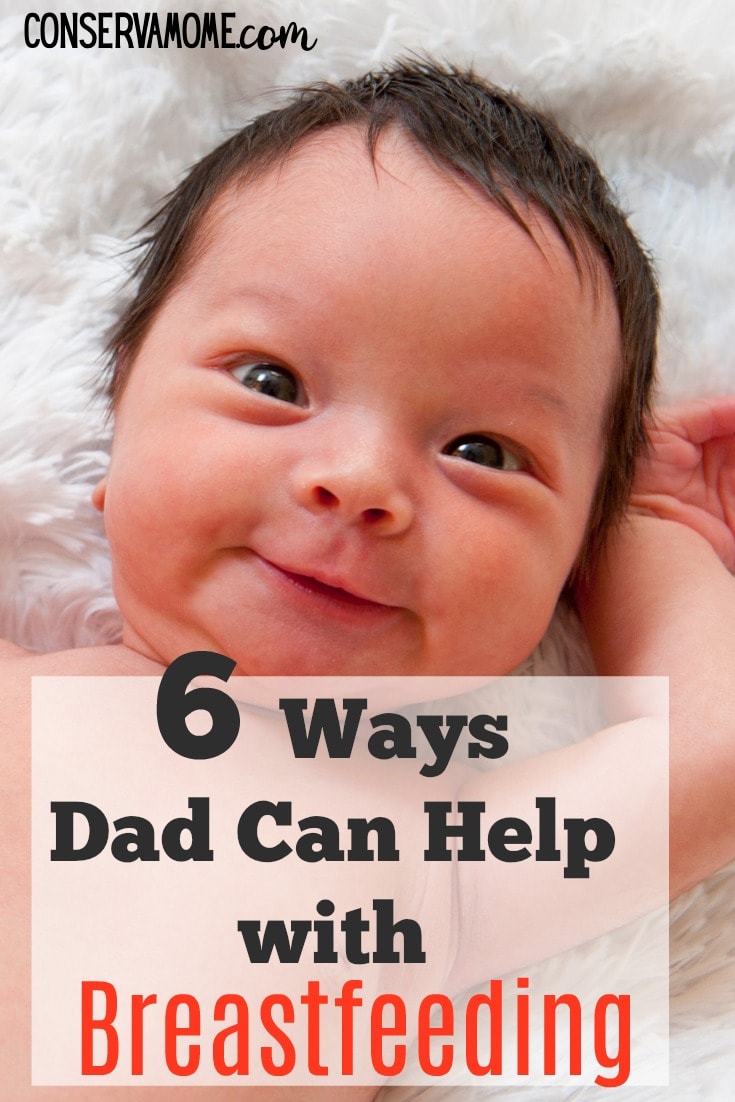 Entertain her:
Sometimes breastfeeding takes FOREVER. Make sure and make conversation or bring her her ipad or phone if she left it out of reach. Late night feedings are the worse. They're especially hard when the baby won't go to sleep. So make sure and leave the remote control where it's supposed to be when you go to bed,so your lady isn't left watching the clock tick.

Pick up on Other Tasks:
Sure you aren't feeding the baby,but how about helping with diaper duty? Offer to take the baby for a bit so your wife can get a much needed shower, or cup of tea. Seriously, Don't wait to be asked, do!
Feed the Baby:
Ok so technically you can't breastfeed but once the time comes offer to help feed the baby the pumped milk. I learned the hard way that once the baby is comfortable with the breast,introduce the bottle or else. Yes, mom you will never escape.lol So have dad help with that task. Many Breastfeeding babies won't take a bottle from mom but will from dad. This is your way to help your wife 5 seconds of baby free time.
Breastfeeding was a big surprise for me when I had my first. I didn't expect it to be as hard as it was. I was so blessed to have a strong support system around me and because of that, I've been able to have successful breastfeeding experiences with all the kids. So it's important that those that are around you during the first few months help make every aspect of the 4th trimester easy.
Looking for more breastfeeding help? Check out this easy lactation cookie recipe . Filled with delicious ingredients to help increase your milk supply.