Teens are going through a lot of stress now a days. There are many health concerns that can come up due to stress and anxiety. Find out about one of them,Trichotillomania in Teens & Kids: How Parents Can Help.
Trichotillomania in Teens & Kids: How Parents Can Help
Trichotillomania, also known as hair pulling disorder, is a complex and common mental health concern.
Research suggests that the first on-set of symptoms can occur at as young as 5 years old and that trichotillomania affects roughly 1-2% of the population.
With that said, parental support is crucial if teens and kids are to overcome this sometimes socially debilitating condition.
Some great tips for parents at the outset are as follows:
Be aware, keep an eye on hair picking patterns and trends

Be open and make yourself available for a chat

Look up examples of celebrities with the same issue

Set up a stress free zone or time within the home to allow kids to decompress
That said, we've given you a quick guide on what trichotillomania is and what you as a parent can do to help.
#1: What is Trichotillomania?
Trichotillomania (sometimes called "trich") is defined as the overwhelming urge to pull hair out.
There are many different forms of the condition but they normally include picking hairs from the scalp or eyelashes.
Psychologists treat trichotillomania as a branch of Obsessive Compulsive Disorder or OCD.
#2: Who Suffers from Trichotillomania?
Trichotillomania normally shows up during the teen years. However, it's pretty indiscriminate in who it affects. It has been observed in 6 month old babies and can start at as young as 5 years old.
You may be surprised to learn:
It affects 1-2% of the USA's population

It occurs equally in boys and girls up and until the age of 12

After the age of

12 90% of sufferers are female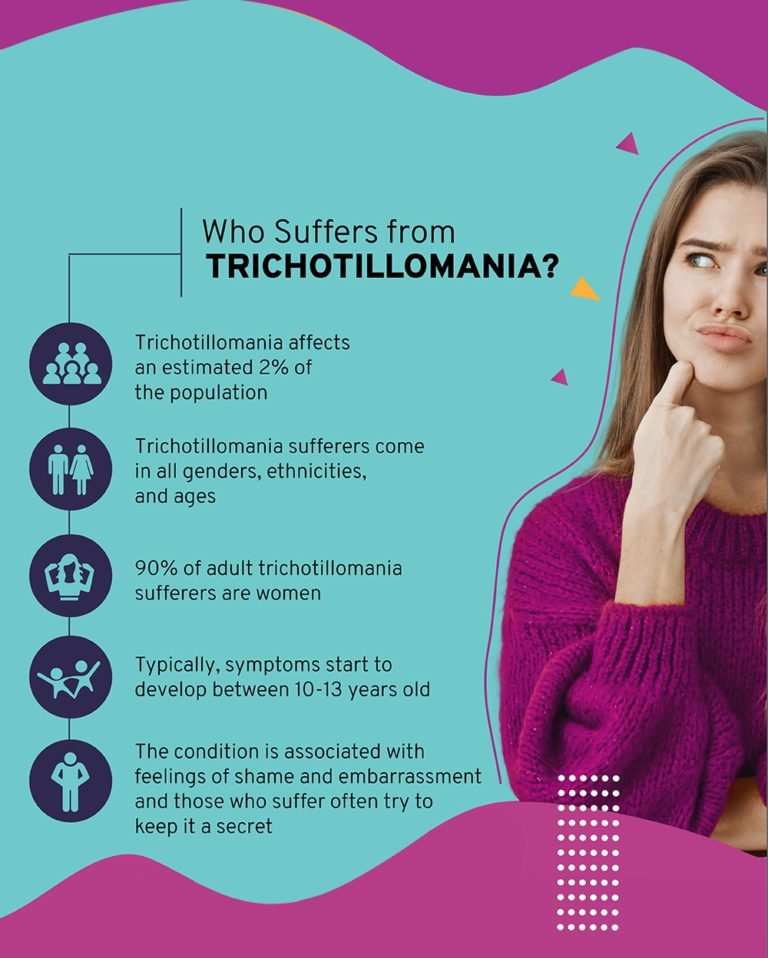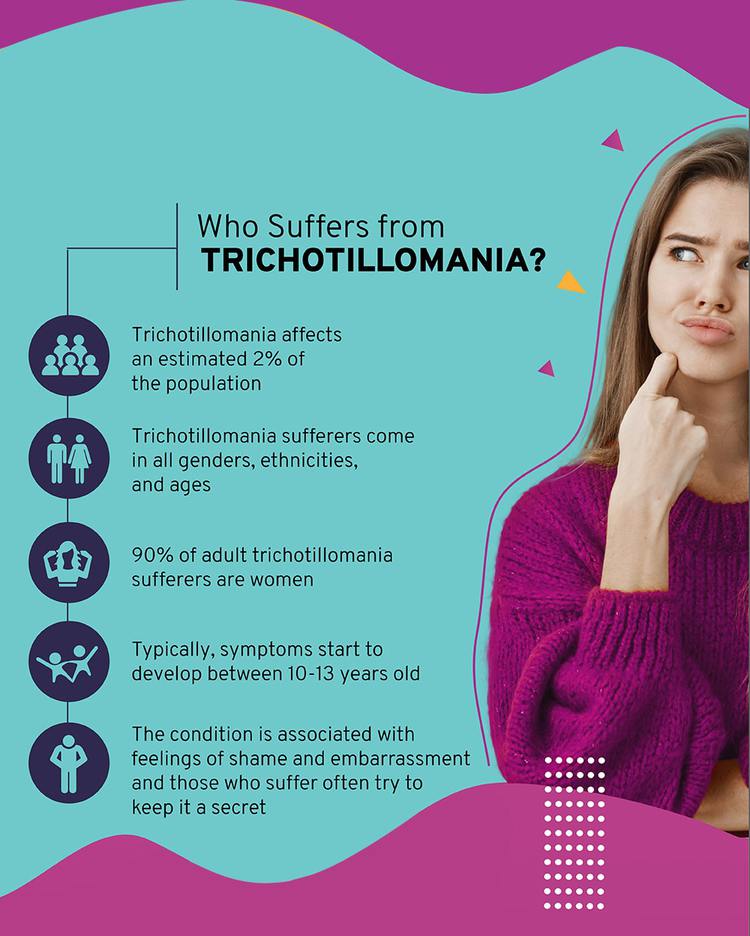 What's more, a recent survey found that 84% of sufferers reported that they believed anxiety is associated with their urge to pull.
#3: How to Spot the Signs
The key sign to look out for when it comes to trichotillomania is stress or anxiety that has, or could lead to, hair pulling.
The key things you should look out for are:
Noticeable hair loss from the scalp or eyelashes or;

Hair pulling (from the scalp or eyelashes) and;

Increased tension or stress before pulling
It's also worthwhile approaching the situation delicately with an empathetic tone.
#4: Treatment Options
Treatment options vary, however there are some great online resources that can be just as important for the ongoing support and treatment of sufferers as other therapeutic techniques.
Therapeutic treatment options for trichotillomania include:
Guided Hypnosis

Breathwork Techniques

Habit Reversal Techniques

Cognitive Behavioural Therapy

Emotional Freedom Technique (Tapping)
#5: How to Conceal the Effects
If you or a loved one has suffered from trich and the effects are noticeable, fear not. There are some great ways to mask the effects until hair grows back.
For eyebrows microblading can be an exceptionally effective way to hide the effects of lost or damaged hair. Or, if the issues are localised to the scalp, mineral makeup can help make hairloss unnoticeable.
#6: Dealing with Shame
Sufferers can experience shame. This is generally surprising for people who have never suffered with trich before. However, the repeated process of keeping secrets and hiding evidence can all lead to young people not quite knowing what to do with all that guilt.
Join the GROW community online for excellent resources and support for both understanding and overcoming associated feelings of shame and guilt.
#7: Finding the Right Support
It can be exceptionally difficult to find the right help and support. Typically doctors don't understand or parents find themselves having to look up specialists who may be based quite far away.
However, there are great online resources and treatment options available that can be completed from the comfort of your own home.
It's super important that parents continue to educate themselves and seek treatment for their children to ensure that damage is limited.
A great place to start is nomorehairpulling.com who have an abundance of resources that you can use to support your in need kids and teens.