Disclosure: Although I received a complimentary visit to Tony Roma's to facilitate my review, all opinions are 100% mine.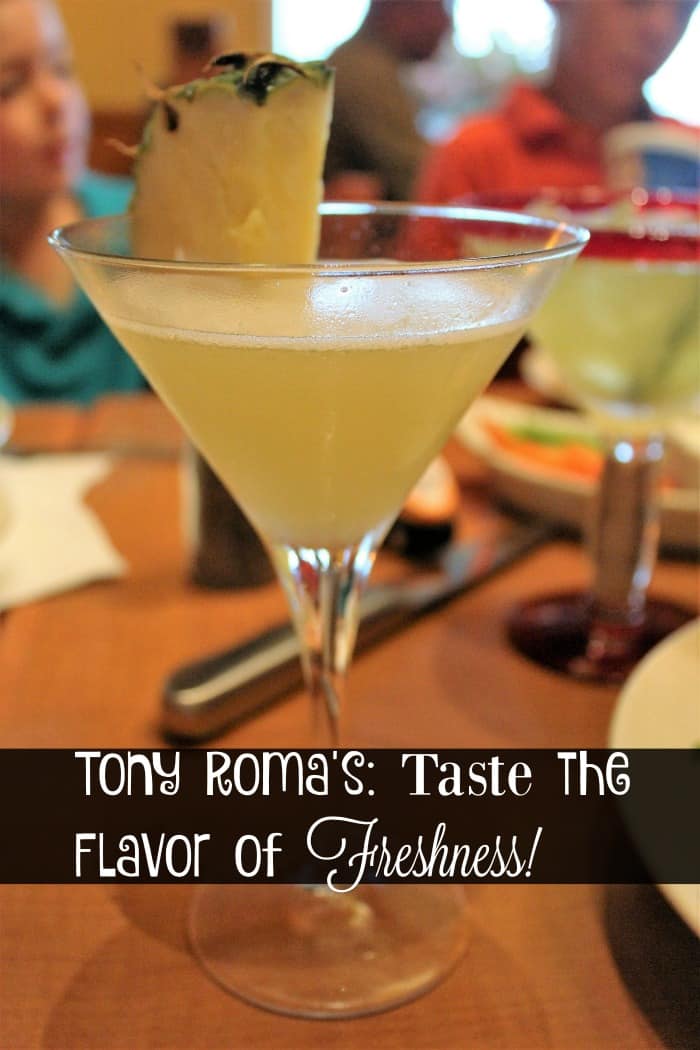 This past weekend, my family had a little getaway trip to North Hutchinson Island, Florida.  Whenever we are there, we love driving to the surrounding beach towns to see what they have to offer.  On Friday evening, we hopped over to the Tony Roma's on Jensen Beach (located at 3750 NE Indian River Drive Jensen Beach FL, 34957)to check out their new "Taste the Flavor of Freshness" menu.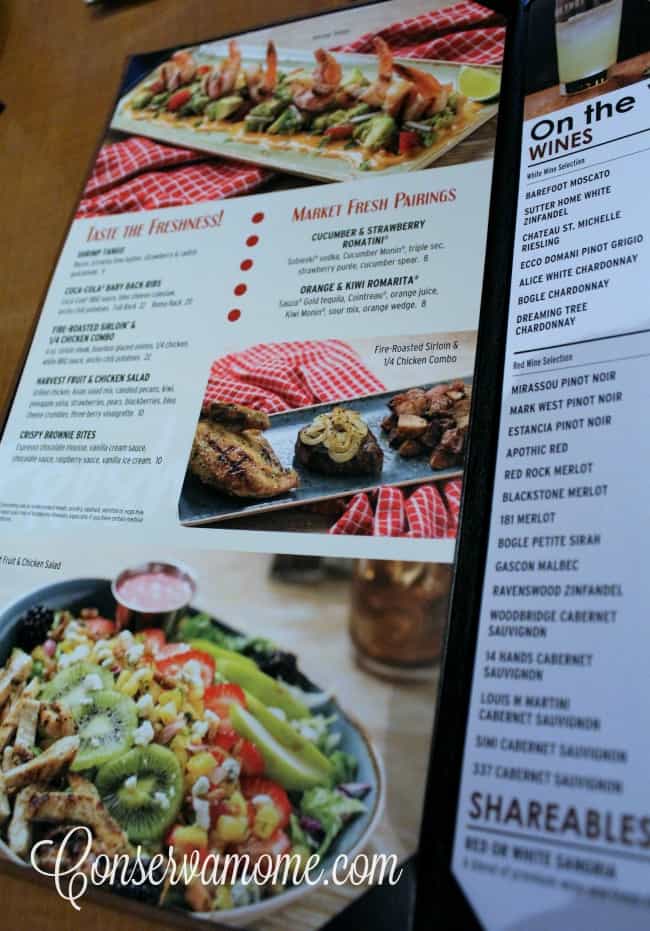 I was lucky to be there for their 5th Anniversary celebration!  The restaurant had planned for some live music out on the patio but since it was raining pretty heavily, they couldn't go forward as planned.  I found out that they have live music every Friday evening, so I definitely want to come back to check that out.  We were seated indoors, and the restaurant had a very pleasant ambiance—full, but not crowded.
Our awesome server, Janine, made sure we got some food ordered for the kids ASAP since they were pretty hungry!  As a mom, I appreciate that.   They have a "Healthy Kid's Meals" menu with options like Baby Back Ribs, Chicken Tacos, Mac & Cheese, Chicken Bites, and Marinara Pasta.  They all come served with a citrus apple salad, broccoli and strawberry yogurt.  My boys had the chicken bites and the chicken tacos.  Here they are enjoying their yummy meals: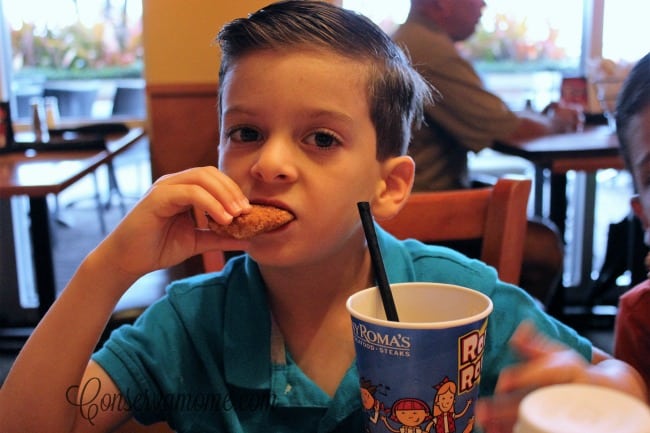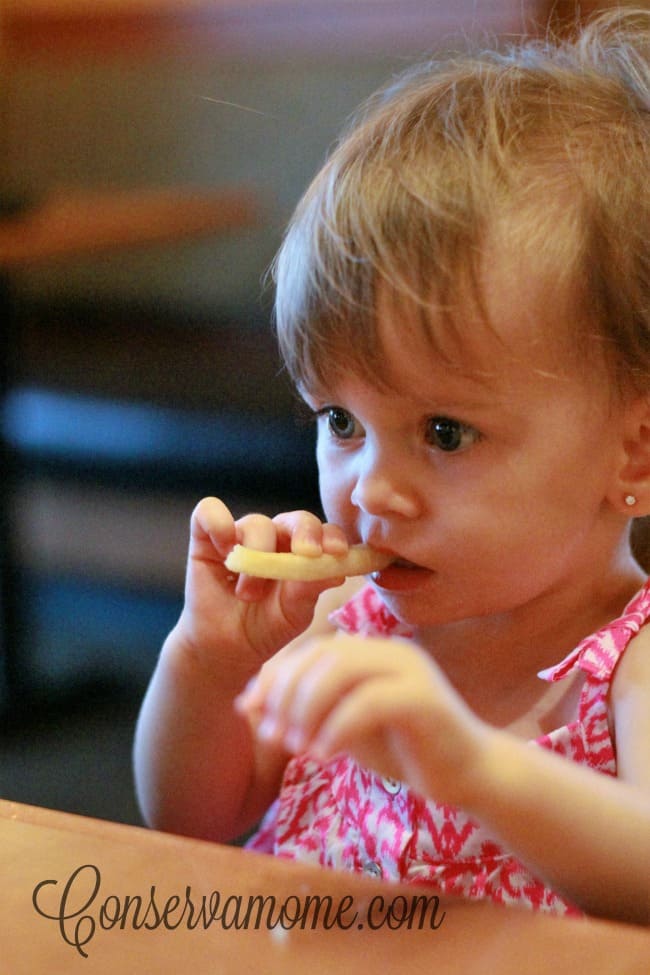 Since it was Friday night, my husband and I were looking forward to a couple of refreshing drinks.  Plus we were on vacation!  Check these out!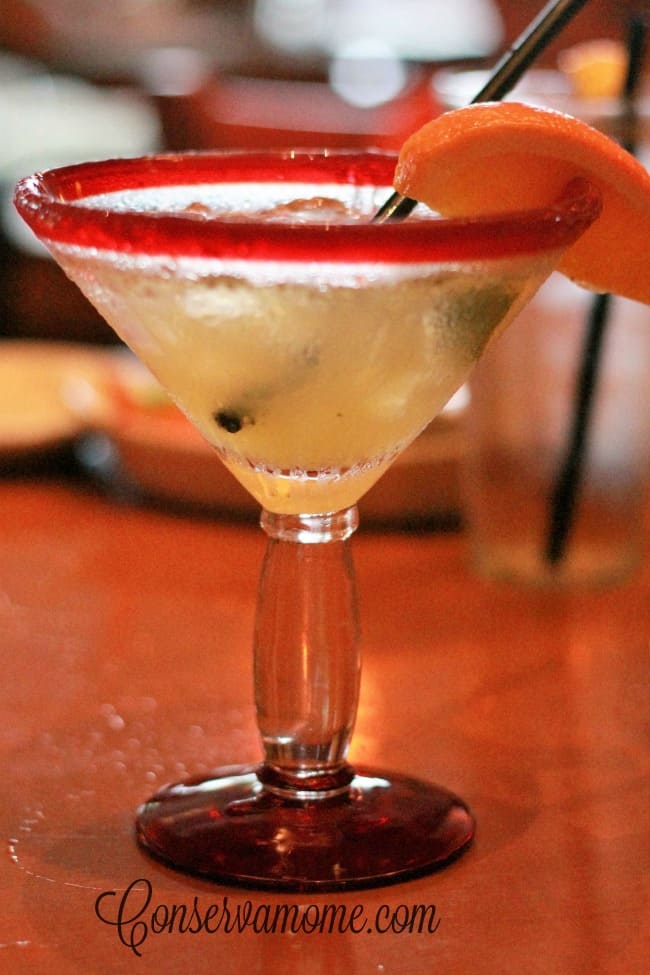 PHOTO: Orange & Kiwi Romarita: Sauza Gold tequila, Cointreau, orange juice, Kiwi Monin, sour mix, orange wedge.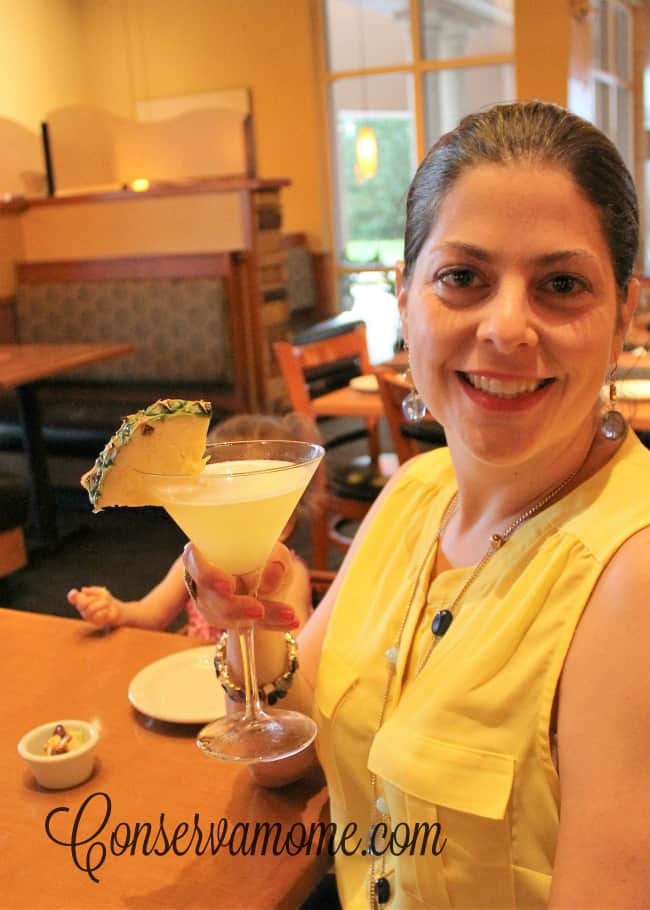 This was my favorite!  It's a drink exclusive to the Jensen Beach Tony Roma's.  It was a grilled pineapple martini.  To me, it was like sipping on a pina colada, minus the creaminess.  It was delicious and transported me to a tropical beach!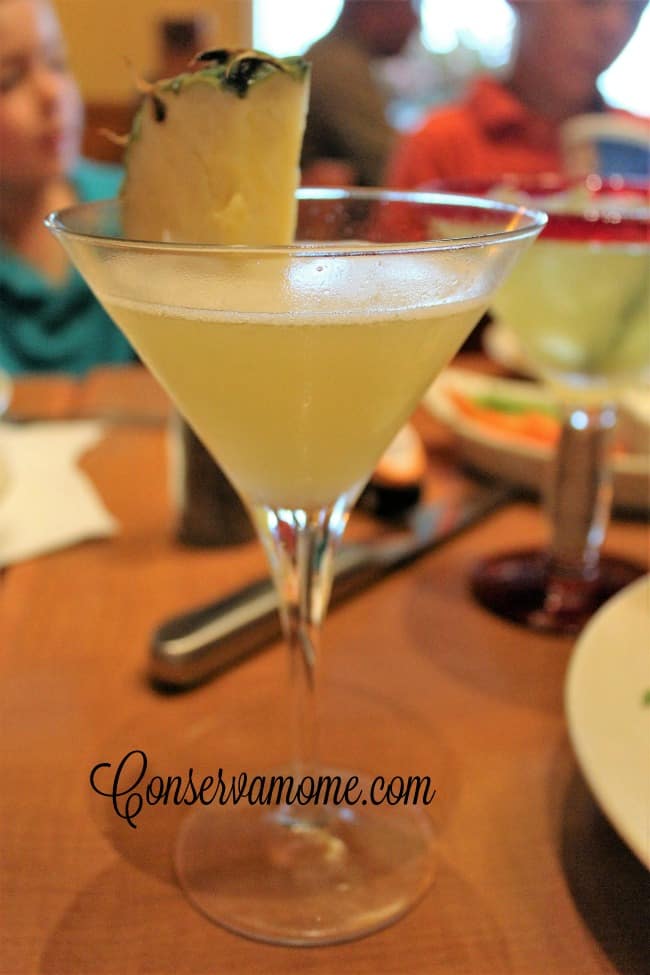 To start, we had the Shrimp Tango appetizer.  Wow, this was my favorite thing on their new menu!  It was grilled shrimp, wrapped in crispy bacon served with a Sriracha lime butter and a fresh strawberry & radish guacamole.  The smoky flavor of the shrimp/bacon paired really well with the freshness of the guacamole and the sauce.  I could have eaten two of these for dinner.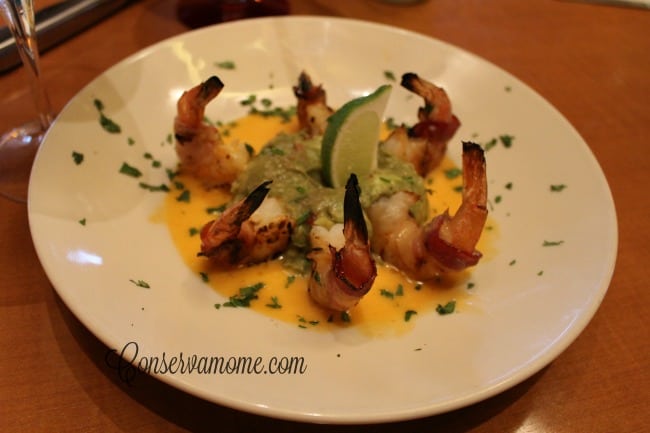 Next up, we tried the Harvest Fruit & Chicken Salad.  This is an Asian salad mix topped with candied pecans, grilled chicken, blue cheese crumbles, and a beautiful array of fresh fruit such as kiwi, pineapple salsa, strawberries, pears, and blackberries.  The three-berry vinaigrette was light and the perfect dressing for this salad.  This is a fantastic salad for those days when you want a refreshing salad on a hot summer day.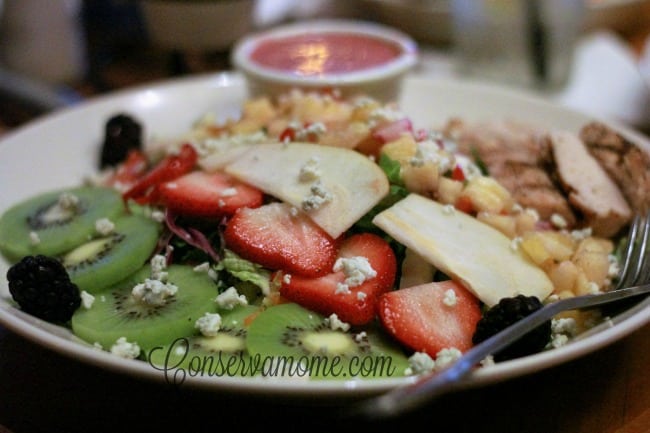 Now for the main event.  I'm a meat lover so I was excited to try their new Baby Back Ribs with Coca-Cola BBQ sauce.  WOW!!!  The ribs were perfectly cooked.  The sauce was just right, sweet and tangy.  This dish was served with a bleu cheese coleslaw and ancho chili potatoes.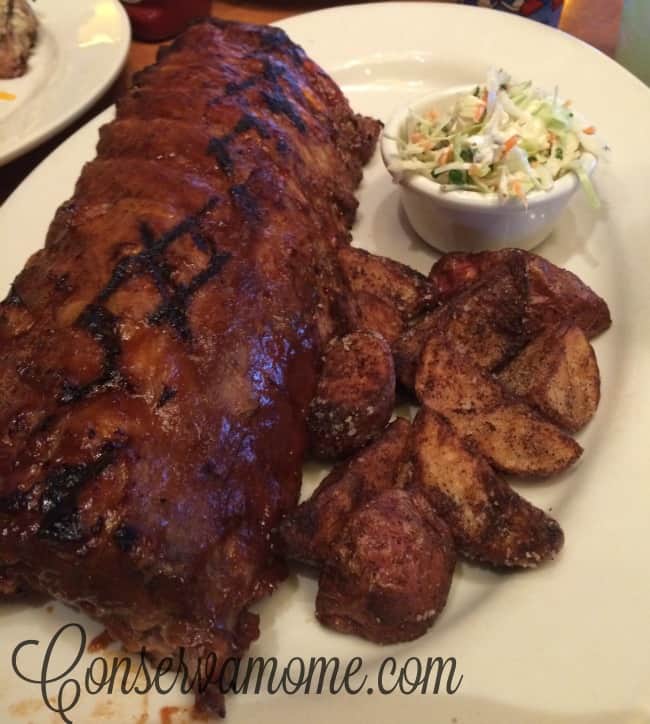 Next we tried the Fire-Roasted Sirloin & ¼ Chicken Combo.  This is a 6 ounce sirloin steak with bourbon glazed onions and a ¼ chicken with a white BBQ sauce.  The onions on top of the steak were so good that I wished I could have more!  The white BBQ sauce on the chicken was really delicious.  If you like North Carolina style sauce, it was like that –vinegary goodness.  I do think they should have put more sauce on the chicken, so next time I'll ask for extra.  This was served with loaded mashed potatoes.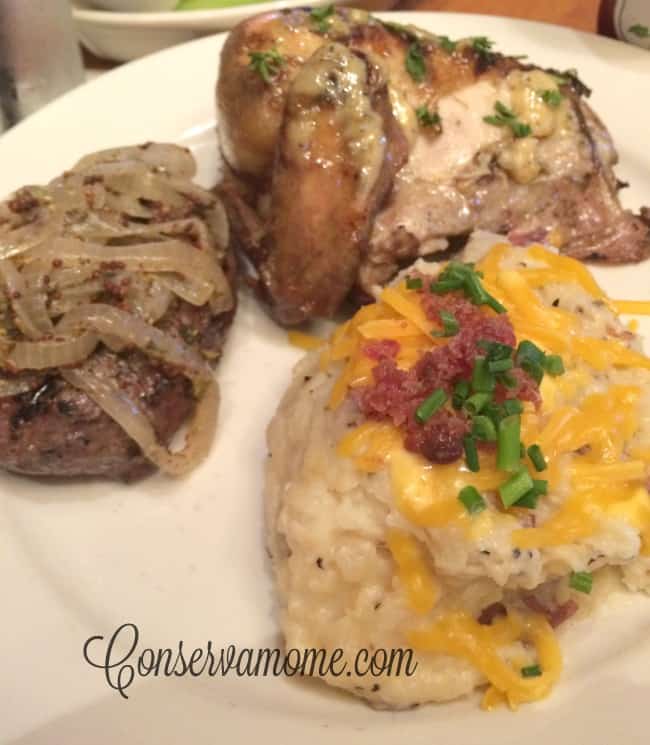 If you think we were too full for dessert after all that indulging, think again!  I mean, who doesn't have room for dessert, right??  We had the Crispy Brownie Bites.  These brownie bites are fried and served with espresso chocolate mousse, vanilla cream sauce, chocolate sauce, raspberry sauce and vanilla ice cream.  The crispy coating is light and the brownie is really soft–together with those sauces it's pure heaven!  This dessert is great for coffee lovers because that espresso chocolate mousse gives it an awesome coffee kick!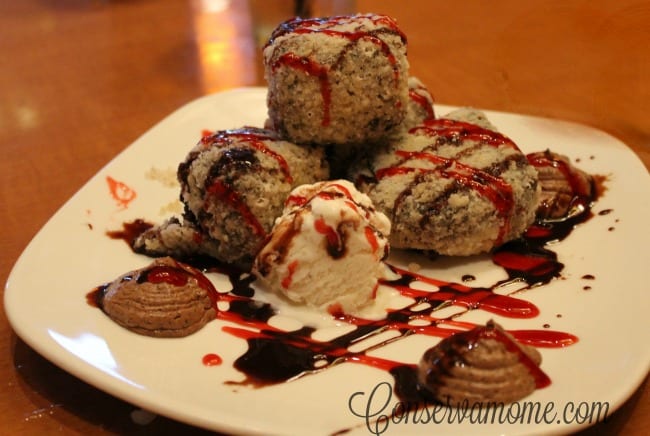 This dessert was my favorite.  It's another special Jensen Beach Tony Roma's exclusive.  The pineapple upside down cake, baked locally was perfectly moist and sweet.  Don't miss this one!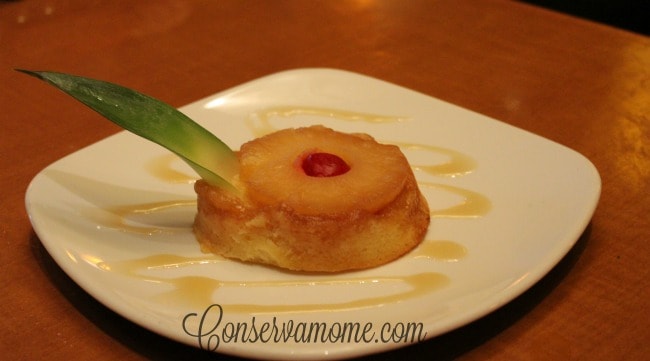 Coffee lovers, take note: the Jensen Beach Tony Roma's gets their coffee locally from a specialty coffee roaster, Culinary Coffee Roasters, in Stuart, Florida.  The espresso was very good, and I know my espresso!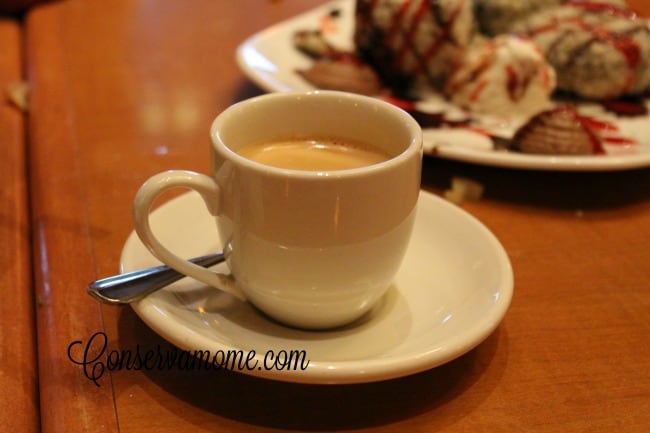 Our visit to the Jensen Beach Tony Roma's was fantastic.  The service was truly top notch.  I also loved that even though Tony Roma's is a national chain, they still incorporate local dessert and coffee into their menu.  I will most definitely be dining there again on our next trip to the area.  If you haven't been to Tony Roma's lately, check them out!
Make sure and Get social with Tony Romas and find the closest one to you!
And Most important don't forget to show them your #RibFace when you visit!