Going on vacation with a baby doesn't have to be impossible or stressful thanks to these Summer Travel Essentials for Baby.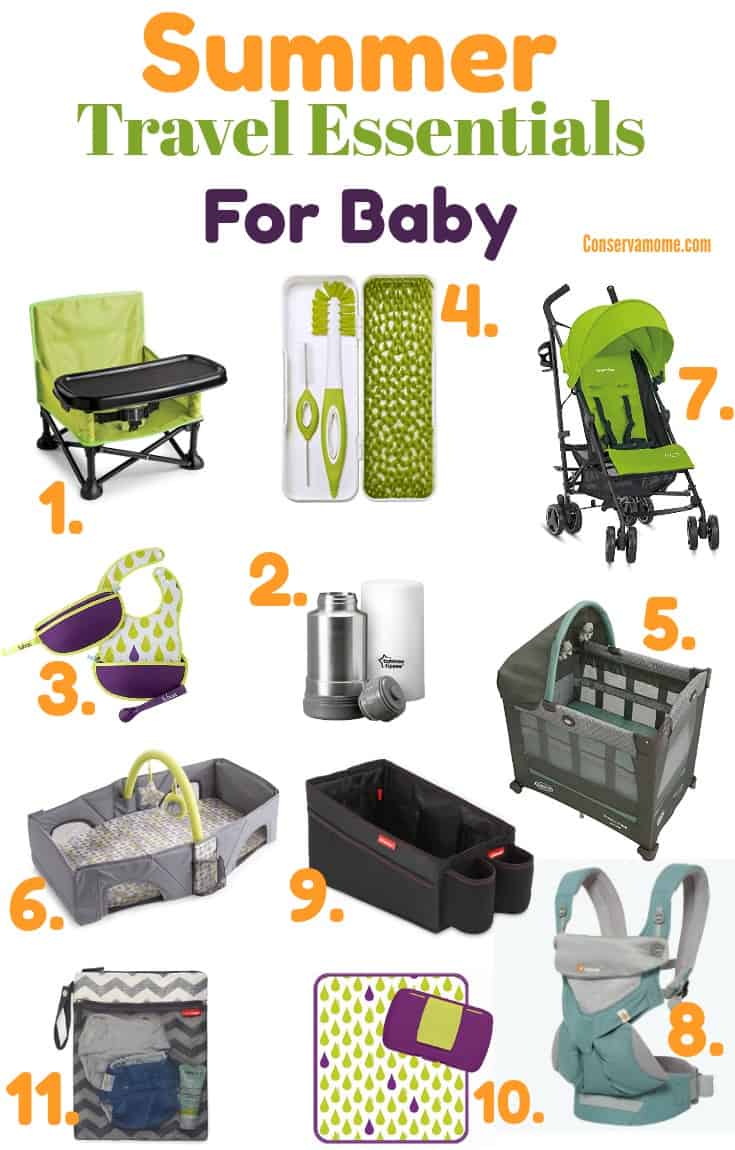 Going on vacation with a baby can be a challenge. It can be tough to make sure you have all the comforts of home on hand. It's especially hard when a lot of the baby essentials you use are bulky and don't travel well. So I've come up with a list of my favorite Travel essentials for baby. Try one or all to help make your vacation as easy as possible thanks to these amazing travel products!
Feeding Essential
 1. For Feeding wherever and whenever this is the way to go! Summer Infant Travel High Chair   This Lightweight, folding frame sets up in seconds, perfect for feeding or playtime best of all it comes in a convenient carrying case that makes it the perfect booster seat for a day in the park, at the beach, or trip to a friends house. It also includes a 3-point safety harness and chair safety straps for use on adult chair
2. Travel Bottle warmer: It never fails you need to warm a bottle at the most inopportune moments. Tommee Tippee Travel Bottle and Food Warmer.  This travel bottle warmer Securely stores hot water for warming bottles on the go with no electricity required.  So when you need to warm up your little one's bottles no need to worry about finding a plug or electric source.
3.  b.box Travel Bib & Spoon  I love  Bbox their line of products is so trendy yet incredibly functional, so adding them to this list was a no brainer. They have a fantastic travel bib & spoon that makes any feeding while on the go a breeze! This isn't just a travel essential but an everyday one.
4. Boon TRIP Travel Drying Rack This fun little drying rack is perfect for and slim for any vacation or getaway. Sleek in design & complete with a brush this will be the perfect feeding travel essential.
Sleep Essentials:
5. Tavel Crib/pack and play :By far my favorite travel pack and play has definitely been the Graco Travel Lite® Crib With Stages. As a matter of fact I always keep this crib in my trunk because I never know when I need to use it with my toddler. Whether it's for a visit at Great Aunts house who has a lot of breakable items or because it's nap time my almost two year old still enjoys using this portable crib wherever we go. It's also so slim it fits in even the smallest hotel rooms.
6. Another great product for babies when you're short on space is the Summer Infant Travel Bed. This is ideal for those little ones that are still still a few months old. You can simply take it anywhere so that your little one can get some much needed ZZZ's
On The Go:
7. Light Weight Stroller: Inglesina Net Stroller :  There are a lot of "lightweight" strollers out on the market and many of them are fantastic but one of the top ones on my list is the Inglesina Net. Not only is this stroller gorgeous and backed by the Inglesina name, but it's crazy easy to clean, has a huge basket and perfect for any outdoor (or indoor adventure).
8. Baby Carrier: Ergobaby 360 All Carry Positions Award-Winning Cool Mesh Ergonomic Baby Carrier. A baby carrier is a MUST on any parents list. So on vacation,especially in the summer a cool mesh carrier is an essential. Because you will probably go places where a stroller may not be convenienent or allowed, its always important to be ready.  It has an exceptional lower back support with wide wraparound waistband maximizes comfort especially post C-section. Extra padded shoulder straps helps evenly distribute your baby's weight. But what I love most is that it's BREATHABLE. Making it cooler for you & baby with soft, lightweight & durable mesh. Complete with a  UPF 50+ tuckaway baby hood for sun & wind protection.
9. If you're traveling by car then the Diono Travel Pal is a must to keep everything in place and includes an insulated cup holder. YES! Diono the Award Winning Car seat company (with some of the most amazing car seats on the market) has a fantastic line of car products that are an everyday essential. If you haven't checked the line up of great products than head over and see them for yourself.  Plus keep an eye out for some fabulous new products hitting the market very soon that will be absolute game changers.
Everyday Essentials:
10. Wet Bag: Wet bags have been a parenting essential since the beginning for me.  Because of the various sizes they come in you can get a couple to help you sort out clothes and keep dirty clothes away from the clean. A favorite is the Skip Hop Wet/Dry Bag. There are so many great ones out there though, just don't go on vacation without one. They are perfect for the beach, long car rides and more! If you're not familiar with wet bags,they're pretty much a waterproof bag that you can put wet clothing in such as swimsuits or soiled clothing. They can also be easily tossed in the washing machine to wash for the next use.
11.B.Box  DIAPER WALLET – I had to include another product from B.Box because well I love this brand and their Diaper Wallet is AMAZING.It includes a dual Chamber for Diaper and Wipes, and a Wipe Clean Mat. Perfect for everyday use or for when you are on vacation and don't have your everyday changing needs on hand.
Bath Essential: 
12. Munchkin Inflatable bath tub:   One of the toughest things (next to sleeping) during vacation is giving baths. That's why having a portable bath that's easy to take anywhere is a must. The Munchkin Inflatable bath tub is great because it also includes a White Hot safety disc that turns white when water is too hot. This padded tub makes big tubs comfy for kids and has a textured bottom so baby won't slip. It's ideal for babies 6-24 months. It's perfect for travel because it deflates and folds easily for when you head off on your next adventure. 
Other things to pack:
Travel size baby products like shampoo, baby wash, diaper cream. Also don't forget to pack the Sun Screen. Babo Botanicals has a great line of products that includes some phenomenal sun block that will keep your little one safe from the sun!
Travel Size First Aid kit: Make sure and include baby essentials like thermometer, fever reducing medicine, teething medicine (if your little one is at that stage) nail file, nail clippers, bandaids, antibiotic creme, and any other medical essentials that might be hard to get when on vacation. PreparaKit  make a Mama's Essentials travel first aid kit that is out of this world. It includes all the essentials necessary for an emergency from thermometer strips, scissors,band aids, alcohol free antiseptic spray and so much more. This is perfect for everyday use as well. 🙂
Traveling with a baby doesn't have to be impossible. Including some of these great products on hand will make the vacation as stress free and fun as possible for everyone in your family.