Disclosure: This is a sponsored post on behalf of Sam's Club. However, All opinions are 100% mine.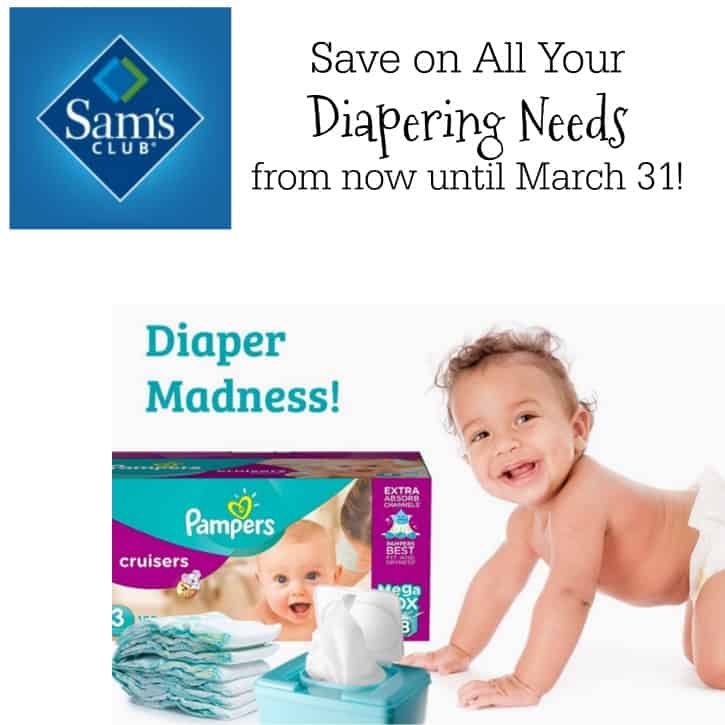 Diapers and wipes can cost a parent a pretty penny. So whenever there's a chance to save I'm all over it because let's face it, every dime counts. Sam's Club knows how expensive it can get buying many of the necessities your little one needs. So they always offer significant savings on diapers at their stores. But did you know that Sam's Club is hosting Diaper Madness through March 31st? The best part is the savings aren't just on diapers!
This month you can purchase and save on all of the following:
$10 off 2 Pampers diapers or wipes
$18 off 3 Pampers diapers or wipes
$8 off 2 Huggies diapers
$3 off Member's Mark diapers or wipes
And up to $18 off training pants


So stock up on all of your favorite brands. It Stinks to pay full price so why not save big.
What is even more amazing is you can save more than $115 per year on Huggies diapers, wipes and training pants AND get free shipping.
So head to the Sam's Club Diaper Madness page and check out all of the other great savings you can have during the Diapering Madness.
You don't even have to leave home to save big. Just head over and purchase online for instant savings. Know someone who is pregnant? What better baby shower gift than diapers? Stock up and save big.
With Sam's Club's Low prices you can save on all sorts of item as well so don't forget to check out all the items you can save on at Sam's Club.
There are so many benefits to a Sam's Club membership if you're not a member yet, maybe it's time you checked it out. You'll love what you find!
Head over here to see where your closes Sam's Club is.
Most important, Don't forget to get social with Sam's Club on: