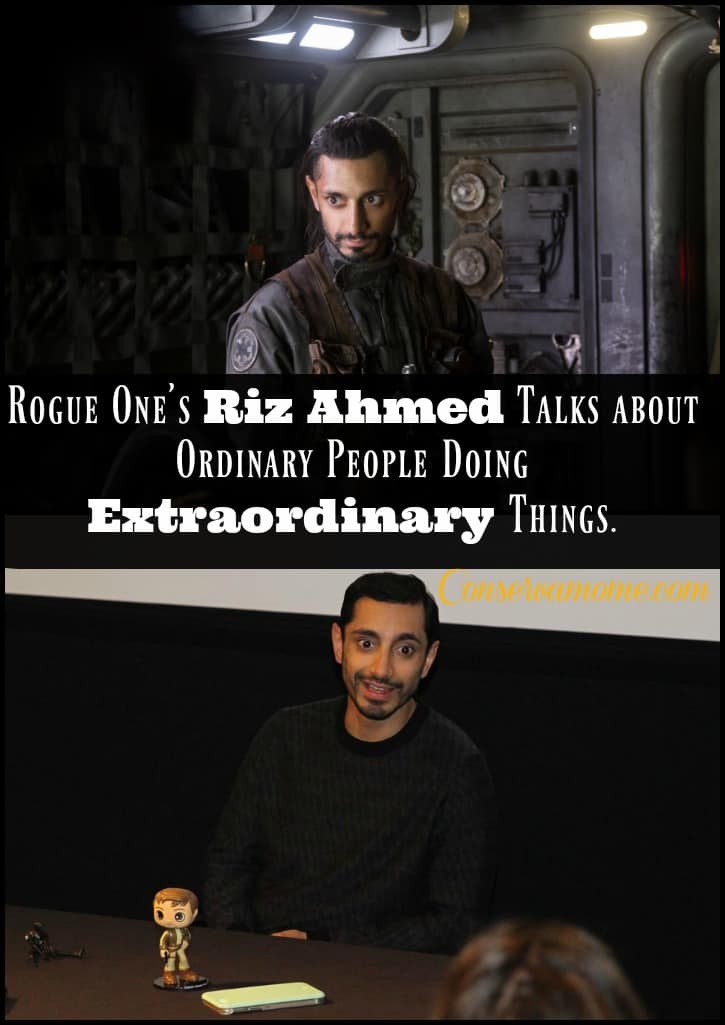 Riz Ahmed's name has been a buzz lately since he was just nominated for a Golden Globe award for The Night Of". So it's incredibly exciting that I had the chance to meet him last week in San Francisco during my Rogue One Press Trip. It was such an immense pleasure to sit down with him and talk about his role as Bodhi Rook. I always feel like such a fan girl on the inside when I do these interviews and yet I have to hold it all in, and act well calm,cool and collect. However, his sweet demeanor and heartfelt interview truly won me over again with this rising star.
His Character Bodhi Rook is as ordinary as they come. However, things change According to Riz " he actually works in the Empire as a  cargo pilot.  And he's from this planet called Jedha which is occupied by the Empire.  And so, you know, he's just trying to earn a living with the main employer in town.  The only show in town, really, is working for the Empire.  Bodhi means awakening and he goes through a kind of awakening, and realizes that that's not the way.  You know, he's got to try and stand up for what he believes in to make a difference.  So he takes a big risk and he defects from the Empire to try and help the rebels."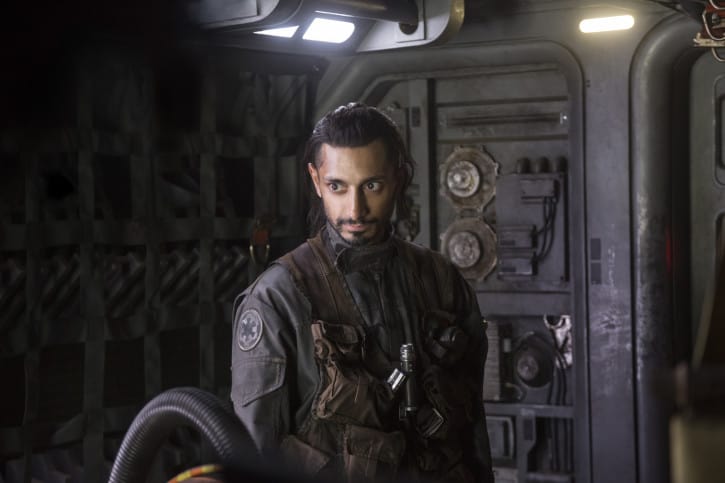 Star Wars Is such a huge thing! What was the most difficult thing for you?
   "You know, it's interesting.  The difficult thing wasn't so much I'm in Star Wars, because that was a joyous thing.  That was something that was exciting and makes you want to, you know, work really hard.  If you love a job that's not a bad thing.  The thing that was difficult is when I'm playing a character, I like to try and interview people who are close to that character. So when I was doing "The Night Of", I went to visit Riker's Island prison, or I interviewed lots of people that been to prison, and spent time in high schools in the Bronx, and interviewed people for hours.  But you can't interview anyone who's an Imperial cargo pilot. None of them wanted to speak to me. (AS Everyone laughed) So I didn't know what to do, and that's confusing!  You don't really know what the reference points are, where starting points are.  And in the end I realized that the reference point is the world that is around you.  When you..turn up on set and they've built these mountains and space ships, and there's alien creatures walking past you, like… The preparation doesn't have to be in your head.  It's, it's right there in front of you.  And you just have to soak it up.  So that was quite a big exercise in letting go when I can be a bit of a preparation freak.  You know?"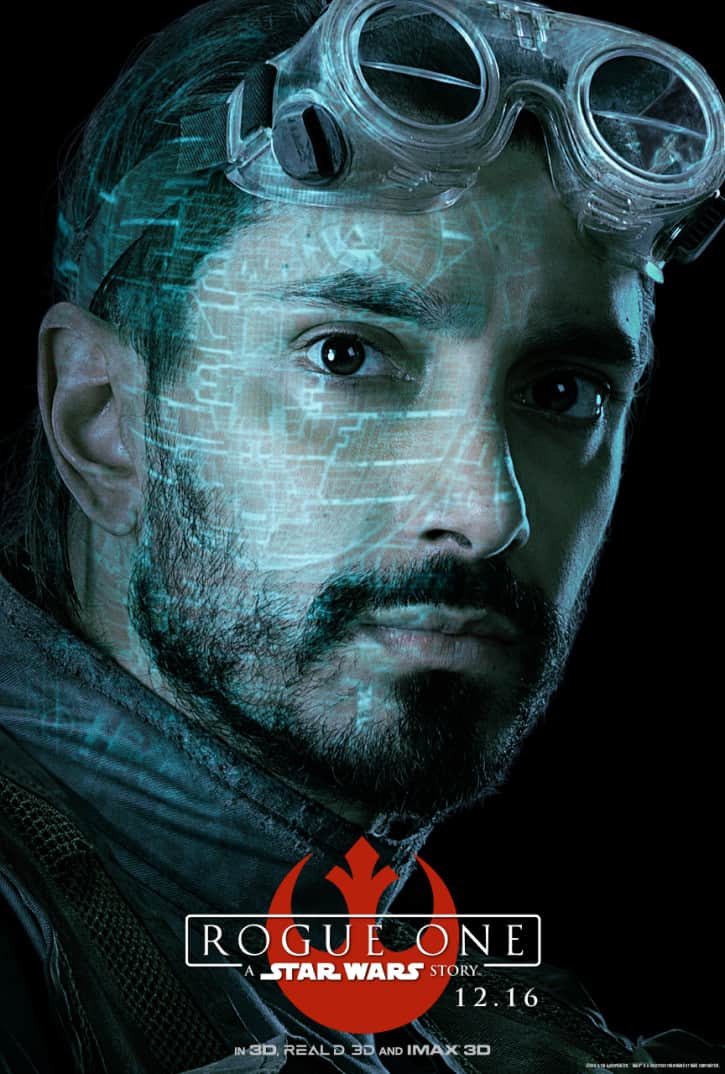 So what character traits, if any, do you share with, um, your character?
  I'd like to think that he's quite a relate able character for a lot of people.  He's just an every man, and, you know, average Joe. He finds himself in a crazy situation.  He's not like Cassian, who's a rebel spy.  He's not like Baze who's kind of a hardened assassin, or Jyn who's this kind of kind of criminal rebel. He's just like a truck driver, basically.  You know?  And he finds himself in the middle of this crazy intergalactic heist movie.  He freaks out a little bit!  So I think I'd freak out in that kind of situation.  I think most of us would.  So hopefully that's kind of relatable.
Riz then began to tell us how a lot of characters in this film are full of regret. Because most have a dark history or a past they're not proud of and they are just trying to make things right.    Which in essence makes them come together and have the strength to fight this big battle that maybe people in other situations wouldn't have the strength to fight.
The way Riz got the role was an unlikely way…
"So, I literally, um, emailed him one version of the scene.  And then a few hours later, I had another idea, and I sent him another version. And then I did that again.  The next morning I didn't have a reply, so I thought, oh!  I should maybe send him some more!  And… And four days I sent him 12 takes. Finally, he wrote me back and said Hey Riz.  Just wanted to say please don't email me any more.  I've got your auditions.  Thank you.  So I was, like, oh man!  I screwed it up!  And then he then called me, like, a month later when I assumed I've screwed it up, to say yeah, you know.  Come and do this.  But I was just glad it wasn't his lawyers calling me…"
Because this story line was so secret (We could only see 28 minutes of footage) They were so strict about nothing leaking out that they could only access the script online with a special password. Finally after Felicity said she needed a script they began having them sign them out and had to check them in and out every day. Meaning they didn't want that script to fall in the wrong hands. Even when filming was going on he knew the basics of his character but the real story line was a mystery as well. Although from what I've read and even what he said about his character changing the story line did evolve a bit during filming.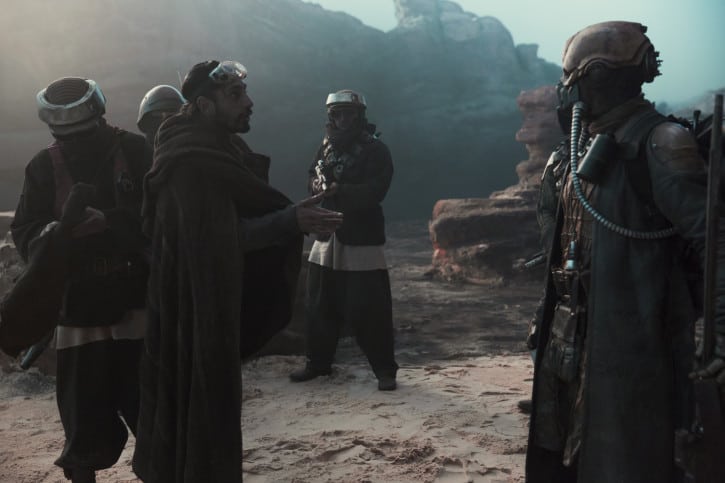 In the end the big question was what did Riz want people to get from his role because,well, Star Wars is an Epic film.
He summed it perfectly: "I think I want them to understand that, like, Even normal people can… make big contributions.You might think that… someone else is gonna stand up for what you believe in.  But actually, at some point, it's on you to stand up for what you believe in.  And, try and make a contribution for what you think is right."
It was so fun to talk to him and see his insight into the characters and film. He is such a bright personality and I can't wait to see what he does in the future.
SaveReady for Rogue One: A Star Wars Story hitting theaters this Friday? Here's a fantastic Featurette to get you all sorts of excited!

Finally Don't forget to Get social with Star Wars!
Like STAR WARS on Facebook: Facebook live during the fun tutorial.
Follow STAR WARS on Twitter: https://twitter.com/starwars
Follow STAR WARS on Instagram: http://instagram.com/StarWarsMovies
Follow STAR WARS on YouTube: https://www.youtube.com/user/starwars
Visit the official ROGUE ONE: A STAR WARS STORY website: http://www.starwars.com/films/rogue-one
ROGUE ONE: A STAR WARS STORY arrives in theaters everywhere on December 16th In RealD 3D and IMAX 3D!

All Pictures Courtesy of Lucas Films/Disney and Momstart
Save
Save
Save
Save
Save
Save
Save