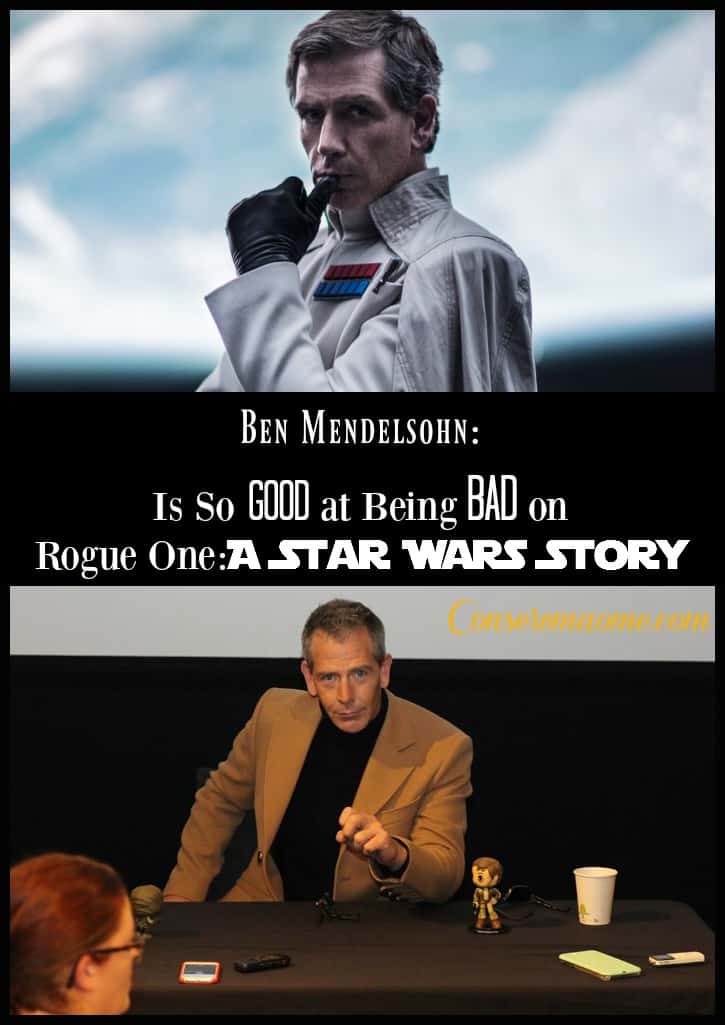 There are interviews that are just plain captivating and well let's face it fun. I have to say Ben Mendelsohn's is truly up there as one of my favorites. Going into this interview I knew "of his character" and was familiar with his work. However, I wasn't prepared to love the way he was able to help capture the description of what it is to play a Star Wars Villain so perfectly!
Ben plays director, Orson Krennic, who is the director of military intelligence and operations.And in Ben's Words " And for the purposes of our film it means he's the dude that built the Death Star and is bringing it to its final brilliance."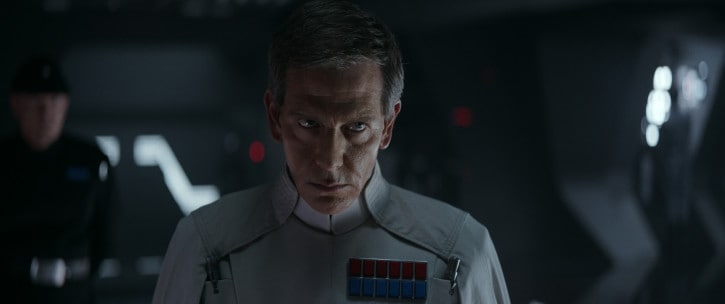 He grew up as a Star Wars fan and frankly never imagined being a part of this amazing World." I wish I could have turned but I wish I could have told myself at various points through life, don't worry. One day you'll be in Star Wars. That would have been good turn but there you go."
This isn't the first time Ben has played a "bad guy" as a matter of fact it's been said that his characters have been trademarked collectively "as  unlikable sociopaths."When asked about this he said "That's my recent body of work. That's my, you might call it my unlikable sociopath phase." However, when asked if he prefer those evil roles to the good roles? The answer wasn't that simple.
" Well, I do think there's a certain, palette of emotions that you get to work with more if you're playing you know the bad guys like the angry, resentful, enraged sort of stuff. I think,  I consider it a real honor to be playing you know bad guys certainly in this film and there'll be one or two more.But look, I've had a long and varied career" However, in the end he doesn't associate himself with being like those characters.
Ben was one of the first actors to sit down with Gareth and begin discussing the movie and the role he wanted him to play and he was honestly flattered,concerned and honestly overwhelmed because of the magnitude of the role.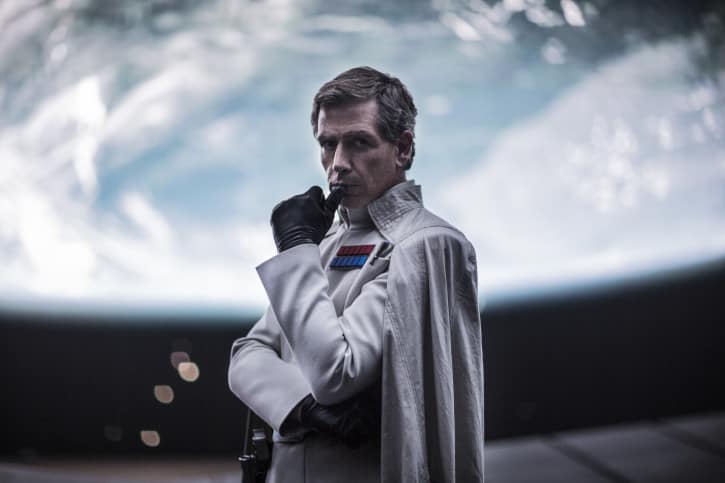 Behind every really bad man there's an even worse one. So we asked him who was more dangerous Darth Vader or him…
"I don't think there's any competition you know in a one-on-one. But I think the Empire being what it is you know Darth's, Darth's pretty good but I'd hate to see him go up against you know a couple of squadrons.And or I'd hate to see him go one-on-one against the Death Star. And so really that's about influences you know where you sit. You know Emperor's here and how close can you get? And I think Krennic is going for that number. And I mean, I think he regards Darth as you know the emperor's kind of pet and you know he's all fascinated with him and stuff like that. He's a very impressive dude but there's a bit of like this going on there . He's like a very important figurehead. But in terms of the strategies and what we actually have to get done you know whatever. He's a great car, you know? But someone's got to drive it."
To get a feel for is role, he looked at officers in the original films. "then you sort of have to do a bit of a rewind and think about what it was like when they were making it in '77 because they were all very British. And you know it's all very sort of you know Royal Shakespeare you know bad guy kind of very straight kind of stuff. So I wanted, I wanted Krennic to sound like enough of one of those guys."
And I agree, Seeing him on screen he was able to pin that feel perfectly. The Vintage, Star Wars officer feel. He got it just right and I think it adds so much to the movie.
Ben said that once he put on the Costume  "then after that and that costume and you've got those boots on and you have that cape. And all of a sudden you just feel that power. And basically the thing about those guys like the thing you saw last night is that from his perspective they're just in the way."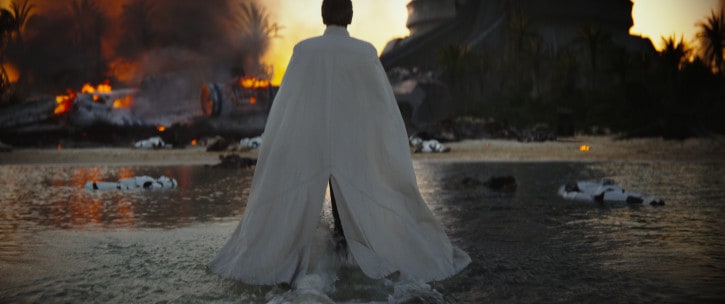 Filming wasn't always easy, "the most difficult part was the first few days of being there and walking in front of storm troopers and all the stuff going on around him.Because let's faces it filming took place in some interesting locations. However, one of his favorite scenes took place on a particularly difficult day "It was a brutally, brutally difficult day. We were in Iceland. It was absolutely prohibitively freezing. And the weather changed greatly. There's a scene with Darth Vader that's hard and yet  that's pretty special.
He's had many years of many various roles, he's also been able to perfect being bad perfectly.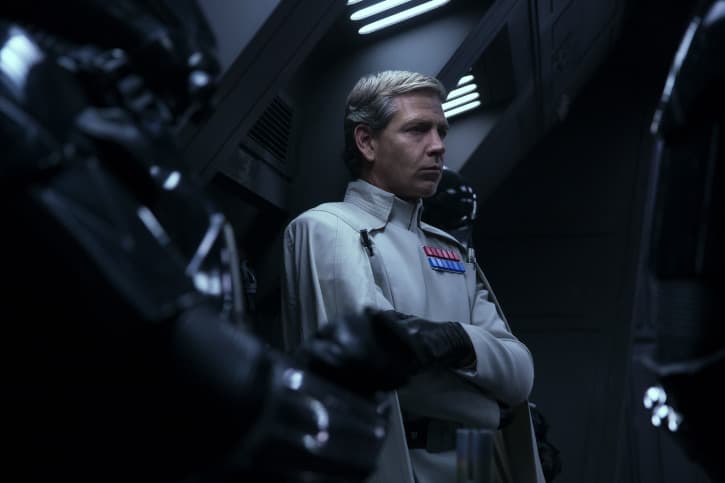 Having seen him on screen as part of the Rogue One Press Event I can't help but love to hate him. He really blows it out of the water as Orson Krennic. I mean it's amazing to see how someone can be so good at being so Bad…but then again he was so amazing in person that I forgot all about how is part of the "dark side"
SaveReady for Rogue One: A Star Wars Story hitting theaters this Friday? Here's a fantastic Featurette to get you all sorts of excited!

Finally Don't forget to Get social with Star Wars!
Like STAR WARS on Facebook: Facebook live during the fun tutorial.
Follow STAR WARS on Twitter: https://twitter.com/starwars
Follow STAR WARS on Instagram: http://instagram.com/StarWarsMovies
Follow STAR WARS on YouTube: https://www.youtube.com/user/starwars
Visit the official ROGUE ONE: A STAR WARS STORY website: http://www.starwars.com/films/rogue-one
ROGUE ONE: A STAR WARS STORY arrives in theaters everywhere on December 16th In RealD 3D and IMAX 3D!

All Pictures Courtesy of Lucas Films/Disney and Momstart
Save
Save
Save
Save
Save
Save