Disclosure: Although I received a free Fasten bathing suit to facilitate my review, all opinions are 100% mine.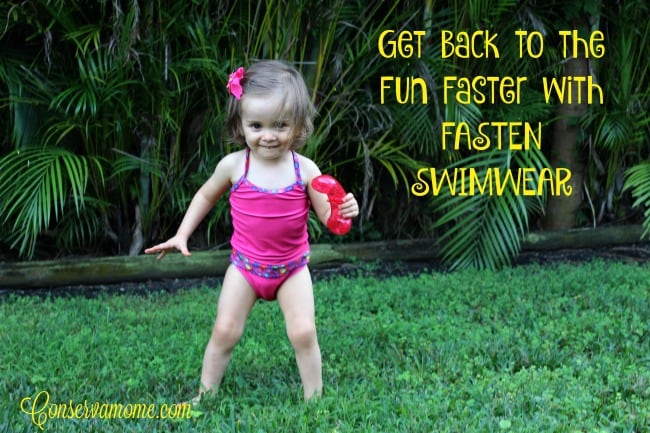 It's December, so while most of the country is gearing up for a cold winter, here in South Florida we have the opportunity to enjoy the sunshine pretty much year-round.  So this past weekend, I had decided to head to the beach with the kids to test out this awesome new bathing suit.  Unfortunately, a weekend of rainy weather made for a change of plans but we made the best of it!  I'm a fan of one piece bathing suits for my daughter, but I'm not particularly fond of having to struggle with a wet bathing suit when it's time to go to the potty or change a diaper.  It would be easier just to put on a two piece, but I prefer the coverage of a one piece, so I was thrilled to get the opportunity to review this Fuschia with jewels bathing suit from Fasten.
This bathing suit has unique patent pending design that uses hidden magnetic fasteners and snaps to make opening and closing the bottom of the bathing suit easy.  What a fantastic idea!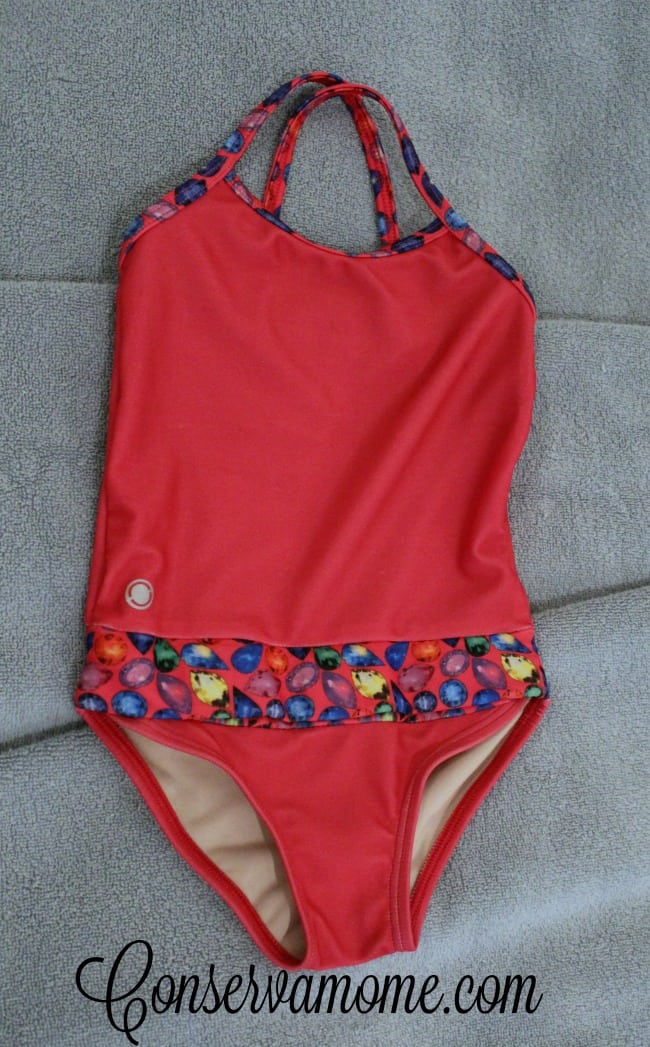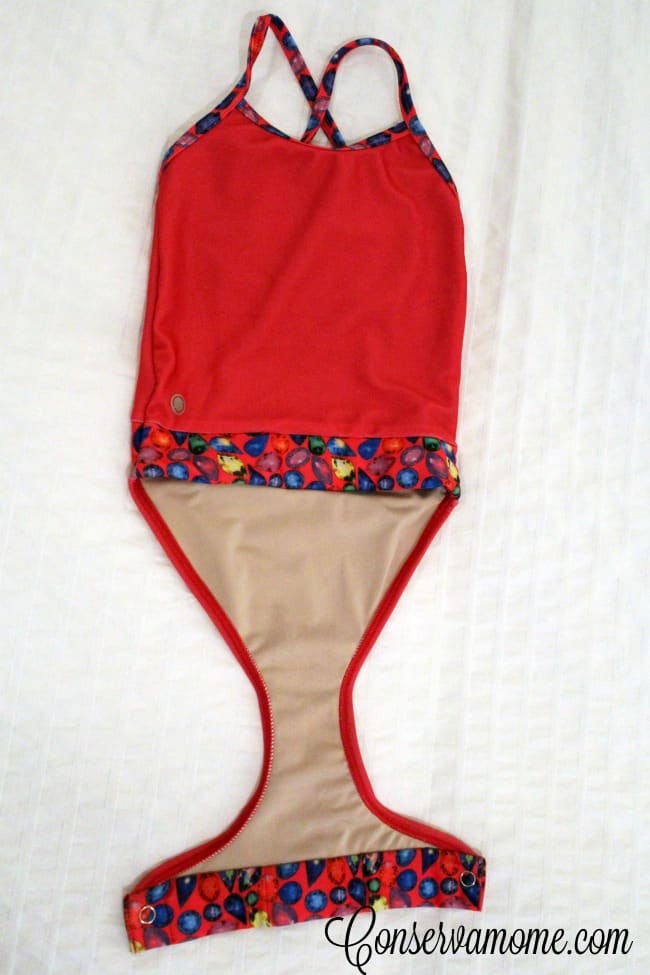 The bathing suit stays put, too.  My daughter was running and playing and the bathing suit stayed in place the whole time.  The best part was that when it was time to change her diaper, it was super quick and I didn't have to take off the entire bathing suit.  All I did was lay her down on the beach towel, unsnap the bottom part, change the diaper and snap it back up.  She was back to having fun in no time!  My daughter still uses diapers but potty training will be starting soon and I'm so glad to have this option for when she's older and needs to take bathroom trips, too.  The last thing you want if you're out and about is for your child's bathing suit to touch the floor and since the bottom of the suit can be flipped up towards the back where a magnet helps it stay up and out of the way, you'll never have to worry about the germs from the bathroom floor!  Yay!!  I don't think I'll ever go back to regular bathing suits, you get spoiled with these!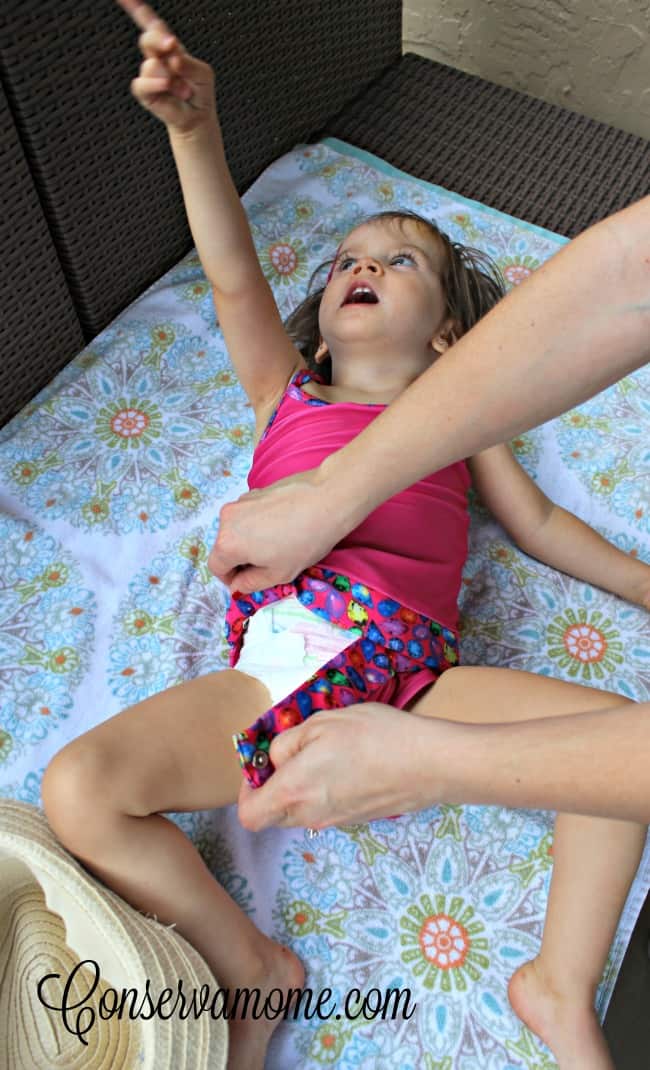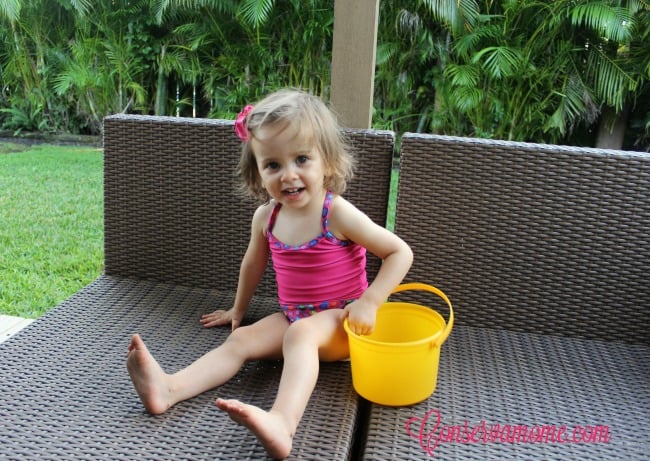 Safety and Care: All their bathing suits are rated UPF 50+ (unless otherwise noted) for extra piece of mind.  Fasten's swimwear is independently tested to ensure compliance with the Consumer Product Safety Commission. As with most bathing suits, you should hand wash in a mild detergent and lay flat to dry or drip dry.
To buy: Take a look at their entire collection at FastenSwim.com where they have great choices in sizes 6 months to Size 10, so you can be sure to find the right size swimwear for your kids.  Their bathing suits can run a little bit small, so order a size up to be on the safe side.  They also have cover ups, hats, and headbands to match with their swimwear! Fasten proudly manufactures all their swimwear in the U.S.A.
Save
Save
Save