Looking for a fun Valentine's Day gift that isn't full of sugar or sweets? These Pencil Valentines are awesome! Not only are they super cute (and who doesn't love puns?!) but they're actually useful as well. This is a perfect non edible valentine treats that keeps on giving!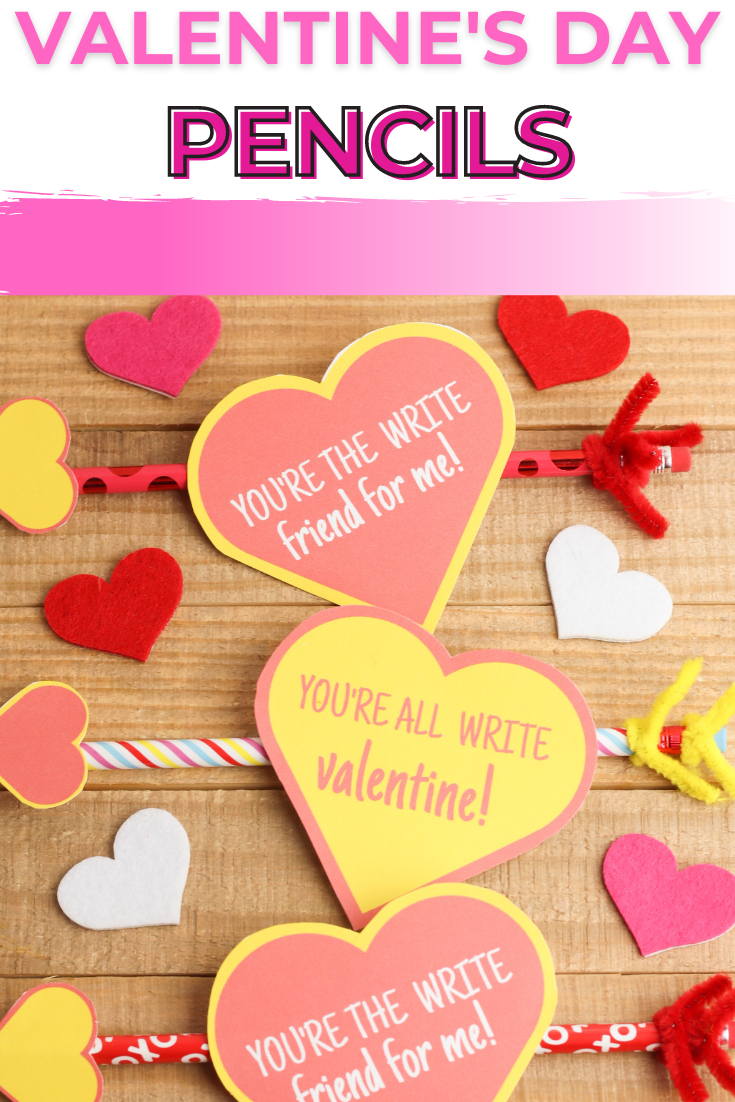 *This post contains affiliate links. That means that if you make a purchase after clicking on a link I may earn a small commission at no extra cost to you.
Pencil Valentines – A Perfect Non edible Valentine Treats
I remember growing up that I LOVED getting unique things from friends for Valentine's Day. And when it's something that can be used daily, it's even better.
Because let's face it…we all have a lot of sweets and treats already coming our way over the next few weeks so it makes sense to think outside the box and do something a bit different for Valentine's Day.
You can easily buy a bunch of Valentine-themed pencils in bulk and makeup quite a few to hand out to family and friends. (because even though we live in a world of technology, there is always a need for a good writing utensil)
Have fun putting together this fun Valentine's Day craft. The kids will be so happy to join in on the fun and be ready to hand them out, too!
Supplies Needed for these Pencil Valentines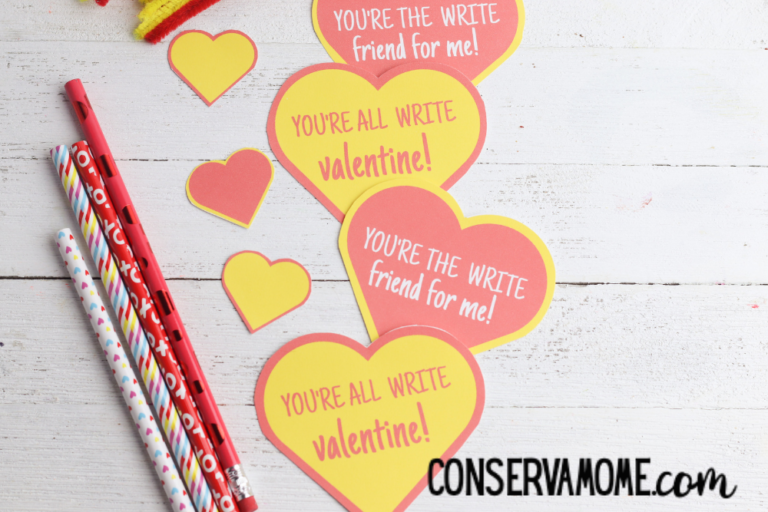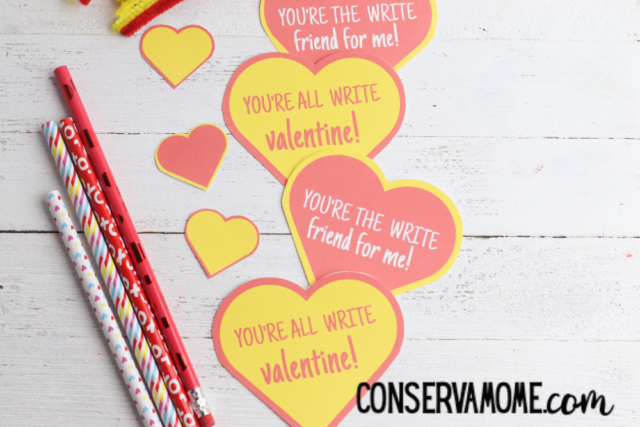 How to make and put together your Valentine Pencils
Start by printing out your Pencil Valentine templates!
Print valentines on card stock and cut out around the outer border. Cut out small hearts around the outer border.
Tape the larger heart on the center of the pencil and the smaller heart on the end of the pencil.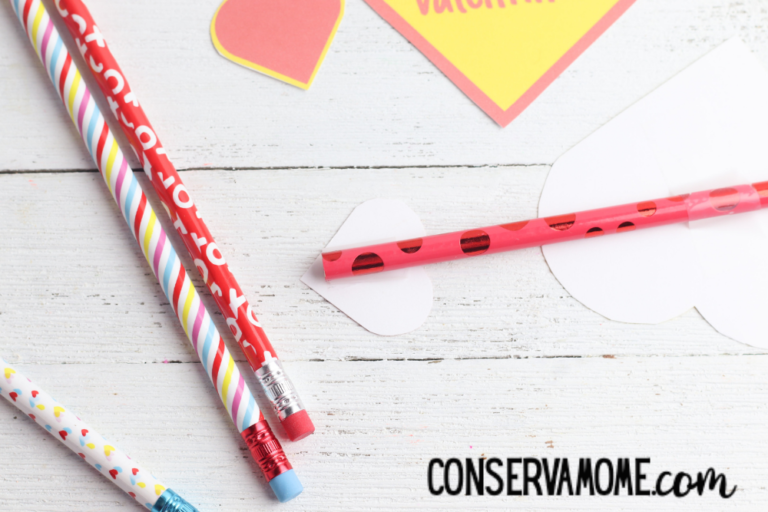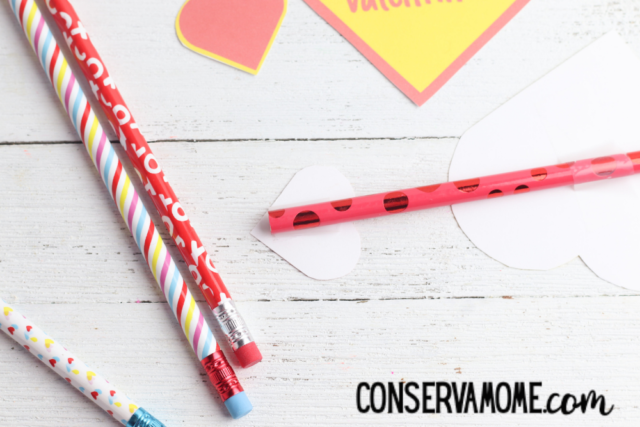 Cut the pipe cleaner into four equal pieces and wrap two pieces of the pipe cleaner around the eraser of the pencil.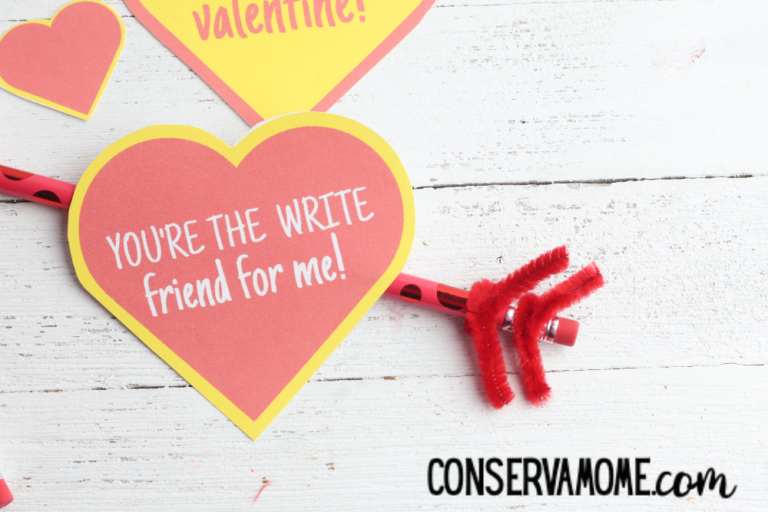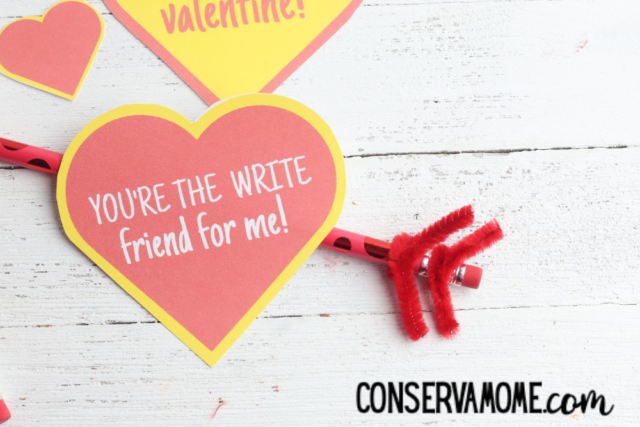 Fun Ways To Share These Valentine's Day Pencils
The great thing about these fun Valentines is that they're pretty quick and easy to do. We've all felt that time crunch at one point in time or another when we realized that Valentine's Day snuck up on us and we still don't have anything made up to share with other kids or for the looming class party, right?
This is where these fun pencils shine! Since you don't have to bake up anything or stress of hand-crafting a bunch of stuff, you can easily put together these fun Valentine Day pencils that are certain to steal the show.
A few tricks that I've learned along the way are that it's a good idea to buy the same type of pencils if you don't want the kids to argue over which ones that they want and it's also a good idea to be there with the kids while they're putting them together just in case they need a bit of help.
Best of all, you'll have some pencils leftover to keep for home use, too!
Make certain to check out our Cupcake Liner Ladybug Valentine's Day Craft that is so much fun as well! Make some fun Valentine's day treats from the fun recipes over at that page. Looking for a fun Valentine's Day craft for yourself? Check out this Valentine's day decor made with scrap wood.