Check out these fun Patriotic Ice Stars! They're a great way to celebrate all things Red, White, and Blue and also really good for sensory skills and fun as well. This fun Patriotic Sensory activity is a fun way to have some cool sensory play!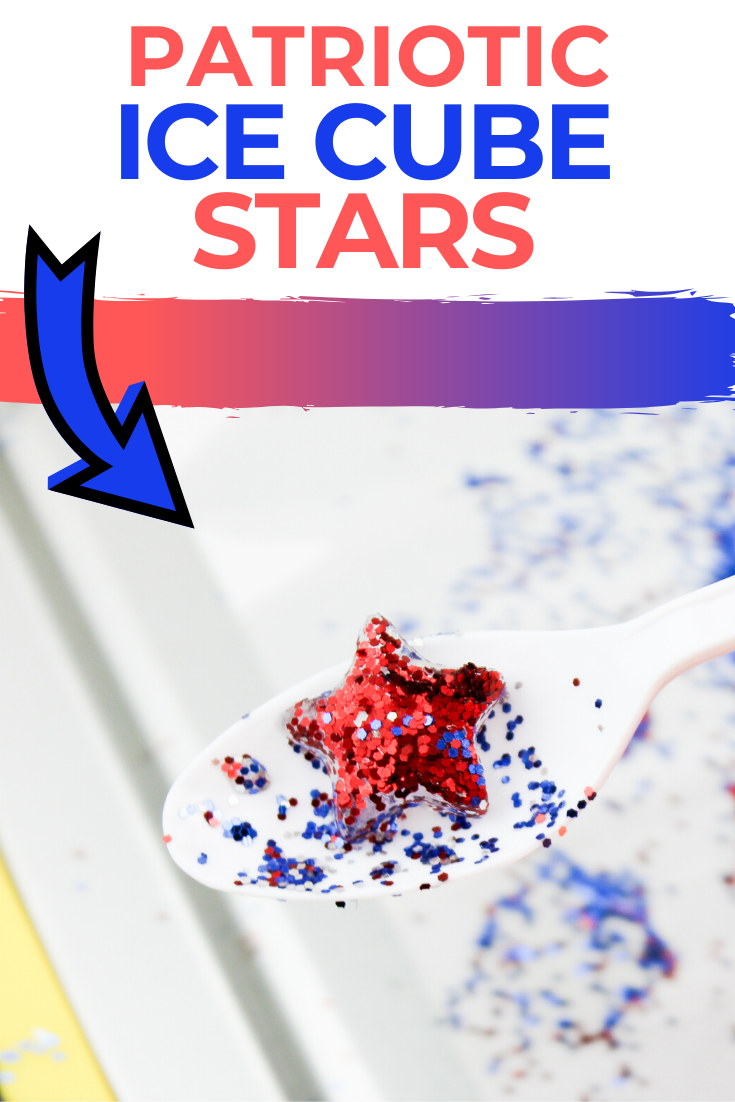 *This post contains affiliate links. That means that if you make a purchase after clicking on a link I may earn a small commission at no extra cost to you.
Patriotic Ice Stars
We actually love using glitter in our house. And while sometimes it tends to get a bad rap, this fun patriotic craft makes it totally worth it. How many other times have you ever seen star-shaped ice cubes covered in glitter? This truly is a fun patriotic-themed activity that the kids are going to love.
Since it's ice cubes, it's also a really great activity to use during the hot summer days. You can easily change out the color of the glitter as well and make it be any type of color that your child would want to use.
Sensory play is very important for kids it helps them develop in so many different ways this activity is also very calming which is a huge plus!
Let the kids take charge of this fun craft but stand close by for supervision. It's bound to get a little bit messy but it's okay since it's just water that will dry without worry!
Supplies needed for these Patriotic Ice Stars
***Ice cubes are not for eating or putting in the mouth! Adult supervision highly encouraged when young children are completing this activity.
Pre-freezing:
Post-freezing:
Frozen glitter stars

Shallow pan

White cardstock paper

Plastic spoon

Craft stick

Empty star mold (after emptying onto the pan)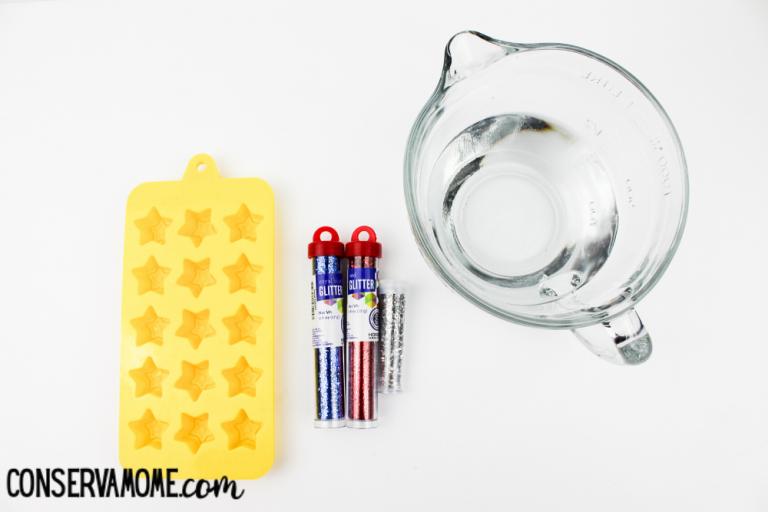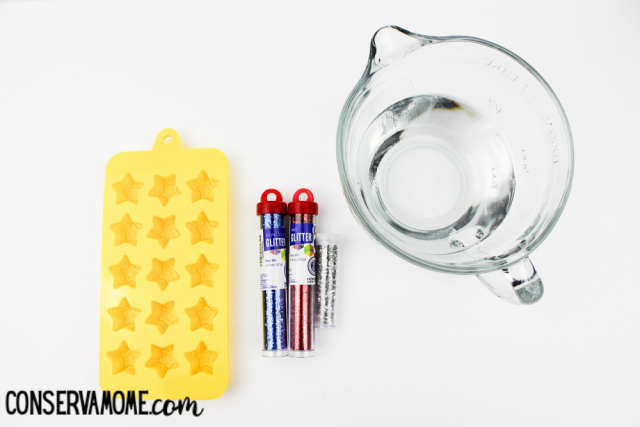 How to make these Patriotic Ice Stars
Pour about ½ teaspoon of desired colors of glitter into the star mold. For this project, we made 6 red stars, 6 blue stars, and 3 silver stars. You can even mix the red, silver, and blue glitter together if desired.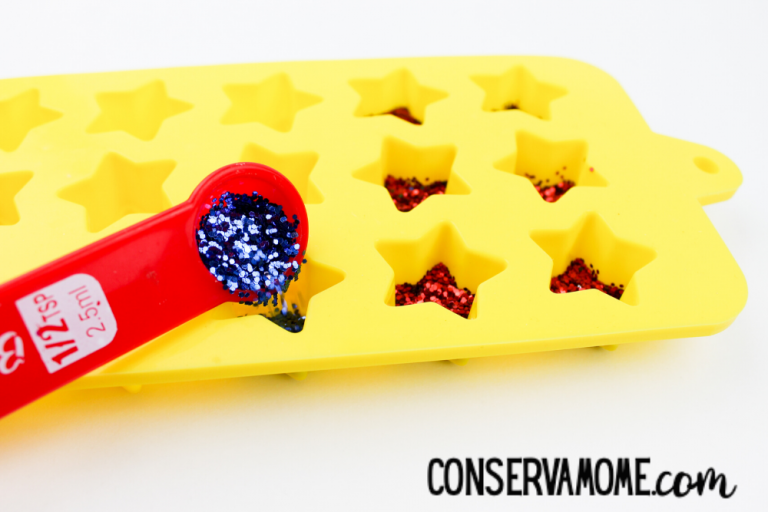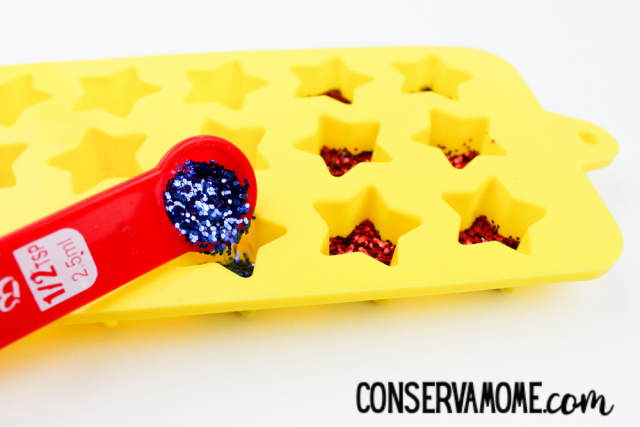 Fill a dropper with water. Slowly fill each star mold with water about ¾ full. Do not fill the entire star with water as the water will expand when freezing. (You can use a small craft stick to stir the glitter and water to mix. We did not do this, so we did have loose glitter in our mold. This will all depend on the type of mold you use, the amount of glitter used, and if you stir the glitter.)
Place star mold into the freezer and freeze the stars until frozen.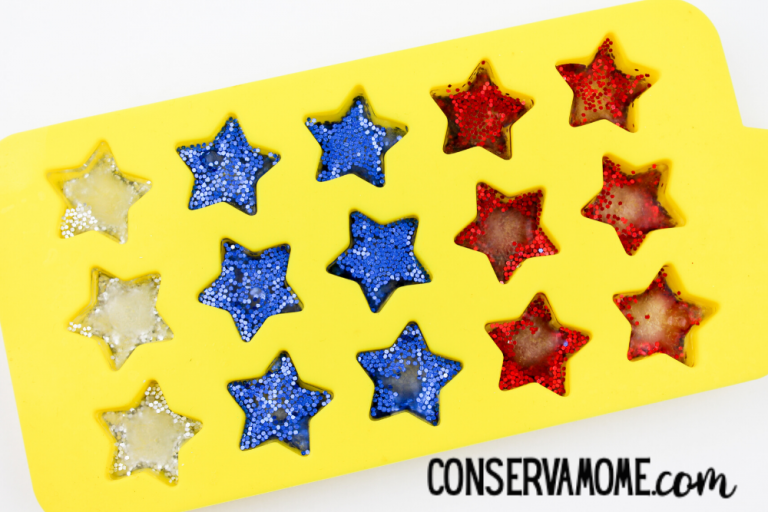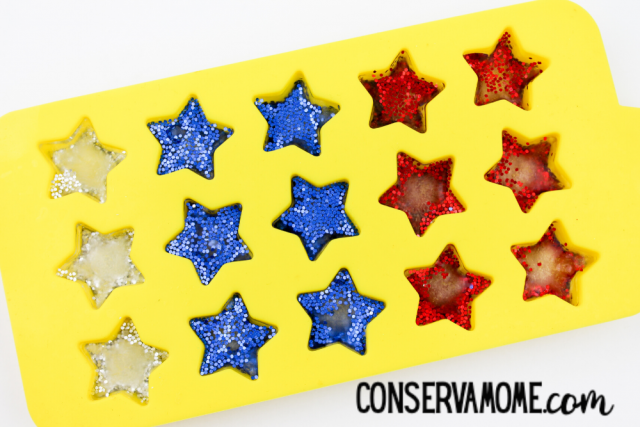 Set up a shallow pan with a piece of white card stock paper on top of the pan. Set a plastic spoon and a craft stick on the pan for the child to use when playing with the ice.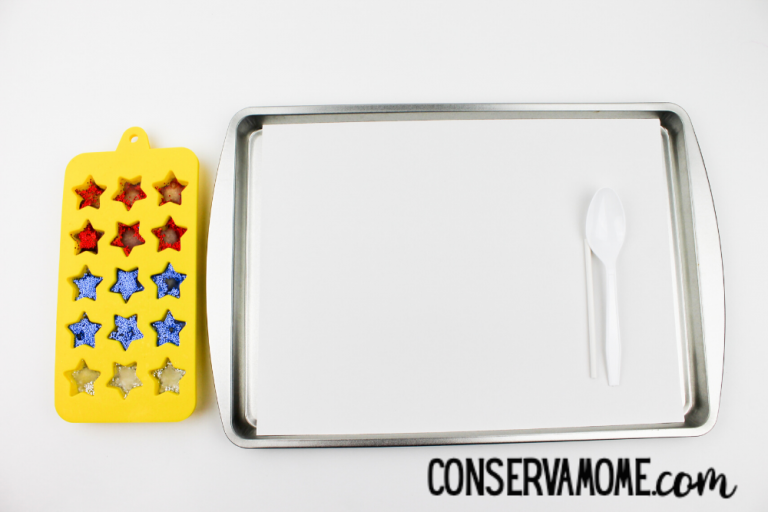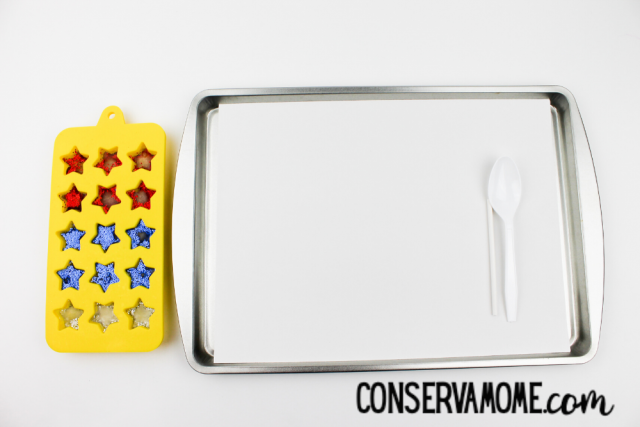 When you are ready to begin playtime and the stars are completely frozen, empty the contents of the star mold onto the paper. Set the star mold next to the pan, as this can be additional playtime. (My son liked placing the stars back into the mold during playtime.)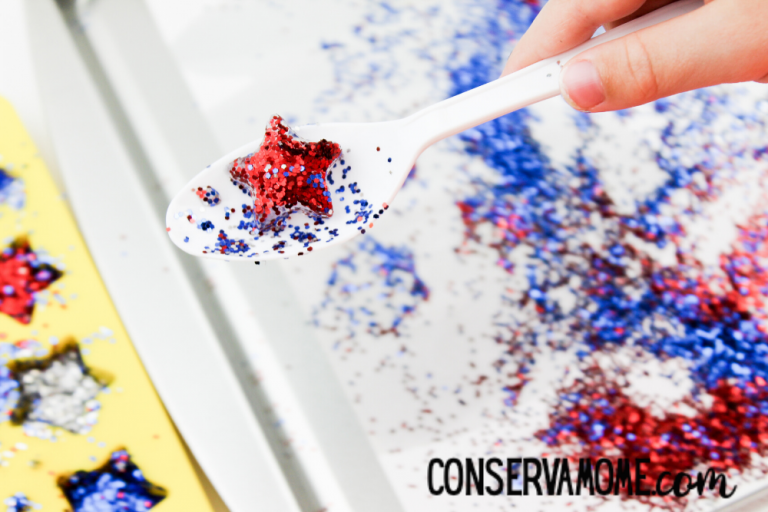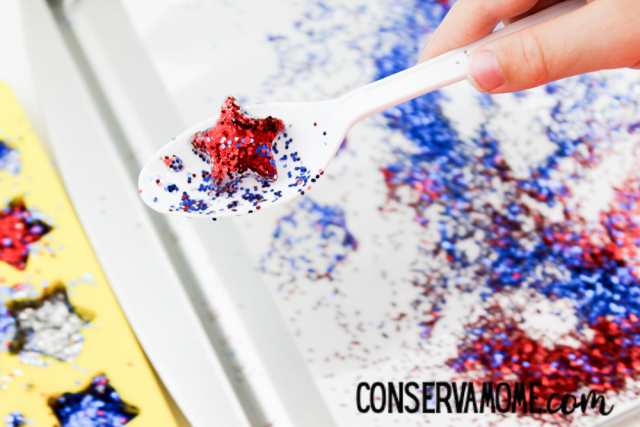 Cool Patriotic Sensory fun
Depending on how your stars freeze, you may notice that you have additional glitter that will fall out of the mold when emptying onto the pan, or your stars may be 'clean' where all of the glitter freezes into the star. Either way is fine. (I found that my kids loved the additional glitter available for playtime. If your stars do freeze with all of the glitter inside and you want to add additional glitter to the tray for extra fun, you can do that, too. Or, if your stars are clean, you may just want to watch the stars melt and leave glitter trails on their own.)
Allow the child to use the plastic spoon and craft stick to push around the ice around the pan to see what happens. Ice will melt as they play.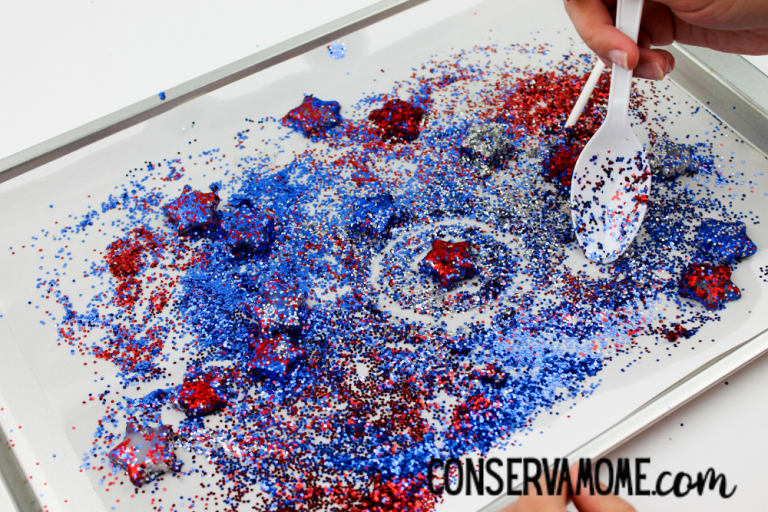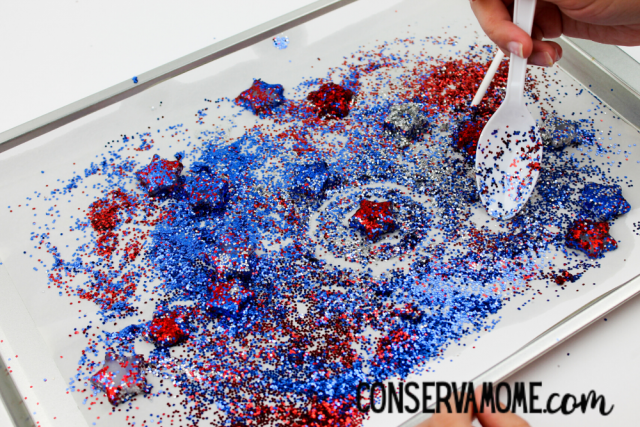 Continue playtime until all ice melts, pushing the stars around the paper.
Clean up is easy – see the photo that shows how you can gather the paper together to keep the mess contained. Then, toss the contents when finished. Have child wash their hands after – they will most likely have glitter on them!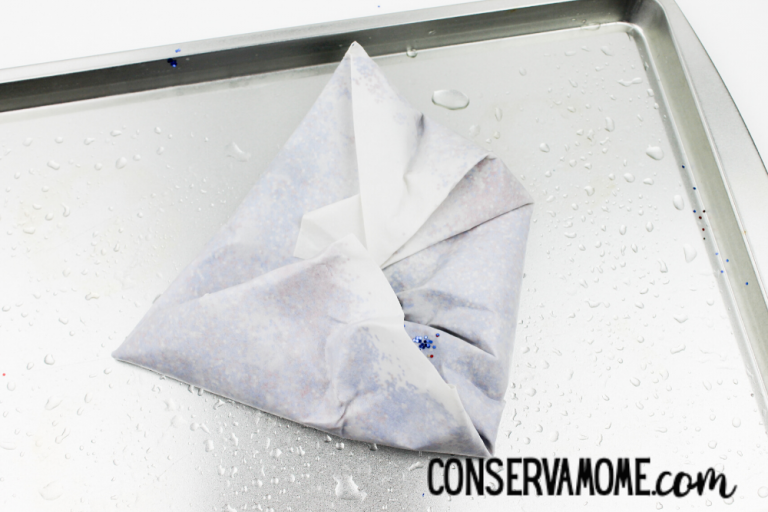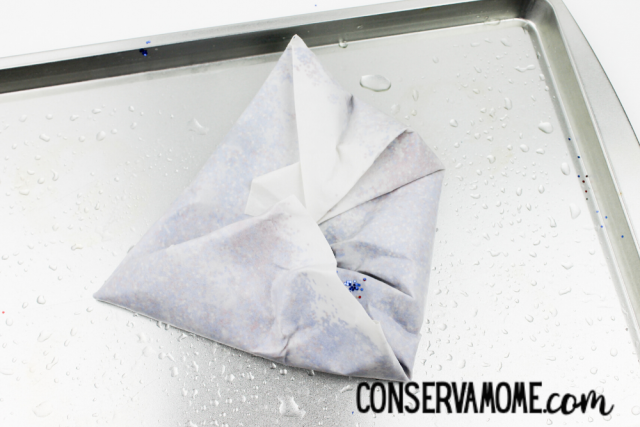 Like this fun activity? Make certain to check out our Easy & Fun Glitter Slime Recipe as well! You can't ever have too much glitter!
Want more crafts? Check out my Creative fun for you little one Facebook Group!
Looking for more Patriotic Ideas? Check out this fantastic round up of Patriotic Crafts that are Red white and blue fabulous!