It's important to remember what's important and to keep things in perspective as a parent. Loving My Perfectly Imperfect Kids – Prevent a common parenting pitfall
My pulse is racing, one eye is shut and one is somewhat open, my hands are curled up around the seat holding on pretty tight and then it happens he hits the ball. He doesn't hit it hard, but hard enough to make it to first. It's Wednesday night and I'm at one of my most stressful activities of the week, my 6 year old's little league game. You would think by the reaction of all the parents ,including myself, we are at the world series game for our favorite sports team. I was so stressed waiting for him to hit the ball and running to first base that I almost miss the goofy look he had on his face while running and most important as he stomps on first turns to look at me, waves and blows me a kiss. It's then when I realized how allowing myself to stress out over the simple things I am truly missing the big things.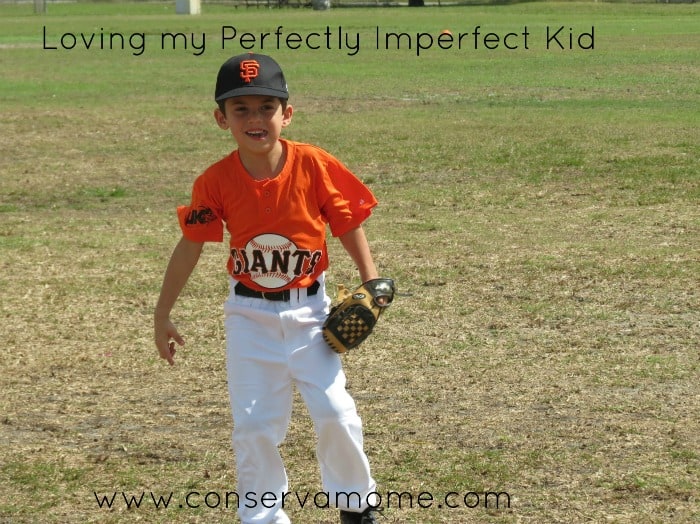 As parents we want our child to stand out, we want them to be the next sports star, lead ballerina, famous singer or panting prodigy. I'm guilty of it. Especially as a homeschooling parent, I put so much pressure on myself and on what my children's abilities are, that many times I just forget to enjoy these little moments. Don't get me wrong, it's important for our children to learn and gain skills that will help them grow as individuals. My problem is with the constant pressure we put on them to excel, and not really enjoy and grow as individuals.
Our kids are losing their childhood. You can see it every day as you drive down your block. How many are out there playing ball? Riding their bicycles? Playing jump rope? It's a rare sight if you see kids outside playing a game of ball, not one you see often if at all. I know many blame video games and indoor activities but with the added on pressures of school work, sports and extracurricular activities are we trying so hard to create the super kid we aren't truly loving our imperfect one?
You see it on the news how fights break out at sporting events, how this child is doing this amount of work a day and doesn't have time to play. The soccer mom, the Hockey Mom the dance team mom, we are there for your our children but are we really there for them? How do we react when they fail? When they don't meet our expectations? Are we holding them to unreasonable standards? I know I've caught myself doing it, comparing, wishing my son was the fastest, strongest and best. But I ask myself..how am I making him feel in the process?
As my son rounded the bases at the game the other day I saw the joy in his face ,not for the fact that he was making it to home but because he was having fun. Something, I wasn't doing. It made me realize that although he may not be the fastest , strongest or have the best skills, he's the little guy who gives me hugs when he sees me worried. He's the little guy who shares his cookies with me when he gets an extra one . He's the reason I am called a mom. As parents we need to realize the gifts we have been given and enjoy theme for who they are, because when we least expect it, they will have gone off and made their way and what will all that stress, and worry have done to our relationship with them. I will always push him to be the best and know he has the potential but I need to remember to always allow him to be a kid and for me to enjoy this small period of time called childhood.
Let them have fun and have fun with them in the process! It's important to be a parent and to parent our children but don't loose being a Mom or Dad in the process. Always love and show you love your perfectly imperfect child.