Keeping a bathroom clean can be tough, especially with kids around. Here are 5 Tips for Keeping Your Bathroom Spotless.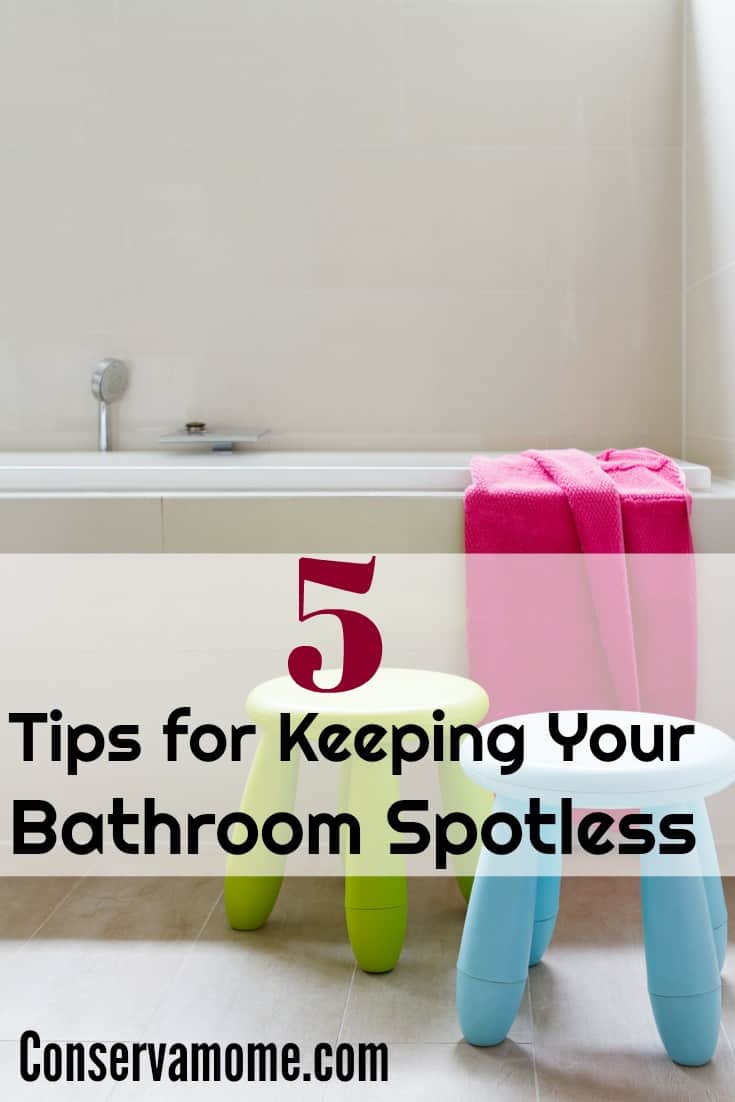 5 Tips for Keeping Your Bathroom Spotless
Everybody could use a little extra help getting ahead of the clean-up around their home and that is why these 5 tips for keeping your bathroom spotless are so handy.
Clean up during bath time.
If you have older kids that can sit up and navigate around the tub but still need a chaperone when it's time to bathe this is a great time to tidy your family's latrine. You can still keep an eye on your children while you wipe the mirrors, swish the toilet and wipe down the countertops. Use natural cleaners so your kids won't be inhaling harsh chemicals.
If you don't have kids your daily shower is still a great time to touch up the bathroom. Take 60 seconds while your water is warming up wipe down the sink, change the trash bag, or do whatever needs to be done.
Get rid of products you don't use.
Clutter leads to chaos and the less stuff you have hanging out in your bathroom the better. If you have bath products you have used half of but don't love give them to a tween or teen girl that might enjoy trying something new. You can also donate products that are almost completely full lots of homeless shelters, safe houses, hospitals, and some food banks will take them as donations.
If you have millions of toothpaste, soap, and lotion samples use them up or donate them. You will free up cabinet space for the items you actually use. This leads me to my next point…
You can even use toothpaste to clean your home!
Don't display products on the counter.
Unless you live in a teeny tiny space and you have no other choice. One stressful morning and that 'display' of products becomes a disaster. It's better to have a messy cabinet with a door you can close than a cluttered countertop. Plus, when you have guests over they really don't need to know what brand of hairspray you use or that you bought the $95 jar of wrinkle cream. If you don't have the cabinet space for everything then make sure what you do display is tasteful. Like a jar of white cotton balls or a decorative box to keep your teen's retainer in.
Close the shower curtain.
Single. Time. It will help it last longer by drying out and not harboring mold and it will make your bathroom appear cleaner because you won't be able to see hard water stains in the tub or all the shampoo/body wash/conditioner bottles in there.
Put things away
If your excuse is that taking 5 seconds to put your makeup bag back in the cabinet is going to make you late for work, Honey, you were going to be late anyway. This step is easiest if you put things away as soon as you are done using them instead of waiting until you have makeup, hairspray, argan oil, your baby's pacifier, hairbrushes, tweezers, bobby pins, cold coffee, curling irons, half a bagel, and deodorant covering every inch of your counter. Like I mentioned earlier, even if you just throw everything in a cabinet and shut the door your bathroom will still appear to be cleaner than if you left it all out in the open.
For all of these tips, I recommend keeping a stash of pre-moistened sanitizing wipes under your sink so that you can quickly wipe up messes as they arise. I hope you found these tips useful. What else do you do to keep your water closet in tip-top shape?
Looking for a neat way to clean your toilet that's natural? Check out these great homemade toilet bombs.