One of the biggest enigmas for parents is how well can baby see. I've teamed up for a sponsored conversation with Vision Direct to bring you an amazing tool that helps give you an insight as to what your little one can see. 
One of the biggest enigmas for a new parent is how well can a baby see? Let's face it, they've spent months in Utero getting ready for their big appearance. Finally they get here and you're so excited to see them and well, for them to see you. Although we know how important a mother and baby's bond is thanks to her smell.  We also know that babies are able to pick up certain voices that they heard while in their mothers wombs. That being said how well can they see you and the new people and things in their lives? Vision Direct has a  New Digital Tool that Helps Parents Learn About Baby Sight.
This new interactive tool from Vision Direct helps parents learn how their baby's vision develops over the first year. Check out a glimpse of what your baby can see as a newborn!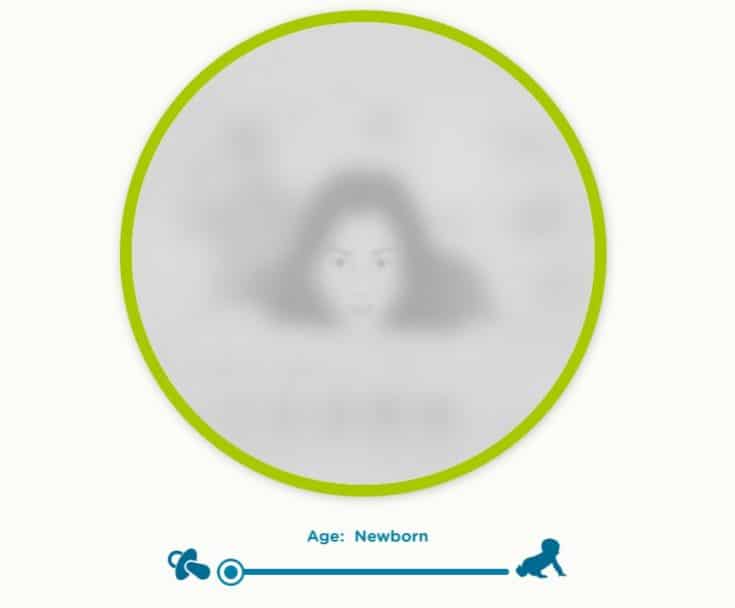 This fun tool is so amazing!  Using the simple interface, parents can quickly shift from a newborn's first view to the fully developed vision of a 12 month old child. Developed by opticians, this digital tool features a simple sliding scale to show the developmental stages of a baby's eyesight.
To check it out for yourself head over here. Input your child's age and the tool will give you some idea of what your baby's field of vision, depth perception and color awareness might be like.
As you move the slider, you'll notice colors and objects become sharper. For instance a newborn will see only black and white while a two-month old will see only bright primary shades.
Vision Direct's Head Optician Brendan O'Brien says: "We hope this will help parents understand how their baby's vision changes during this critical time for development. The tool features helpful tips on how to support your child as they learn to focus, track objects and see colors."
Vision Direct hopes parents can refer to this tool as their baby grows and use this resource to encourage healthy development. This will be great for them to incorporate various developmental activities and fun to help your baby grow leaps and bounds the first year as well as give you an insight as to what's going on with them.
As well as being the leading online retailer of contact lenses in Europe, Vision Direct is committed to being a leading resource for eye health and information.
For more information, follow Vision Direct on Facebook, Twitter and Instagram.