Halloween is a fun time for some tricks and treats. Check out a fun tradition to start in your neighborhood that involves some candy, and lots of fun. Find out How to Boo Your Neighbors + 5 You've Been Booed Printable signs to choose from.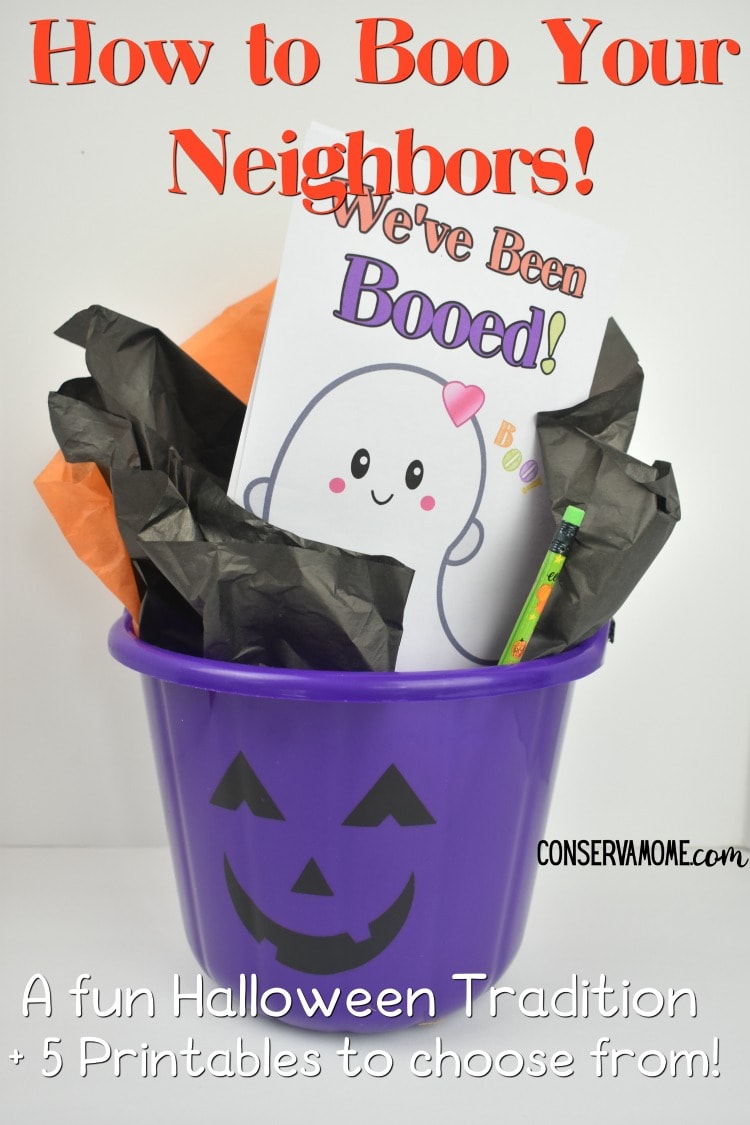 How to boo your neighbors
We live in an amazing neighborhood. Our kids all go to the same schools. Our kids all talk to each other and have become friends with each other. I've also made some great friends in my neighborhood. That being said it's still a big neighborhood and getting to know every single person can be tough. That's why I love activities that bring neighbors together in a fun way.
We've had a lot of fun activities since we moved to the neighborhood like Easter Egg Hunts, Candy Cane Walks,etc. You know you move to a great neighborhood when people are up to having these fun events. Which is why I was inspired to get the ball rolling on our end of the neighborhood with some Halloween fun.
You've been booed printable
When I lived in Kansas years ago the military wives would all start various traditions like Bunco night, Ornament exchange and one of my favorites Booing your neighbors.
Booing your neighbors consists of making a couple of treat bags and putting a cute "You've been booed"printable inside the treat bag. Picking two neighbors to secretly deliver them to and leaving the instructions to boo 2 other neighbors, starting a fun chain reaction.
It's kind of like a Halloween version of a secret Santa.
Living in the neighborhood I live in , it's only natural do do this fun activity. What better way to spread some cheer than with Halloween candy and goodies. You can get as creative as you like with your treats.
A Fun Halloween Activity
From a simple bag to basket. The sky's the limit to the fun you can have. My daughters and I recently started the Boo train in our neighborhood. They were so excited to do it. We went in the cover of the night and delivered special boo treats to our neighbors.
Hopefully none of them will read this and figure out it was us. But we had a blast. The girls and I put together our Boo buckets and filled them up with goodies and fun Halloween toys for everyone to enjoy.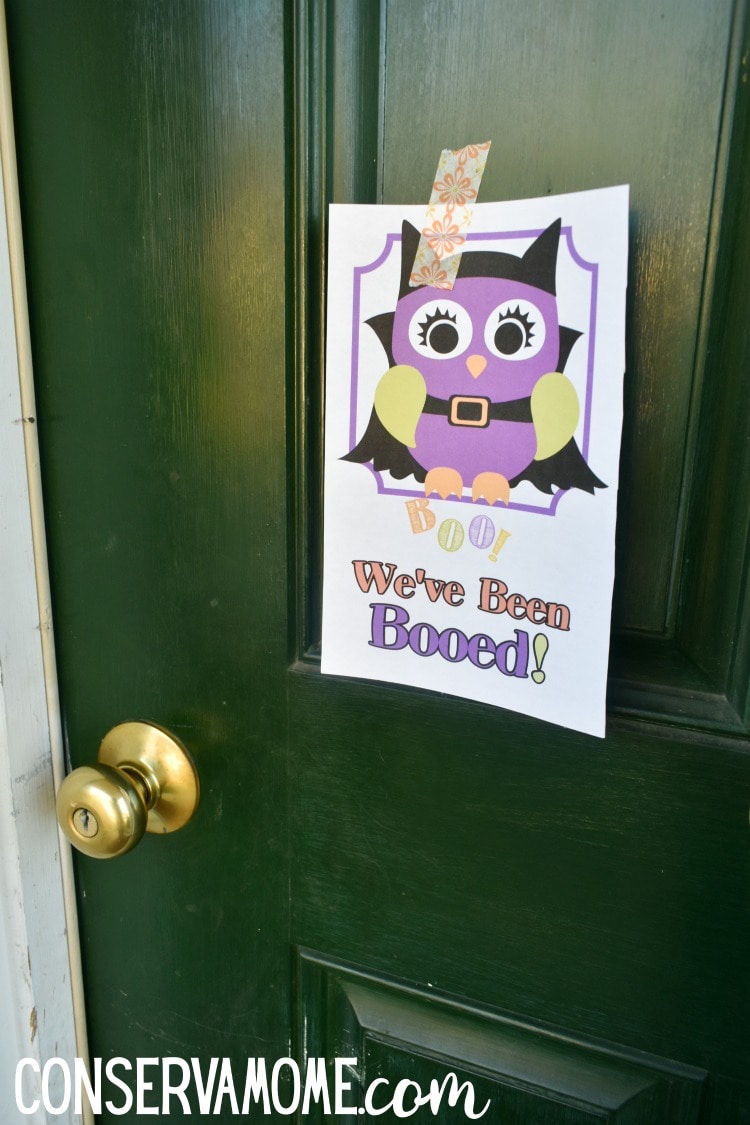 If you really want to get creative you can even Booze them throwing in a fun Adult treat as well. The best part it's secret so you get to do a fun deed without anyone knowing it was you.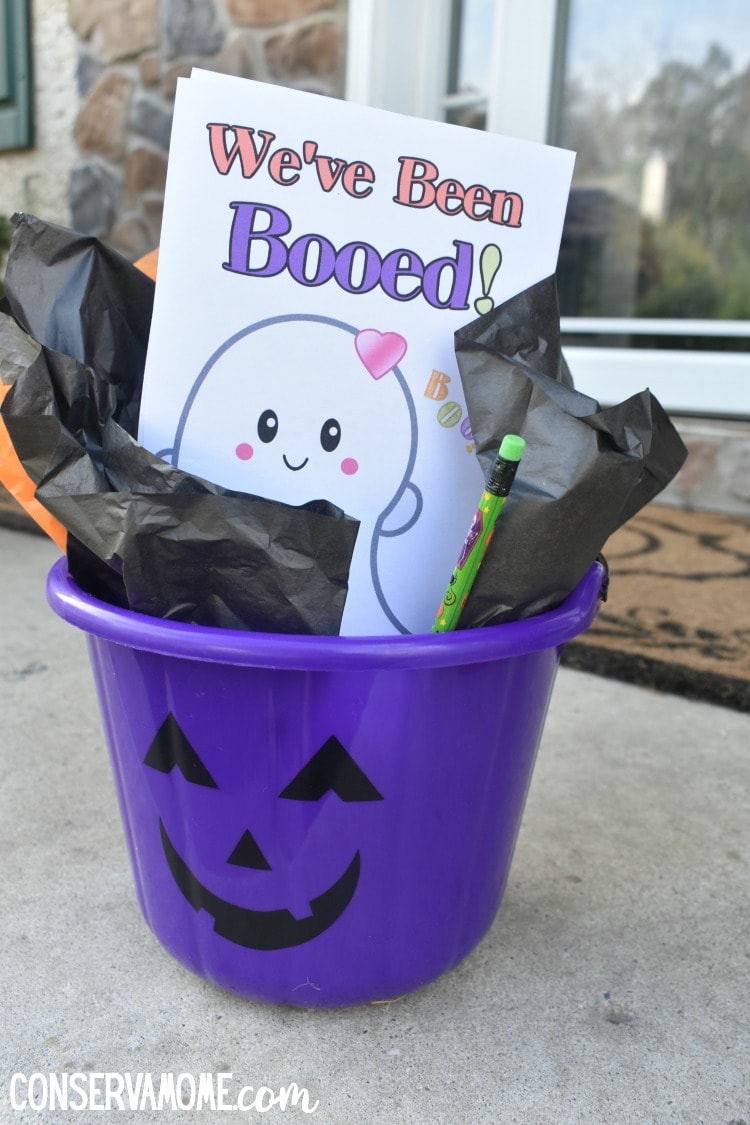 How to Boo your Neighbors
So to get booing go to the store and get candy, halloween toys,etc.. Anything you might find fun to put in your boo bag. Make sure and pick up some cute bags, a bucket like the one in the picture above or even some Halloween party hats.
There's so many great ways to boo your neighbors. You don't even have to make it a candy basket. Maybe a gift card for something you know your neighbor might enjoy. It's all about spreading some fun and doing something good that will put a smile on someones face.
Free You've been booed Printable Signs
Then click on your favorite(s) picture below and it will open up as a pdf file. Print out the pdf file and place the paper folded or cut inside the boo bag and let the fun begin. Who knows, you may even get booed in return. So head below get clickin, printing and get to booing your neighbors.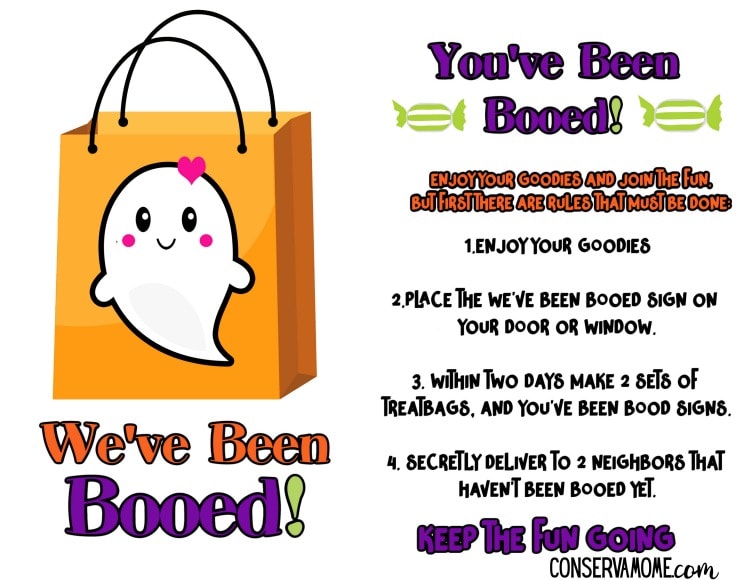 Finally, Make sure and share with friends and pin this below to save for years to come.
Looking for some fun things to add to your boo bags? How about some delicious Halloween Treats?
Check out this round up of 40 Spooky Halloween Treats