This Easter Science:A Fun Easter Fizzing Science Activity is a super fun way for the kids to get excited about Easter with a bit of science and STEM learning sprinkled in.

*This post contains affiliate links. That means that if you make a purchase after clicking on a link I may earn a small commission at no extra cost to you.
Easter Science Activity: A Fun Easter Fizzing Science Activity
The fun part about this Easter science experiment is that it combines fun and bright colors with Easter fun! Anytime I can get the kids to enjoy doing a project at home that will showcase how things work or spark conversations about science, I'm so excited to make that happen! We all know how important hands on learning is so being able to make learning come alive is important.
It's always a great learning lesson to see baking soda react to vinegar. The kids will sometimes even call it "magic" and are ALWAYS excited to do an experiment such as this.
All I have to do is explain it to them and then step back and let them take over. They enjoy reading and following the directions because they know that this is a fun and easy way to create a cool and unique experiment at home.
Supplies Needed For This Easter Baking Soda and Vinegar Experiment
Baking soda
Vinegar (in a small plastic bottle)
Spoon
Tray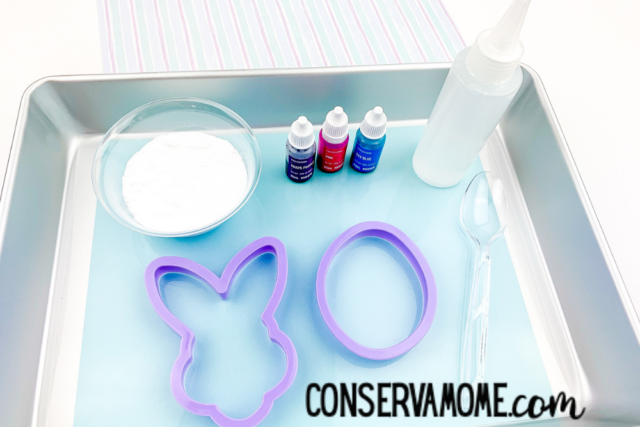 How to Make This Easter Baking Soda and Vinegar Experiment
Spoon baking soda into each cookie cutter. Tip: Hold the cookie cutter down so it doesn't move while completing this step. Try to spread baking soda out evenly.
Drop food coloring onto the baking soda one drop at a time. Use different colors if desired. For this project, we dropped about 5-8 drops in each cookie cutter.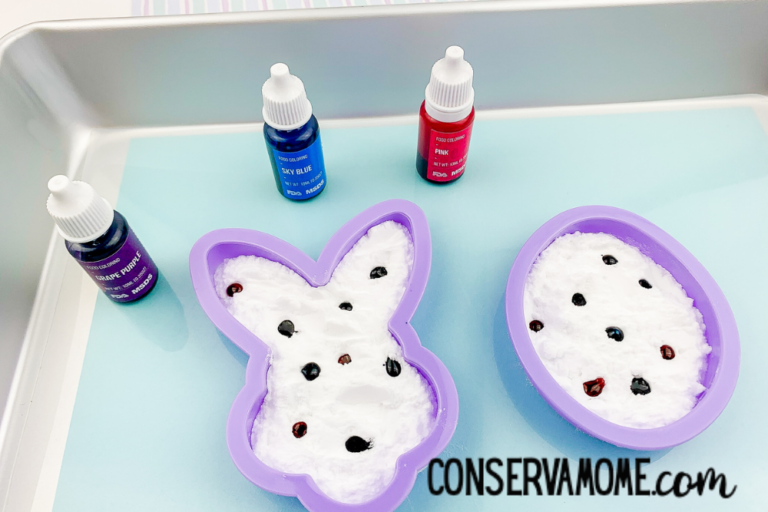 Using the vinegar bottle, squirt a little vinegar onto each food coloring drop in the baking soda. Watch the reaction that takes place!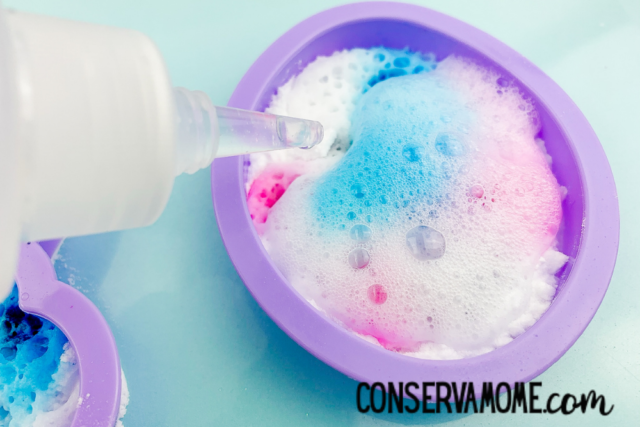 Continue the step above until the entire cookie cutter is colored in.
Such a fun science activity for the kids!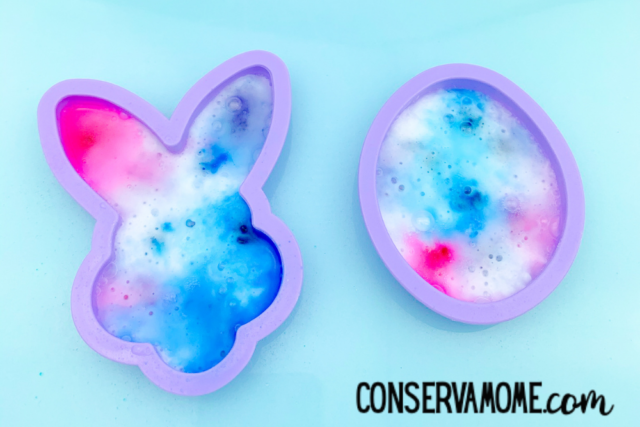 Fun Ways to Use This Science Experiment
Since this simple science is so simple to do in a short amount of time, it's a great way to squeeze any science fun at any point in time.
While this is geared towards Easter, you can easily change up the cookie cutter and do this for other holidays or even just "because" as well.
The kids will love being able to change up the colors of the food coloring to get this experiment a new look every single time. You can even have them mix colors together to see if they can create something totally unique and fun!
Once the experiment is done, sit and talk with them about what they observed. While the actual process of doing this activity is a lot of fun, it's also a great time to sit down and talk about it as well. Answer questions and talk about what you'd change up the next time!
Be certain to check out our Skittles Unicorn: A fun Science Experiment as well as even more of our Magnificent Preschool Science Experiments: Preschool hands-on learning!