If you're looking for a DIY Turkey Spinner Craft for holiday fun, you're not going to want to miss this. Not only does this work on your child's fine motor skills but it also helps them write out all the things that they're thankful for as well. Read on to see how easy it is to make this simple Thanksgiving holiday craft. This is the perfect Thankfulness Activity for kids!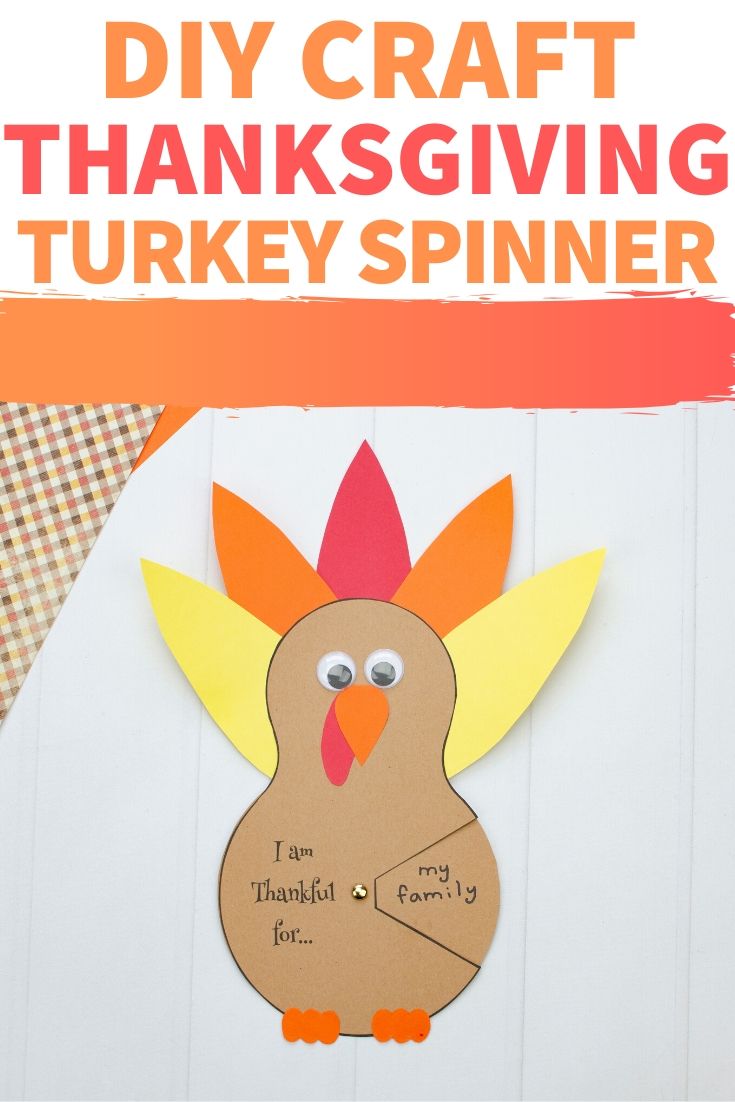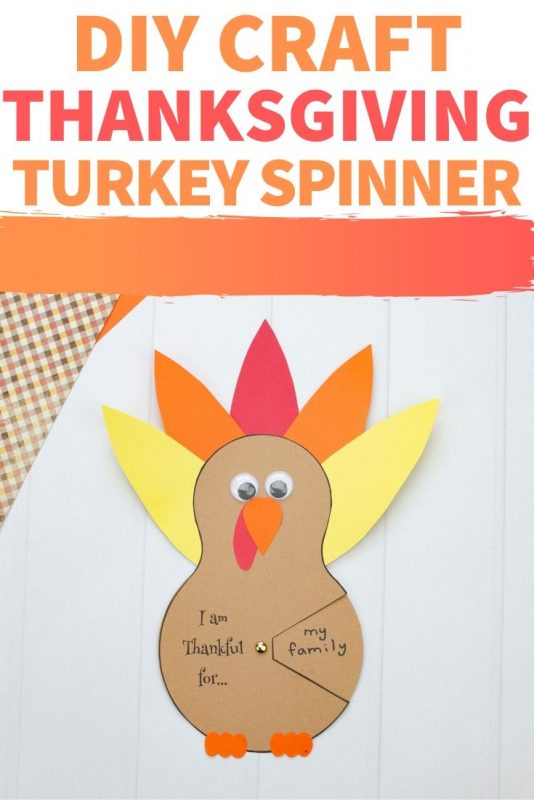 Simple Thanksgiving Holiday Craft
Sitting around as a family and creating holiday crafts is always a lot of fun. While the end result is adorable it's also a great way to slow down the pace of life and enjoy being in the moment with your child.
This DIY Turkey Spinner Craft is really a great holiday craft for a wide variety of ages but the early learners are going to be the ones that will have the most fun with.
With minimal help from a parent or guardian, little hands can almost complete this craft entirely on their own!
If you like this simple craft, check out this other activity as well:
Turkey Toilet Paper Roll Craft: A Kids Thanksgiving Craft Idea
DIY Turkey Spinner Craft
This craft is perfect to create during the month of November and the earlier the better if you're asking me. That way it can be used to remind everyone of all that they should be thankful for on a daily basis!
Supplies needed for this DIY Turkey Spinner Craft
Template
Cardstock: white, brown, yellow, orange and red
Scissors
Glue stick
Marker
Google eyes
Brass fastener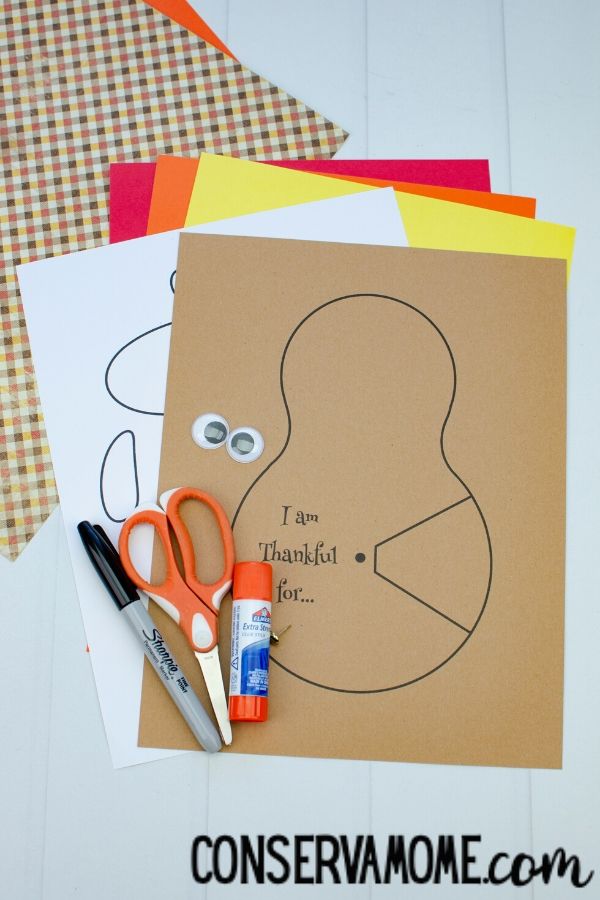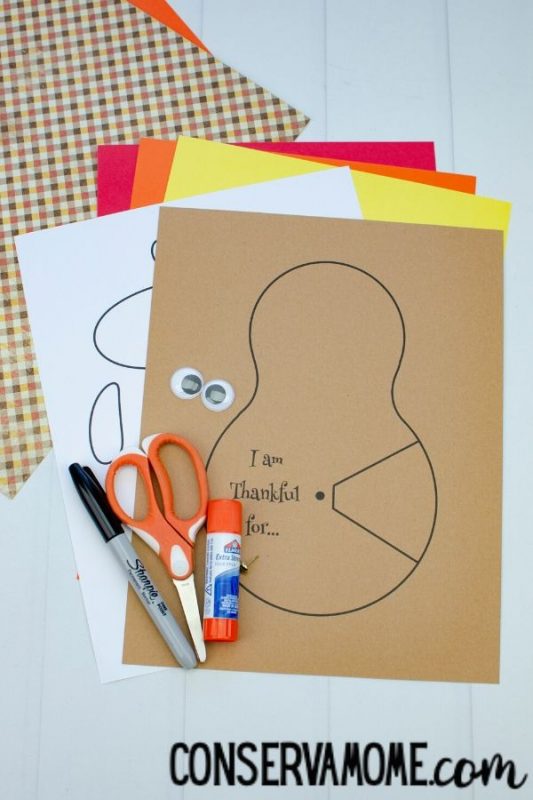 How to make this simple holiday craft
First, print the template with the body of the turkey on brown cardstock. Then, print the other template page on white cardstock.
Now cut out all the pieces from both templates.
Trace the beak and toes on orange paper and cut it out. Trace the snood on red paper and cut it out. Finally, trace the circle template on brown paper and cut it out.
Then take the feather template. Trace it once on red paper and twice on the orange and yellow paper. Cut all 5 feathers out. You can also print out the 3rd page of the template and color all the pieces instead of using colored paper.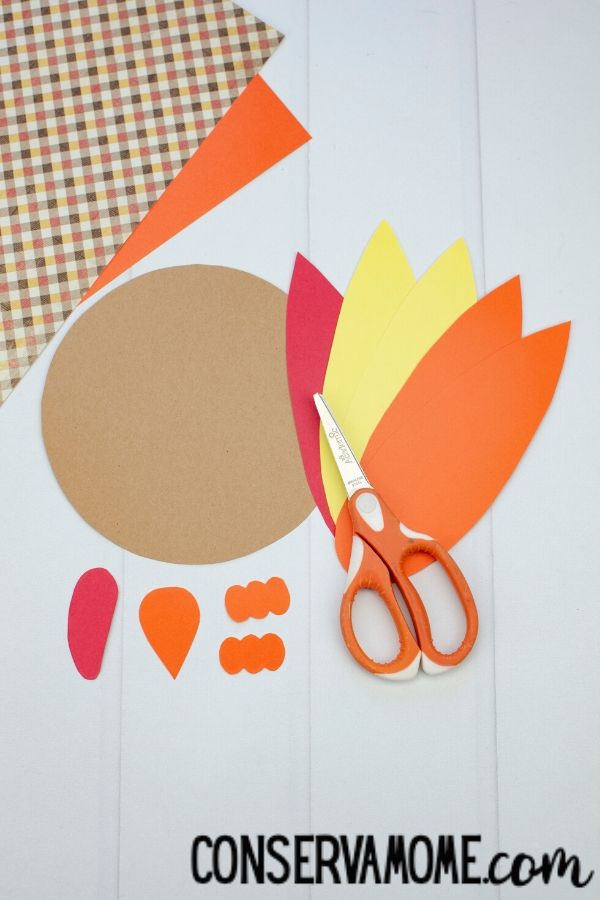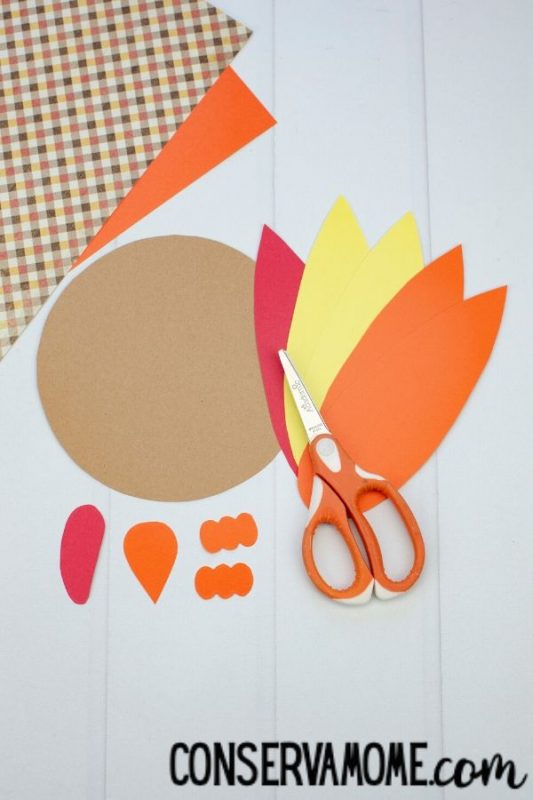 Next, pop on the google eyes and glue on the beak and snood to the face of the turkey. Stick the feet to the bottom as well.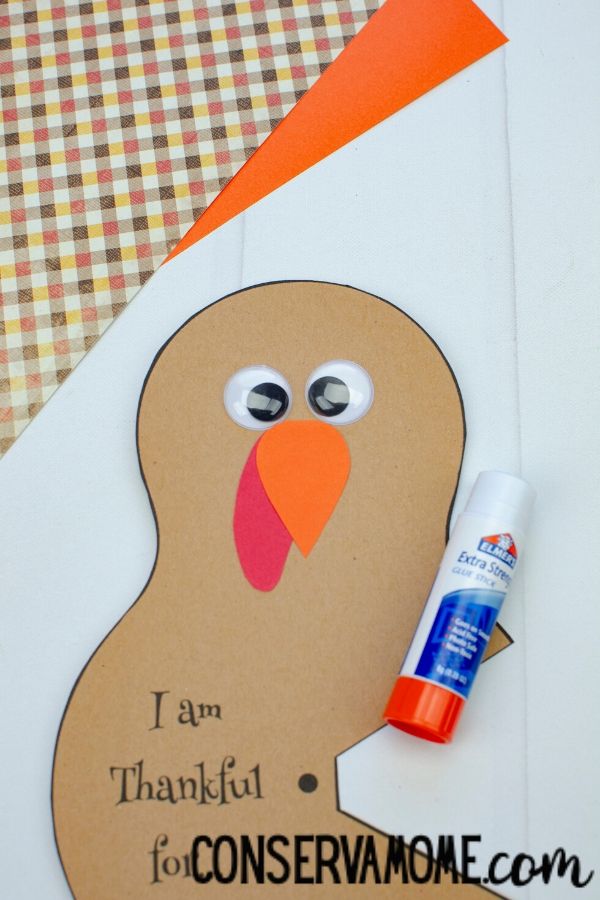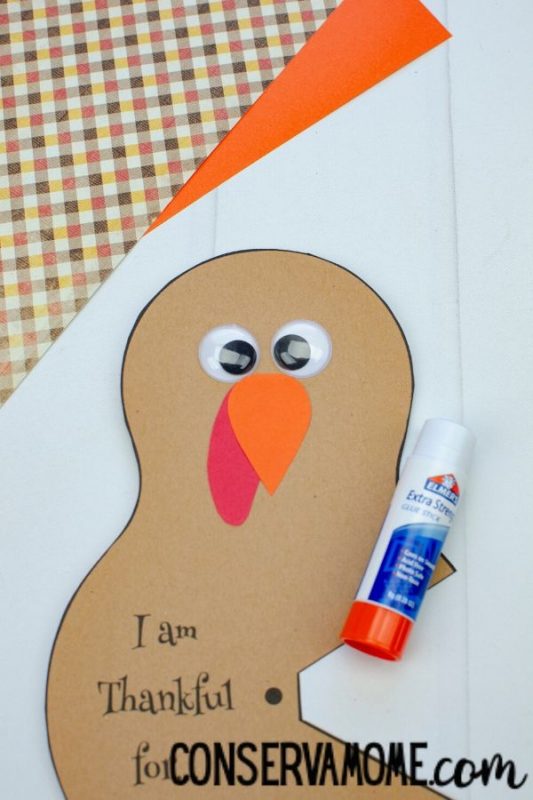 Now place the brown circle on the back of the turkey's body and line it up with the body template. Push the brass fastener through both sheets and spread the tines at the back to secure.
Grab the marker and write things you are thankful for, spinning after each one.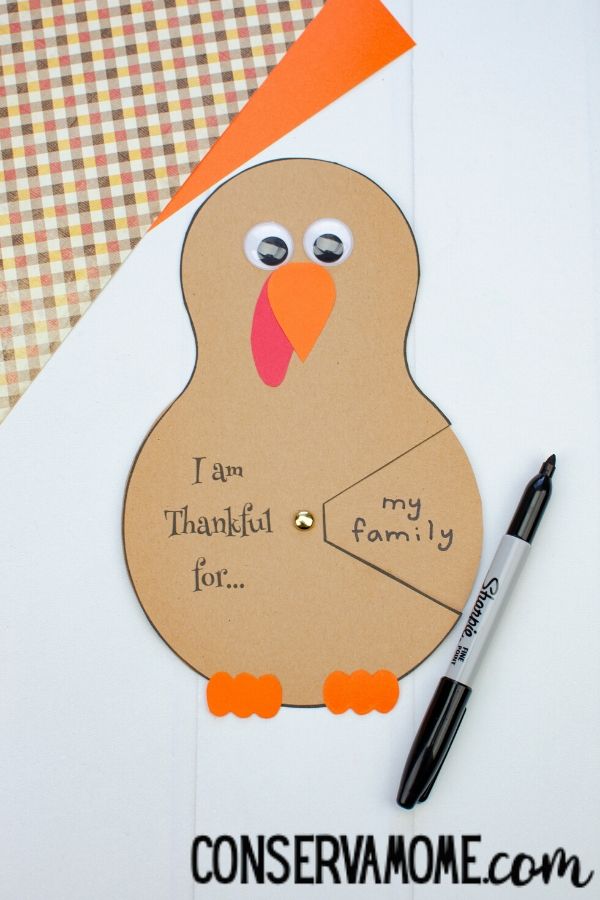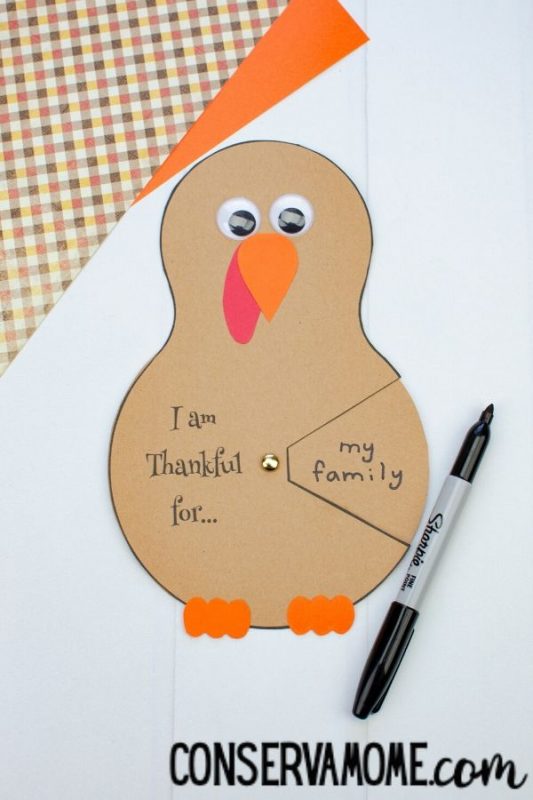 Finally, glue on the paper feathers on the back of the turkey.
The turkey spinner is complete!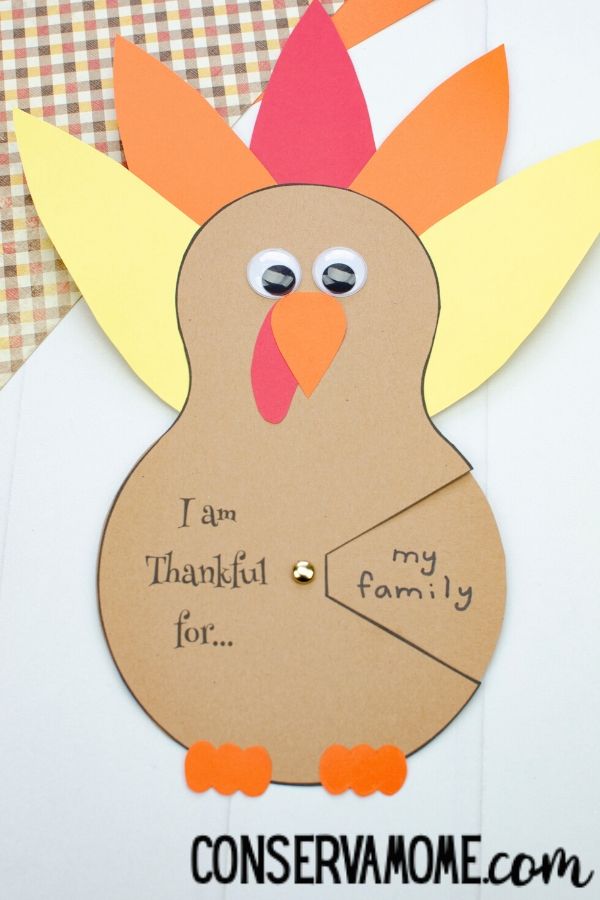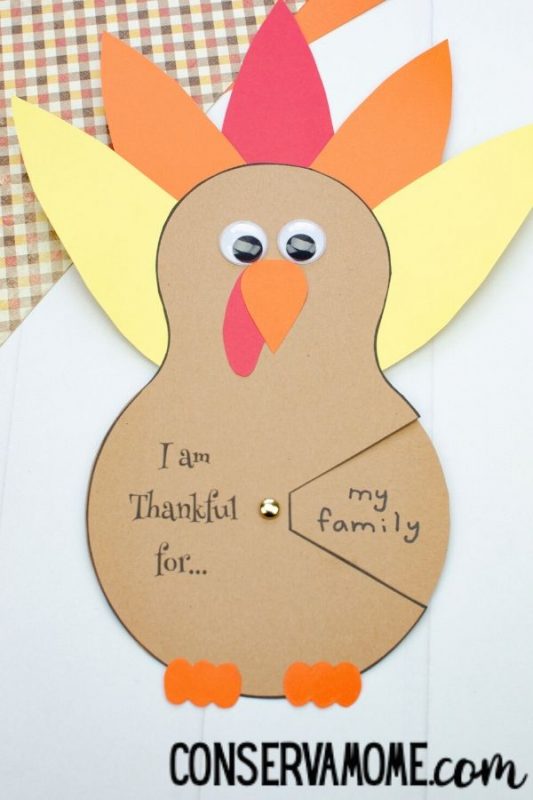 Looking for other great crafts? Check these out!
The Best Roundup of Thanksgiving Crafts for Kids
20 Cute & Fun Toilet Paper Roll Crafts