The latest title in Disney's A Twisted Tale series, Unbirthday, is here! In honor of this fantastic new spin on Alice in Wonderland, I've put together a delicious Cherry Heart pie wand recipe inspired by the Queen of Hearts that's perfect to enjoy while picking up a copy of this mesmerizing new book. Read on to learn more! Disclosure: This is a sponsored post on behalf of Disney Books. However, all opinions are 100% mine.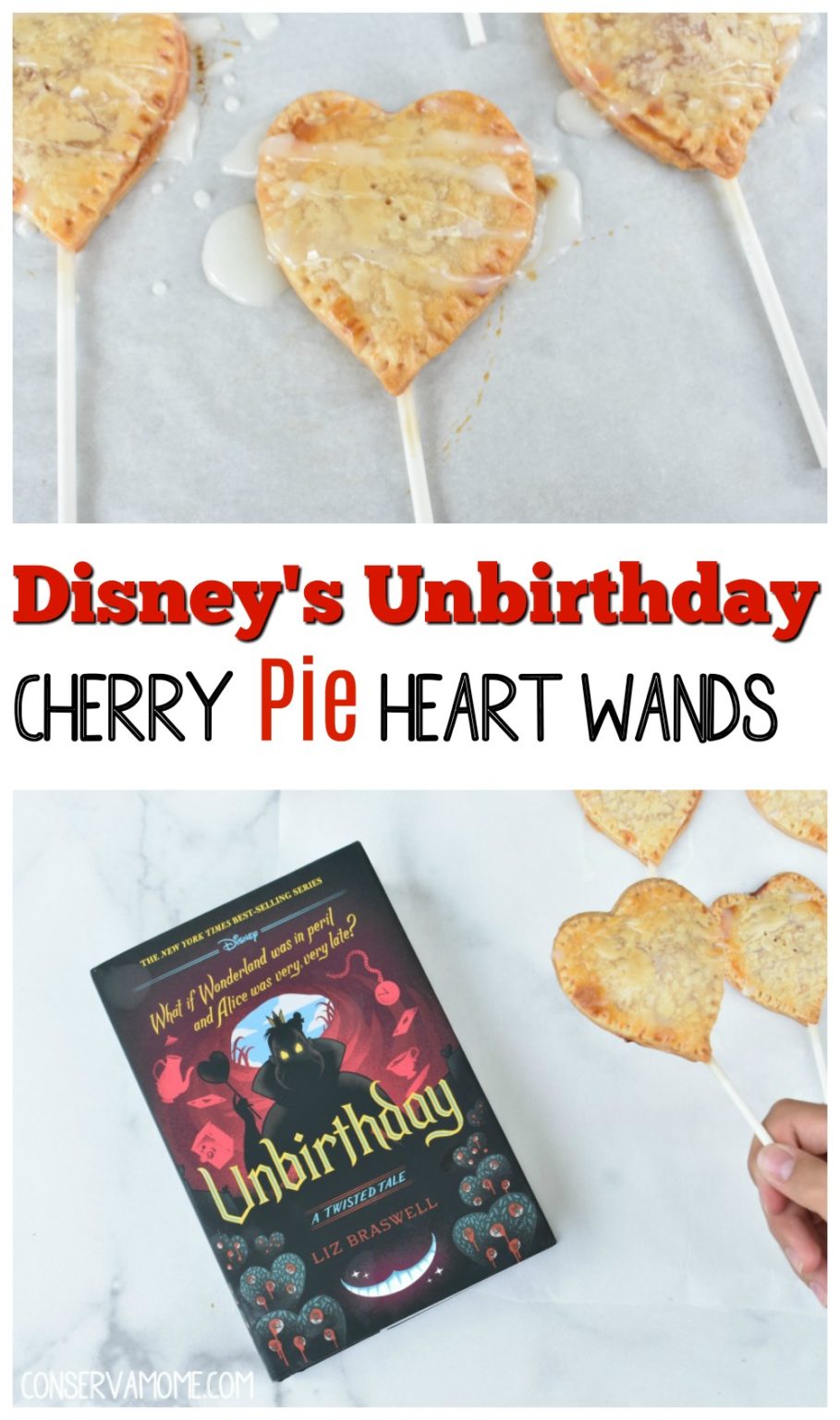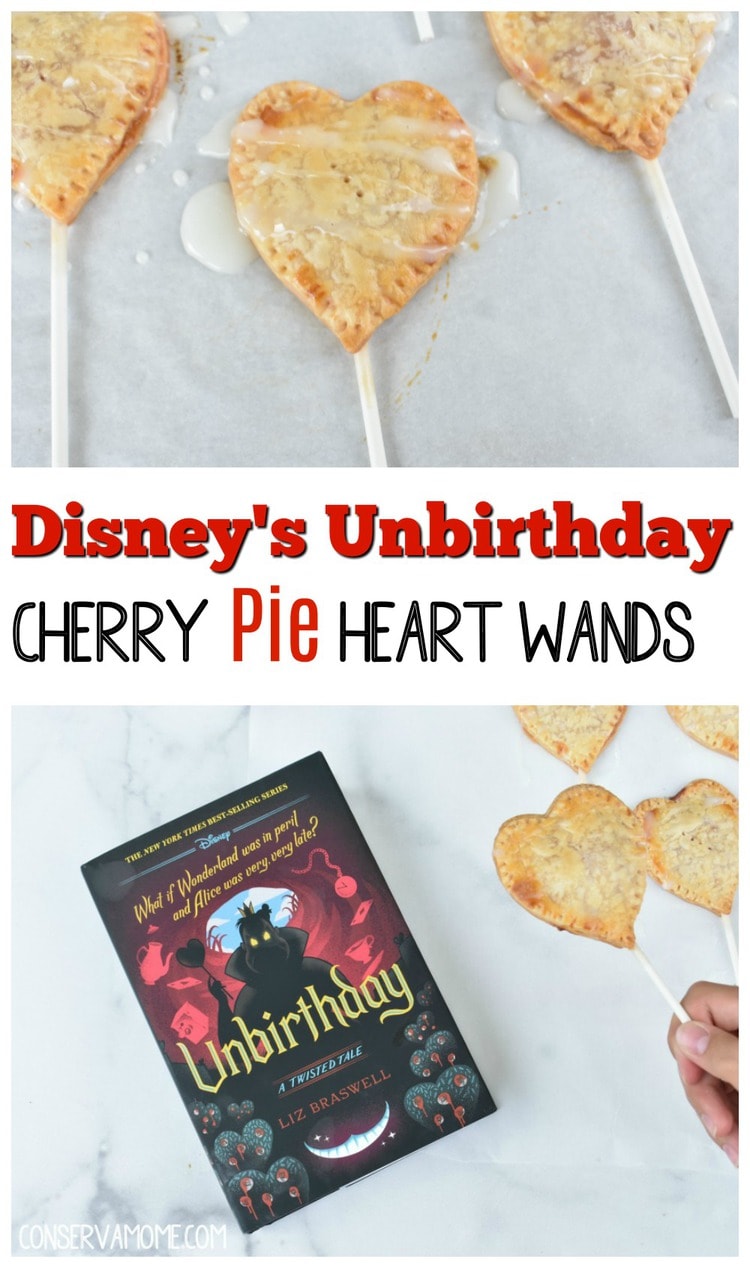 Unbirthday Cherry Heart Pie Wands
We are so excited about Disney's new book Unbirthday by Liz Braswell. The latest title in Disney's A Twisted Tale series is based on Alice in Wonderland and who doesn't love the adventures of Alice? My kids have become huge fans of the A Twisted Tale Young Adult book series which puts "twists" on classic Disney favorites like Peter Pan, Cinderella, Snow White, and more. They were so excited when they found out a new book would be coming out. In honor of this fantastic new release, my daughter and I put together this fun and delicious recipe that's the perfect pairing to take you through Wonderland. But before I take you to the recipe, find out why this book is a must read!
Unbirthday is the tenth book in the A Twisted Tale series and follows Alice as she returns to Wonderland after characters from her childhood there (like the Queen of Hearts and the Mad Hatter) start to show up mysteriously in the photographs she develops. Alice is eighteen in this book, so she's a more grown-up version of the Alice we all know, and one thing that is very cool about the A Twisted Tale series is how it lets readers like my daughter see a more mature and multidimensional version of a character she loved when she was little.You can read the full book synopsis below, and then try out our recipe. Whether it's your birthday or your unbirthday, you deserve a treat!
About Unbirthday:
What if Wonderland was in peril and Alice was very, very late?
Alice is different than other eighteen-year-old ladies in Kexford, which is perfectly fine with her. She'd rather spend golden afternoons with her trusty camera or in her aunt Vivian's lively salon, ignoring her sister's wishes that she stop all that "nonsense" and become a "respectable" member of society. Alice is happy to meander to Miss. Yao's tea shop or to visit the children playing in the Square. She's also interested in learning more about the young lawyer she met there, but just because she's curious, of course, not because he was sweet and charming.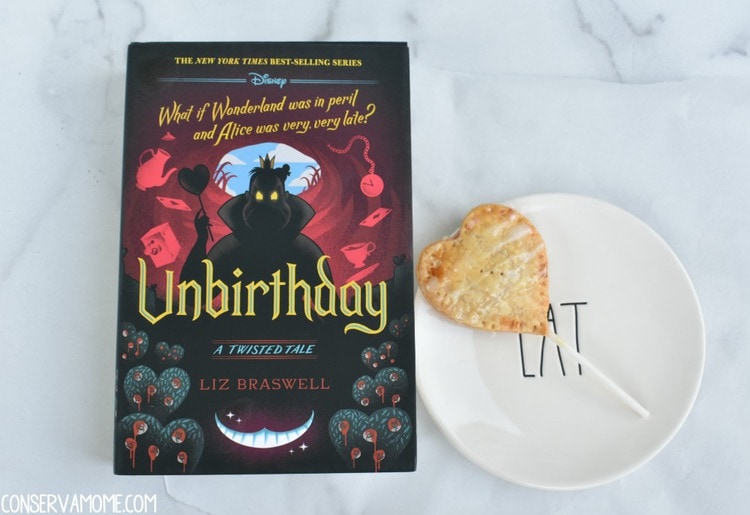 But when Alice develops photographs she has recently taken about town, familiar faces of old suddenly appear in the place of her actual subjects—the Queen of Hearts, the Mad Hatter, the Caterpillar. There's something eerily off about them, even for Wonderland creatures. And as Alice develops a self-portrait, she finds the most disturbing image of all—a badly-injured dark-haired girl asking for Alice's help. Mary Ann.
Returning to the place of nonsense from her childhood, Alice finds herself on a mission to stop the Queen of Hearts' tyrannical rule and to find her place in both worlds. But will she able to do so . . . before the End of Time?
This book is sure to capture your child's wonder. But how about a delicious treat fit for a queen? Then read on to make some delicious Cherry Heart Pie Wands even the Queen of Hearts will love!
What you'll need to make Cherry Heart Pie Wands
1 Package of 2 refrigerator pie crusts
Canned Cherry pie filling
1 egg
1 tablespoon of water
1/2 a cup of powdered sugar
1/2 tablespoon of milk (add more milk in increments of 1/2 tablespoon if too thick)
Begin by cutting hearts out of the pie crust. I used the biggest heart from this set.
Using the heart cut out above you'll make 6-7 hearts.
Preheat the oven to 350 degrees.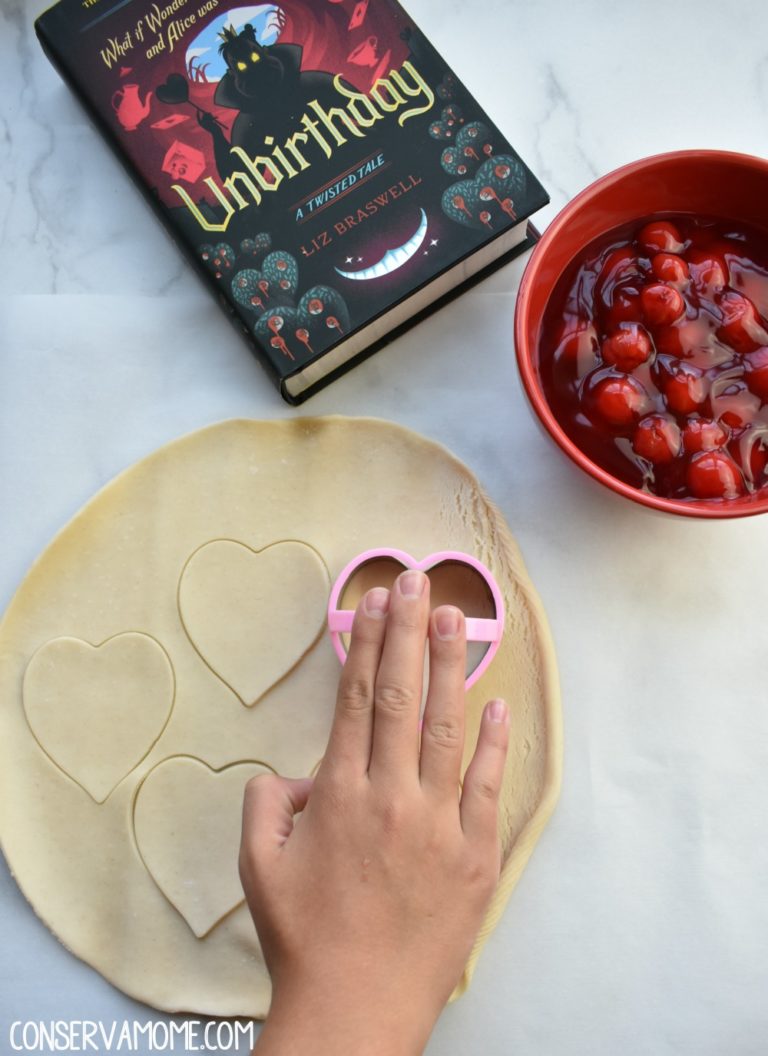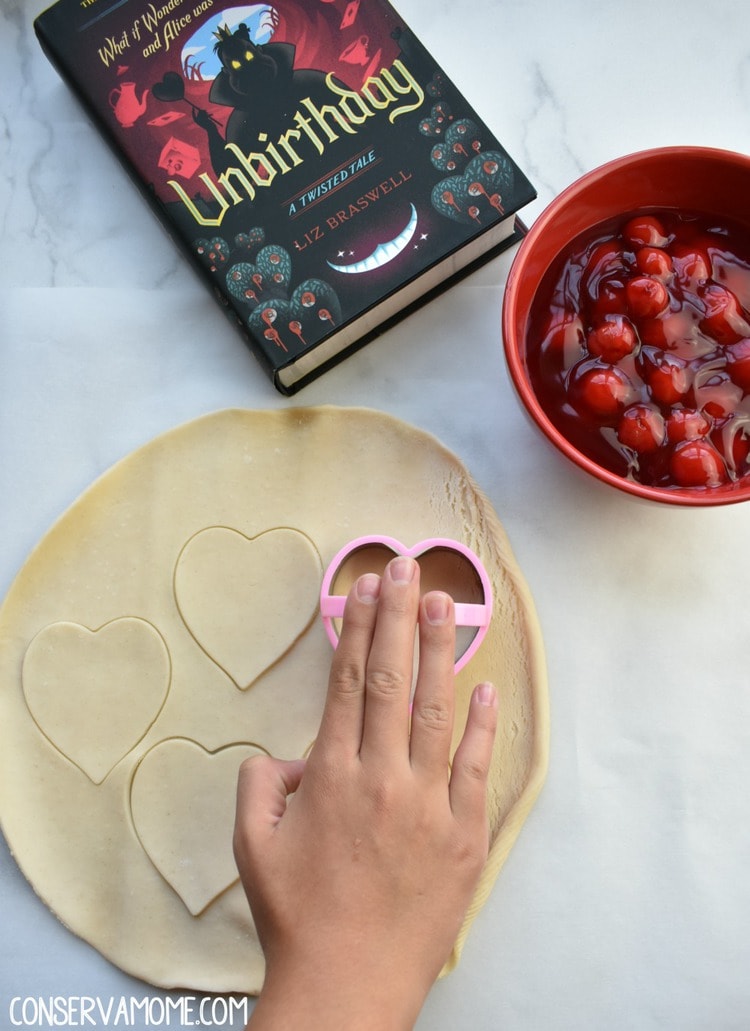 Cut out an even number of hearts with the cookie cutter, approximately 12 -14 with the cookie cutter above. You'll use one heart cutout for the top part of the pie and another for the bottom.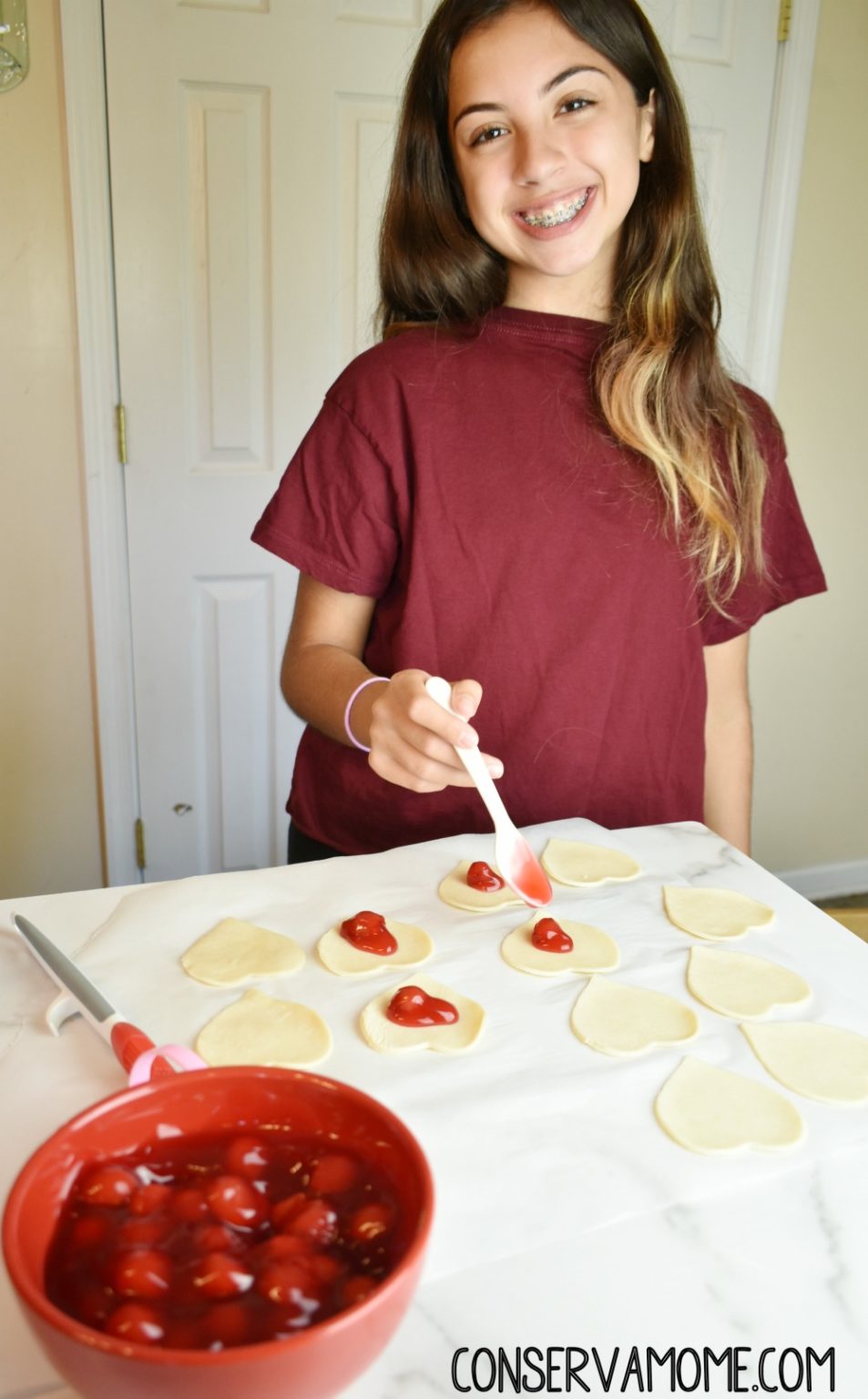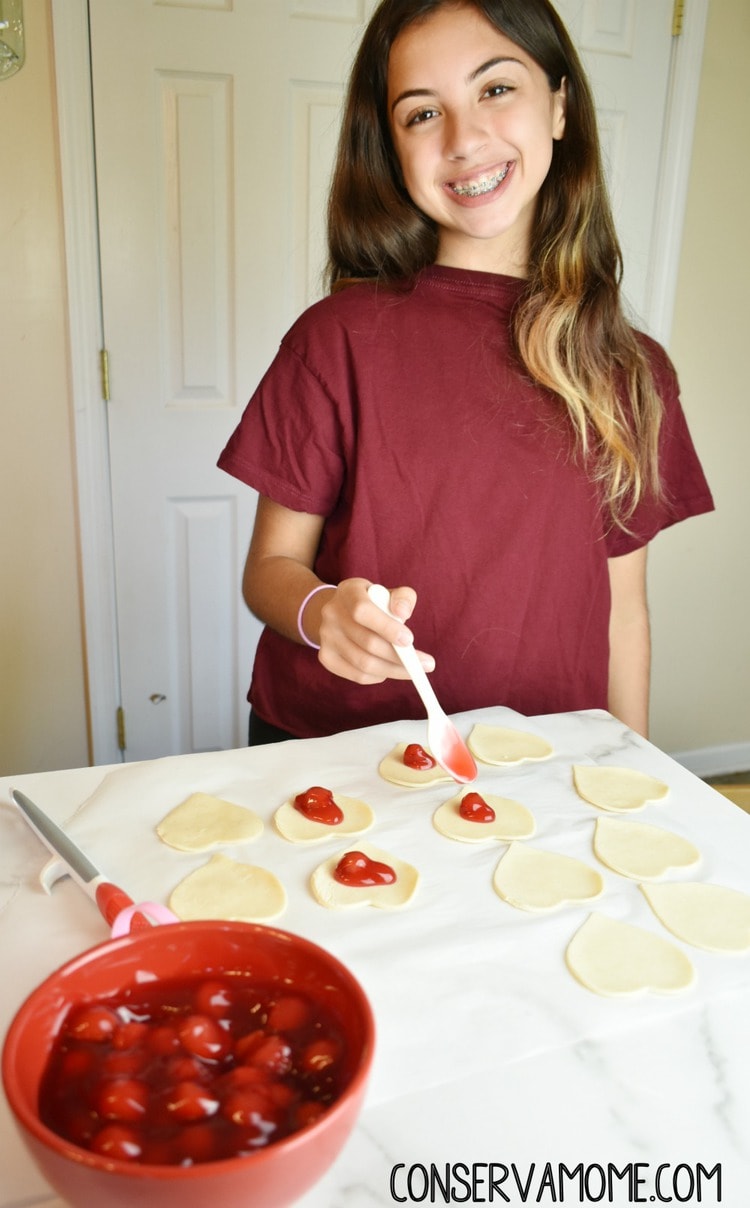 Add the cherry filling and lollipop sticks to the center of the hearts on 6 of the heart cut outs.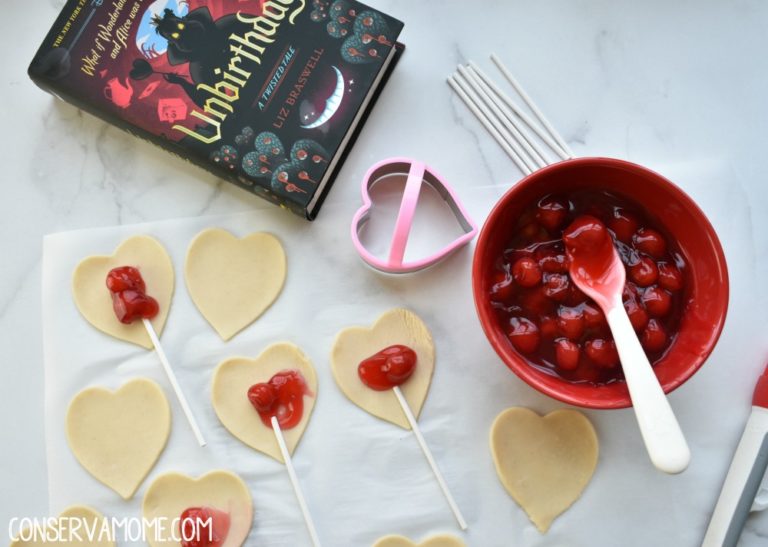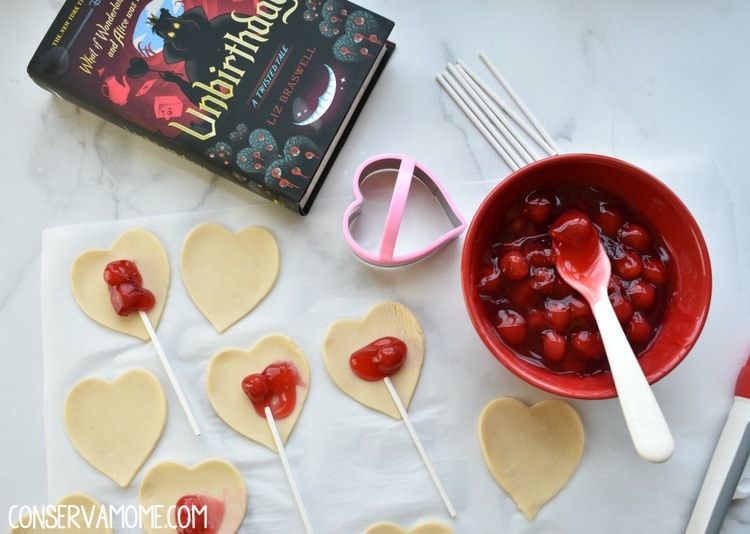 Cover the filled heart with the remaining pie crust hearts.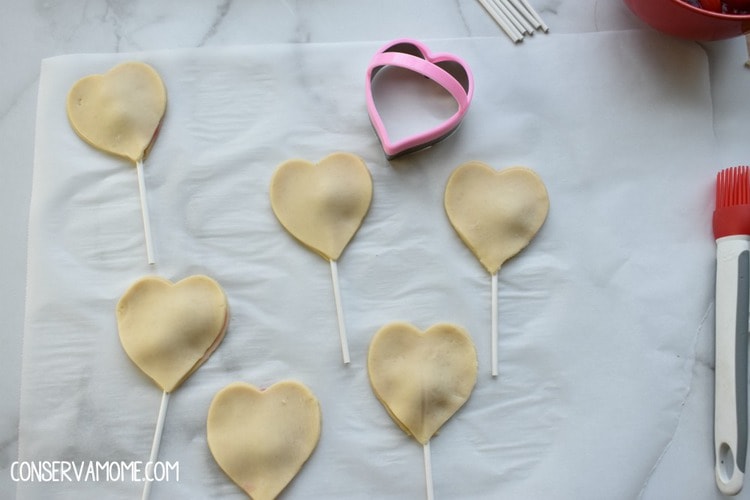 Seal the sides by lightly pressing down with a fork.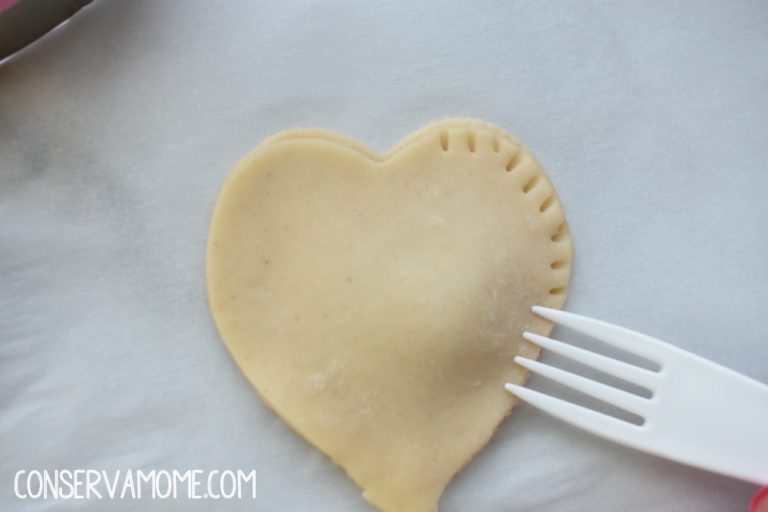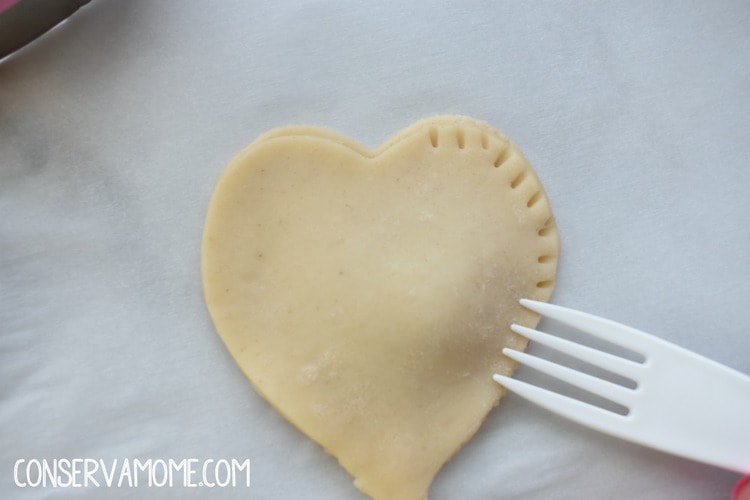 Taking the fork poke a few holes in the middle of the pie so that the steam can come out.
Then mix the egg and water together. Use a brush to coat the tops of the pie pops as an egg wash.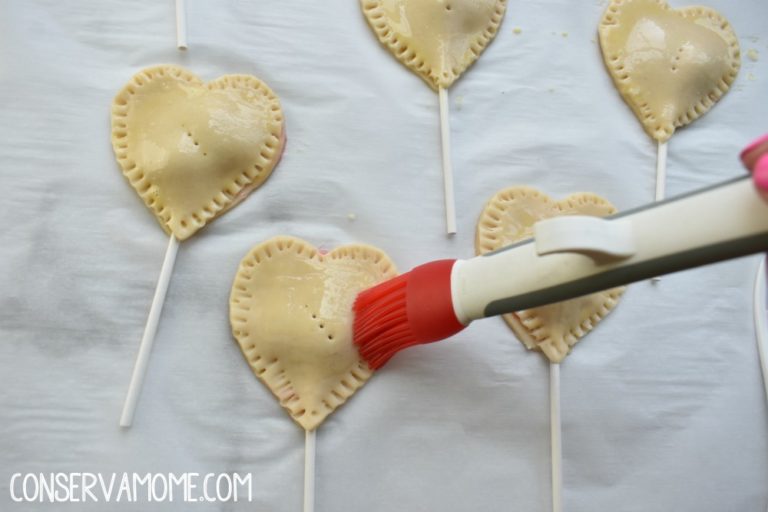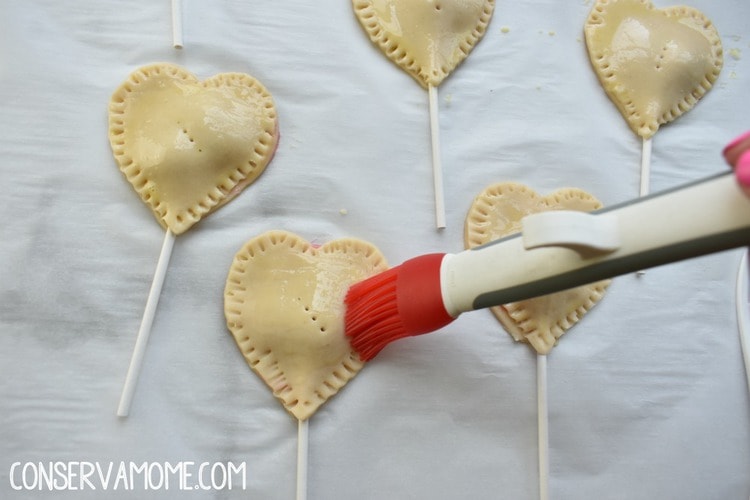 Bake pie pops in oven for 20 minutes. After they come out of the oven let them cool down and mix powdered sugar and milk to create a glaze.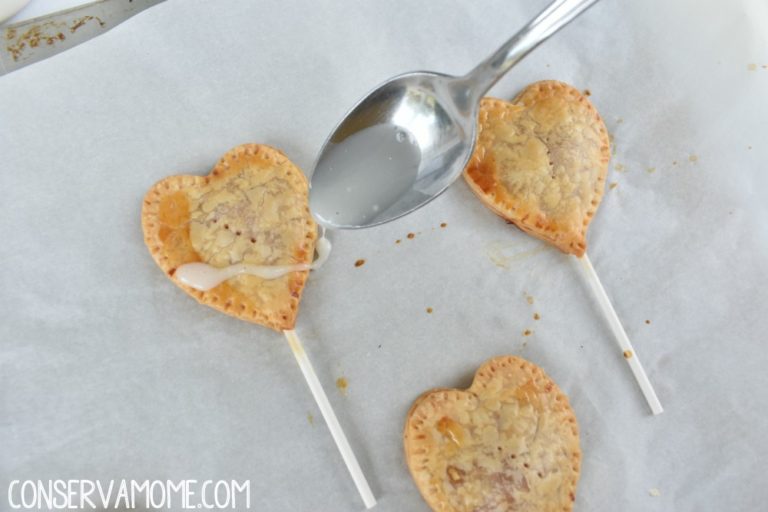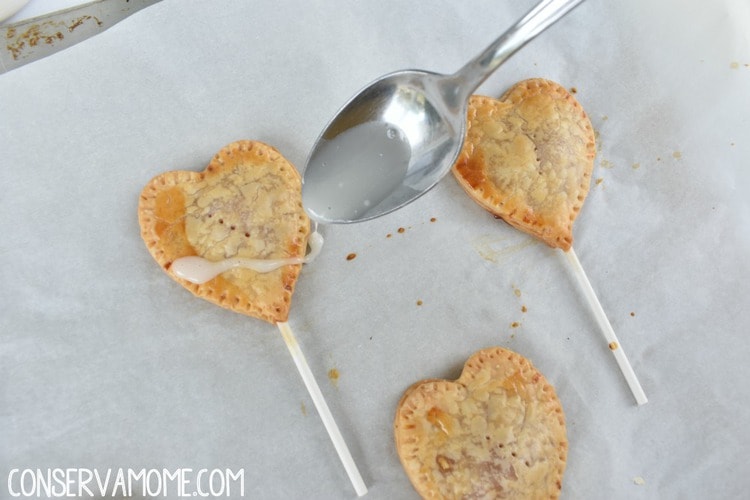 Drizzle on top and enjoy.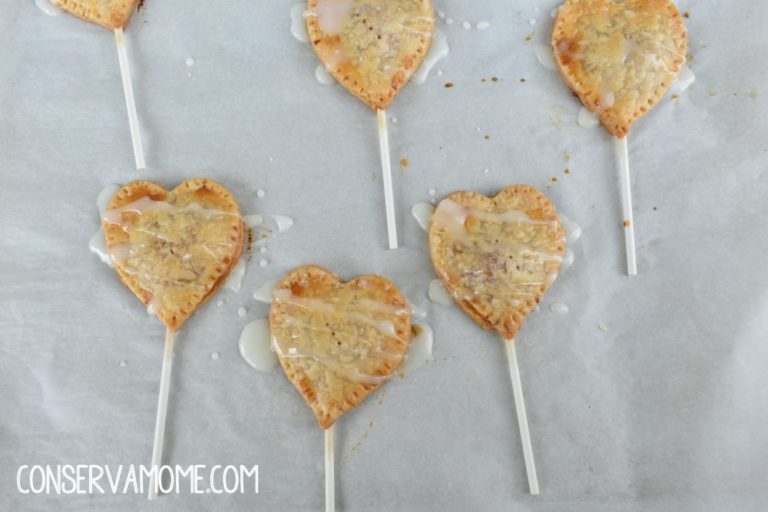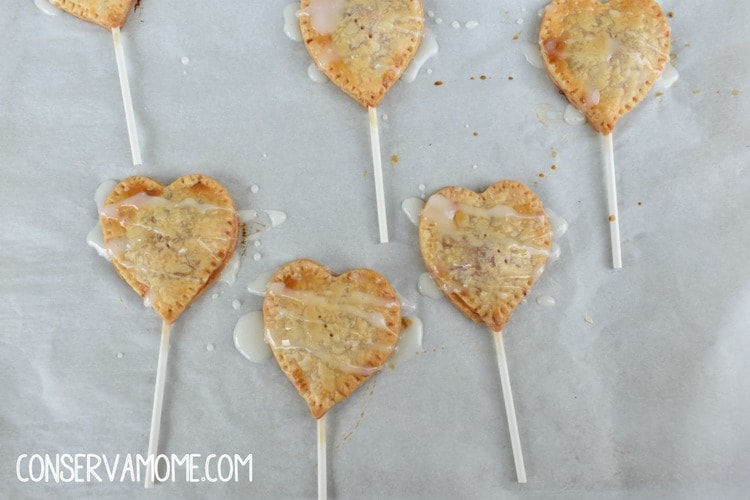 These delicious pie pops will be an amazing addition while you enjoy this fantastic new book from Disney. Unbirthday is sure to be a giant hit in your home and these heart pie pops will be the perfect addition to your reading.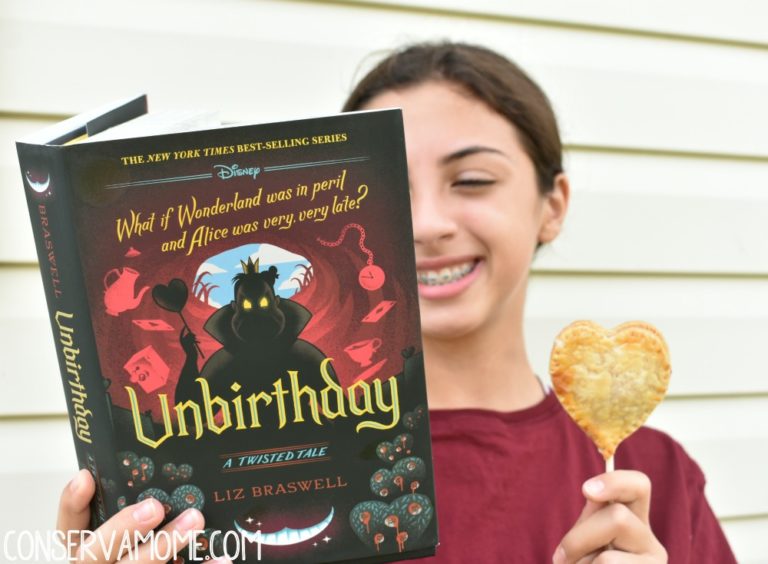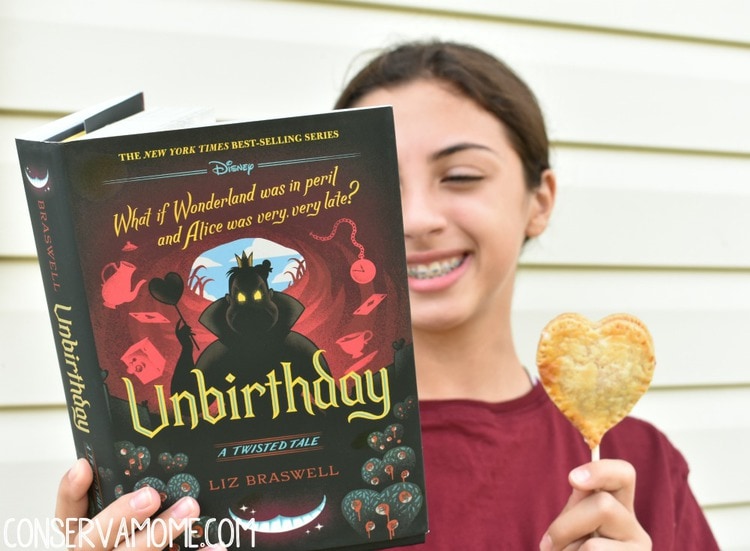 Make sure and grab your own copy of the book today and enjoy both together!