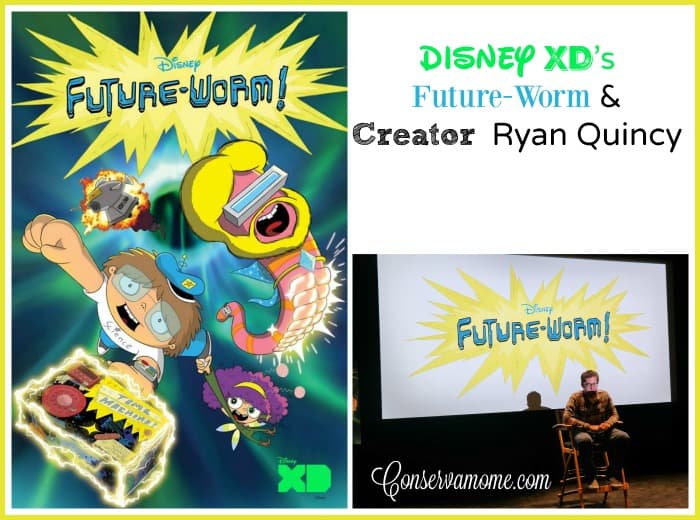 During my trip to LA Last week I had a chance to check out Disney XD's Newest Show Future-Worm. A Fun animated series about an optimistic 12-year-old who invents a time machine lunch box through which he meets and befriends a fearless worm from the future (one with titanium-enforced abs). The comedy follows young Danny Douglas and Future Worm (also known as Fyootch) as they embark on adventures through space and time. The characters were introduced last year in a popular "Future-Worm!" short-form series on Disney XD and Disney XD's YouTube Channel.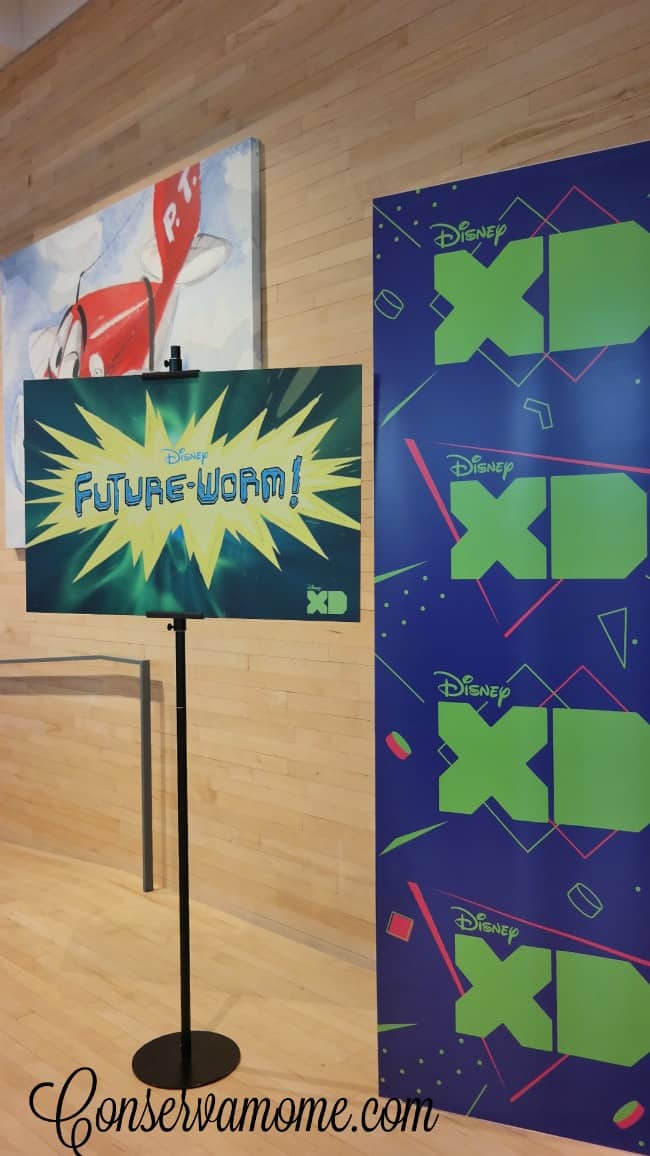 Each unique episode includes an 11-minute main story and supporting subplot, a 3-minute runner sketch and a 7-minute sitcom style story. As the story goes, only child Danny Douglas hoped to find a worldly, thrill-seeking friend with whom he could venture out and see what the world has to offer. Future Worm, who amassed a wealth of experience during his travel through time, longed for a home and family. When Danny's lunch box invention brings them together, the kindred spirits dive head first into their adventures, both at home and through time, usually unaware of the consequences.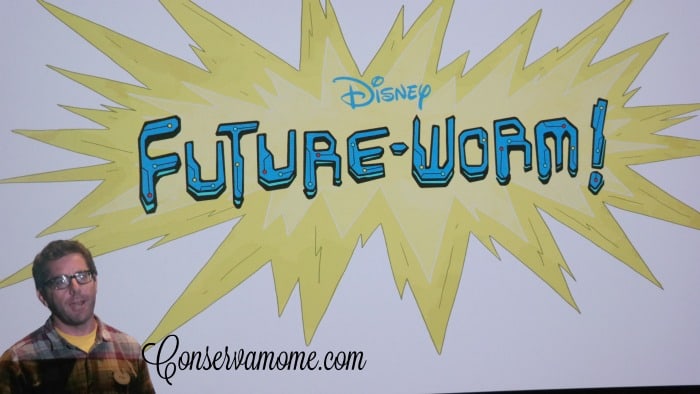 If you grew up in my generation chances are you've heard of South Park, a Show Future-Worm Creator Ryan Quincy worked on. Quincy even won two Emmy Awards in 2008 and 2009 and was nominated in 2010 and 2011, all for Outstanding Animated Program for the show. He also created IFC's animated series "Out There," for which he also voiced the lead role of Chad.
However, having kids that are 8 & 12 he realized that they couldn't watch a lot of what he was creating, because well  he wasn't showing any South Park episodes to the kids. Because he always wanted to make a show for his kids that they could watch he came up with Future Worm. " I always wanted to make a show for my kids, that I could watch with my kids, and that is Future Worms.  It's, uh, fun, time travel show.  But it's not a show that is time travel in the sense of going back and seeing who knocked the nose off the Sphinx. It's a lot of fun, it's absurd, it's silly.  It's the most fun I've had in animation."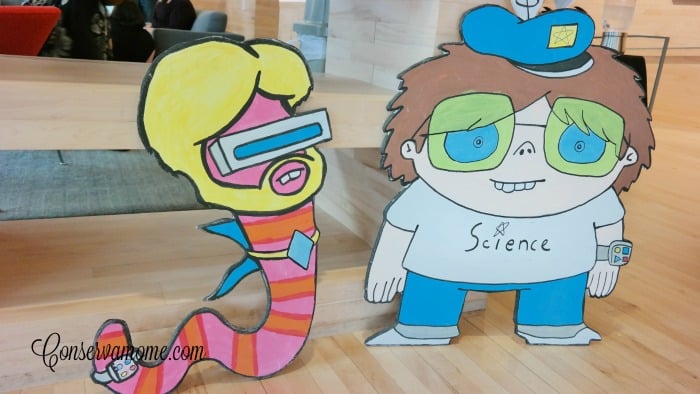 Because he's got younger kids he turned to them to see what he could fix about the show to make it better. " They've given some notes, too (Ryan's Kids)  So,  not only do we get notes from the execs, which, those are great.  Uh, my kids also give,notes,  you know, it's like, my son, like,  the line that Future Worm had, of like, "I love shoestring fries"?  Before, it was like, "I hate shoestring fries."  And he was like, you know what, it should be "I love shoestring fries." 
When asked what his inspiration was for Future-Worm he responded:
"When I came over to Disney to develop something, I wanted to make a show that you always wanted to make.  And I always loved, you know, time travel, and adventure shows, and I, um, I'm good friends with Justin Roiland, who did Rick and Morty, and when we were talking I was like, I think I want to do a time travel show.  He's like, well, if you're gonna do that, you know, there's always the rules you have to deal with. Then I, I was like, do you, though?  I don't know if you — maybe it's a show that you, it's, the characters kind of say, like, ah, forget the rules, and just kind of barrel ahead.  And that was really sort of the, um, inspiration of doing sort of this self-indulgent time travel, that's — and again, you can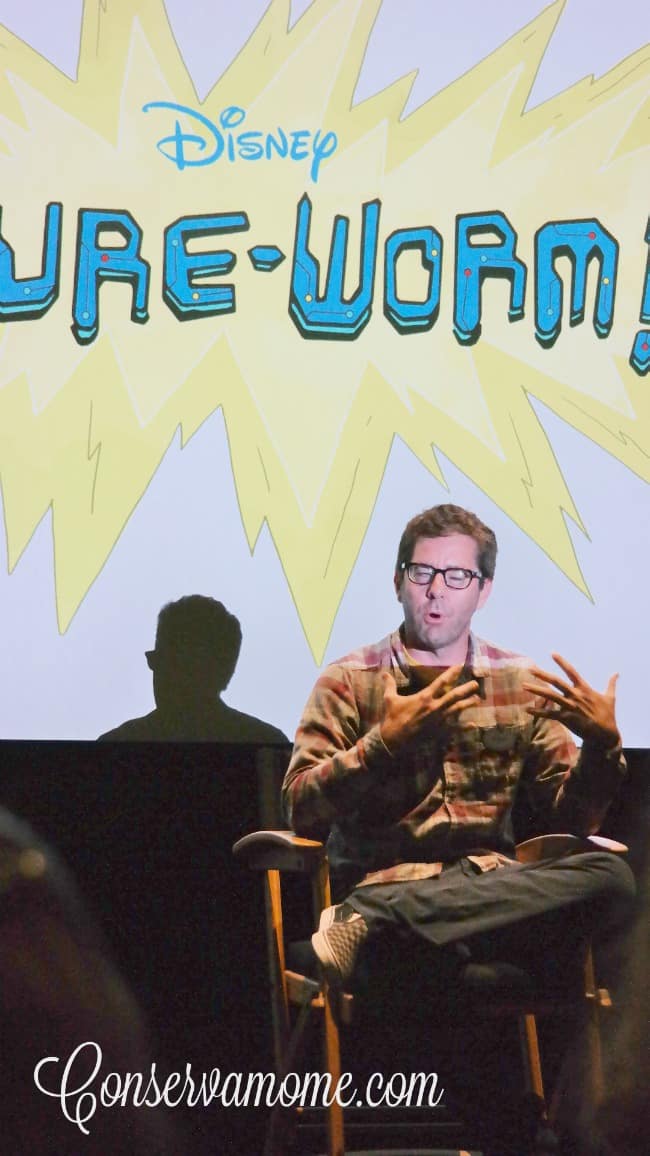 So if you're wondering what made Ryan Quincy come up with these unique characters, this is what he said:
"I started with just the name, Future Worm.  That just sounded funny to me.  Future Worm, he has to be a time traveler.  So it just started there, and I started thinking about the stuff that I loved as a kid, like I loved pro wrestling, I liked Hulk Hogan, Macho Man, Ultimate Warrior,Mr. T.  , Chuck Norris.  All that's stuff got thrown into the suit, you know? That was all the, the DNA's, and also just wanting a  sidekick, that Chewbacca, that, you know, ET, that would be by you, you know, walking down the halls at school, or, you know, having your back.  So, that was really the whole inspiration of the character.  And I just started drawing worms with beards, and weird hairstyles. Then I just started to think  myself as  a kid. And I was a little bit on the chubby side, but, also, I kind of had, like, a weird confidence, and I wanted Danny to just be comfortable in his skin, you know?  And I used to wear a captain's hat that I got at Disneyland.  So that kind of inspired that look.   I wasn't so much into the science side of things.  I was more into art, and drawing,comic books, and making movies.  But I thought it'd be fun to have a kid that's really into science, and playing with that aspect of stuff. It just felt very natural, very organic, how they, how they came to be.
In essence he said he tapped into his 9 year old self to create this fun show! I believe that this show hits the spot of that tween brain perfectly. It will definitely be a fun show for them to also tap into that silly side they all embrace. Most important it will really tap into the fun imagination kids sometimes let go off to early. This show is hilarious and a fun addition to the great Disney XD line up! Will the tribe of five be catching the show? Absolutely! It's so much fun and I can't wait until it premiers. I've already got two kids counting down to see it.  I mean what's more fun that worms and time travel!
As a special treat after the event I had a chance to have my own lunchbox autographed by one of the show's animators and Ryan Quincy!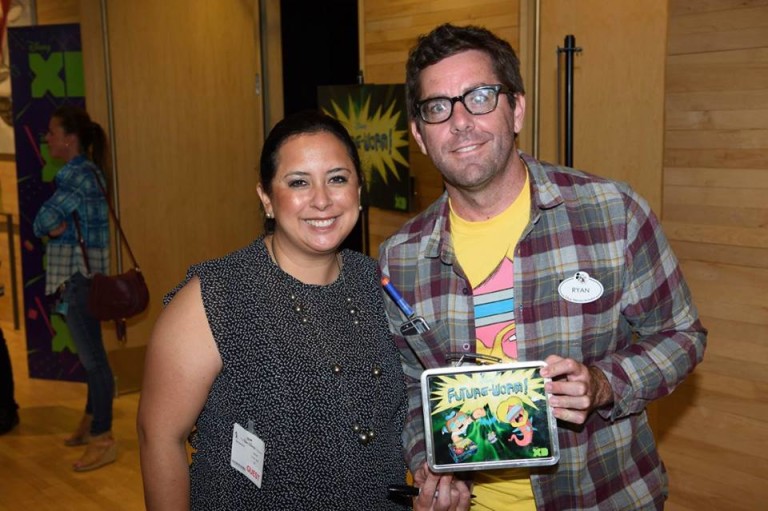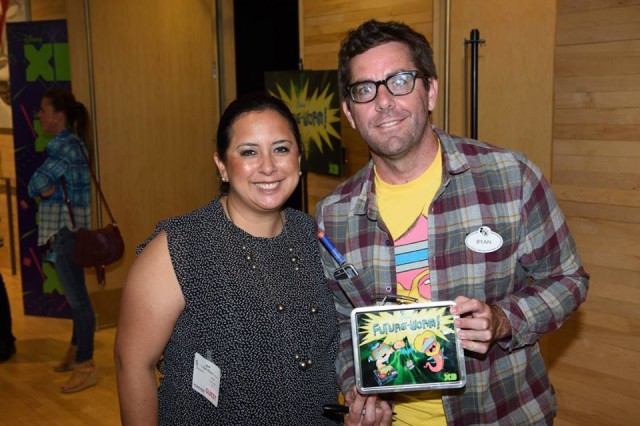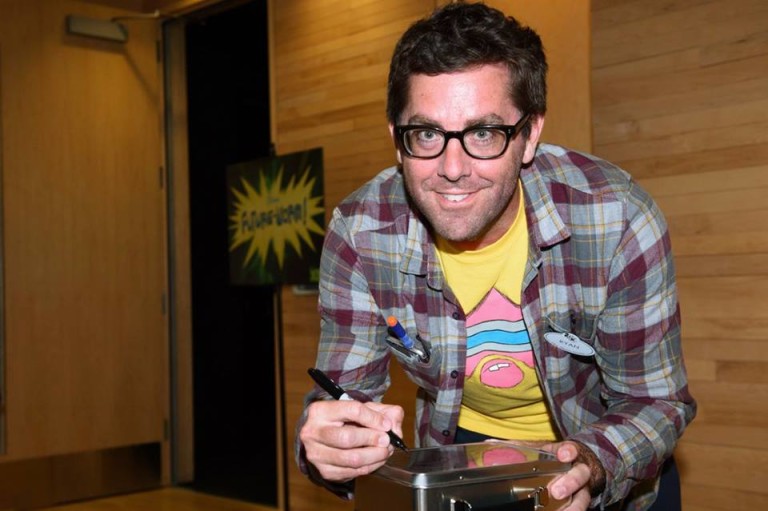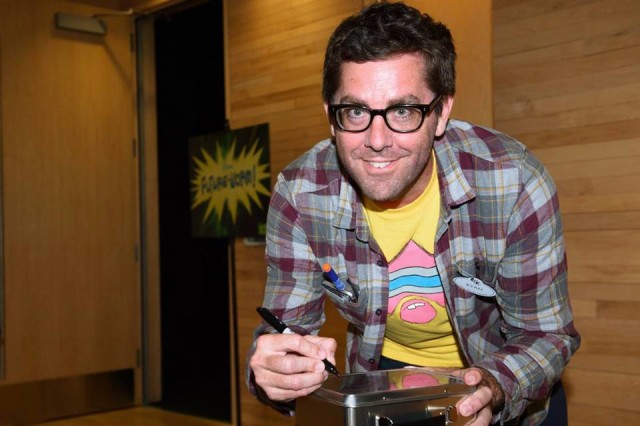 It was so neat to see them draw the characters out! Although my kids are already anxiously awaiting the show,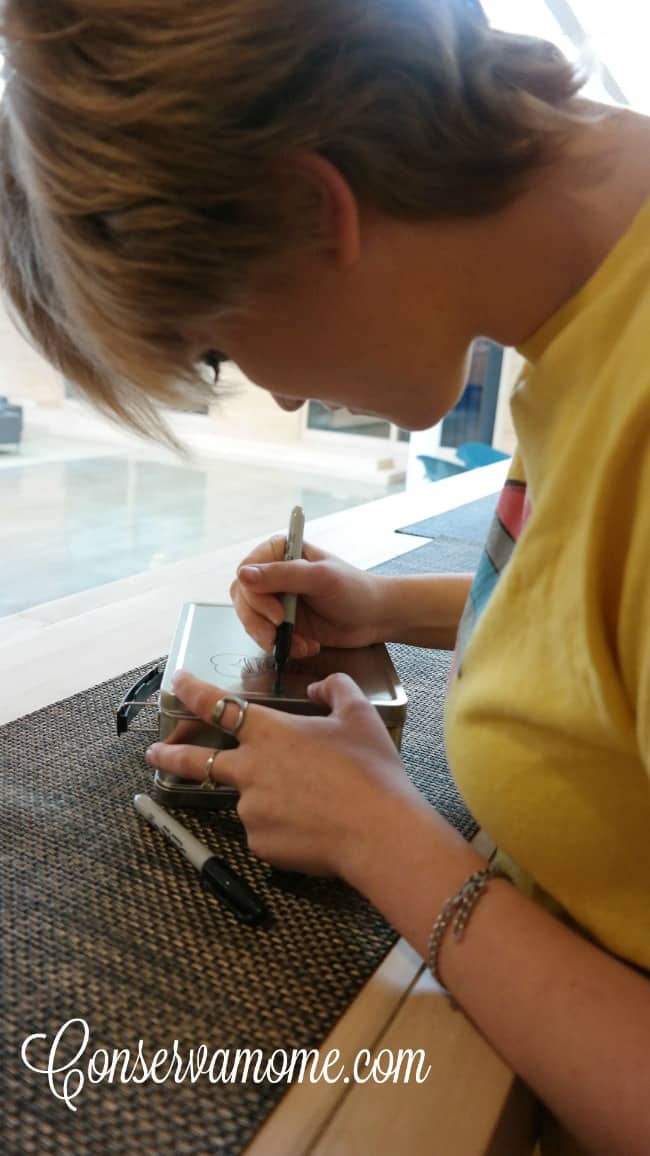 I'm definitely keeping it for my collection 🙂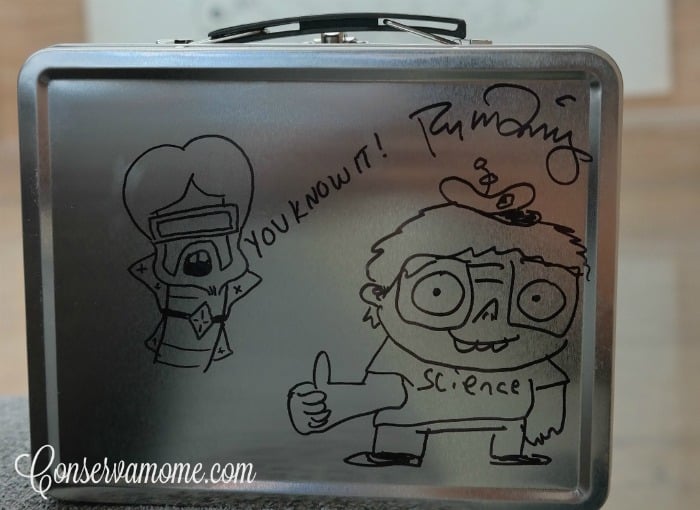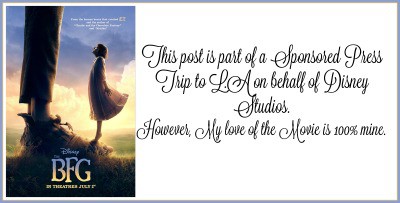 Get social  with Ryan Quincy for the latest  info on Future-Worm! 
Twitter | Instagram
Get Social with  Disney XD for all of their latest schedule and channel info- Don't forget to check  local listings fro the Premier of Future -Worm on August 1st!
Website | Twitter | Instagram
Save