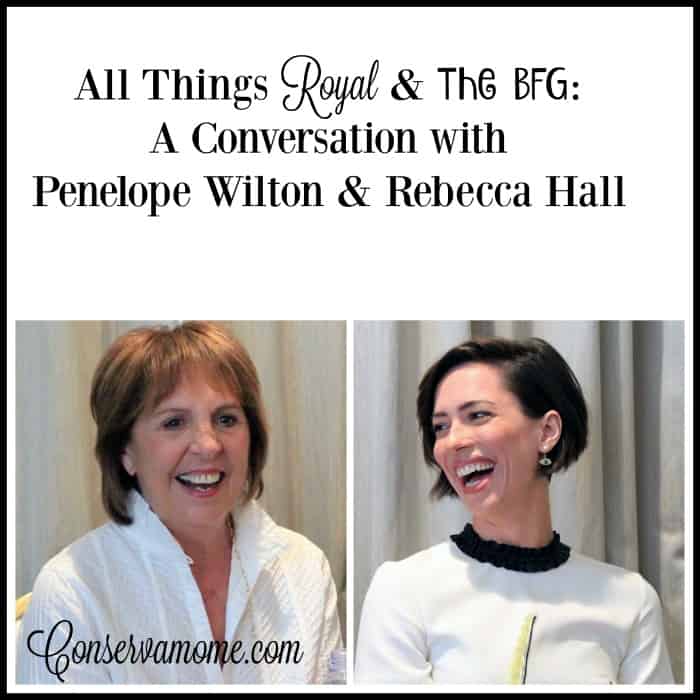 If you're like me, you probably tuned in every Sunday night to see Penelope Wilton on the incredibly popular Downton Abbey.  Rebeca Hall is no stranger either, with wildly successful movies such as Vicky Cristina Barcelona.  So what brought these two ladies together other than amazing talent and a love of good scripts? Steven Spielberg. Penelope Wilton Stars as "The Queen" or Queenie (as Ruby Branhill lovingly referred to her during filming) and Rebecca stars as Mary the queen's assistant in the Summer's Soon to be Greatest hit Disney's The BFG.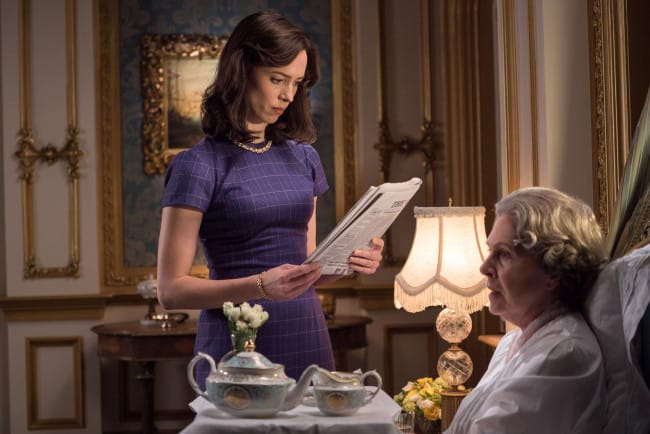 Everything about these two women screams royalty and class and for a little chunk of time I was able to sit down with them and talk about their roles in this classic story which will win the hearts of a new generation and hits theaters tomorrow!
So when asked how they got involved in this fantastic movie the answer was simple.
Steven Asked and they both said Yes!
PENELOPE WILTON: Well,  I got a phone call and um, my agent got a phone call and said Steven Spielberg wants you to do this film, "The BFG," and um, I said yes. If Steven  Spielberg wants you to do a movie, you do it. Wouldn't you say?
For Rebecca the answer was also the same, even though she had no idea what role it was and that it was tiny. However, she didn't care. He wanted her for the role and she said of course!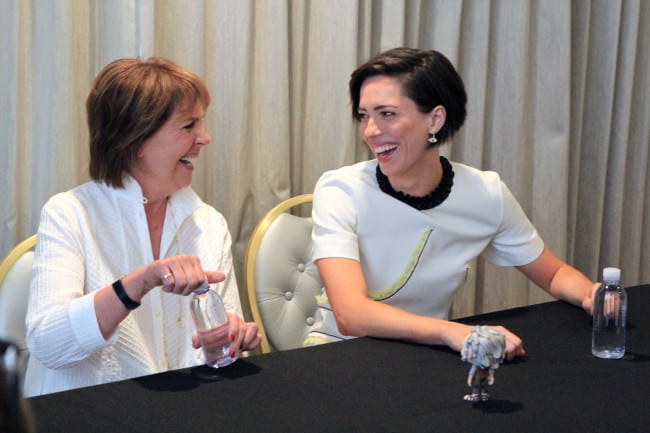 In the Movie Penelope plays The Queen, although in the book she's referred to as Queen Victoria, the similarity is best seen with the Current Queen Elizabeth and they are truly amazing in how she was able to get her look and mannerism just right.  Penelope Agreed " Yes, I was helped a lot by Joanna Johnson with my wig and my clothes and my wonderful outfit and  I had the Queen's glove maker make my gloves and the Queen's bag maker made my bag."
Considering Penelope was just named a Dame last week this was the perfect role for her.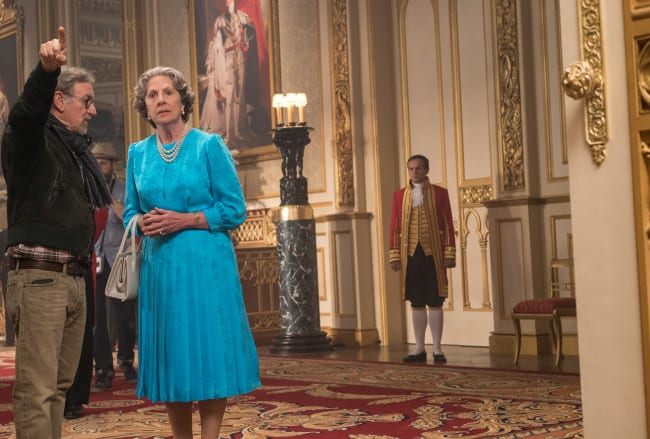 As for favorite scenes, they both agreed that the Whizzpop scene was Genius! If you're not familiar with the Whizzpop you'll quickly become familiar and so will your kids once they see the movie.  Being that these two ladies are elegant and classy, they were both glad someone had to whizzpop before them.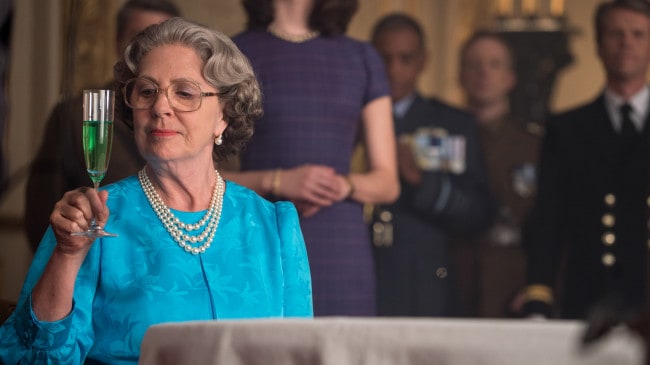 Most important they both spoke about working with Ruby, who stars as Sophie the sweet and brave starlet of the film. Penelope remembers how darling she was : "Well, we both loved  working with her , Rebecca will tell you, she's got the  most wonderful sense of humor and she's  a lovely girl. She
also takes direction very well! She concentrates and when you're young, and repetition is really boring. I mean, you do it twice and then why would you ever want  to do it again? And she sort of managed it,didn't she?"
Rebecca agreed: "Yeah,  she was a consummate  professional, not just the acting, the repetition and what, she was brilliant, but she was also brilliant at just being a person on the set, I remember her knowing everyone's name, the crew and like coming in in the morning and being like all right how are you doing, Jim, all right? You know, that sort of thing, I remember her being — Astonishing and she just really, really made me laugh all the time, you know! She made me work out like, you know, dance routines and  she gave me a nickname because of my purple dress. I was Purple Swan for some reason."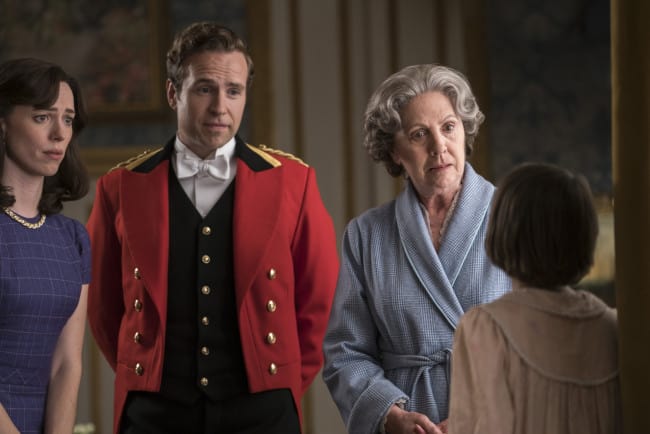 One thing both ladies agreed was that Steven was amazing to work with. Penelope thought that "Steven worked tremendously well, um, with her, and uh,worked very fast when it came to — the scenes took a while to set up. Once the scenes were setup he worked very fast, didn't he? So, you know, the boredom level is —
Minimized."
For both ladies this movie wasn't just special because of the screen play, or director,but because they've known each other for so long.
Penelope: "Yes because I worked with Rebecca's father,Sir Peter Hall, when he ran the National Theater so um, so I remember when she was born."
Rebecca: "And I remember a figure who I've always admired and loved from a far so it was a real treat to get to work properly with you but yes.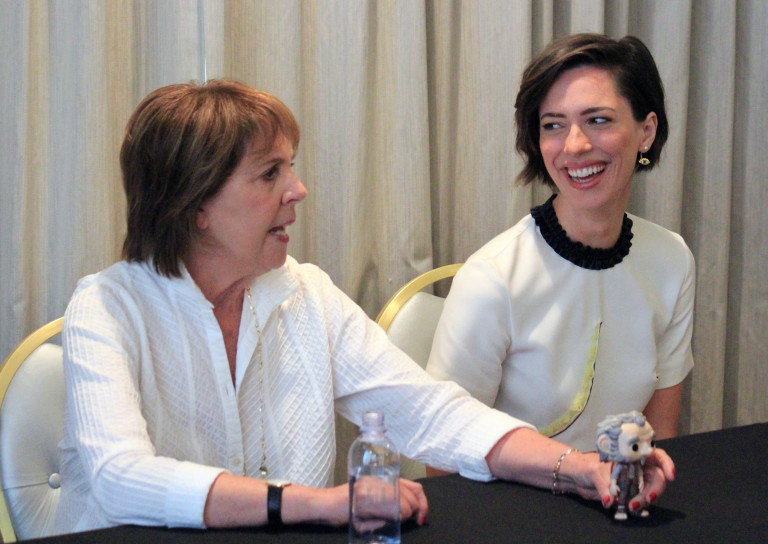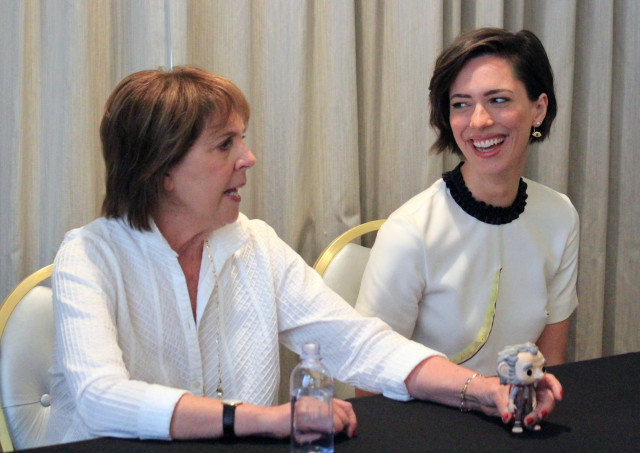 When we asked Penelope what she  wanted viewers to get out of the story line she said: "Well, I would — on the very basic level  want people to enjoy being taken to that world because it's a wonderful story written by a great storyteller meeting another great storyteller and a visual storyteller, so if you get those two together, it's a wonderful combination, but also like all these stories, it is people learning to understand themselves and learn that you, you have to just believe in yourself.  And, and little Sophie, who doesn't have much, but when she meets somebody who has even less than she does and he's 20 foot tall, they sort of work as a good team and they both  understand that they are outside the norm and they give each other confidence and when you have confidence in yourself you can take on the world. And I think that's the overall,message of the movie.
This interview was such a treat not only because I've been such a fan of both actresses for so long, but because of how kind they both were. When the interview was over I told Penelope as we were walking towards our group picture,That it was such an honor for me to meet her, and she replied, No, it's an honor to meet you all. Yes, that's how amazing she is!
On a neat Downton Abbey Side note, She shared with me a and a few other bloggers that Rebecca is the godmother to her on screen son Matthew (Played by Dan Stevens)child. So it was like 6 degrees of separation!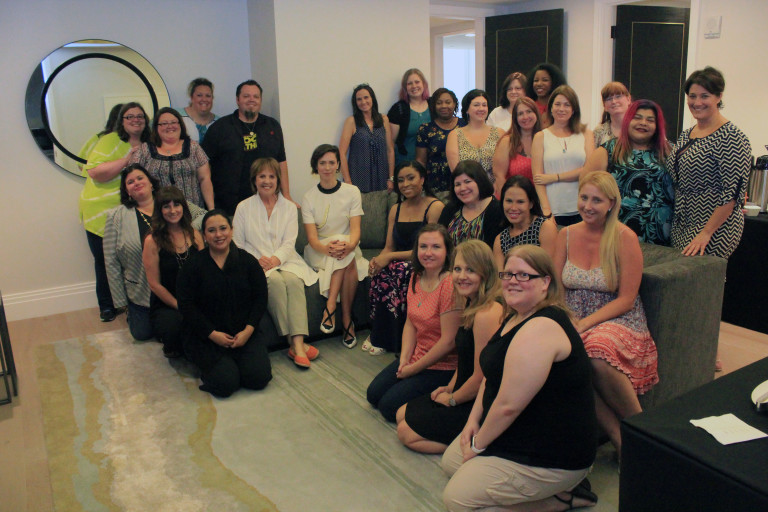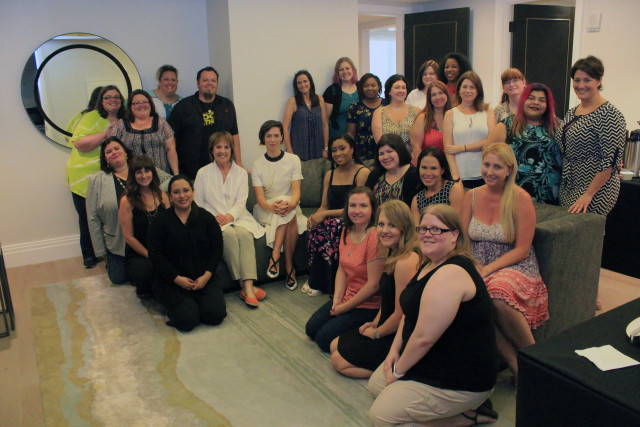 Don't forget to check out the movie when it hits theaters Tomorrow! Check out the preview below

Don't forget to get social with The BFG and stay up to date with the latest news,info and fun!
Like THE BFG on Facebook: https://www.facebook.com/thebfgmovie
Follow Walt Disney Studios on Instagram: https://instagram.com/disneystudios
Follow Walt Disney Studios on Twitter: https://twitter.com/disneystudios
THE BFG hits theaters everywhere Tomorrow!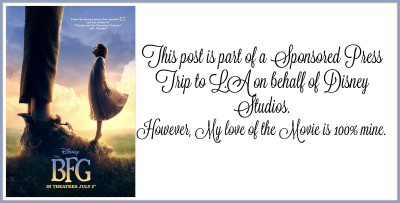 Picture Credits Disney Media & Coralie at Lovebugs & Postcards!
Save
Save
Save
Save
Save
Save
Save
Save