Find out how to make a mouthwatering chocolate tres leches cake that will be a favorite in your home.
This post was sponsored by AMERICAN HERITAGE® Chocolate as part of an Influencer Campaign for Influence Central and all opinions expressed in my post are my own.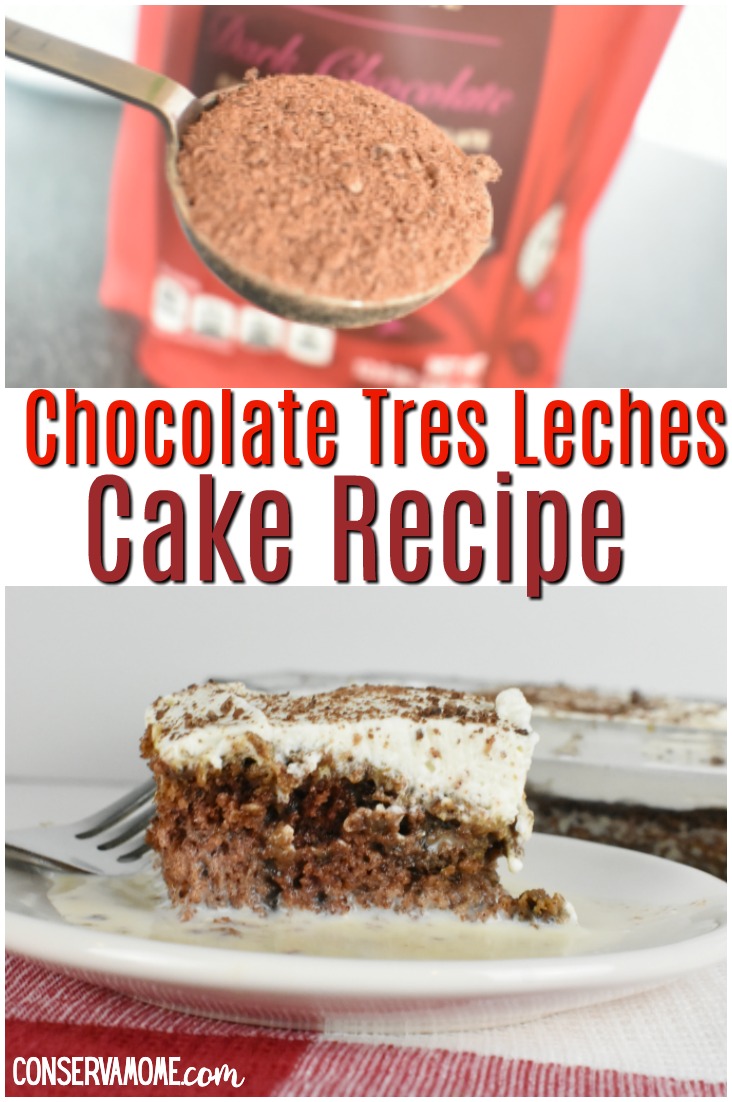 AMERICAN HERITAGE® Chocolate Tres Leches Recipe
Tres Leches has always been one of my favorite desserts. I mean, who can resist the delicious combination of condensed milk, evaporated milk and heavy whipping cream? Best of all, I've always loved how easy this recipe is. Being a lover of all things chocolate I knew that the addition of some delicious chocolate would make this recipe a huge winner. But not just any chocolate, AMERICAN HERITAGE Chocolate.
As a little girl, I remember going to my grandmother's house and baking delicious Cuban treats. Tres leches was always one of those treats we loved making. Because of how easy it is, we made it a lot. We never added chocolate because I don't think it was ever a thought. Although my grandmother LOVED chocolate. She told me when she was pregnant with my dad she would eat chocolate bars, called "Peter" in Cuba, in between two pieces of Cuban bread.
During the holidays, I miss her the most and all the delicious baking and recipes we made. That's why I decided to join the two things she loved the most, a Tres Leches Recipe with her beloved chocolate. I am so glad I did because this recipe is pure gold.
Why AMERICAN HERITAGE® Chocolate
If you haven't tried AMERICAN HERITAGE® Chocolate on its own, I highly recommend you do. This chocolate has some amazing undertones of vanilla, orange and cinnamon that will blow any recipe out of the park. This chocolate is based on authentic recipes from the 1700s and contains spices used by early American chocolatiers to flavor chocolate.
Making this chocolate even more delicious is the fact that these delicious spices from around the world are blended directly into the cocoa, giving this chocolate a wonderful and unique flavor. It's this unique taste that elevates any recipe featuring AMERICAN HERITAGE Chocolate.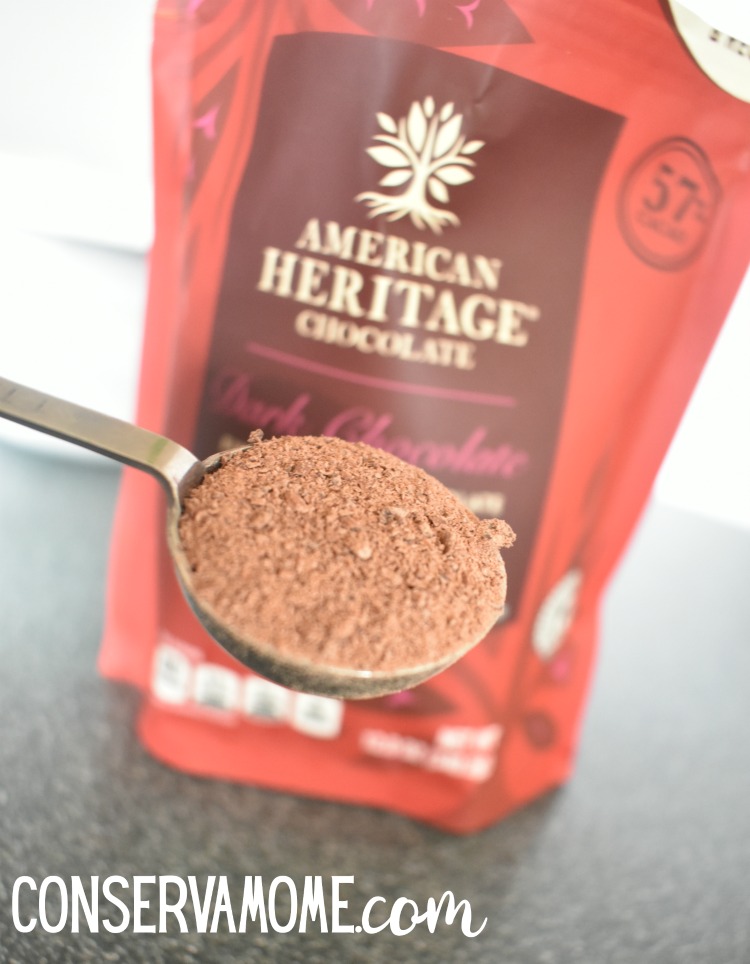 Best of all, they've taken the work out of grating chocolate for you. This finely grated chocolate is a simple solution for melting chocolate perfectly! There is nothing out there like it. AMERICAN HERITAGE Chocolate replaces semi-sweet chocolate 1:1 in any recipe.
And that is why I decided to use it in my Chocolate Tres Leches Recipe. Not just for the ease of use, but for the flavors it brings to the dessert. You will see how this recipe is enhanced by the orange and cinnamon undertones. But don't just take my word for it. Find out for yourself what an amazing addition this chocolate can be to your holiday baking (and cooking).
What you'll need to make Chocolate Tres Leches recipe
For the cake:
1 1/2 cups of granulated sugar
8 ounces of milk
1 3/4 cups all-purpose flour
2 teaspoons baking powder
1/2 cup vegetable oil
2 teaspoons baking soda
2 eggs
2 teaspoons vanilla extract
1 cup of hot water
For the Tres Leches Sauce:
1 can of condensed milk
2 cups of heavy whipping cream
1 can of evaporated milk
For "Frosting"
1 cup (1/2 pint) heavy whipping cream
3 tablespoons granulated sugar
1 can of Dulce de Leche
How to make Chocolate Tres Leches:
Heat oven to 350°F. Grease a 9-x-13-inch pan.

Stir together sugar, flour, baking powder, baking soda and salt in a large bowl.

Melt 3/4 of the AMERICAN HERITAGE® Chocolate Finely Grated Chocolate using package directions.

Add eggs, milk, oil and vanilla; beat on medium speed of mixer 2 minutes then add the melted chocolate.

Stir in hot water (batter will be thin). Then add remaining chocolate stir and pour batter into prepared pans.

Bake 30 to 35 minutes or until cake is ready and you can pull out a toothpick without batter coming along.
For the Tres Leches sauce:
Combine the condensed milk, evaporated milk, and heavy whipping cream. Stir until mixed.
Leave the cake in the baking mold and use a wooden spoon handle to poke holes all over the cake.
Gently and slowly pour the three milks mix over the cake. I find it best to pour a little bit over, then let it absorb, then pour some more, and so on.
Let the cake rest in the refrigerator for at least an hour. The longer you go the cake will soak up all the Tres Leches sauce.
For the Topping:
For the frosting, make homemade whipped cream by beating heavy cream and sugar together until light and fluffy. Before putting the whipping cream frosting on, you will empty out the dulce de leche can into a microwave-safe bowl and melt for about 30 seconds.
Just to get it melted enough to spread. You will spread the dulce de leche over the cake almost making it a thin frosting. Let it sit for about 15-20 minutes and then frost with whipped cream.
Serve and Enjoy! I lightly sprinkled AMERICAN HERITAGE® Chocolate over the cake as a garnish.
Thank goodness you make this cake on a 9×13 pan because I promise you it will disappear.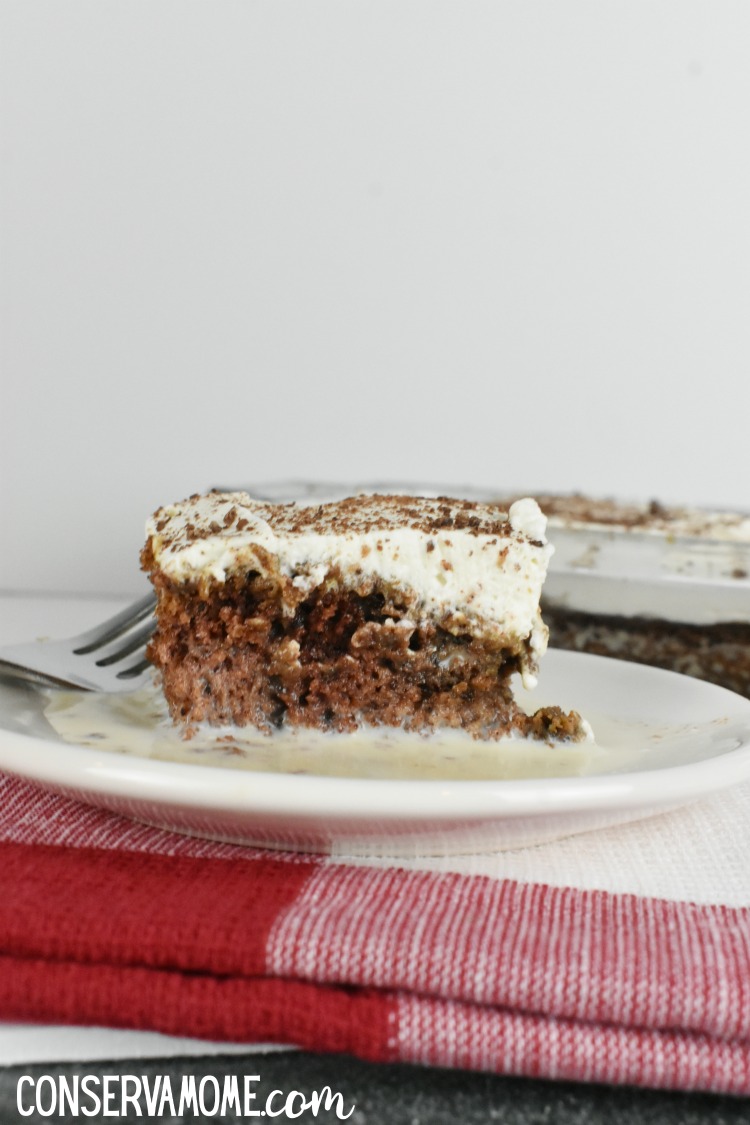 Most important make sure and grab some bags of this delicious chocolate just in time for the holidays to make your own delicious recipes.
I invite you to check out the American Heritage Chocolate Website as well as get social with them on Facebook, Instagram, Twitter and Pinterest.