What happens when you take a delicious cookie recipe and marry it with some delicious candies? You get delectable candy cookie sandwiches. This recipe will be a huge hit. Filled with oh so delectable peanut butter butter cream. Each bite includes a mouth full of tasty snickers, peanuts and more. This recipe is a unique cookie recipe you will love!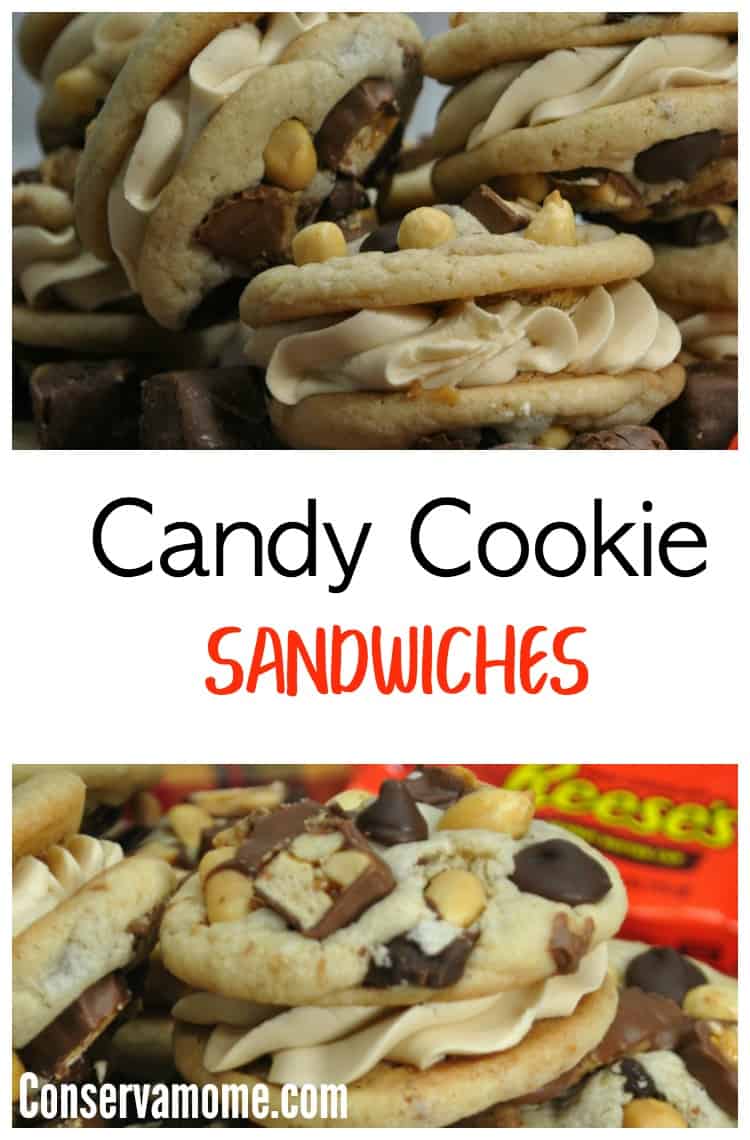 Candy Cookie Sandwiches: A Unique Cookie Recipe
I love cookies and I love candy . So what do you get when you combine both? Pure deliciousness!!
This recipe is crazy easy to make Read on to find out how easy it is to make delicious cookies filled with some delicious candies, making this the perfect symphony of chocolate!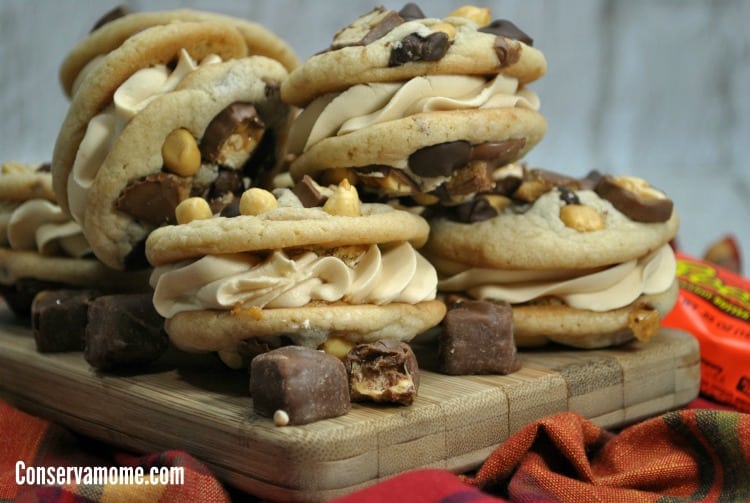 I mean think about how amazing these will taste. Just add your favorite candy and nuts and you're ready to go.
What you'll need to make Candy Cookie Sandwiches:
For the Cookies:
1 Cup unsalted sweet cream butter, softened
1 tsp baking soda
3/4 C light brown sugar
1 tsp vanilla extract
2 eggs

A cup of the following:
Chopped mini Snickers
chocolate chips
Frosting Ingredients:
1/2 C unsalted sweet cream butter, softened
1 C peanut butter
3 TBSP whole milk
2 C powder sugar
How to make Cookie Directions:
Preheat oven to 350 degrees.
Line a cookie sheet with parchment paper.
In a small bowl add flour, baking soda, and salt.
Using a standing mixer, cream together the butter, granulated sugar, brown sugar, and vanilla extract and beat until creamy.
Add one egg at a time, beating after each egg has been added.
Slowly add the flour mixture.
Continue to beat after each addition.
Mix in 1/4 C each of the snickers, Reeses peanut butter cups, peanuts and chocolate chips.
Drop dough by using a small ice cream scoop onto parchment lined cookie sheets.
Bake for 10-12 minutes or until golden brown.
Remove from oven.
Carefully add the remaining chopped candy and peanuts on top of the cookies.
Return to the oven for 2 more minutes.
Take out of the oven.
Cool completely
Remove to wire racks to cool completely.
Frosting Directions:
Using a standing mixer, cream together the butter and peanut butter until smooth and creamy
Add in the powder sugar and milk and beat until stiff with peaks
Spoon the frosting into a pastry bag with a star tip.
Match the cookies in pairs according to their size.
On one half of the cookie, pipe the frosting.
Place the other cookie on top.
And Voila! You'll have some amazing & delicious cookie sandwiches!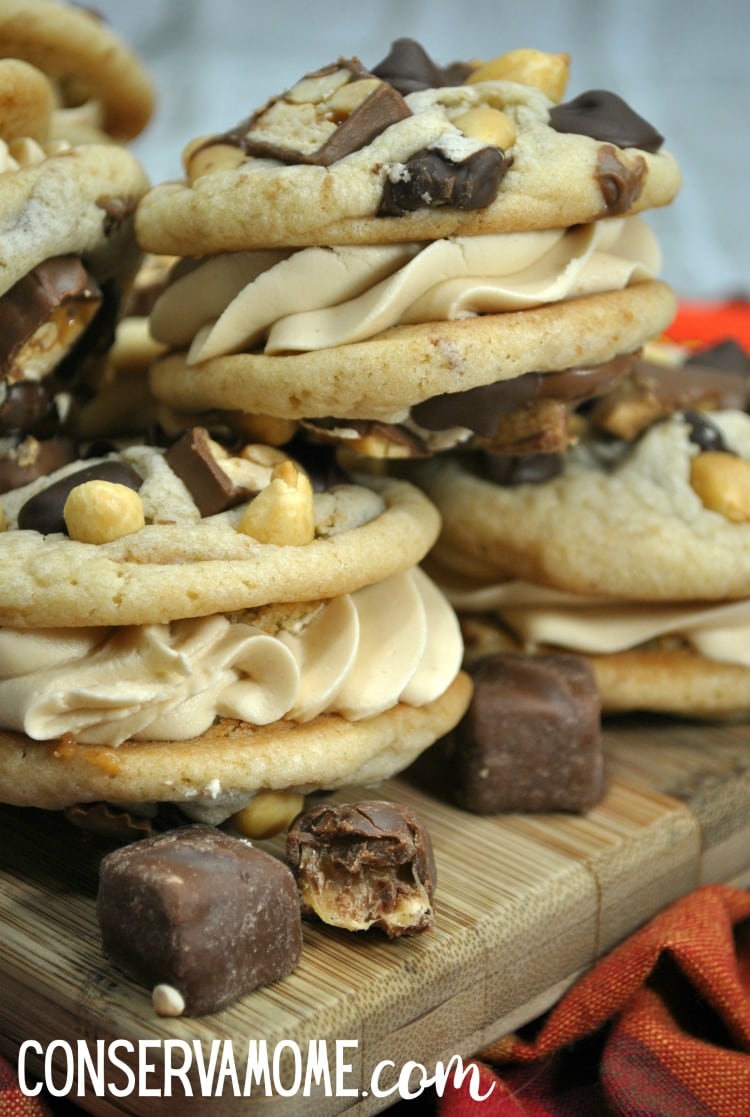 Don't they look absolutely amazing?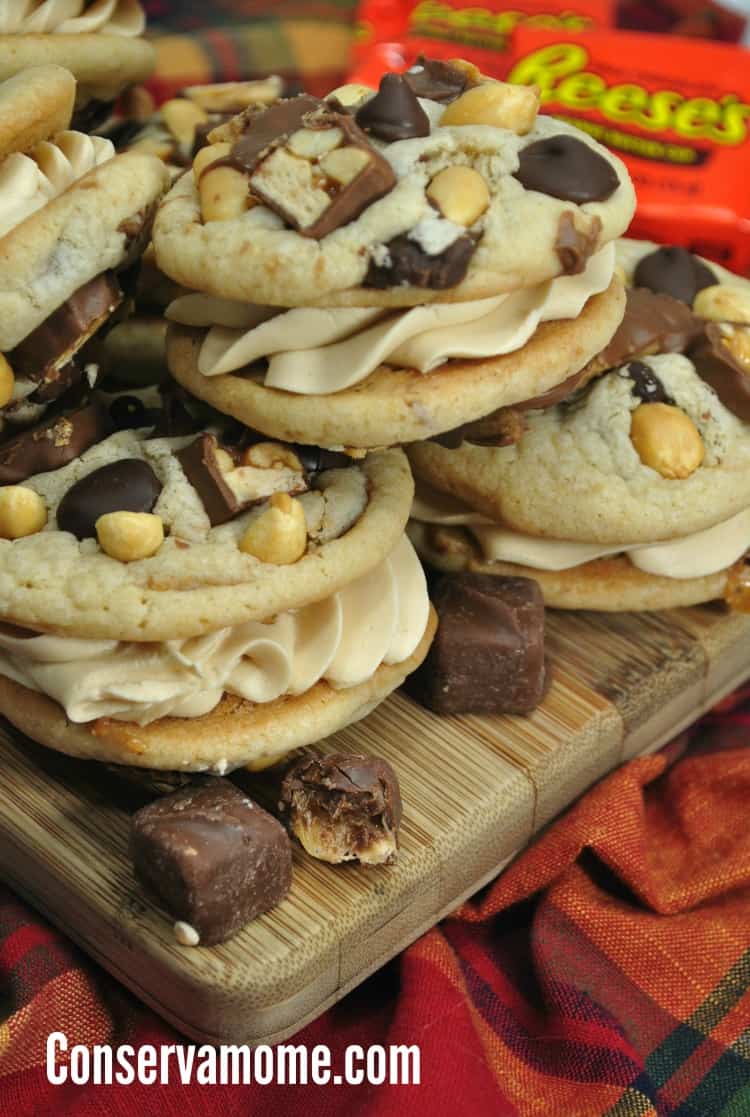 Make them yourself and see how delicious these cookies can be!