Are you dreaming of spring? Here's a fun and easy Butterfly Puzzle Craft with Flapping wings- An Easy Spring Craft!
Butterfly Puzzle Craft with Flapping wings- An Easy Spring Craft!
Kids love to create – amirite? And it's always a good idea to have a lineup of crafts to offer budding artists when the creative urge hits. This cute and easy butterfly puzzle craft is a great activity for all kinds of artists in all kinds of settings.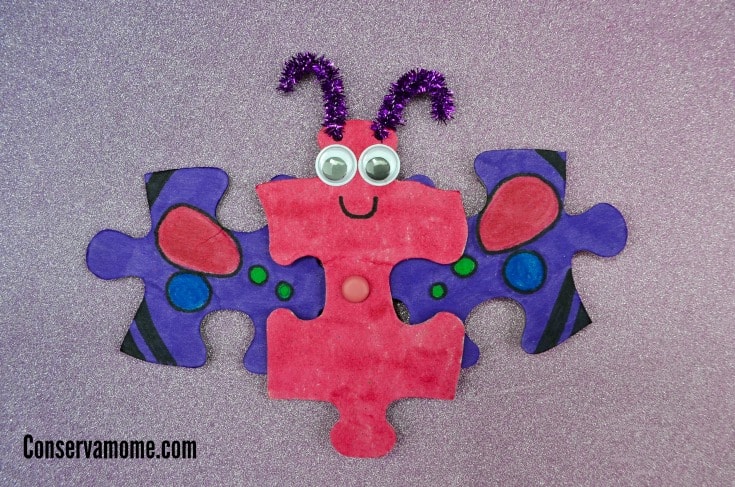 Homeschooling families can use this craft for young kids during a study of a butterfly's life cycle. Elementary aged kids would love this as an after school or rainy day activity on the weekends. Print off the instructions and let your older children teach your younger children how to do this. Get creative alongside your kids and enjoy!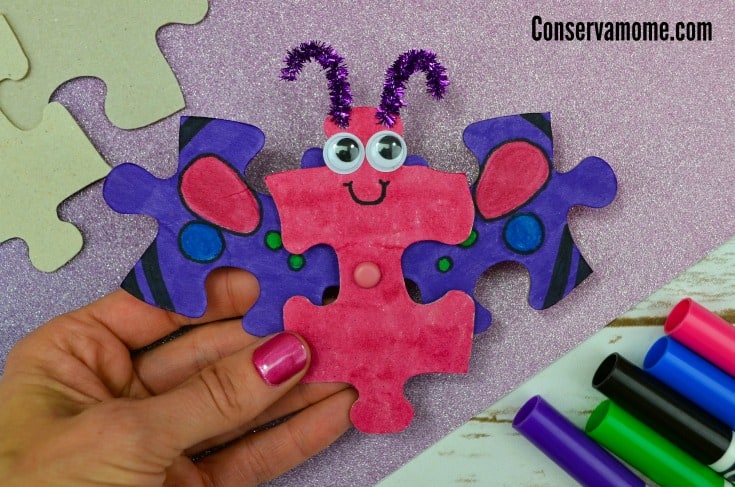 Here's what you'll need: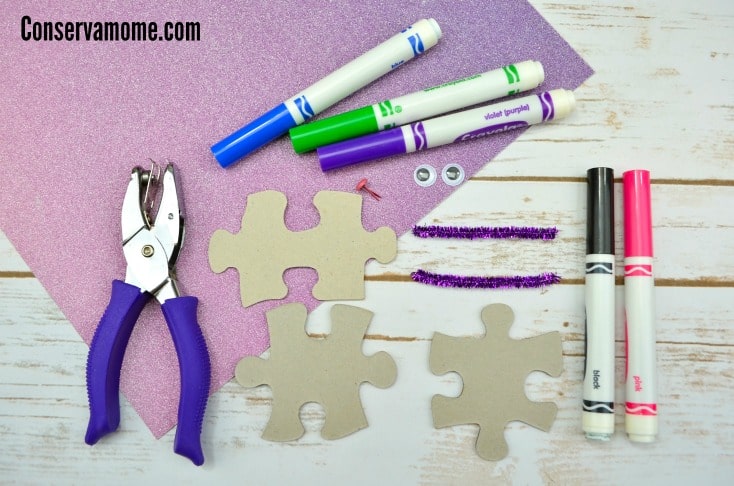 How to make this Fun Butterfly Craft
First color one puzzle piece completely pink, this will be the butterfly's body. Most puzzle pieces are made from cardboard so you can use whatever you want to color it: markers, paints, crayons, colored pencils, etc.
Next, stick on some googly eyes!
Use the hole puncher to make 2 holes at the top for antenna.
Cut the pipe cleaner in half then again in half so you have 4 pieces total, you will only be using two pieces. Feed one end of the pipe cleaner into the hole, match the ends up and crease. Then twist the two pieces together to form an antenna. Curl at the top for a cute effect. Repeat for the other side.
Take the last two puzzle pieces and create a butterfly wing design of your own.
Use a marker to mark a hole at the ends of the wing pieces and in the middle of the body piece. It helps to mark it first to make sure the hole is in the right place. Punch it out with the hole puncher.Next put the brass fastener through the body piece, then through each wing and fasten in the back.
The butterfly is ready to fly away!
Make this craft even more educational for young children by reviewing colors and shapes and the process of caterpillars turning into butterflies!
Looking for another great craft? Check out this fun Ladybug craft!