As kids get older, they get more and more interested in dyeing their hair. Of course, as parents, we usually want to avoid permanent dyes in our kids hair for as long as possible. However, we don't want to stifle their creative individuality. Wanting to color their hair is a natural part of growing up and seeing other kids with dyed hair only fuels that want. Guess what, there are some pretty awesome ways to color your kids' hair without permanent dye.
*This post contains affiliate links. By purchasing any products listed here I will receive a commission at no cost to you. Thank you for supporting my page.
Color Your Kids' Hair Without Permanent Dye
For months my 11 year old daughter had been begging to dye her hair and I didn't know if I was ready to let her go permanent because of the damage permanent dye could do to her young hair. However, after finding her in the bathroom with tissue paper and alcohol after watching a tutorial on Youtube I decided it was time to research coloring her hair without permanent dye more seriously.
So I began to research various ways to dye her hair without making it permanent. Kid's hair is much more delicate so using something as abrasive as splat or even bleaching can damage it very easily. There are even dangerous chemicals in permanent hair dye that can cause damage to your child's hair. One such chemical paraphenylenediamine that's commonly used in permanent hair dye can cause a severe reaction and may even cause permanent damage to your child's hair.
That's why it was important to look for less abrasive ways to help color my girls hair.
Now they both have darker hair making this job extra hard. For some reason if your child's hair is too light it might suck up the color and it can end up staying in for a very long time. However, if their hair is dark it might not even show.
Here are some of the best methods I found to help dye your kids' hair. Some will work better than others depending on your child's hair.
Natural Ways to Dye Your Kid's Hair
Use Beets!
Seriously. If your son or daughter wants that burgundy tone, use beet juice or beetroot powder. It is a completely natural way to get those tones, without damaging your kids' hair.
DIY Dye your kids hair
Natural Food Coloring. Diluting food coloring into some water and vinegar can be a fun way to add colors to your kids' hair. Pretty much like dyeing Easter Eggs! You could also use food coloring gel and add some amazing streaks.
Kool-Aid Colors! Using Kool-aid to aid bright, fun colors to your hair, is a tried and true method that kids have been doing for years! It may be a little sticky, but the colors are definitely cool. Here's a great tutorial on how to do this!
Try Chalk. They make hair chalk that you can buy, but in all honesty, you can also use sidewalk chalk! You can either just color it onto your hair for some highlights, or crush it into a spray bottle of water and spray the hair for a fun look!
Other Great ways to color your kids' hair
Colored Hair Sprays! There are a lot of colored hair sprays out there now-a-days that was out with one wash! These are great for crazy hair days and Halloween, or to let your kid see how that color would look.
Colored Hair Gel. They even have colored hair gel options that you can use to style your hair and wash it out the same night. These tend to be a little softer than the colored hair sprays and a little less crunchy.
There are a lot of options to color your kids' hair without permanent dye, as you can see. You can also take them to the salon, where they can add things like color butter, which is a conditioning treatment that lasts a few washes, or even hair coloring powder! These are fun and awesome ways to let your kids experiment without permanent damage.
We also love using vegan hair dye like Arctic fox that's fantastic and smells amazing. This has been our personal favorite. Like my girls did below: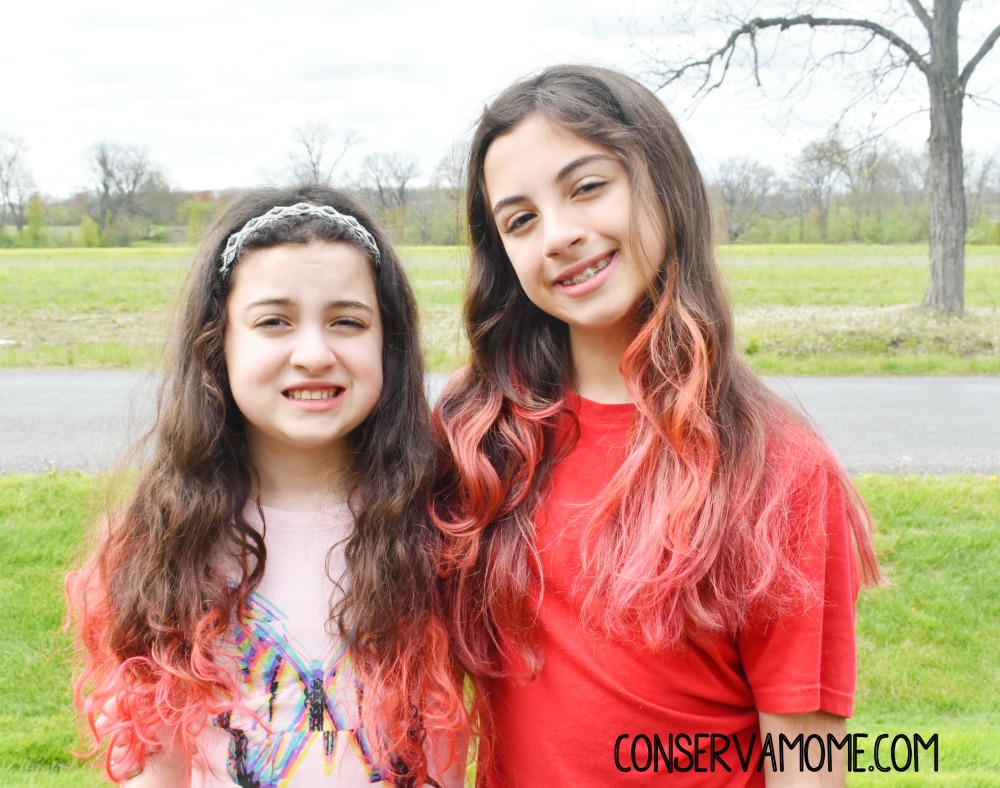 Things to keep in mind when dying your kid's hair.
Always doing a patch test first to check for allergies. If you are using a wash-in dye, your child must be able to sit for at least twenty minutes; and should be mature enough not to touch,or fidget around to much during the process.
Also remember that some of these more natural hair dyes may last longer.
Don't apply to the hair root. Some of these methods will stain the scalp. There are hundreds of videos of people and kids who tried splat hair dye and couldn't get the color off their scalp. Believe me you want to keep it off the scalp.
Finally, I can't stress doing a patch test. Some methods may not work AT ALL some may work all too well. If you still want to dye their hair and nothing from the above list helped, you can always head to the salon and have it done professionally.
That's what we've done for my darker hair girls. I did go down the route of bleaching their tips and then using Arctic Fox which has truly become our favorite.
Looking for more fashion help for kids and tweens? Check out 8 Tips for updating your tween's wardrobe.