Children who don't get a good nights sleep suffer from many issues that will keep them from reaching their potential. Find out 5 Reasons Your Child Needs a 5 Little Monkeys Mattress to help achieve a good night's rest! Disclosure: I received this mattress free of charge for my honest review. However, All opinions are 100% mine!
Sleep disorders account for many problems in children including mood and behavior issues. So it's important to follow certain steps that will help give your child a good night's sleep. It's important to do things like:
 Shutting down screens at least an hour before bedtime routine
Setting appropriate bedtime hours
Allowing enough sleep for your child's age
Following a consistent bedtime routine
Most important,  Giving your child a warm and comfortable bed, with a proper mattress.
As a parent we're always worried about what we feed our kids, what they wear, what school they go to and who they hang out with. However, one thing parents don't always put a lot of thought into is what mattress their kids  sleep in. I know i've been guilty of it in the past. Yet, the kind of sleep your child gets can make or break their day. That's why I'm thrilled to have found 5 little Monkeys  and I know you will be too.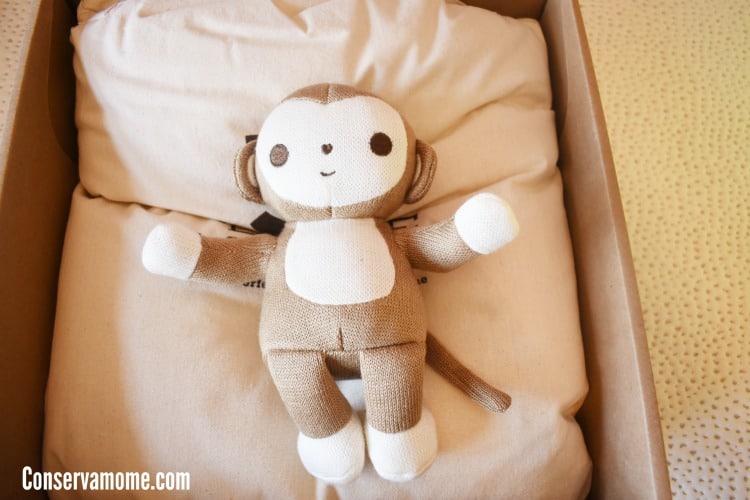 But before a little history on 5 Little Monkeys. 
When owners Courtney and Jason's kids were ready to head to "big kid beds" they realized an astonishing fact that the bedding industry has never made children's mattresses a priority! The choices for kids had been quality mattresses designed with adults in mind, or poor quality mattresses that are passed off as "good enough for kids." They  wanted something better for their daughters.  So, combined with  their  expertise in the bedding industry+  a few years of parenting under their  belt  they set out to create the ideal sleep system for kids. The result being 5 Little Monkeys!
But what makes this mattress company stand out from the rest? Read on to find out why this sleep system is a must in your child's life.
1.It's delivered to your door:  Let's face it, who has time to  head to a store, buy a kid's mattress and ride home with said mattress. If you've ever tried leaving your house with kids you realize how impossible a task like this can be, especially with kids in tow. Best of all it ships within 24 hours of ordering, so your little one will get their mattress quickly! You won't have to worry about them not liking it because you'll get a 100 night guarantee. If your not happy with your mattress for whatever reason you can return it! Best of all you get free shipping and returns. So what do you have to loose?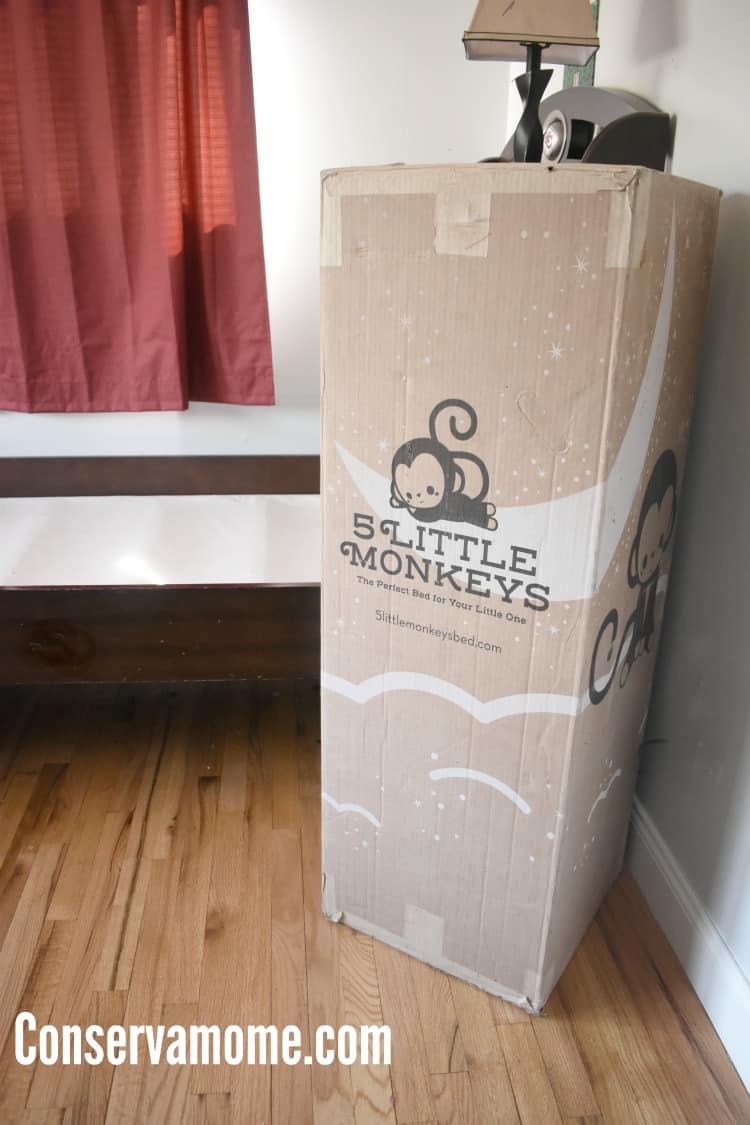 Getting it set up is a piece of cake. Your System includes a mattress, a mattress protector and a pillow. The mattress is vacuum sealed and opens easily and quickly.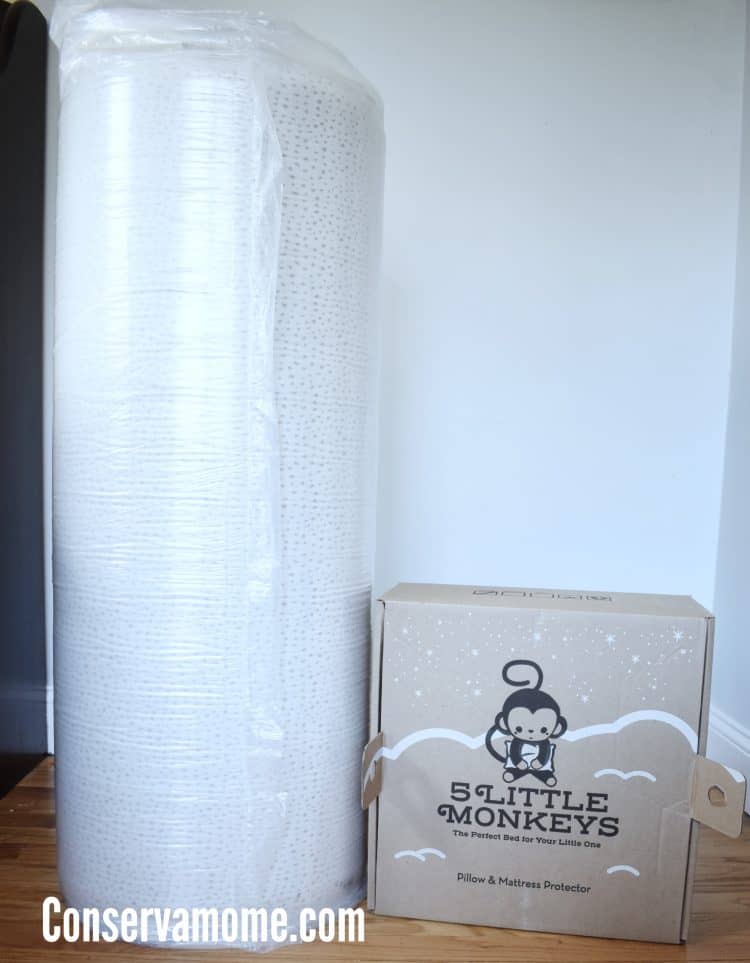 2. The mattress has cutting-edge temperature regulating technology to keep little bodies comfortable and cozy & Includes a pillow that's perfectly made for your little one!
This mattress is AMAZING. My kids have been fighting over who gets it since it came because it's perfection. They've taken this mattress making thing to a whole other level! The mattress itself has an open-cell structure to enhance air flow, and a Dual Phase Change Gel technology that adapts according to a child's unique temperature regulation needs. So little bodies stay comfortably balanced from head to toe. 
  It's made of 4 kid friendly layers 
Layer 1: Comfort Layer made with high-density, open-cell memory foam increases airflow and provides advanced cradling technology to reduce restlessness.
Layer 2: Dual Phase Change Gel regulates body temperature by absorbing and channeling heat away from the body to maintain optimum sleep temperature.
Layer 3: Support Layer made with Responsive Memory Foam provides exceptional support for ideal sleep posture. The open-cell structure produces breathable and odorless foam.
Layer 4: Durable base layer strengthens layers above for comfort and resilience.
3.The removable and washable mattress cover, made with organic cotton, ensures years of good sleep hygiene. This cover is stain and water resistant and most important  machine washable. Made with organic cotton and a heavy duty zipper to withstand multiple washings. If you have kids you know mattresses need protection. In the early years you have night time accidents. Later on the occasional stomach virus will make things messy as well. So having the right mattress protection is key.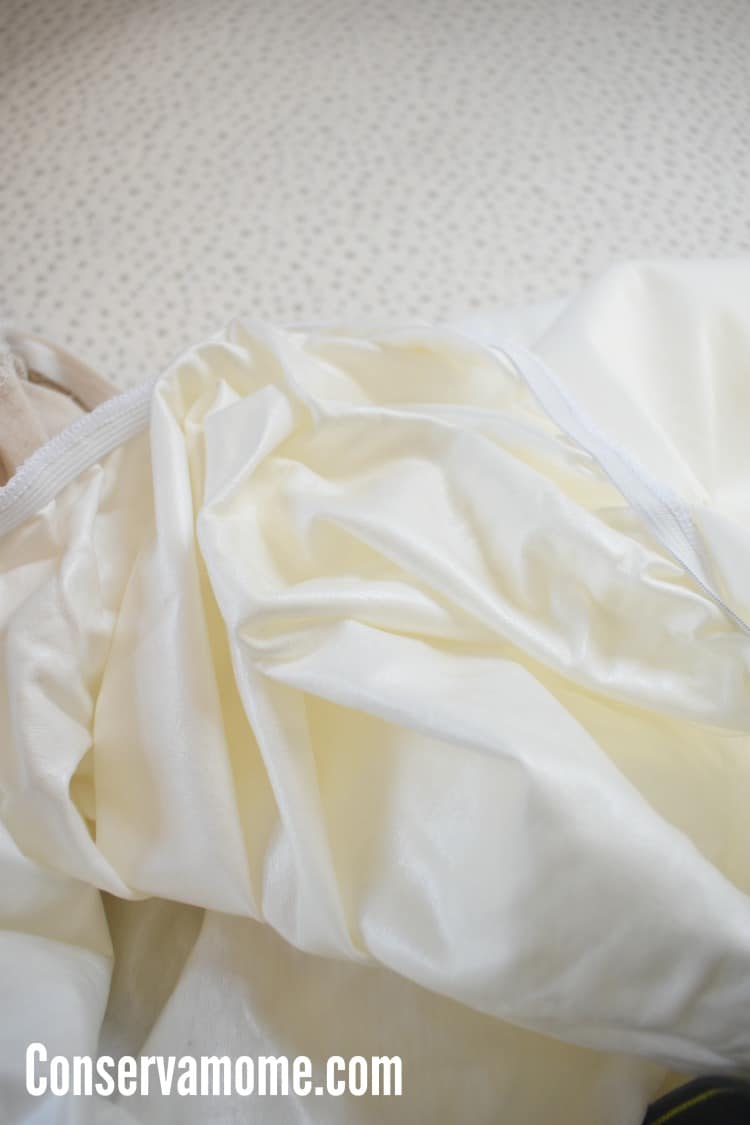 That's why they've made one that is not only ready to withstand whatever gets thrown at it but it's also made of only the best products. Best of all it's SOOO Soft!
4.Toxin Free & Allergy Proof : Here's the part that had me sold!  This mattress combined with the mattress cover is the perfect way to keep your little one allergen free while they sleep. My 4.0 suffers from all sorts of allergies, his biggest nemesis are dust mites. So having this combo has helped us see a drastic change in how he's sleeping at night not waking up all stuffy in the morning.

Why? These mattresses are made using foam that is CertiPUR-US® certified, and the included waterproof mattress protector creates a barrier to keep allergens out. Giving your little one a good night's sleep.
5. Cradling Support
5 Little Monkeys mattress and pillow include a unique cradling technology to reduce restless movement and uncomfortable sleep positions. It also features adaptive pressure relief for consistent weight distribution.

There are a ton more reasons why this line of mattresses is a must in any home with kids. The weeks my guy has spent using it has really shown me what a quality product and night's sleep is all about.