Here's a delicious and mouthwatering round up of Mouthwatering Meatless Meals to help you when you're trying to go meat free or just because.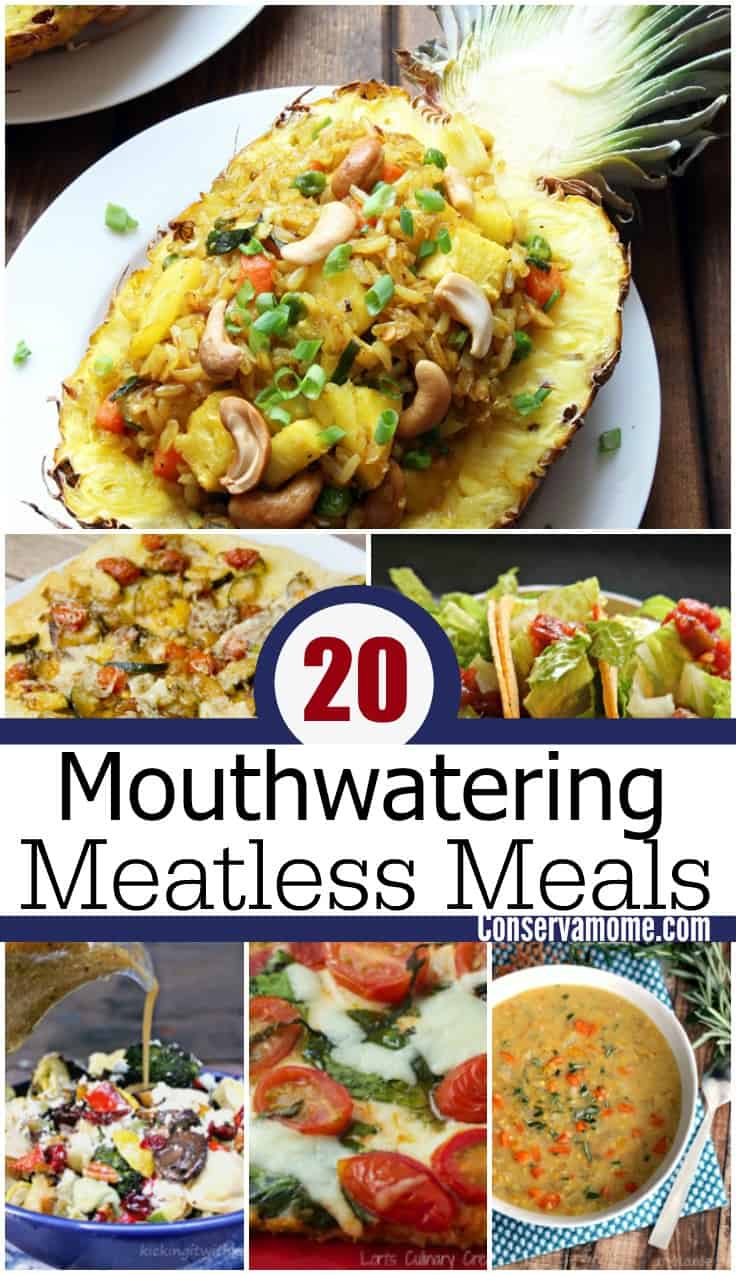 20 Mouthwatering Meatless Meals
My family doesn't eat meat on Fridays and after a while it can get pretty hard getting creative with meals. There's only so much cheese pizza one can eat 🙂 Meat doesn't always have to be the center of a meal when you have some great meatless meals to try out. Lent is right around the corner and many people will be going Meat Free on Fridays as well. I know that it gets harder getting creative as the weeks progress. However, there are so many vegetables, pastas and spices that will make a fantastic meal even better. So check out this great round up of 20 Mouthwatering Meatless Meals that will help you enjoy some delicious meatless meals.
Best of all most are so easy to make you'll probably want to make them just because! So if you're trying to take are more meat-free approach to life or would like a nice round up of meatless meals to help you supplement your budget, you've come to the right place. I hope you enjoy this round up and all the delicious meals it brings.
Eggplant Manicotti – For The Love of Food
Mediterranean Pizza – Homemade for Elle
Mushroom Mediterranean Couscous – Oh My! Creative
Balsamic Eggplant Pasta Salad – Future Expat
Lentil Tacos – This Mama Loves
Slow Cooker Lemon Rosemary Lentil Soup – Melanie Makes
Spaghetti Squash Alfredo – The Dinner Mom
Perogy Casserole – Canadian Free Stuff
Thai Baked Pineapple Fried Rice – Leelalicious
Brown Rice Veggie & Egg Bowl – Jinxy Knows Best
Slow Cooker Vegetarian Baked Ziti – Thrifty Jinxy
Vegetarian Tamale Pie – Thrifty Recipes
Warm Quinoa Salad with Corn & Black Beans – The Thrifty Couple
Slow Cooker Vegetable Soup – Just 2 Sisters
Baked Eggplant Parmesan – Hezzi Di's Books & Cooks
Pasta e Fagoli – Generation of Savings
Caprese-Style Pizza – Lori's Culinary Creations
Apsaragus Quiche – Feeding Big
Roasted Summer Vegetable Tortellini Pasta Salad – Kicking It With Kelly
Easy Black Bean Soup – Leave No Leftovers
Looking for another great meal? Check out this Easy Shrimp orzo perfect for a quick dinner!