Cadbury Eggs are a delicious spring treat. However, did you know that there are some great ways to incorporate them into delicious desserts? Check out this round up of Cadbury Egg Confections- 17 desserts made with Cadbury eggs!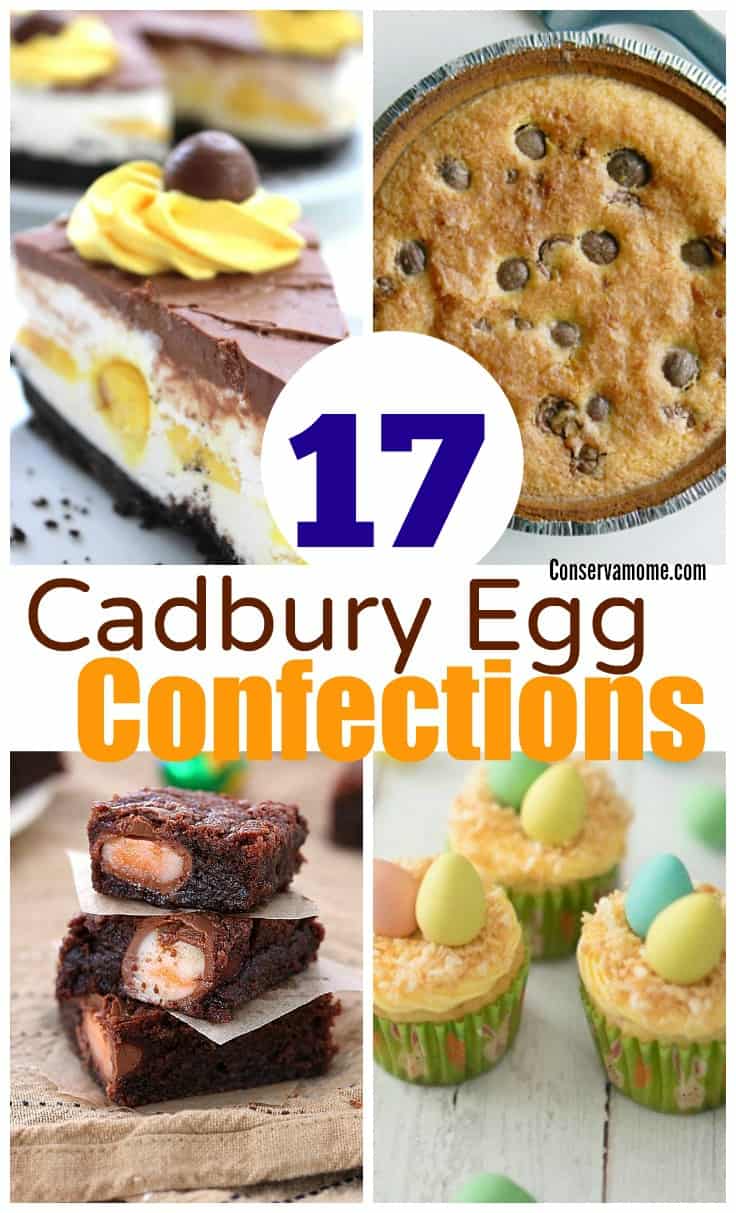 Cadbury eggs confections
Cadbury Eggs are one of the favorite Easter/ Spring Treats around. With their delicious rich taste most people love them on their own. However when you have something this delicious isn't it fun to see what else you can do when you think outside of the box? Here are 17 fun Cadbury EggConfections that will make any sweet tooth happy. Most important they're creative and fun treats that will help you look like a culinary genius without working too hard.
Check out this fun round up of delicious Cadbury Egg Confections and try them out for your next spring or Easter gathering.
17 Desserts made with Cadbury Eggs
Cadbury Creme Egg Brownies – A Treat's Affair
No-Bake Cadbury Egg Cheesecake – Cincy Shopper
Cadbury Mini Egg Cookie Dough Dip – Oh My! Creative
Baked Cadbury Egg Donuts – Tobins' Tastes
Banana Oatmeal Nests with Cadbury Eggs – This Mama Loves
Cadbury Creme Egg Pie – Canadian Free Stuff
Cadbury Chocolate Creme Egg Cupcakes with Salted Caramel Frosting – Live Love Texas
Cadbury Mini Egg Cupcakes – Life Is a Lullaby
Cadbury Egg Easter Egg Trifle – The Slow Roasted Italian
Cadbury Creme Egg Pies – Upstate Ramblings
Three Ingredient Cadbury Creme Egg Fudge – Create Bake Make
Cadbury Creme Egg No-Churn Ice Cream – Elizabeth's Kitchen Diary
Creme Egg Chocolate Mug Cake – My Fussy Eater
Overloaded Rocky Road Brownies – Giraffes Can Bake
Cadbury Egg Bark – Girl in the Little Red Kitchen
Cadbury Creme Egg Cupcakes – It's a Lovely Life
Cadbury Creme Egg-Stuffed Crescent Rolls – Simply Stacie
Looking for other fun and delicious Easter Treats? Here's a round up of 20 Fun Easter Treats that are both delicious and creative.
Don't forget to check out my Easter/ Spring Pinterest board filled with all sorts of fun ideas and recipes to help make your Easter/ Spring a fun one. Make sure and follow it as well as pin some of your favorites. I've taken all the hard work out of searching for the best around 🙂