When watching a movie there are a few elements that are crucial to its success one of them being costume design. If the clothing on the character just isn't right it might throw off everything about who the person is, their role in the movie as well as the actual carrying out of the story line. Because of their impact in character development a costume designer has one of the most important roles in a film.  So when I recently had a chance to sit down with Colleen Atwood the Costume Designer for Disney's Into the Woods  was so excited to see what went into her thought process for perfectly picking out the pieces to be worn by the characters in the movie.
Colleen's name may not be a familiar one to many of you but her work should be. She's been the costume designer for hits like: Edward Scissor hands, Silence of the Lambs, Joe Versus the Volcano, Little Women, Planet of the Apes, Chicago, Big Fish, Memoirs of A Geisha, Alice in Wonderland (Which she won an Oscar for),Snow White and the Huntsman, Big Eyes and so many more hits.  Her work is impeccable and it shows with all the nominations she has received for her work. Which include 3 Oscar wins!  So when I tell you she has talent and an eye for the trade I am not lying.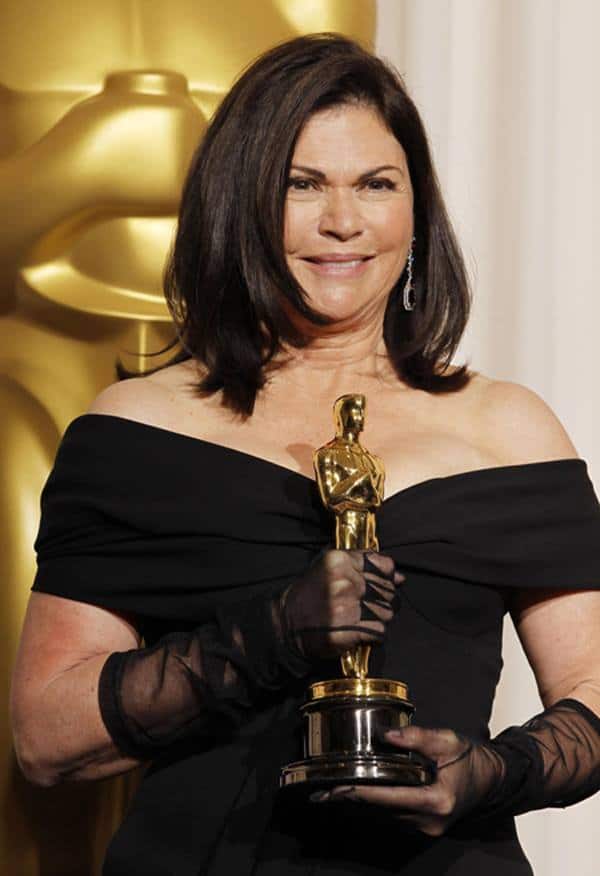 Sitting down with her was such an honor and most important so insightful in seeing what goes into the process of developing the costumes for a movie.
So we asked her how do you get started on a project?
Colleen: "Every project starts with a story. So, I get the phone call and, the script and I read the script and I kind of have a little dream about what you want to see. Sometimes when you get a script you sort of see different things right away and sometimes, you know, it's a different process. But I start thinking about it and then,the next step is usually meeting with a director and having a kind of a conversation about what he's thinking it is, because ultimately that's the person that I collaborate with the most on a film. So you're there to kind of serve his vision of the story. And then the next step is going off and doing research, design, costume textile development which I'm huge on because I love the craft. And people doing things with their hands is, is exciting and sort of inspiring for me. Then I take those things  I put them together and present them to the director. And then as actors are cast in the film and I have meetings with them, I usually show them. Before I give them clothes at all, I usually try to meet with them and show them my ideas so if they have something they don't like, they object to, I kind of figure it out and sort of talk to them about it. And get to the heart of what their feeling is and then I start the actual making of the costumes and fittings and that process."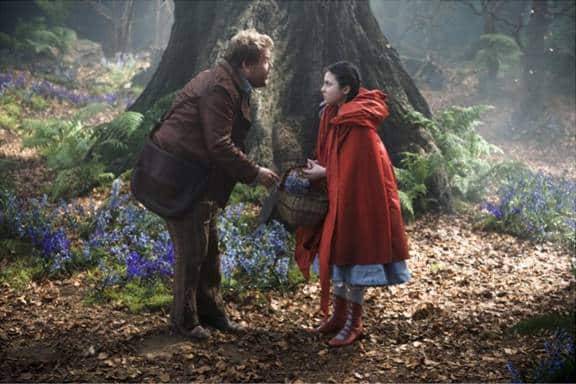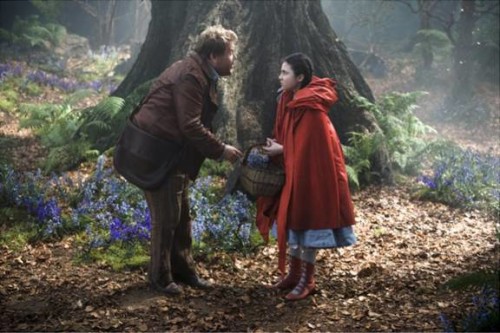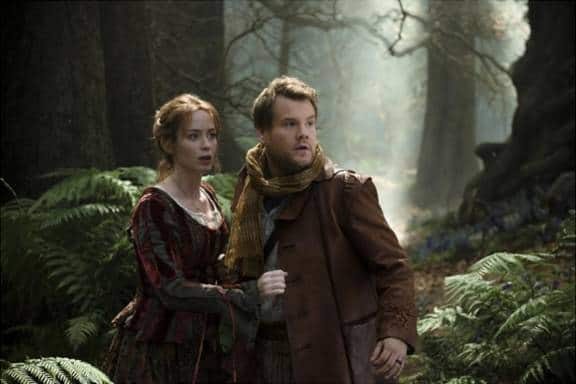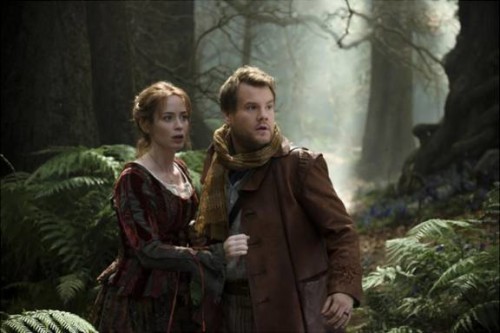 Because there were so many different costumes in the movie, We asked her which one was her favorite:
Colleen:  You know, it's kind of like children, it's a weird question to ask, because I never- like one, one day some of them are definitely not my favorites (as she said this laughing) but, I had a great time of course with Meryl's costume because of the textile art that was involved in it. And it involved not just my ideas but the hands of a lot of really talented people, mainly women. Um, and then, you know, each one has a different beat, so it's kind of fun to- the thing that makes it great for me because I kind of bounce around a to is-It's great that you can go from- in the room you can go from Meryl's costume and walk over to, to Billy's costume, and walk over to the baker and his wife's costume. You know, the vocabulary is so varied that,  when you walk around and go from one thing to the other, you're thinking about each thing as you go, and you kind of as you hit one, you go oh, and you kind of go back to the other one. But it's, it's nice 'cause they're so varied and you can always, you know, take from one and- and sort of lend to another when it's something isn't working in the room.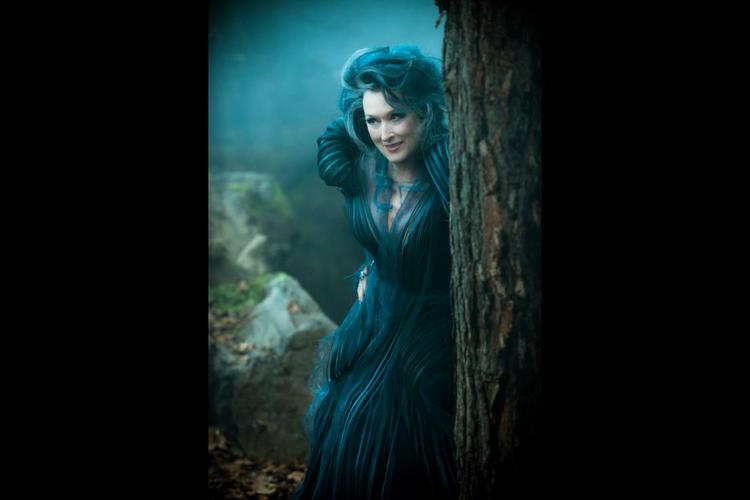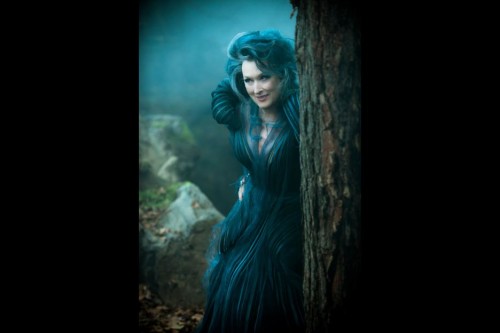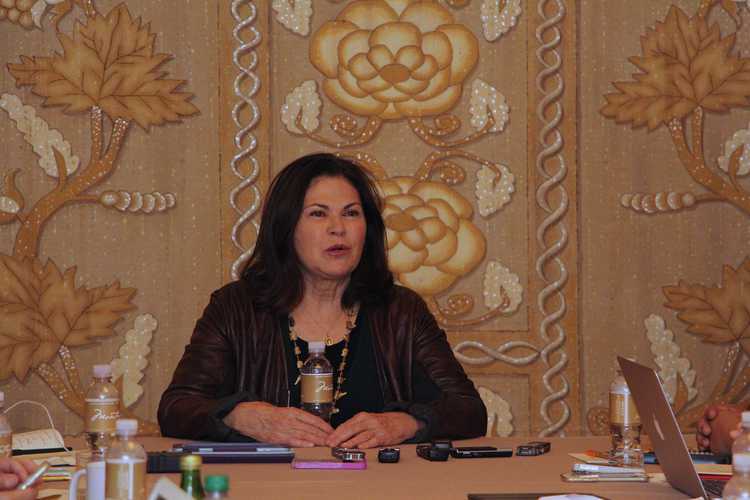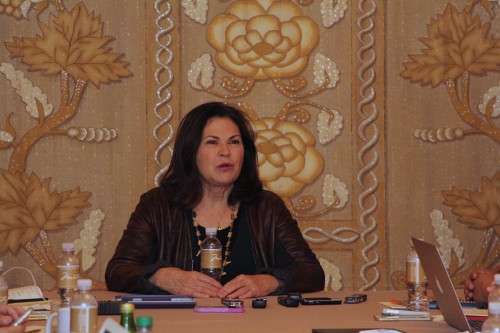 So then we asked:Whose costume would you say involved the most from your first thoughts to the finished product and why?
Colleen: Well I'd say Emily's because she was pregnant.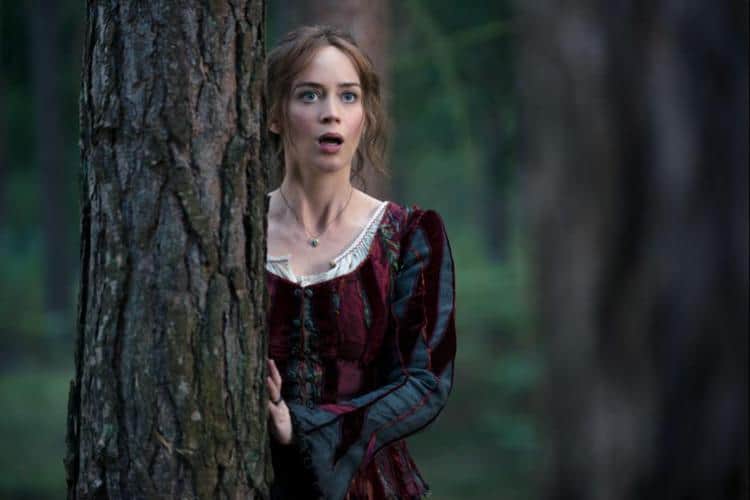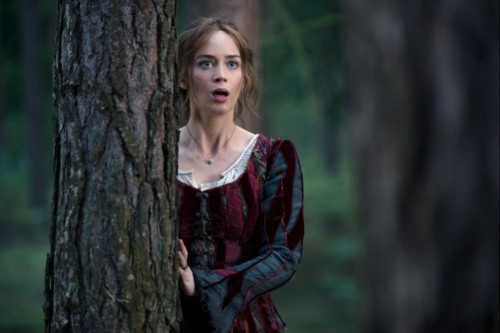 [LAUGHTER] it changed the most of any costume. It had a lot of, uh, it had a lot of panels and, you know, she- I was just saying next door, like, you know, when I got her, she was just barely pregnant. Or- and all of a sudden she got into that like kind of fifth month kind of thing. And she came to work after a weekend and it was like she'd grown I swear. [LAUGHS].She'd grown like two or three inches I'm like what happened over
the weekend, the baby just kind of [MAKES NOISE]. And so I was continually kind of modifying her costume because, you know, her bust was bigger and her belly was bigger and- and you're kind of- even though she was incredibly small for how pregnant she was. Um, so I was continually like making the body- the apron bigger and- and all that. Thank goodness she was in an apron from the start [LAUGHTER] And the little jacket, I kept raising the kind of where it buttoned and kind of painting it in darker and darker on the side, so you kind of use a lot of tricks of, of, uh, the trade. But, but that costume I was continually changing and touching the whole time.
What About Cinderella's Costume?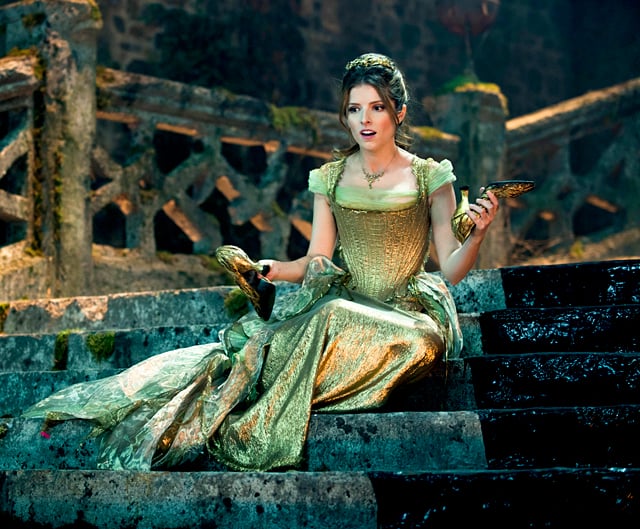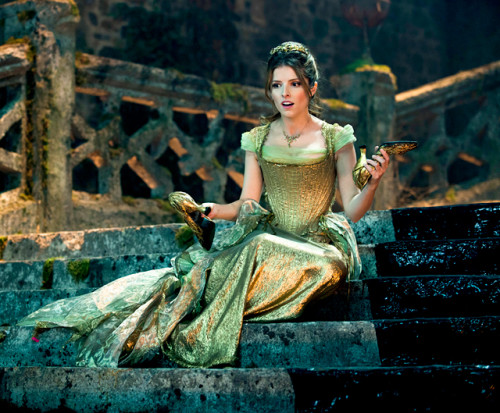 Colleen: Cinderella's costume for me, the first costume in the house in the, you know, that- that whole world, it's hard to talk about just her without the world, because she's in the world with the steps. And it kind of when I saw what Rob was doing with the rehearsals with the, with the girls and their action and how they were playing that opening scene, where you kind of establish who they all are, um, it was very farcical to me and- and I immediately went to the eighteenth Because it's such- it, it lends itself well to that kind of comedy. It's exaggerated in a way that really worked with the girls. And I wanted, so for Cinderella she was sort of a nod to that world but with a little bit of a more modern kind of take on it, not so over the top and very peasant and aged down and-and dirty. What you'd expect Cinderella to be in a way. And then when she has her moment, it's based on her- that costume was sort of based on the fact that, you know- The costume was created by her mother. And in the early Grimm fairy tales, the shoes are gold not glass. Um, and so it kind  12 of- I kind of wanted it to be gold and sort of of the tree and the willow. And I started with more green in it, but then it became, I found this great thirties vintage fabric that I had been hoarding for a while. And it sort of had the right feeling of, I wanted it to be when it went through the forest kind of like a butterfly wing, like when you see a butterfly in the light and it goes in the dark and you don't see it. So I wanted it to have that kind of flighty quality to it. And she had to do a lot in the dress, I mean, you see, she runs, she goes upstairs, she goes downstairs. You know, I wanted to re- I kept the same sort of silhouette, but I sort of made the, the, the sort of shape of it more loose and modern in the sense, and also to get the movement I wanted for the camera.
As for Costumes for her children when growing up, she told us about trying to make a costume for her daughter who in the end preferred the store bought kind. It's funny how as a mom her trade wasn't honored the way it should have been. I guess no one is ever a prophet in their own land. Either way Colleen has garnered so much attention because of her beautiful work. Check out some more of her gorgeous costumes from the movie Into the Woods.  I wouldn't be surprised if she gets another Oscar nomination for her work on this amazing movie as I hope Into the Woods will also be nominated for an Oscar this year!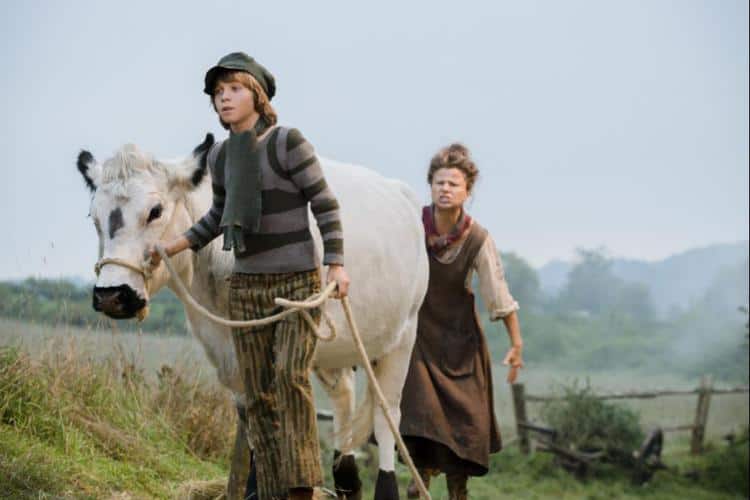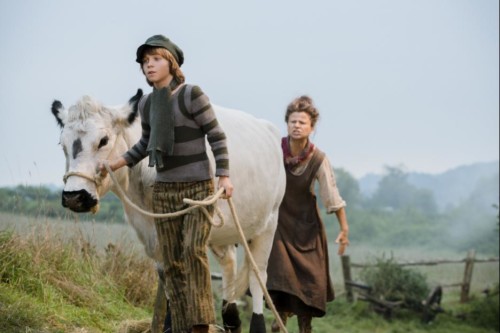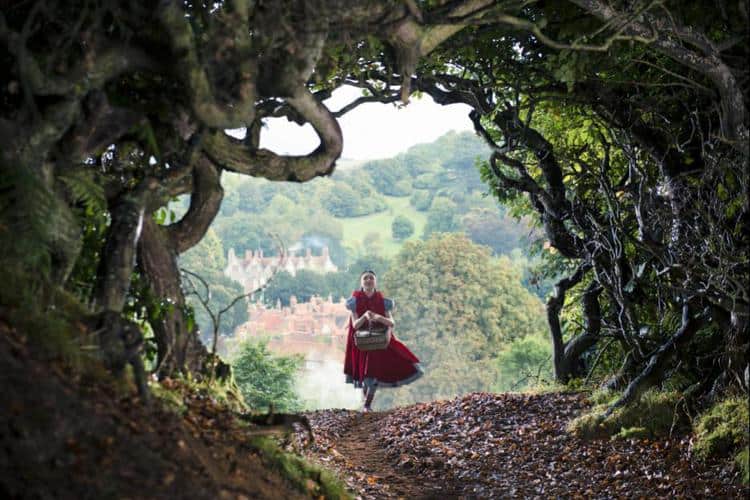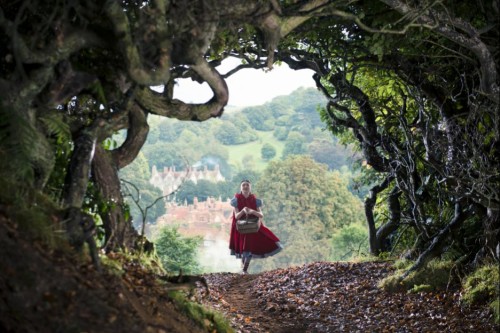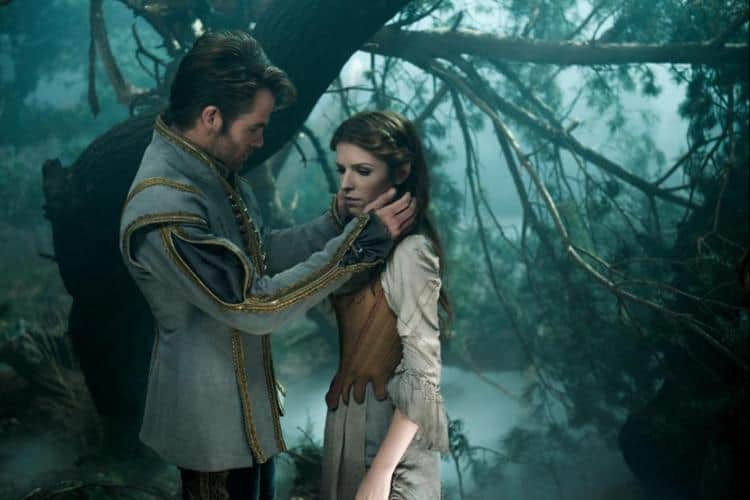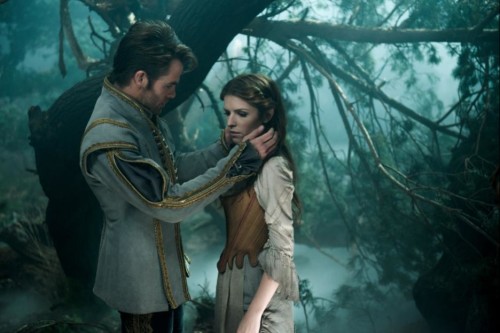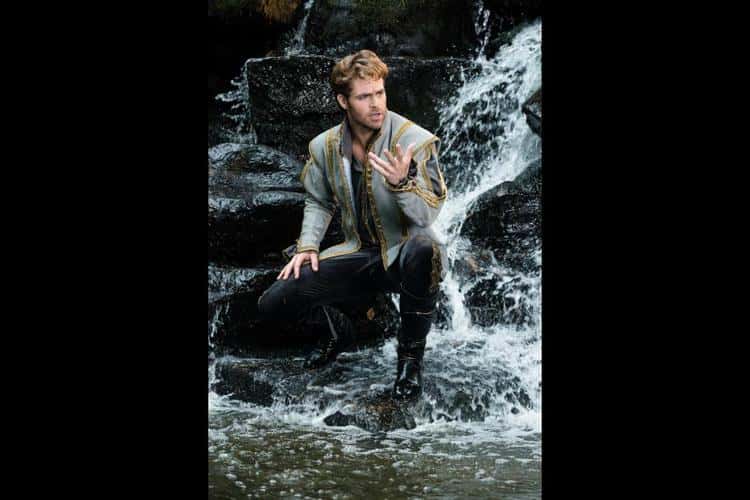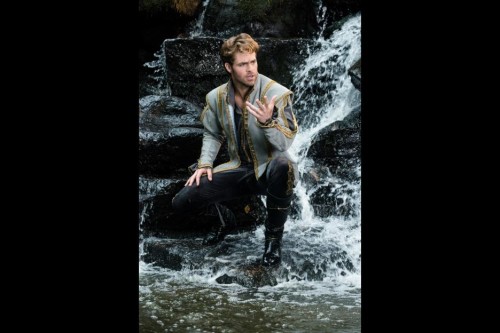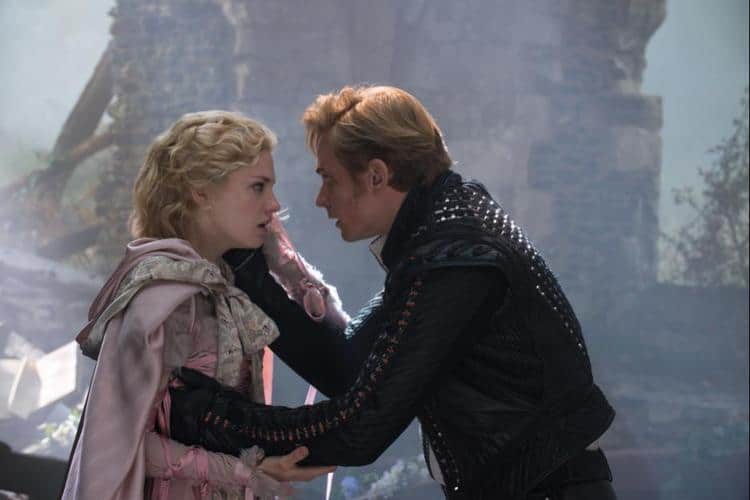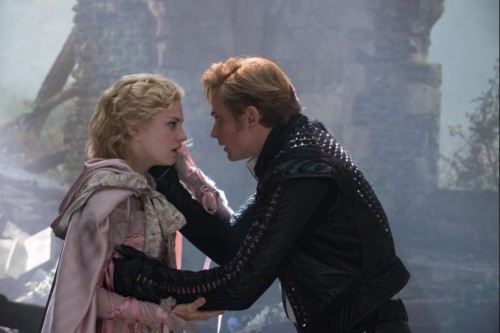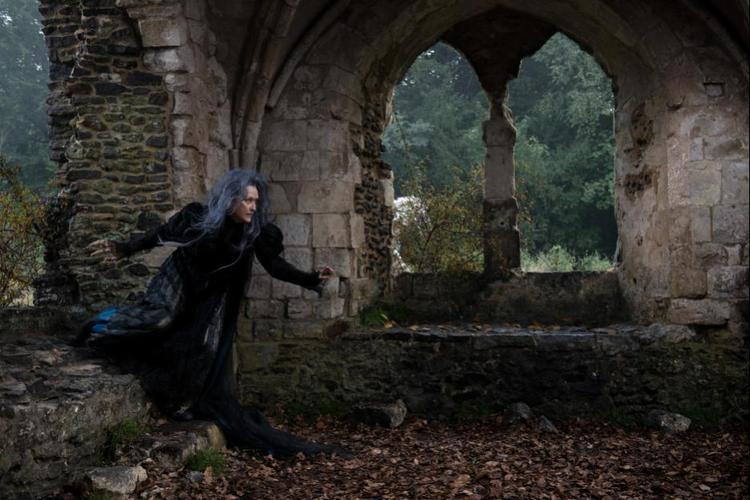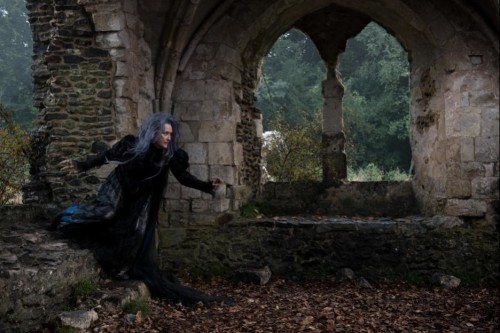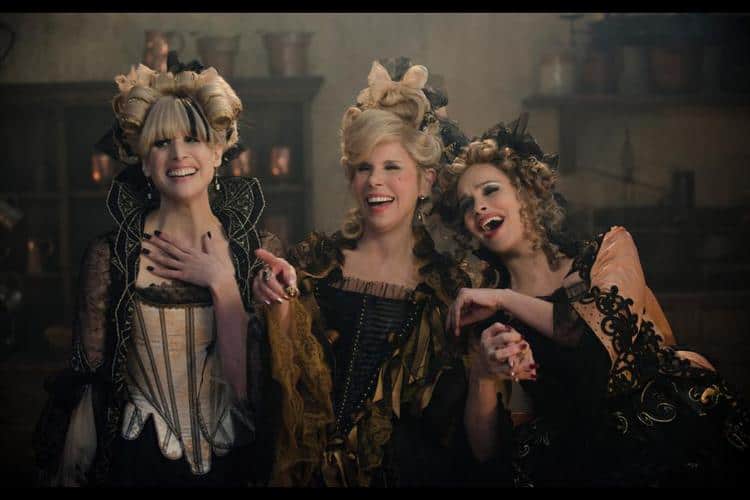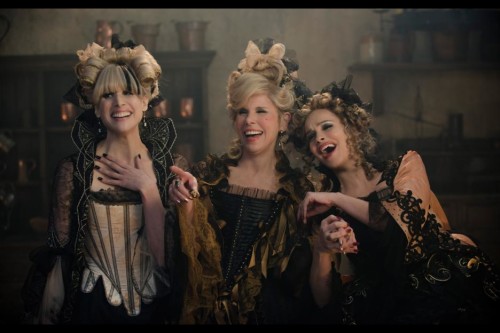 Don't forget to Like INTO THE WOODS on Facebook: https://www.facebook.com/DisneyIntoTheWoods
 Follow INTO THE WOODS on Twitter: https://twitter.com/intothewoods
 INTO THE WOODS is rated PG and is now playing in theaters across the country!

Disclosure: This post is part of my press trip to LA, CA with expenses provided by Disney. All Opinions are 100% mine.
Pictures courtesy of Disney and Hollywood Reporter.