Everyone is always looking for ways to upgrde their home. Here is one simple way! Check out top stunning home bar ideas that will inspire you!

Top Stunning Home Bar Ideas That Will Inspire You
Do you enjoy hosting get-togethers with your friends? If so, you'll want to consider adding a home bar to your list of must-haves. A well-stocked bar can turn any party into a special event. Not sure where to start? Don't worry – we've got you covered. In this blog post, we will share some of the most stunning home bar ideas that will inspire you.
Create A Focal Point
A focal point will be the main attraction of your home bar. It can be a beautiful piece of furniture, a striking painting, or a dramatic light fixture. Make sure it's something that will draw people's attention and make them want to explore your bar further. If you're not sure how to create a focal point, start by thinking about what type of atmosphere you want to create in your bar. If the barnacle bar is going to be the main attraction, choose a focal point that will complement its style. If you want to create a more relaxed atmosphere, choose a focal point that's more subtle.
If you're on a budget, you can also create a focal point by using mirrors. Mirrors can make a small space seem larger and they can also add interest to a bland wall. Just make sure your mirrors are hung correctly so they reflect the right things. With a little bit of creativity, you can create a truly unique home bar and one-of-a-kind.
Think About Your Space
When it comes to setting up your home bar, the most important thing to consider is the space you have available. Measure the dimensions of the room and think about what kind of layout would work best. Do you want a bar that takes up a lot of space or would you prefer something that's smaller and more discreet? Once you've decided on the size and layout of your home bar, start thinking about what kind of features you want it to have. Do you want a sink for washing glasses? A fridge for storing drinks? A built-in wine rack? Think about what will make your bar most useful and convenient for you.
Choose The Right Bar Stools
When choosing the stools for your home bar, it is important to select something that not only looks good but is also comfortable. You'll likely be spending a lot of time sitting on them, so it's important to find a style and material that you can relax in. If you're looking for a little extra comfort, consider opting for a stool with a padded seat. You can also choose between different height options to find the perfect fit for your space.
It's also important to think about the overall style of your home bar when selecting stools. If your bar has a modern or contemporary aesthetic, opt for sleek and simple designs. For a more traditional look, consider choosing stools with more classic details like carved legs or upholstery. No matter what style you choose, make sure the stools coordinate well with the other elements in your space. Finally, be sure to think about how many bar stools you'll need. If you're only hosting a few people at a time, two or three stools should do the trick.
However, if you're planning on hosting larger gatherings, you'll likely need more seating options. In this case, it might be worth investing in a bar that has multiple height levels so that everyone can find a comfortable spot to sit.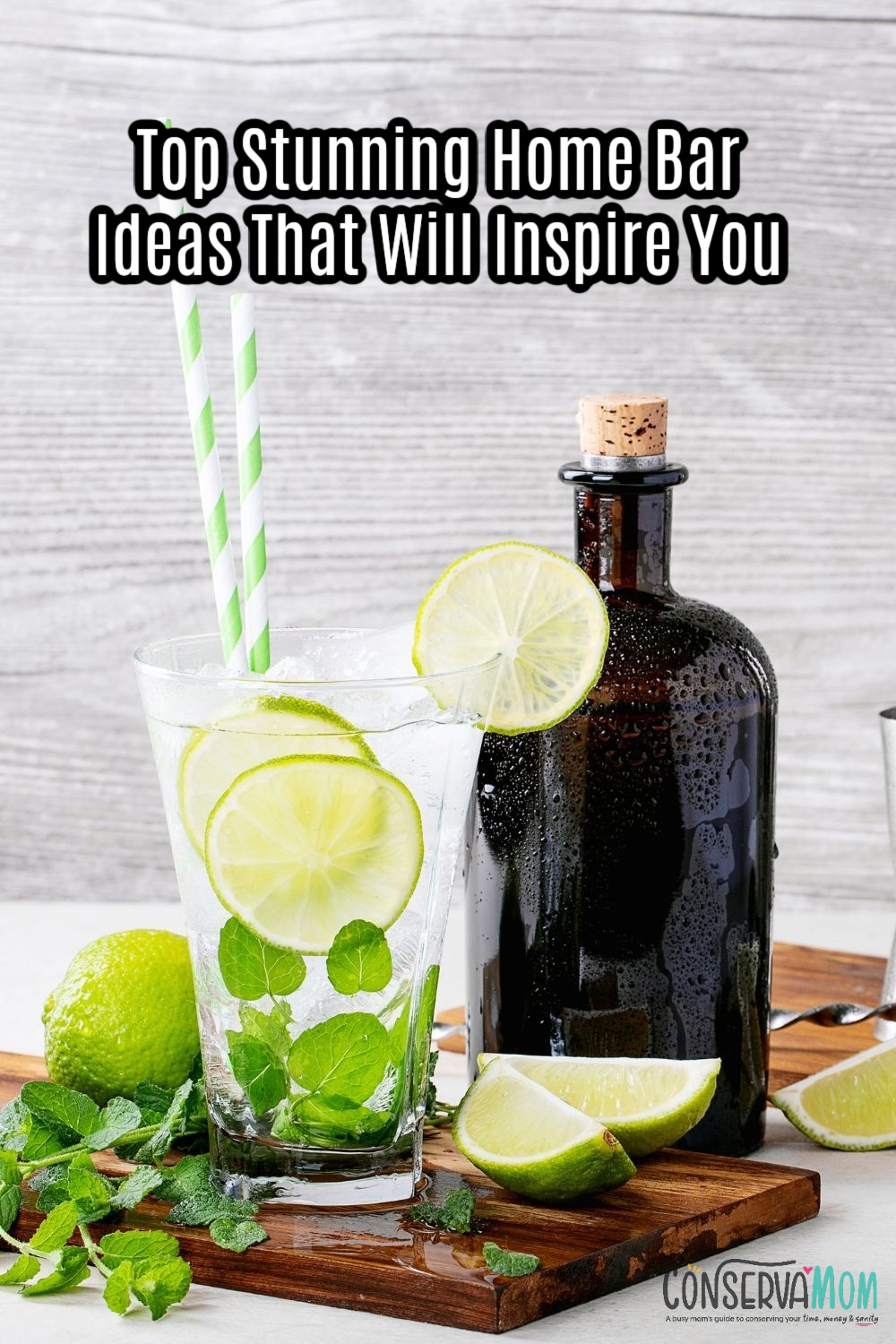 Add Some Fun Details
One of the best ways to make your home bar stand out is to add some fun details. This could be anything from a funky light fixture to interesting art on the walls. If you have the space, consider adding a small seating area so that guests can relax and enjoy a drink. Whatever you do, make sure it reflects your style!
Install shelving or cabinets to create extra storage space for glasses, bottles, and other bar supplies. Put up a chalkboard or corkboard where guests can write messages or leave drinks orders. Add some plants or flowers for a touch of greenery.
Stock Up On Necessities
If you're preparing a home bar, it's critical to have all of the essentials on hand. This includes items like vodka, whiskey, rum, and gin. Be sure to also have mixers like cranberry juice and orange juice, as well as a wide variety of sodas and juices. You'll also want to have plenty of ice on hand so that you can keep your drinks cold. Finally, don't forget about napkins and straws to help keep things clean!
Don't Forget The Lighting
If you have a lot of natural light in your space, then you may not need any additional lighting. However, if your home bar is in a darker corner of your house or if you want to use it as a place to relax after work, then you'll need some type of artificial light. Floor lamps are a great option because they provide ambient light and can be moved around easily. Table lamps are also a good choice, and they can be used to create a more intimate atmosphere.
If you want to add some extra flair to your home bar, consider installing some mood lighting. There are a variety of different options available, including LED lights, string lights, and fairy lights. These types of lights can be used to create a romantic or festive atmosphere, depending on what you're going for.
A well-stocked home bar is a perfect way to end a long day or celebrate a special occasion. With these top stunning home bar ideas, you can create a space that is both functional and stylish. So, cheers to your new home bar!