Do you love superheroes? Check out these fun Superhero jokes that will be a blast to share! Grab Free Printable Marvelous Superhero Lunch Box Notes & Jokes. These Marvel Themed lunchbox notes are the perfect way to add a little fun to their day.
Superhero Jokes + Free Printable Superhero Lunch Box Notes
We are huge superhero fans in this home. If you have little ones chances are they love superheroes too. We are especially huge Marvel fans. That in turn means I've got some little Marvel Fans living in my home. What better way to combine superhero fun with some fun superhero jokes? That's why I've put together this list of Superhero jokes your kids will love. Let's see how many they get! When they're done looking at the list make sure and check out the cute printables you can cut up and put in their lunchboxes to keep the fun going!
Ready to laugh at some great superhero jokes? Read on to check them out!
What do you call Iron Man without his suit?
Stark naked
Why is it hard to get to know Iron Man?
What can I say? He has a tough exterior!
Which is Thor's favorite day of the week?
Thors-day, of course!
Which place do superheroes flock to?
Cape town!
Knock knock
Who's there?
Doctor.
Doctor Who?
No. Doctor strange.
Why is Spiderman good at playing baseball?
He knows how to catch flies
Where do most superheroes live?
Cape town!
What do you get when you cross a superhero and the Dead Sea?
A Deadpool!
What name do you call a pair of villainous twins?
Loki-alikes.
Why was baby Superman the only kid at the playground?
The sign said Supervision Required.
How was the superhero party?
It was pretty Lo-ki!
What happens when Batman is late to play baseball with Robin?
There is a Wayne delay.
What do you call a superhero who likes to cook?
Souper-man!
What would you get if Batman and Robin were smashed by a steamroller?
Flatman and Ribbon.
More Superhero Jokes for kids
What does a superhero put in his drink?
Just Ice
What is Black Panther's goal in life?
To find his purr-pose!

Which superhero spends too much time in the sun?
Cap-Tan America
What is a villain's favorite part of the joke?
The punch line

What do you get when you cross a superhero with a potato?
Spuderman!
Where does Spiderman hang out in his spare time?
On the World Wide Web!
Which game show features superheroes?
The Greatest Cape!
Why did Batman's sidekick, Robin, get locked up?
Because the policeman overheard someone saying, "look, he's robbin'!"
What's the difference between Batman and a robber?
Batman can go into a store without robin
Why does Loki hate the day after Wednesday?
Because it's Thors day
Free Printable Superhero Lunch Box Notes & Jokes
When my little guy had his 100 Days of School this year the even went for a Marvel Themed 100-Day project filled with 100 Stars. It really was a no-brainer to create such a fun project with him because let's face it he's a fan.
That's why I find it a blast to create projects and ideas that go along with the Marvel /superhero Theme in our home. One fun way to show the little ones I care is by sending them these fun Marvel Themed Jokes and notes in their lunch box.
I really hadn't thought of doing them but a friend suggested it , and let me tell you they were a hit. I even slip them into my daughter's lunch box because let's face it who doesn't love a little Captain America 🙂
These were such a blast to make and so I wanted to share them with my readers. This includes two separate printables one is of Marvelous Lunchbox jokes(click here to print)
Lunch box Jokes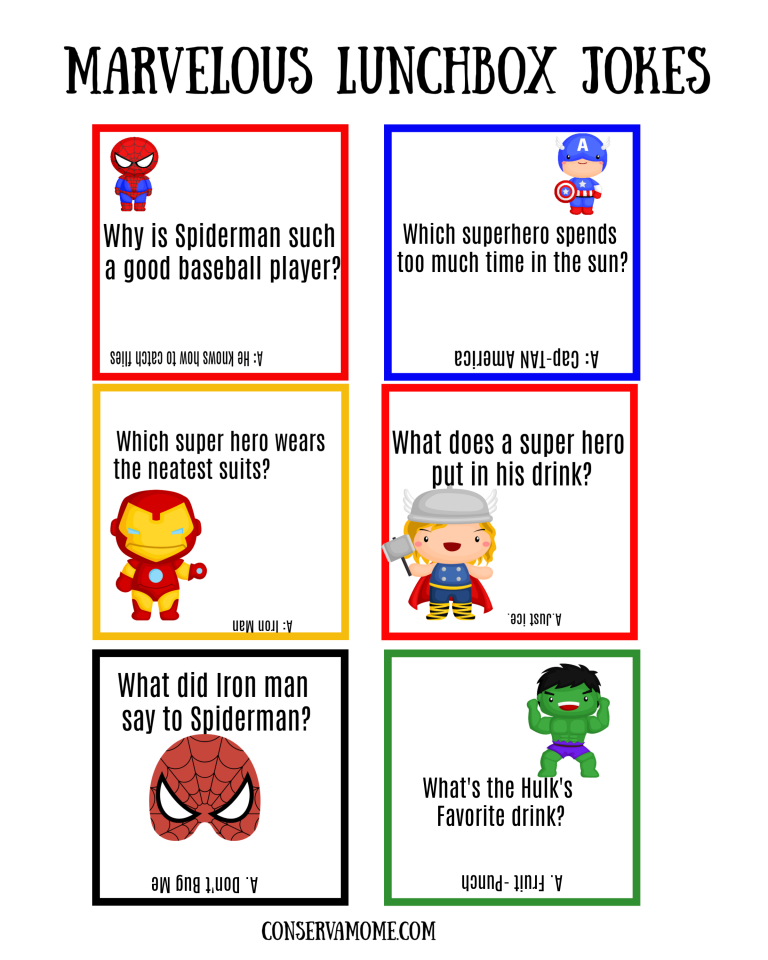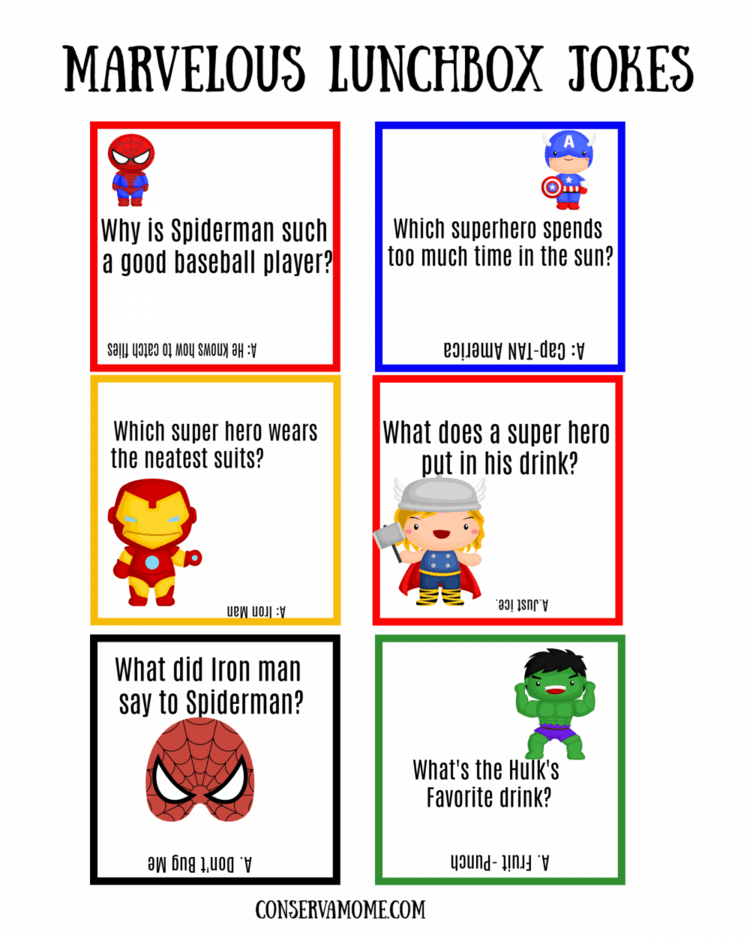 The other is for uplifting Marvel lunch box notes you can print here to send to your kids while they're away.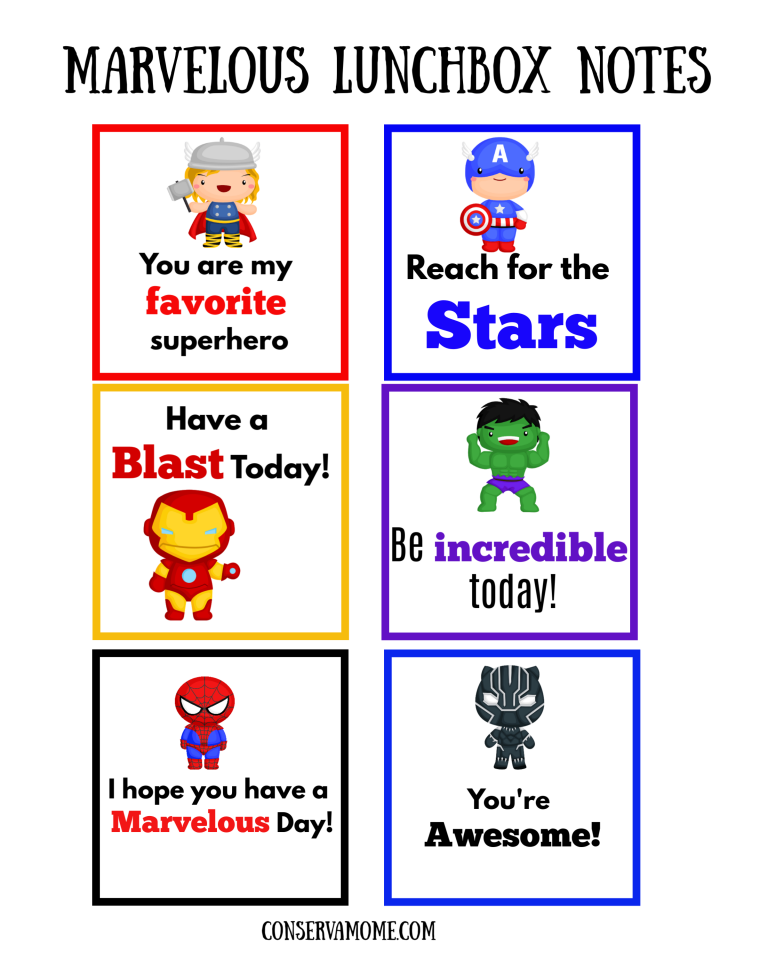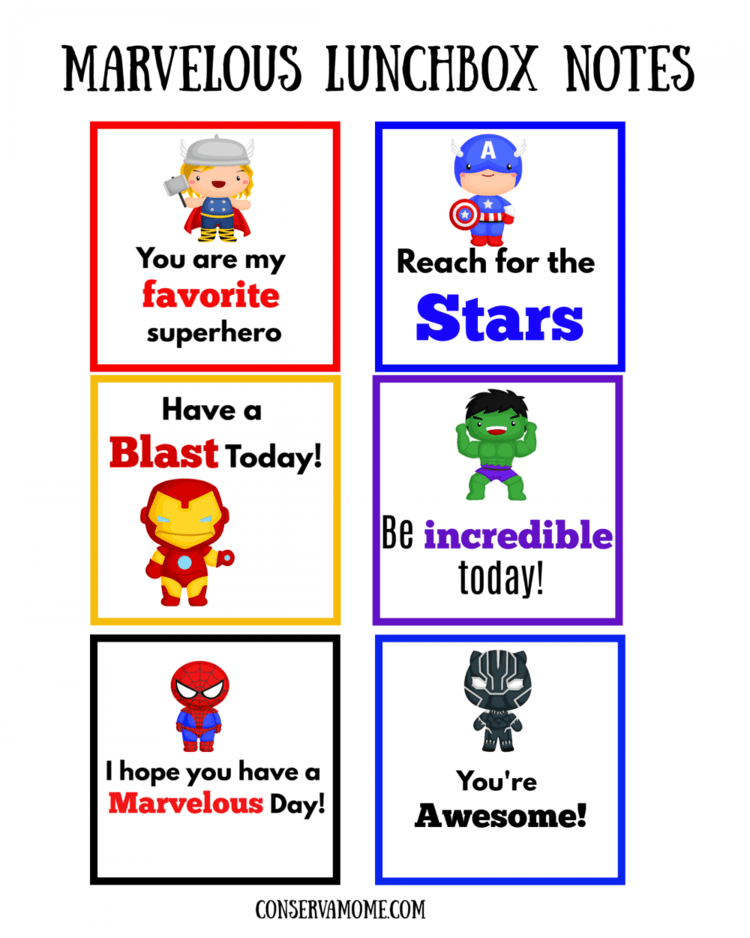 These are some cute jokes you can print out. Just click on the above links or pictures and hit print. You can just cut them and place them in your little one's lunch box.
Looking for more Marvel Themed fun? Check out these 25+ Avengers Crafts & Recipes here.