Today on my page I'm covering a topic that is very difficult and uncomfortable for most people, but it needs to be talked about. I met Aniela back in College and through facebook reconnected again. Sadly, she had the hardest thing a parent could go through happen, her 4 year old son died of Cancer. It's a sad norm to hear so many adults having cancer but the reality is the statistics are pretty high with the amount of kids getting cancer as well. Sadly, it seems like with anything else we stamp a month on it and then feel like we did something and then move on to the next cause. But I wanted to go a little deeper today to touch on things we can really do to make a difference and to be aware of what is really happening with Pediatric Cancer. Please read this, I know it's hard, but it's important we become aware and begin fighting for our kids. Thank you Aniela for writing this and please make sure and check out Strong Like JJ.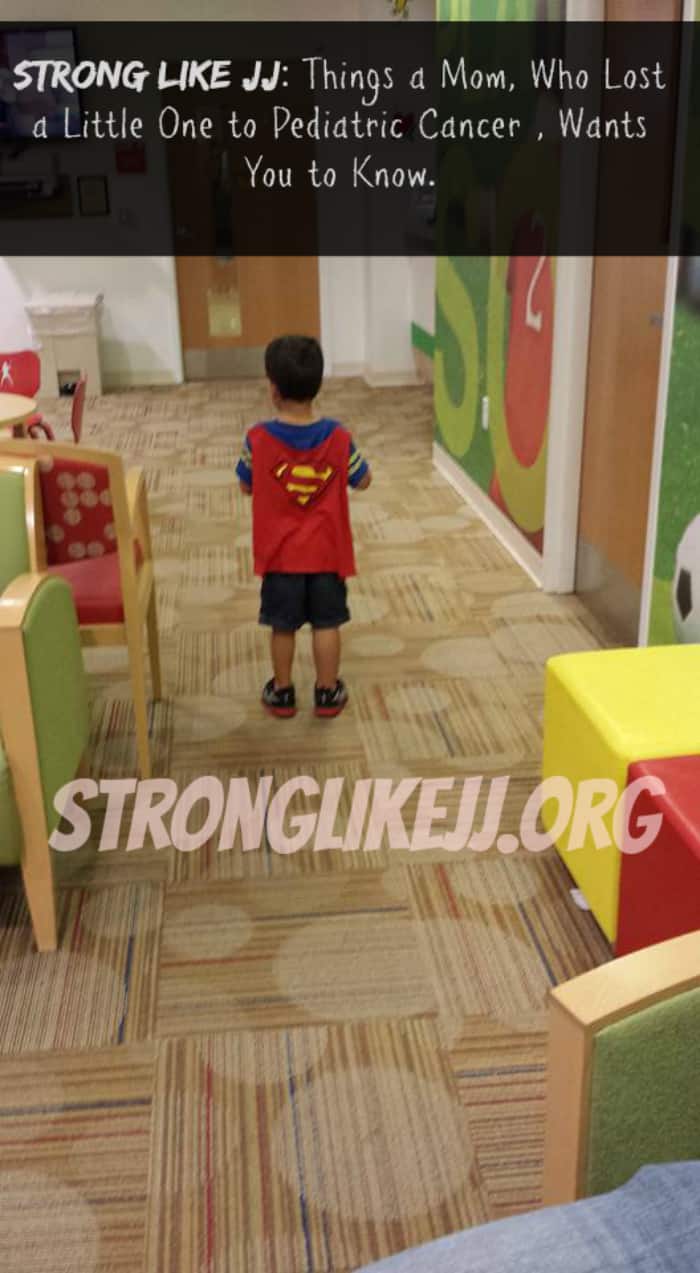 Things a Mom Who Lost a Child to Pediatric Cancer Wants You to Know
by Ani Maggio, mommy to JJ 7/9/10-11/20/14
It's always difficult when someone ask me to write/ talk about my son, JJ. Not because I don't love talking about him, but mostly because how do I summarize 4 short years of an extraordinary life?
How do I begin to tell his story and give it justice, give it the meaning he deserves. It always makes me anxious and sad, but it also provides the opportunity to share his life with the world.
As some might already know, September is Childhood Cancer awareness month. A month where parents/love ones of children who are currently fighting, children who are gone, and the survivors- make a tremendous effort to spread awareness.
You will hear things like "Be bold, Go gold" or " our children deserve better" all in effort to spark a conversation. A conversation that consists of the sad realities of childhood cancer.
The statistics aren't good with Pediatric Cancer
Realities such as 46 families today alone will hear the words "Your child has cancer", or the reality that 7 kids will die today of cancer, or the reality that 1 out 5 kids diagnosed with cancer WILL NOT SURVIVE.
It may not seem like much, but trust me when you are thrown into the world of childhood cancer- 7 kids, 1 out of 5, is way too many!
What is most heart wrenching is the sad fact that in the last 30 years only 3 drugs have been developed specifically for children affected by cancer….3 DRUGS-that's it!My son in his brutal 12 month "protocol" of chemo and radiation received drugs that were created in the 70's and created for adults- not children!
So here we stood with all the faith in the medical community only to be smacked in the face with the sad reality that our children are not a priority. So much so, that the American Cancer Society only give 4 CENTS out of every $1 donated to pediatric cancer research- 4 CENTS!
Is that really all our children are worth? Naturally parents of children who have suffered from cancer are outraged! September becomes the perfect platform to spread awareness with the hope that people will start listening and understanding that not only is Pediatric cancer severely underfunded, it is also NOT RARE! But trust me when I say, that a month is not enough.
We, in this pediatric cancer community, live this every single minute, of every single day, of every single week and month- it's year long for us. A month will never be enough!! My son died because of lack of research and better treatment options. He deserved better, so does every single child diagnosed with cancer.
Spreading awareness isn't that difficult and it doesn't take much. Here are some things you can do :
You can simply donate to organizations like St. Baldrick's, who are at the forefront of cutting edge treatment for children with cancer.
You can also just speak about childhood cancer, or even about a child you know that has been affected. It's sad, I know, and most people are "uncomfortable" with the topic. But the reality is our kids are dying because the world isn't paying attention and the world of pediatric cancer is hard!
I am just a mother who lost her son to cancer and my biggest fear now is that he will be forgotten. My biggest fear is that his life and death was for nothing. I refuse to believe that, so I have made it my mission to talk about him and pediatric cancer as much as possible. There are many foundations, mostly started by parents just like me, doing amazing things. Get involved, reach out to them, we always need help in which ever way you can offer it. To learn more about my son JJ, feel free to visit our website StronglikeJJ.org, or find us on facebook or instagram.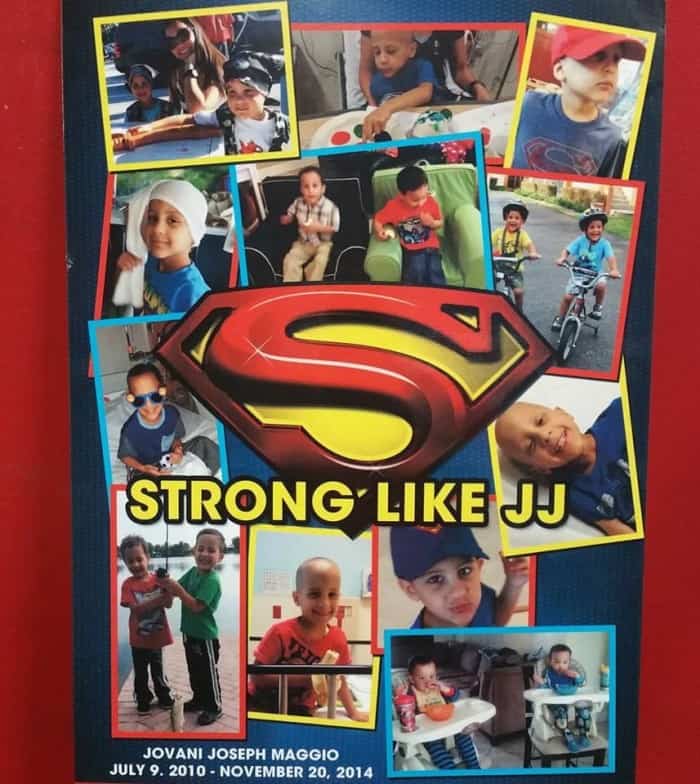 Here are some other amazing foundations that I know are solely for pediatric cancers:
Thank you,
Ani Maggio, mommy to JJ 7/9/10-11/20/14