Have you ever wanted to try making French Macarons? Check out this S'Mores Macarons:An Easy Macaron Recipe Tutorial.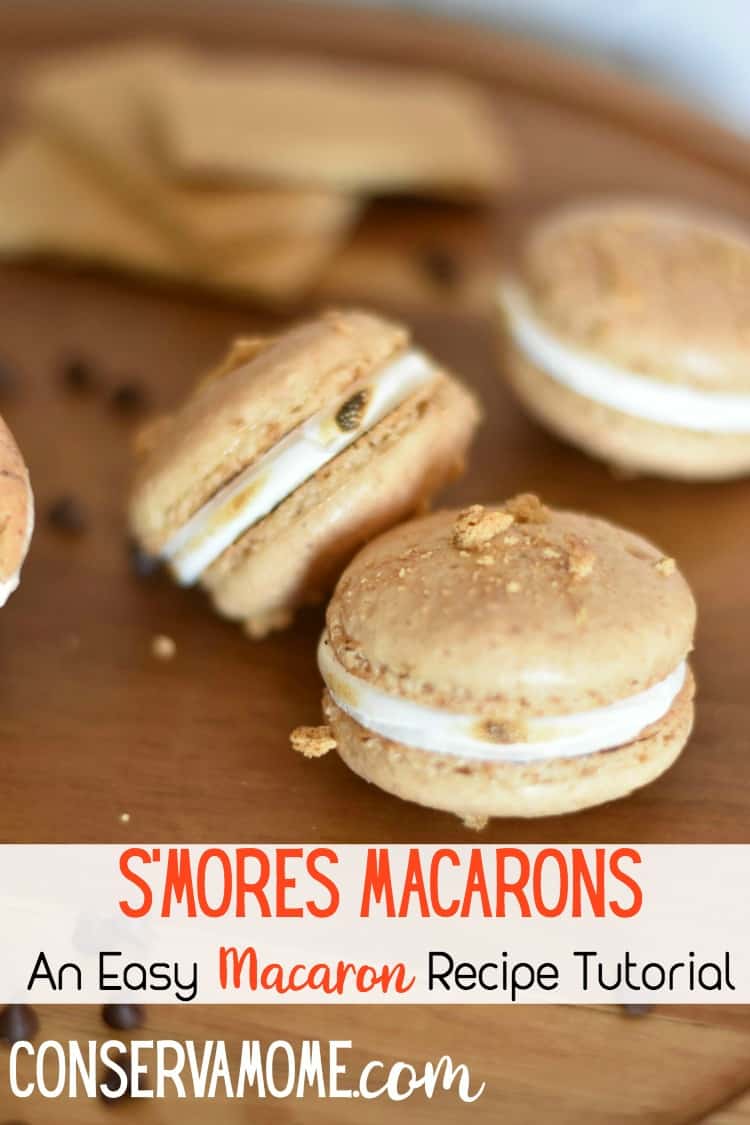 Macarons VS Macaroons
French Macarons are one of my favorite desserts in the world. I always use to think they were like the coconut macaroons we all see at cookie shops. Back when I really fell in love with Macarons I was pregnant with 2.0 and couldn't find one spot that made them in Kansas. I remember one day my hubby made the 2 hour drive to Kansas City, MO because we found the loveliest little bakery that made them from Scratch daily. That's love folks!
Fresh Macarons just got Easier!
However, finding them wasn't as easy as it is now. Chances are you are always within walking distance of a store that sells them. Sadly most are frozen and don't have the delicious delicate taste that a homemade Macaron will bring. That's why I've put together an easy tutorial that will help anyone make these delicious treats.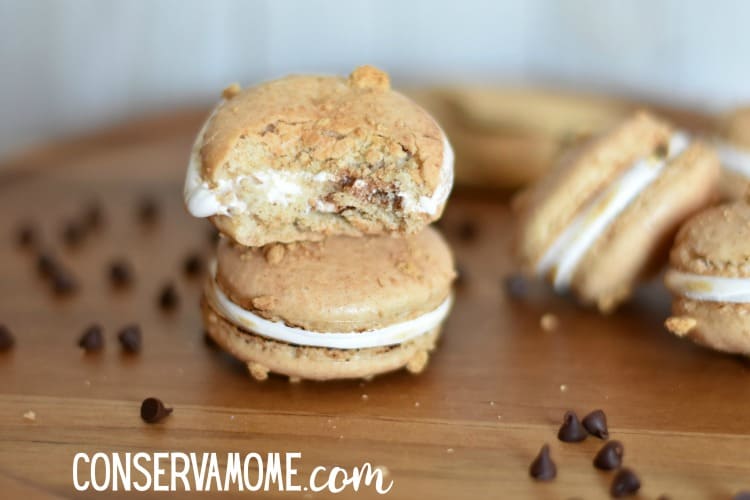 So read on to see how easy it is to make S'mores Macarons.
Servings: 12 macarons (24 shells)
Time: 10 prep 15 bake 30-60 minutes rest time
What You'll Need:
5 oz. confectioners sugar
2 oz. almond flour I recommend Bob's Red Mill
.5 oz. crushed graham cracker
1 oz granulated sugar
1/4 tsp salt
2 oz. egg whites roughly two eggs at room temperature
1 tsp vanilla optional or you can use your favorite extract
1/4 tsp salt
Filling:
Marshmallow fluff
¼ cup chocolate chips
¼ cup heavy whipping cream
Instructions
First, weigh out all of your ingredients.
Next, sift together your almond flour, powdered sugar, and graham cracker crumbs in a large bowl and set aside.
Add your egg whites to the bowl of your mixer and start mixing on a medium speed until they get frothy. Add in the salt.
Gradually add in your sugar to the egg whites and mix on a medium speed until you get a soft peak consistency.


After the egg whites are the right consistency,
add about 1/3 of the dry mixture to the egg whites and fold in until there are no dry spots left.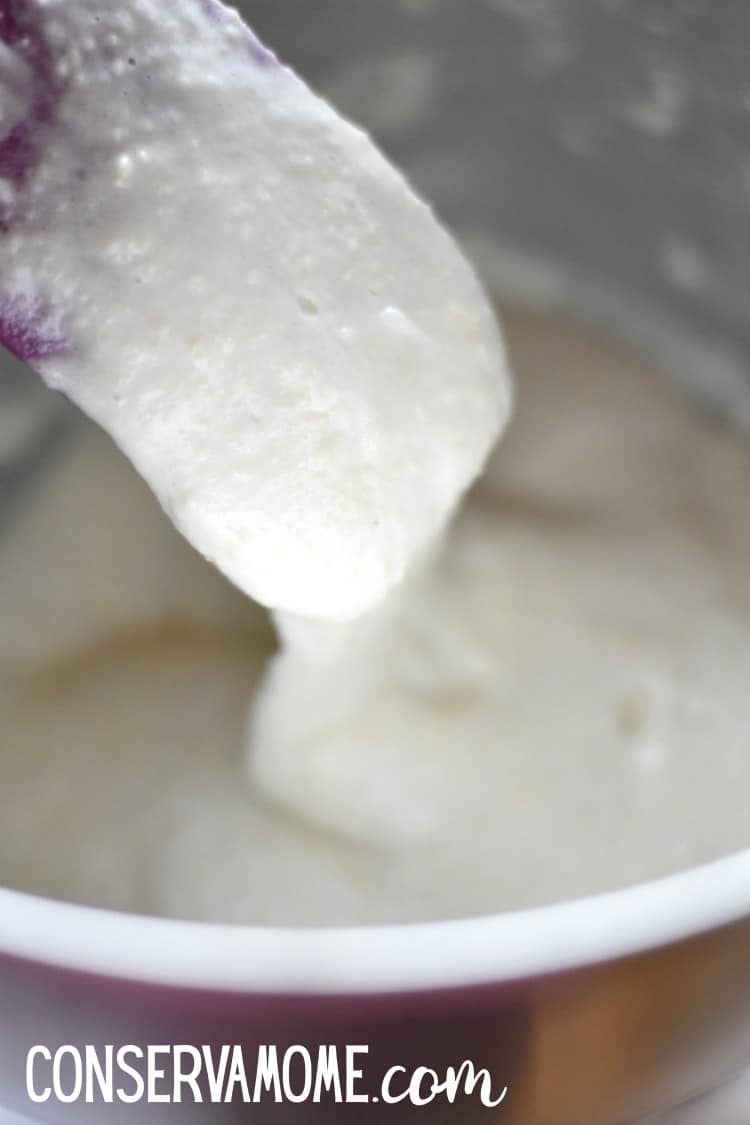 Add in the remaining dry mixture to the meringue and fold in until there are no dry spots. Begin to check for the "ribbon" stage, where the batter falls off in ribbons and you can make a figure 8 without it breaking off. Once you get to this consistency stop folding.
Prepare your piping bag with a medium round tip. Place your bag in a large cup to make it easier to add your batter. Slowly add in your batter.
Place the macaron template under a silicon mat on a baking sheet. Or you can buy this great silicon mat that comes lined for macarons.
Hold your piping bag completely vertical when piping and lift straight up. Making about 1 1/2 to 2 inch circles.
After you have piped all the batter, bang the baking sheet on the counter 10-20 times (seriously) to remove all air bubbles. Use a toothpick or something sharp to pop them.
Top with crushed graham cracker cookies if desired at this point.
Let them Rest
Now it is time to let them dry. Leave them sitting on the counter for 30-60 minutes until you can touch them and you can feel a "shell" form over them. No batter should come off on your finger.
preheat your oven to 300 degrees F. and bake your macarons for 10-15 minutes or until lightly browned. When you touch the top of the macaron it should not wiggle around on the "feet".
Allow them to cool COMPLETELY before taking them off the baking sheet.
For the filling:
Fill a piping bag with a star tip with about 1 cup of marshmallow fluff. Pipe a circle around half of the macaron shells.
Place chocolate chips and heavy cream in a microwave safe bowl and melt for 30 second increments until completely melted. Let cool for about 5-10 minutes then a small amount into the middle of the marshmallow fluff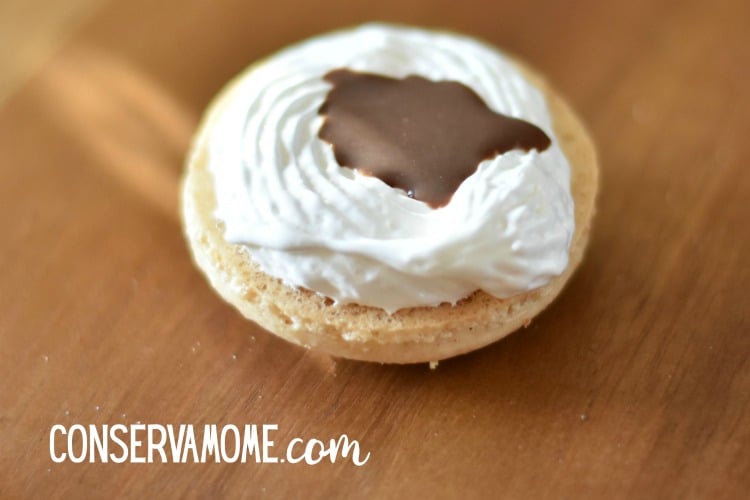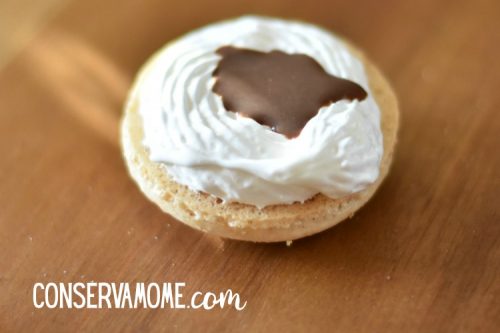 Sandwich them with the remaining macaron shells.
Keep in an airtight container in the refrigerator for 24-48 hours to allow them to "mature".
Enjoy!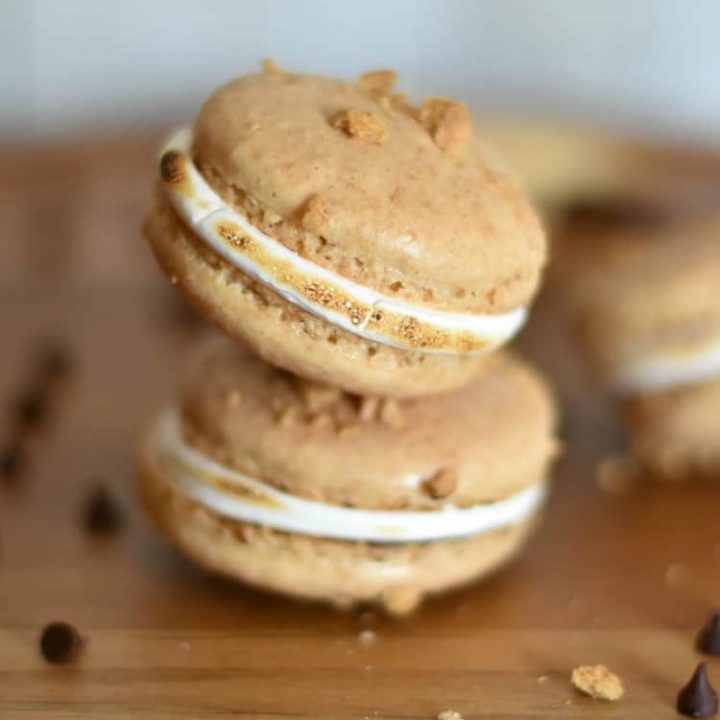 These macarons are absolutely heavenly and easy to make if you follow the instructions. Don't get discouraged if your first few batches don't come out perfect though. There's something with consistency and practice makes perfect.
Once you've made this recipe go outside of your comfort circle with some other great recipes!
Check out this fun round up of 30 Marvelous Macaron recipes.