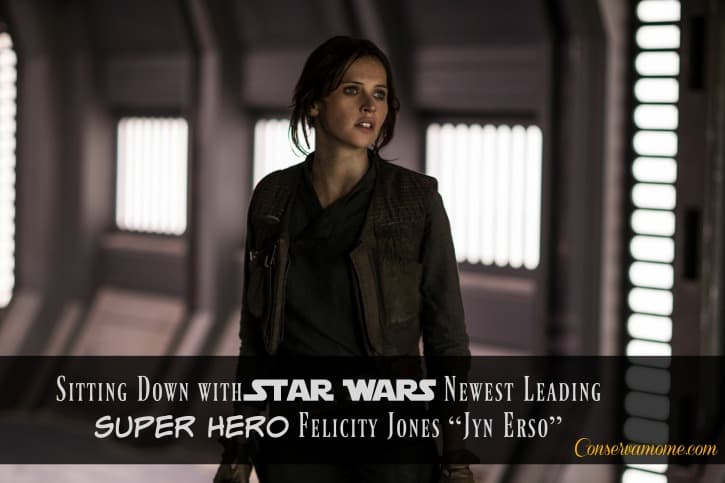 "Leading Ladies" have changed a lot in the past few years. For many girls growing up having a charachter that embodied the strength of their situation wasn't easy to come by. So it's been a breath of fresh air to see the last two Star Wars films cast two leading ladies that aren't just strong mentally but physically as well. Just by sitting across from Felicity Jones you would never guess for a minute the physical capabilities she possesses and although we only had a chance to see 28 minutes of footage 2 minutes is all I needed to be thoroughly blown away at the physical ability  her role as Jyn Erso demanded.  Recently,as part of my Rogue One Press Event I had the chance to sit down and talk about her Role as Jyn Erso and learn about who this character was and what it took to play her.
Because we only saw 28 minutes of footage we wanted to find out more about Felicity's Character and she was happy to tell us more:
"Jyn  has a very strong ideology. She hates the empire, she hates everything they stand for. They have destroyed her family , so anytime she sees a storm trooper she is like an animal who wants to take them down. But at the same time she has a, a wonderful humanity and she learns how to be a leader throughout the film.  She starts off and she's a bit of an outsider and is very suspicious and untrusting of people.  She's had a bit of a hard life, there's been quite a lot of struggle, so it's not easy for her to trust people. However, throughout the film you see her actually forming these kindred spirits with  the other rebels, and  finding something that they all have a common such as  dislike of the empire and they unite over that despite their differences.
Speaking to Felicity we soon found out that working with Director Gareth Edwards was a very collaborative effort:
"Everything was very, very collaborative, because the first suggestions were sort of this combat style, combat trousers and a sort of vest. And I tried that and it didn't feel quite right and it didn't feel Star Wars enough and so we had a quite a lot of discussions about bringing in something more of this Japanese style that you see in those early films with OB Wan Kenobi. I wanted to  bring out that side of Jyn to bring something a little bit more  spiritual  about her characterization through the costume.  But, every step of the way it was a very, very open dialogue in terms of for all of us to bring as much as we wanted  to the characters.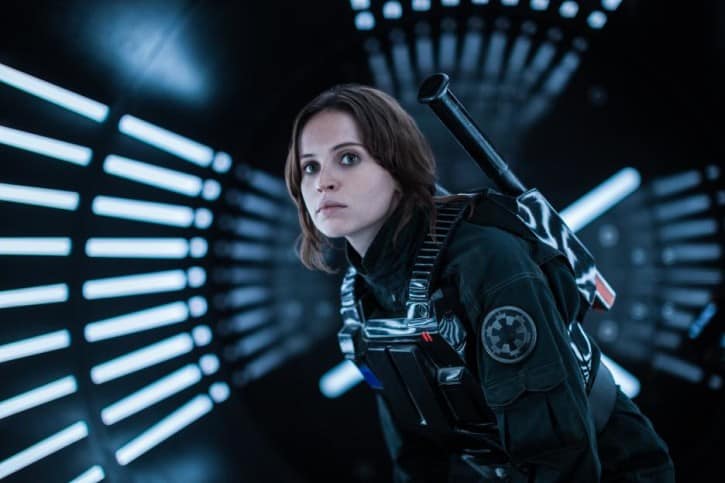 We all know how action packed Star Wars movies are, this one being no exception. So when you know Felicity from roles such as The Theory of Everything,that really don't show off her exceptional athletic abilities you have to as "How much training was involved?"
"Well it was sort of going from, you know, I've never done any of this stuff before so it was just learning everything from the very beginning and just working very closely with the stunt team who took me through you know, these sort of acrobatic moves that Jyn would have to perform eventually.  In the, in the film so it was just a lot, a lot of practice and a lot of practice. There's a lot of injuries  you don't realize 'cause the adrenaline is pumping so much and then you get home and you're just literally  have enormous bruises all over.  I probably bring it upon myself 'cause I get really into it and take it very seriously. "
Star Wars Films are iconic films in which anyone who's everyone wants to be a part of, so we wanted to find out what Star Wars means to Felicity  as well as what does it mean to be a part of something so big.
"Star Wars I feel the reason it's lasted for so long is it's about family, it's about and it's not just blood relations it's all, it's family, the family that you form with friends.   I think what's so special about it is those friendships are across different races, different languages,but it's people who come together and they're obviously united  by fighting the forces of evil. And I think that's what people for generations  tap into those relationships and really empathize with those characters.
We've seen a sort of progression as far as the Star Wars women, Lea was very strong but she was still kind of that damsel in distress and Ray,  was a little bit stronger but yet in the twenty eight minutes that we got to see Jyn's Character  is stronger yet.  Was that important for you as far as that role?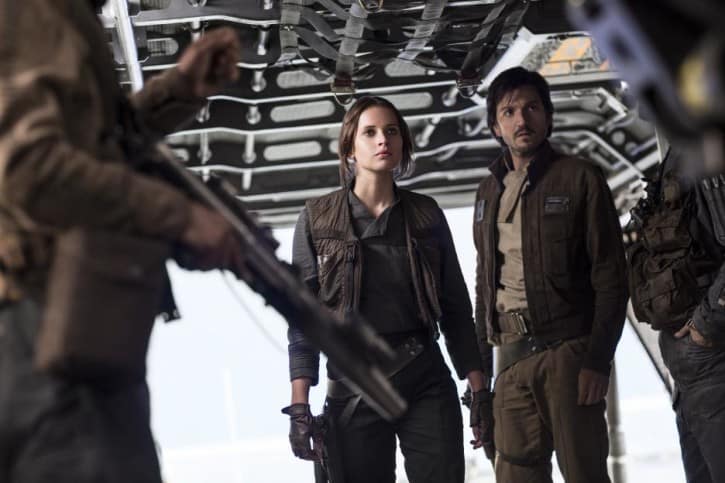 " I just wanted  the audience to just really care about her and empathize with her and be in it alongside her. Jyn is  very,resourceful and it was very clear to Gareth and I that we didn't want her to keep being saved.  You know, sometimes in films the, the female character is often the one who's sort of in distress and then the male character comes and gets her out of it.  So we were very clear about just making sure that she could survive on her own.  However, we wanted to show a side of her that she's capable but also at the same time that this team needed each other,because what makes someone strong is being able to work in a team, and to  rely on other people so it was all about a balance. "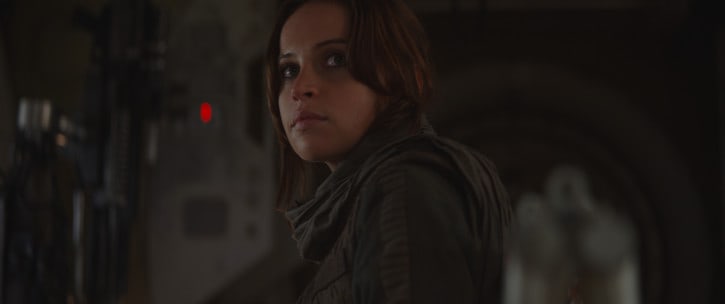 For Felicity it's important that what girls get from this movie is that you don't have to conform to some idea of what girls should be. To be confident in that there isn't a standard in what we should all do.  That they should be celebrating what's different about us. As a small spoiler, We asked Felicity if Jyn Would cross over to the dark side and the answer was a big No. So it's nice to know that Jyn will be able to fight off the force in her own amazing way.
I am so excited about this movie and having sat down with Felicity brought all of the amazing feelings together. I am so happy to see someone so amazing become such a role model for so many girls trying to find their own footing. I hope that with Jyn's Character girls will see the amazing power of female strength, perseverance and well the overall power we posses to change the world.
Make sure and check out the Rogue One: A Star Wars Story trailer below.

Finally Don't forget to Get social with Star Wars!
Like STAR WARS on Facebook: Facebook live during the fun tutorial.
Follow STAR WARS on Twitter: https://twitter.com/starwars
Follow STAR WARS on Instagram: http://instagram.com/StarWarsMovies
Follow STAR WARS on YouTube: https://www.youtube.com/user/starwars
Visit the official ROGUE ONE: A STAR WARS STORY website: http://www.starwars.com/films/rogue-one
ROGUE ONE: A STAR WARS STORY arrives in theaters everywhere on December 16th In RealD 3D and IMAX 3D!

All Pictures Courtesy of Lucas Films/Disney and Momstart
Save
Save
Save