Designing costumes for a feature length film is no easy task yet Sandy Powell made it look so easy and amazing. Find out what it was like to design the costumes for Disney's Cinderella from non other than legendary designer Sandy Powell. This magical remake is a must watch for the whole family and now you can hear what it took to make this beautiful film!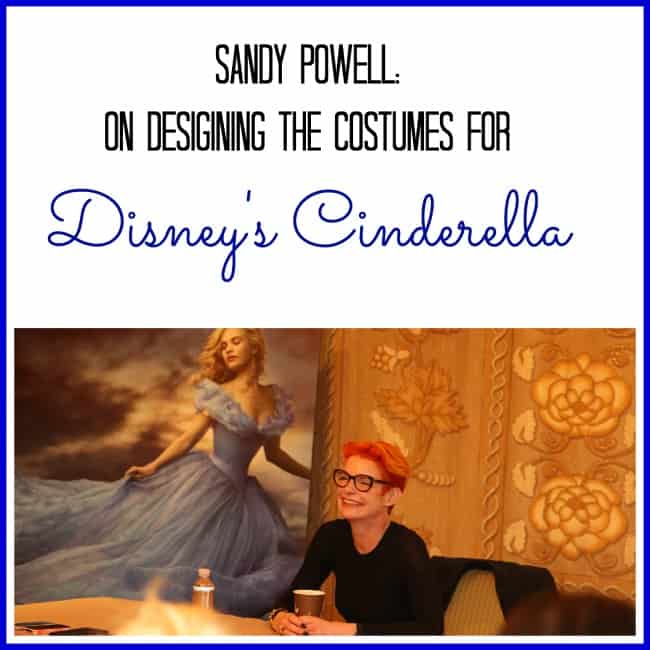 One of the main things that will catch your eye during the movie Cinderella is the Costumes used. The beauty,elegance and just exquisiteness of each one incorporated such visual beauty that joined forces on the screen to make this story even more esthetically pleasing to the eye. So who was the artistic mastermind behind the costumes that double as works of art? None other than the Legendary Costume Designer Sandy Powell. She has been nominated 10 times for Academy awards winning three One for Shakespeare in Love, The Aviator and The Young Victoria. So it's no surprise to see such beauty on screen with her gorgeous designs and creations. So find out what went into some of the Costumes in this gorgeous new Version of Cinderella Playing in theaters now!
What gave you inspiration for the color pallets used in the costumes?
I kind of chose all the color palettes for each of the characters.I work closely with the people who design the sets and set dressing, so that we make sure that nothing clashes with the curtains. And all the furnishings.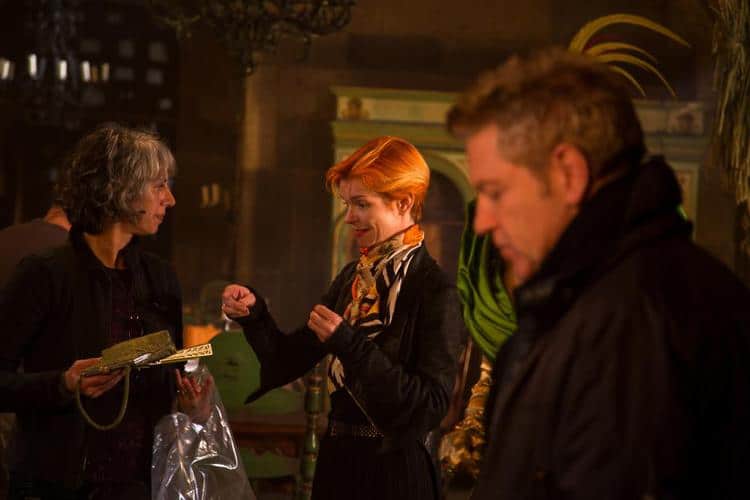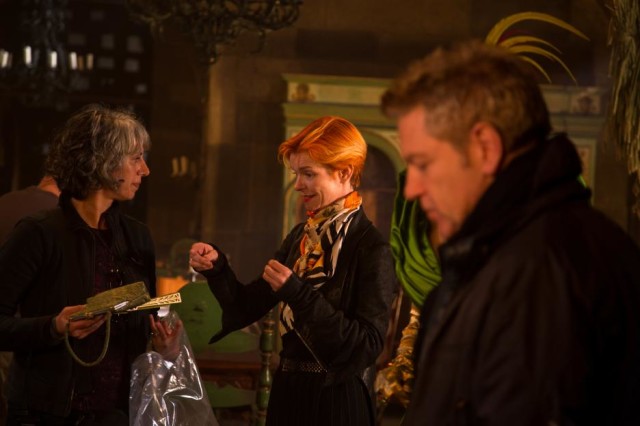 Speaking of color, I just love the color, And the symbolism like with the Lady Tremain wearing greens, Was there symbolism in your choices?
I don't intellectualize it that much. I don't really pick colors for symbolic reasons. I pick colors because they feel right, and because I like them. I have a much more instinctive feel or intuitive reaction.Yes, I mean, of course the green does represent envy. All her colors were chosen because they're cool colors. I mean, none of them are kind, fresh , youthful colors. I think they're attractive colors because I wanted her to look like
a fashion plate and attractive. But they're, they're strong, but all of them are kind of bit mean.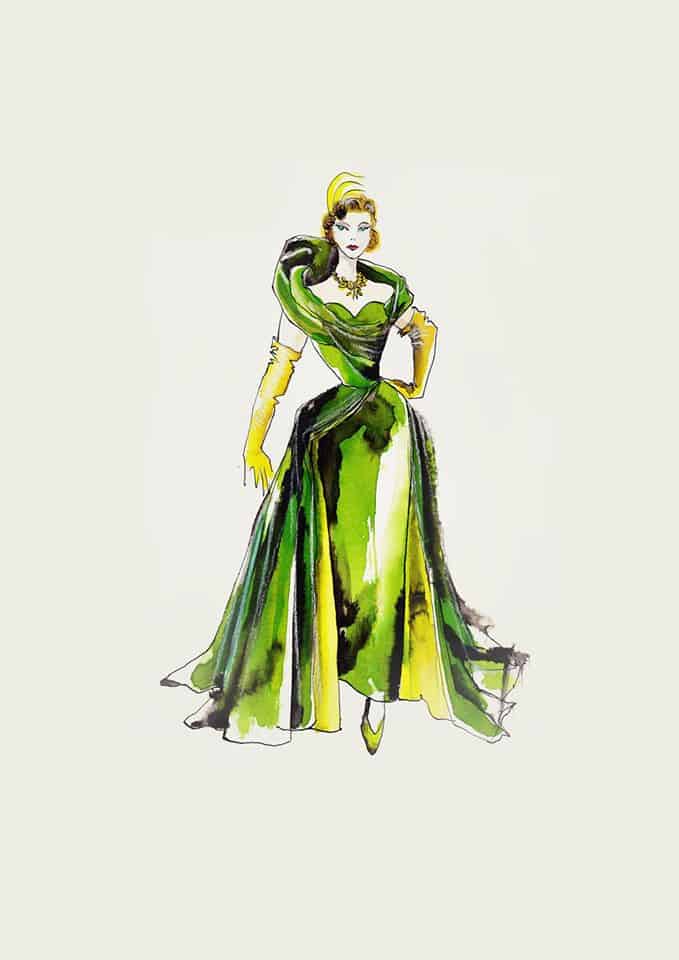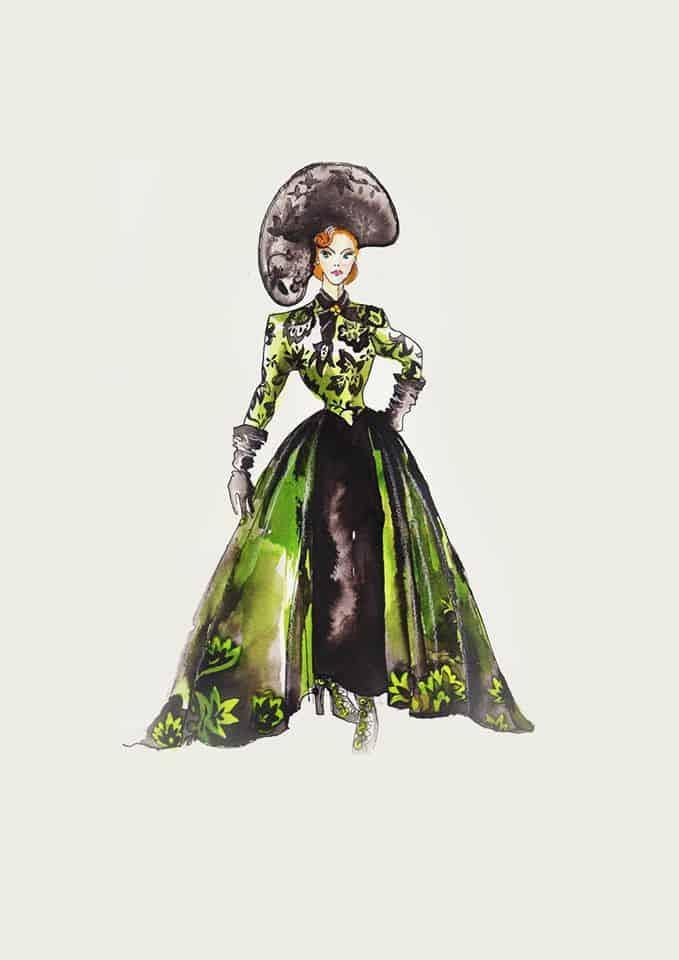 What was your favorite costume to make?
They're all really meaningful to me, and like I said before, it's like they're my children, you don't have a favorite. You like different ones at different times of the day.But of course I'm incredibly proud of them. You can't not be because that's the one that took the longest. It, uh, thank you. But the Ball Gown took the longest. I spent the longest on it, developing it. And it did – and it might not have worked. But it came out exactly how I hoped. So I'm, I'm proud of that one. But there are others that I love. I like the men's as much as the women's. I like them all.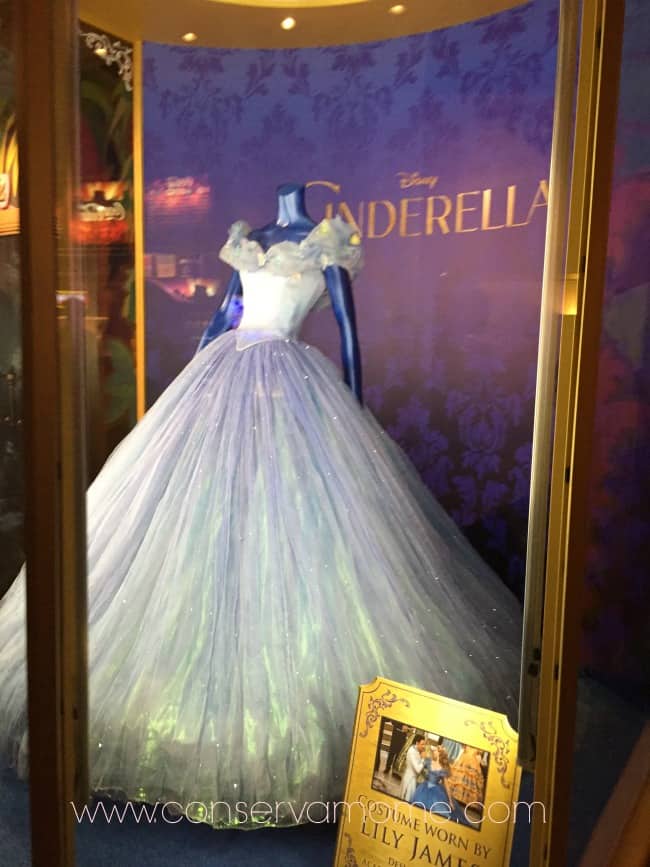 How long did it take you to create all the costumes?
I was actually working on this for over a year, from start to finish. Till the very last day of the shoot. Actually one of the last things we shot was the wedding scene, and the wedding dress was actually the last thing I designed. And that was really right towards the end of filming. So at least a year from start to finish.
Can you tell us a little bit more about the Fairy Godmother's costume, what went into that.
It was an idea I had that was rather ambitious and to be honest, we didn't have enough time to really develop it. It could have gone a lot further, and been a lot more successful,not to say it wasn't successful. I think the costume as a whole works in the film. But I had this mad idea that she actually literally twinkled, all over. But in sequences and then sort of choreographed with either her voice or go what she was doing that – we got the lighting designed. We got all the circuits made up by this lighting company. But it took a lot longer than I expected. And then we couldn't actually really construct the costume till we had the lights done. So we were waiting and waiting, waiting for the lights to be finished. We knew the shape of the costume. I had the underpinnings done like the corset shape.We had all the fabric that need to go on top of it. But that had to be worked in with the lights. So that costume actually ended up being really rather thrown together at the last minute. I kind of don't like it. In a way, I think it's quite funny that it looks like it's been thrown together. It looks like she's made it, you know,thrown it together. And the lights don't work properly and the magic doesn't work that well the first time. I think, well actually it' s quite appropriate that it, it's sort of lit up a bit. What happened was, the technician who designed it had six circuits of lights up.She had to carry it, have a battery pack strapped underneath. And then each of those circuits had to be plugged into the battery pack to make it work. And this is when she had the guy up her skirt every day, literally blocking every piece and you couldn't do that until she was in the dress. Then he would operate it from a computer.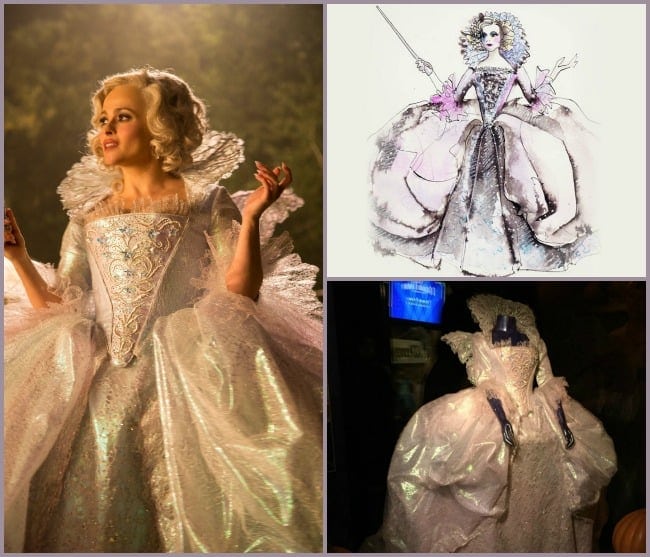 Cinderella has quintessential princess costume design, ball gown. When you realized you were doing this, did you already have something in mind? Or did you kind of go when, after knowing that it was gonna be AUDIBLE] that, did it come into play? What you knew who was cast as Cinderella?
Yes. It was, well, in answer to – I mean, I much prefer to know when [UNINTELLIGIBLE] before I design a costume. It really does make a difference. Because we screen tested lots of girls for CINDERELLA. So I knew, and they were all different shapes and sizes. Different coloring, you know, and it really makes a difference who the person is. As to what shape the dress is gonna be. I mean, I kinda knew it had to be voluminous. I knew it had to be big and had to be impressive. But without being heavy. Uh, and yet it helps knowing who the actress is and what shape you can make them. Or what shape they are, and then what you can turn them into, as well.
Are the corsets tight as they appear to be?
They're not tight. This is, this is such a fallacy, this whole kinda corset move. And everybody's latched onto the corsets are tight, the corsets are tight.
What advice do you have for a young girl who wants to follow in your footsteps? That loves designing, loves costumes. What advice would you give them?
I'd advise anybody who wants to do costumes, to learn how to sew and learn how to make the Because you'd be surprised, there's an awful lot of costume designers who don't know how to do it. And I really don't know how you can design and how you can talk to somebody else who's making something, unless you know how to do it yourself. You have to start at the bottom, you have to start at the bottom and be a maker. And actually learn how to construct and sew. So you understand the construction and the engineering, which is what it is.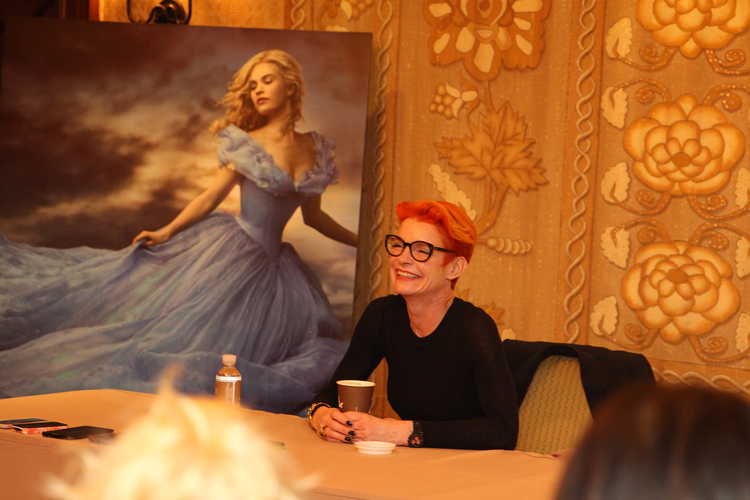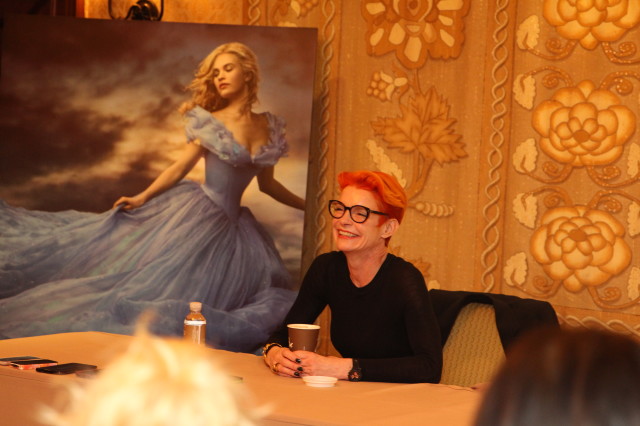 What do you hope that the audience will take away from the film, with your costumes?
As a whole I would love for people to see the role of a costume designer is not to make everybody look pretty. Although it's nice if they do. And especially in something like CINDERELLA. It's also to make the characters completely believable. Make the characters come to life and help the actors create those characters. So in doing so you hope that the audience go away with really strong feeling of who all those characters are. And remember them also, you know, as much for, for how they are. I mean, as much as how they look, as to how they are and how they're acting and all the rest of it.
Don't forget to check out Sandy Powell's Gorgeous Costumes in Disney's Cinderella, now playing in theaters.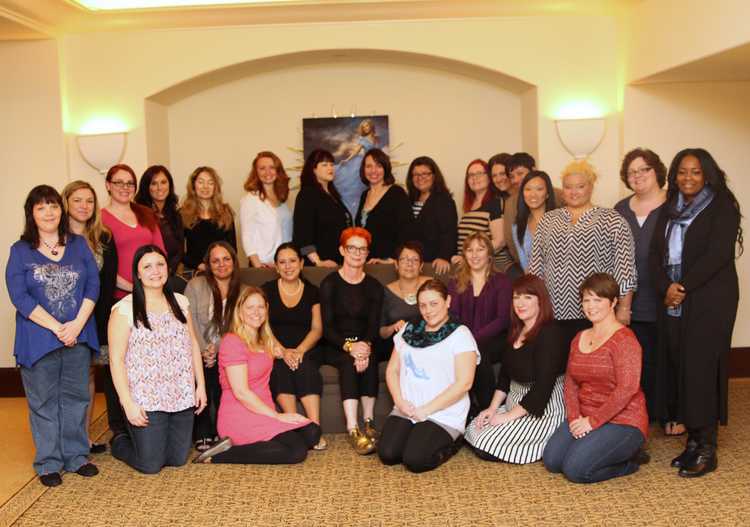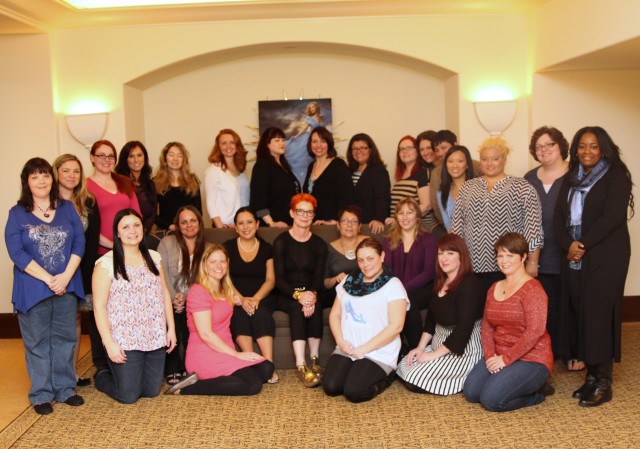 Most important get social with Cinderella on Facebook, Twitter, Instagram & Pinterest.