Will you be heading on the road this summer with kids? Check out some Car Travel Tips for Kids so that your sanity stays in tact.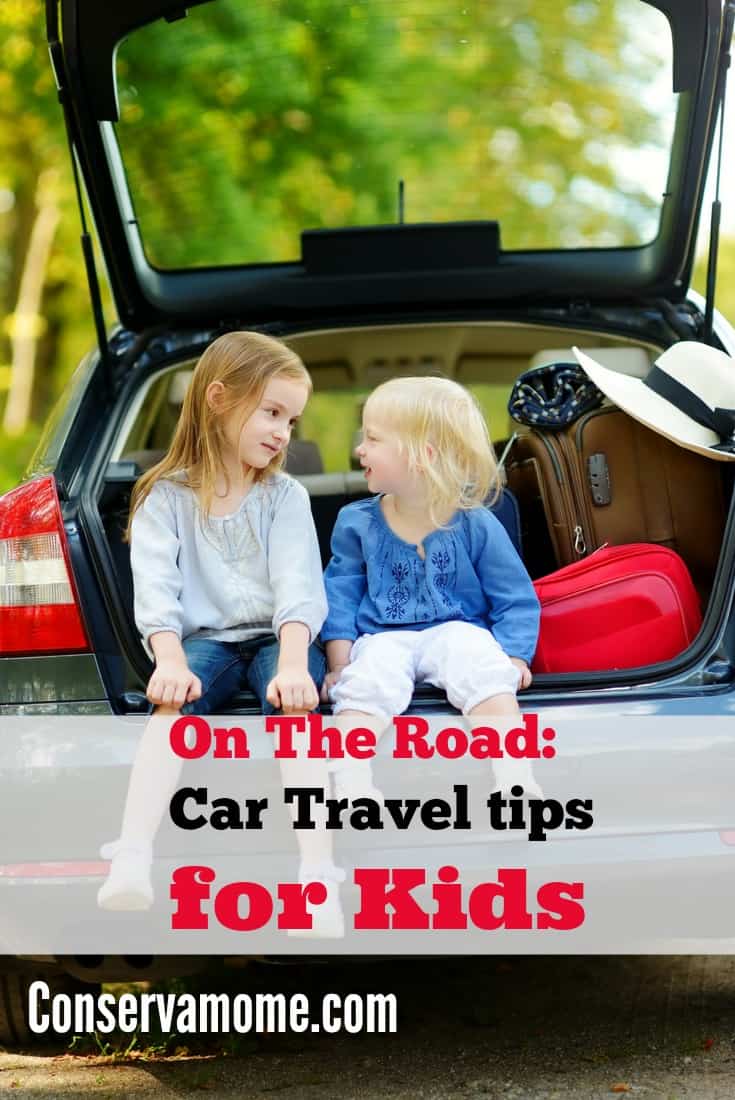 As we approach summer many families are opting out of airplane travel and heading to destinations that are within driving distance.  Of course the thought of driving anywhere with small kids can make any parent run for the hills. My parents live an hour and a half away so  we are on the road quite a bit making my kids experts in car travel. Here are a few tricks and Car travel  tips for kids you can  use to help travel and vacation go as smoothly as possible.
Car Seat Check
This is crucial because although many people have their little ones in car seats all the time,However many times their child isn't in the correct car seat or said car seat is not installed correctly.  Here's a great list of Car Seat laws for all 50 states that might serve as a great guide for you.
Pack important things on hand
Make sure to have a bag full of necessities close at hand. That includes but not limited to:
Snacks (small crackers or cheese sticks work great,Try not to get something too messy like pudding or anything that needs a spoon.
Water (I usually hand each child their own water bottle.
Tissue
Wipes
A change of clothes for each child (You don't want to be  digging around your luggage in case of an accident)
Band-aids (yes your children will need this…strange things happen when left in a car for a few hours)
extra toys and books
Paper towels
Make sure and bring an extra blanket because someone will complain about the temperature in the car.
Car Sick?
I don't let the kids bring an Ipad or movies on the road because 2 of my kids get very car sick if they start watching a movie or any tv in the car. I've noticed two things work great when you have a child that gets car sick. 1. orange or lemon drops. These are fantastic. If you have a smaller child that can't suck on them then try any citrus essential oil. Citrus is fantastic for nausea, I bathe myself in it during pregnancy.  The second thing we have been using is a Seaband.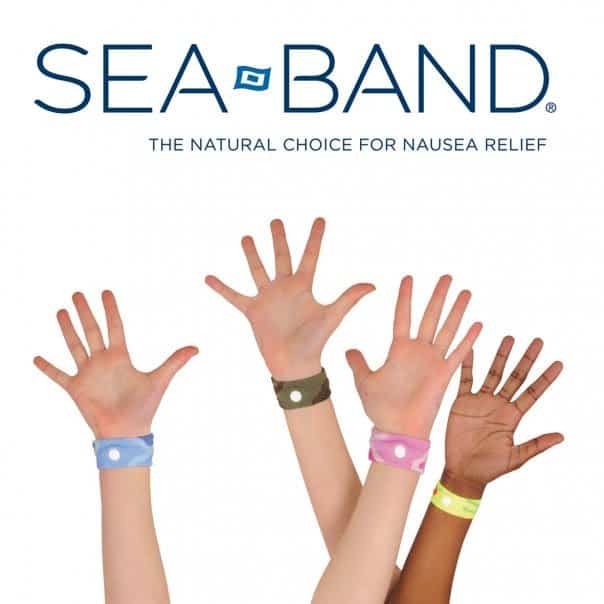 This is an amazing invention that uses pressure point relief. My 6 year old already knows to put it on as soon as we get in the car.(She's my main "Car sicker")
Entertainment
For most an easy fix is an Ipad or Movies there are a few non technology options. For longer trips I like to make a fun bag. You can head over to any Dollar tree and get various items to put into it (including the bag) For smaller kids crayons,(I don't recommend markers-PS:They aren't washable off of car ceilings 0_0)coloring books and picture books, For older kids you can get some great activity books including Disney word searches and puzzle books.  Although we don't use ipads or Movies you can rent some great movie options on Amazon (you can also download the Amazon app to ipad) as well as you can also grab some great free apps for both ipad and kindle!
Let's Eat
I know many people like to stop at restaurants on the way and to each their own. However, for a family of 6 like us that quickly adds up. One thing we always do is pack a lunch(sandwiches travel well in coolers as long as you don't add condiments) juice,water or any food you may like for a picnic. You might be surprised at all the beautiful rest stops you will find on the way. It gives you a chance to stop for lunch, stretch your legs and let's face it give the kids a bit of running around time before heading off on your adventure.
Travel Time
Finally, Travel time is something that is always an issue. One thing we always try to do is travel when the kids are sleeping because chances are they will  take longer than usual naps on the road and the last thing you want is to get to the hotel exhausted only to have a wide eyed and bushy tailed kid ready to party.  Another thing that we've done that helps immensely is take breaks every 2 hours. You may be tempted to keep driving when all is quiet but it never fails, all heck will break loose when you least expect it so make sure and try to stop. You have kids,they like their freedom and a car ride is a big stress on them so just remember to keep that in mind.
In the end….
Have fun and enjoy your vacation. As stressful as traveling with little ones may be they are only going to be little for a short time. Enjoy it and enjoy the memories to be made and most important take lots of pictures!
Save
Save