Brain teasers are alway a fun way to get the brain moving and working out. Here's a fun riddle. Let's see if it stumps you.
Before I give you the answer, here are some fun riddles to help you get warmed up!
When I'm young, I'm sweet in the sun. At middle-age, I make you gay. When old, I'm valued more than ever. What am I?
Wine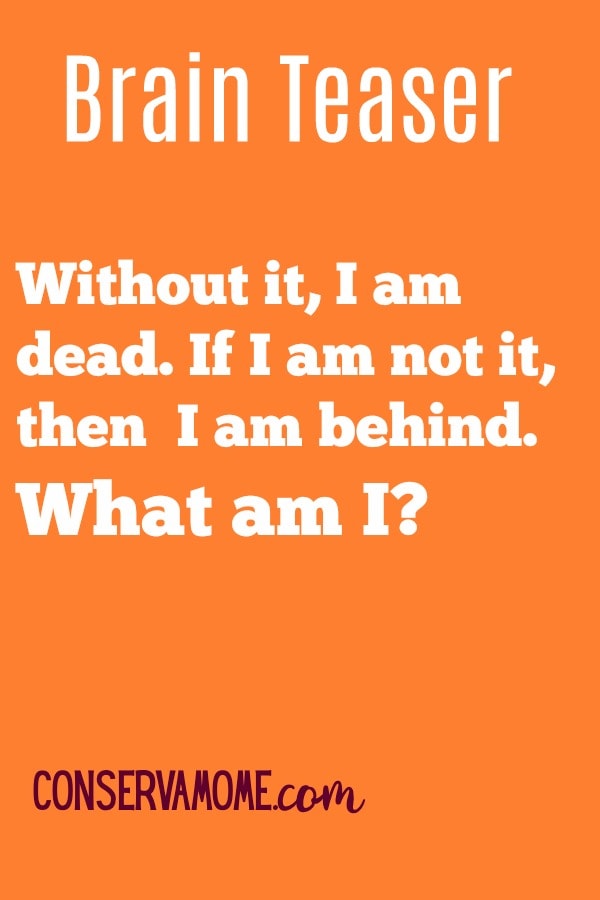 Without it, I am dead. If I am not it, then I am behind. What am I?
Ahead!
Guess the next three letters in the series GTNTL.
I, T, S. [The complete sequence is the first letter of every word in the preceding sentence.]
How many three cent stamps are in a dozen?
A dozen 🙂 Sometimes the answer is clearer than you think.lol You probably said 4 🙂
Can a man legally marry his widow's sister in the state of California?
If his wife's a widow, the guy is dead!
On my way to St. Ives, I met a man with seven wives. Each wife had seven sacks, each sack had seven cats, and each cat had seven kits. Kits, cats, sacks and wives. How many were going to St. Ives?
One! Only I was going to St. Ives
How far can a raccoon run into the woods?
Halfway. After that, he's running out of the woods.
Arnold Schwarzenegger has a long one. Michael J. Fox has a very short one. Madonna doesn't use one. The Pope doesn't, either. What is it?
A surname.
Answer: The letter S
Mike is a butcher. He is 5'09" tall. What does he weigh?
Meat.
What has a mouth, but cannot eat. Moves, but has no legs. Has a bank, but no money?
A River!
Did you like it? Make sure and share with other friends to see if it can stump them as well 🙂
What happens only in the middle of each month, in all of the seasons, except
summer and happens only in the night, never in the day?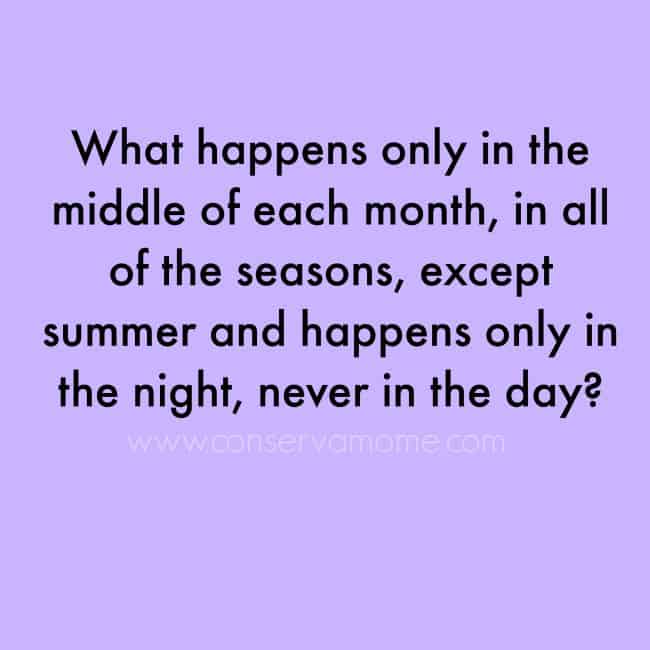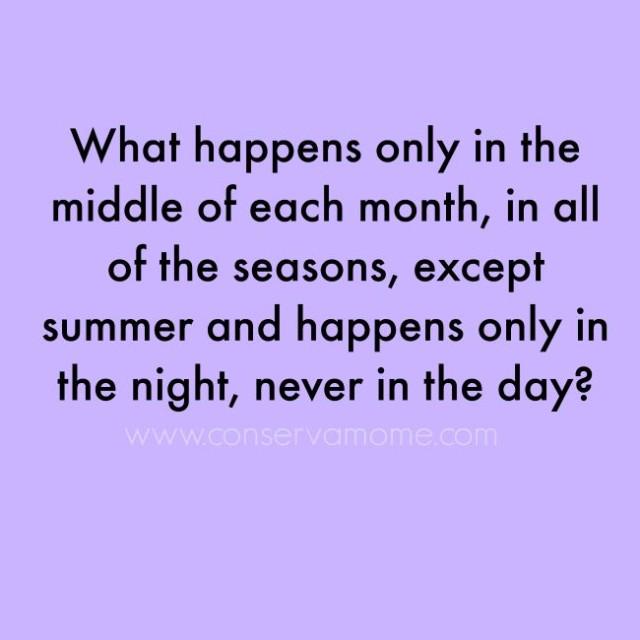 Answer: The Letter N
Looking for another fun riddle? Check this one out below.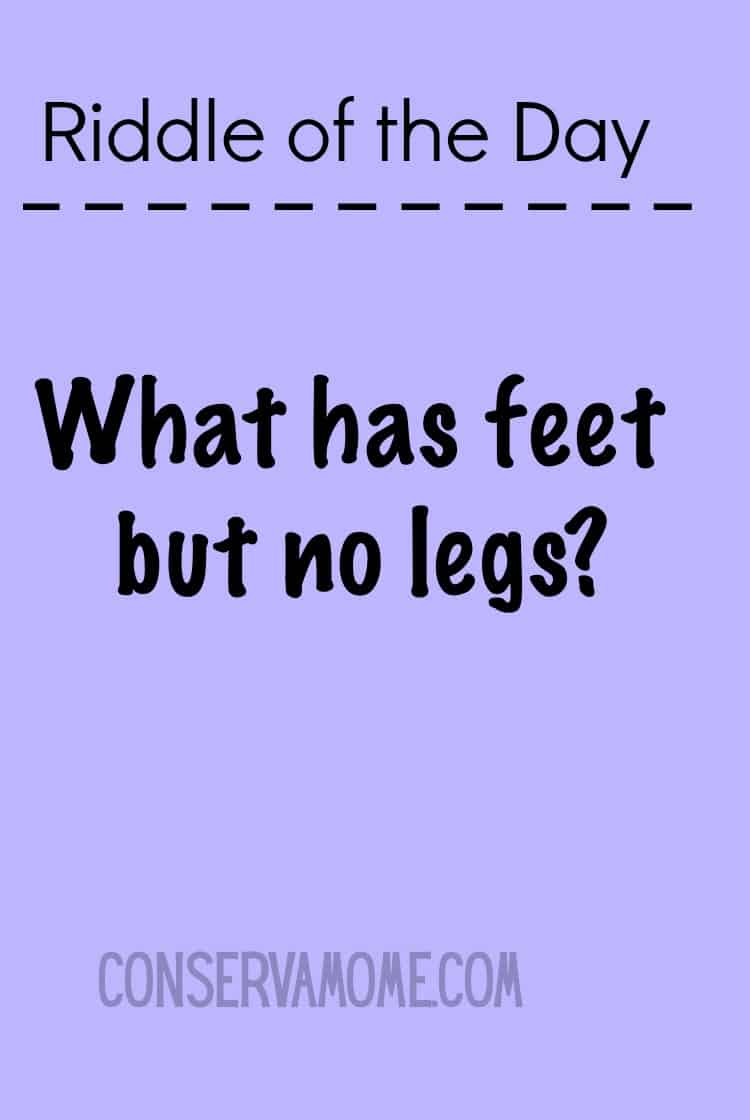 Don't know the answer? Head over here to see what it is 🙂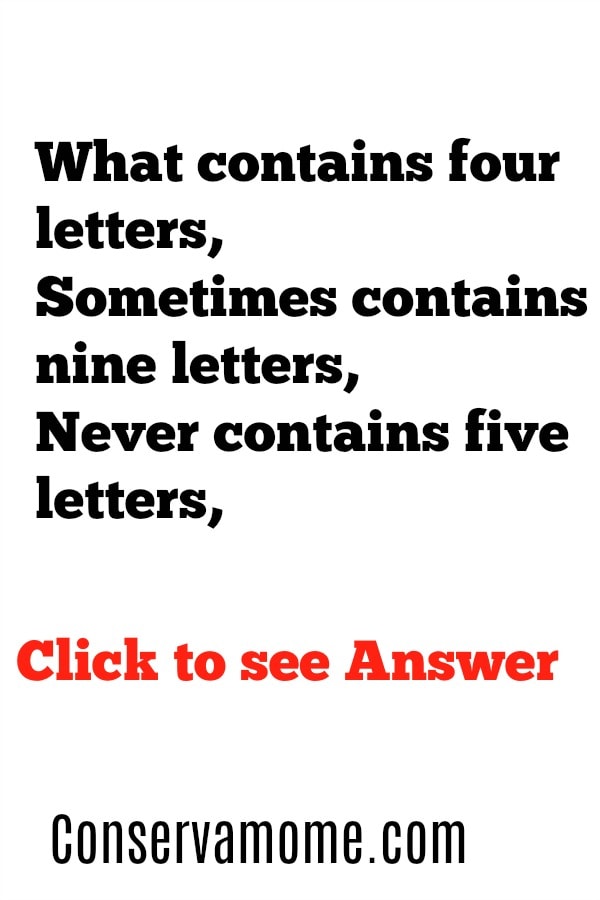 Ok so this one is totally a trick and play on words. The answer is in the phrase: What has 5 letter. Sometimes contains nine and Never contains five . All this is doing is telling you the amount of letters in What, Sometimes, and never 🙂