Riddles are fun. They make you think and most important make the brain work. Read on to check out a fun riddle of the day that will definitley make you think.
Before you get the answer, read on to warm up with some fun riddles:
Q. A doctor and a boy were fishing. The boy was the doctor's son, but the doctor was not the boy's father. Who was the doctor?
His mother.
Q: What did the cheerleader say to the ghost?
Show your spirit
Q: What has four wheel and flies?
A garbage truck
Q: If six children and two dogs weren't under an umbrella, how come none of them got wet?
Because it wasn't raining.
Q: Why do graveyards have a fence around them?
Because people are dying to get in.
Q: What did one eye say to the other?
Between you and me something smells.
Q. Almost everyone needs it, asks for it, gives it, but almost nobody takes it. What is it?
Advice.
Q. A man was driving a black truck. His lights were not on. The moon was not out. A lady was crossing the street. How did the man see her?
It was a bright, sunny day.
Q. How many animals did Moses take on the ark?
Moses didn't take anything on the ark. Noah did.
Q What is something you can put in your pocket that keeps it empty?
A large hole.
Q. What belongs to you but is used more by others?
Your name.
Q. What gets wet when drying?
A towel.
Q.Many have heard me, but no one has seen me, and I will not speak back until spoken to. What am I?
An Echo
Now for the riddle you came for 🙂
Sometimes I'm a sphere,
Sometimes I'm a banana,
And sometimes I'm not there at all.
What am I?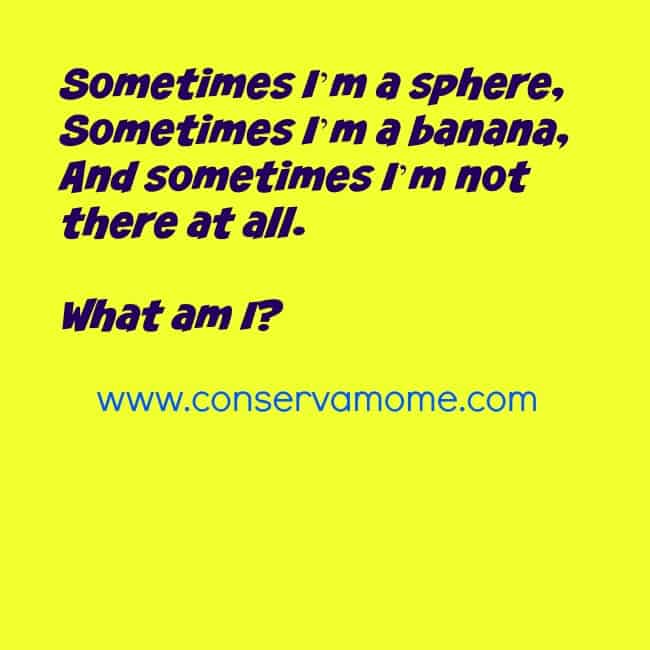 Answer: if you guessed the moon you're right!
Looking for more fun riddles? Check out this one below.
To see what the answer is head over here.