Here's a fun riddle of the day ! I am used in most sports, have four holes, come in many different colors and there is a state that shares my name. What am I? Keep reading to see what the answer is.

Fun riddles that make you think
Life is full of riddles. It's just the way it is. Riddles are everywhere. The important thing is how you look at them.
They are a fun way to get your brain going, moving and thinking. Most important they're a fun way to make you think.
Many times a brain teaser or riddle will give your brain a workout that will get you ready to move on to a new task. Either way Brain teasers and riddles are something we should all do to stay on top of our game.
Some Brain teasers to get your brain warmed up.
Question: There are six haystacks in one corner, a third as many in another corner, four times as many in a third corner, and eight in the fourth corner. While throwing the hay into a single pile in the center of his field, the farmer accidentally let one of the stacks fall to the floor and scatter everywhere. How many haystacks did the farmer end up with?
Answer:Just one! He piled all of his hay in the center of the field!
I am alive without breath and cold as death. I am never thirsty but always drinking. What am I?
Fish
I shift around, though always slowly. I never move more than a few inches at a time. A large movement by me can kill many people. I am huge, yet unseen by humans. What am I?
tectonic plate
What is better than the best thing and worse than the worst thing?
nothing
A most delicious thing. It can be given but cannot be kept. Some awake from it after they've slept. It is the moistest and softest butterfly wing, But when it is the last even it can sting.
kiss
I run around the city, but I never move.
wall
If you break me, I do not stop working. If you touch me, I may be snared. If you lose me, nothing will matter.
heart
A hand without flesh and nothing can I hold. My grip cannot be used until I am sold. What am I?
gloves
Black within and red without, With four corners round about. What am I?
chimney
Answer : A cold
I have one eye. See near and far. I hold the moments you treasure and the things that make you weep. What am I?
camera
In the ground I am nothing, but give me time and I'll be something. What am I?
seed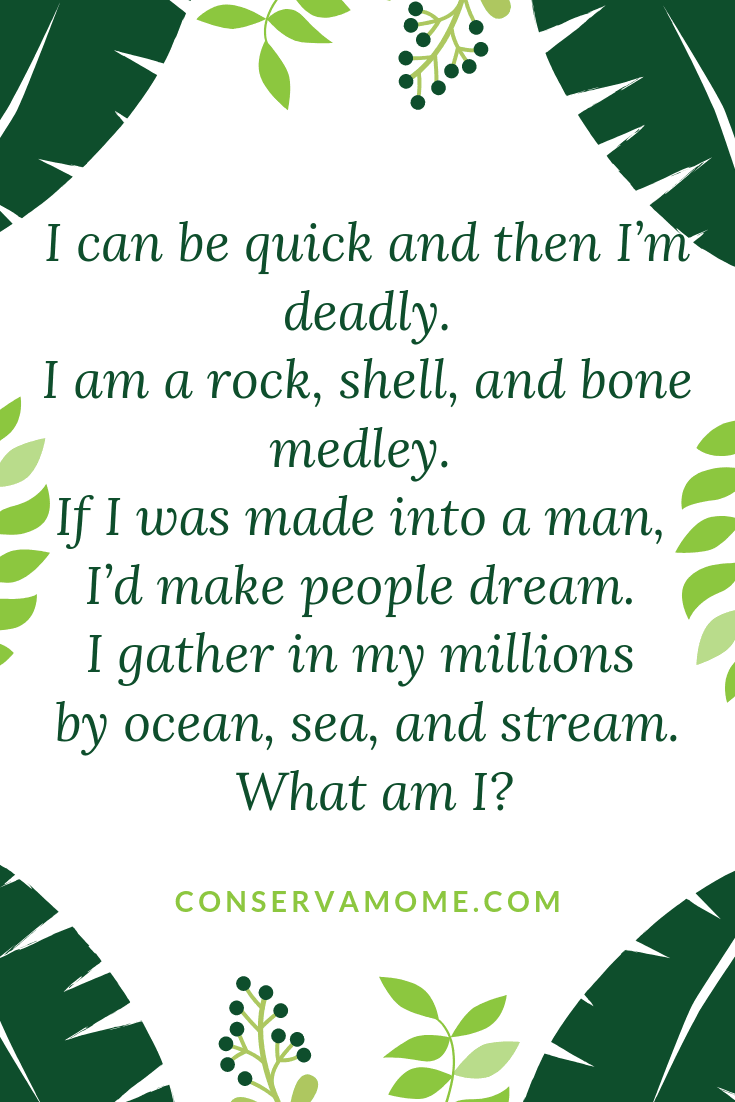 More fun riddles
Question: I can be quick and then I'm deadly. I am a rock, shell, and bone medley. If I was made into a man, I'd make people dream. I gather in my millions by ocean, sea, and stream. What am I?
Answer: Sand Why is that the answer? Sand can be quick and deadly (quicksand), it isa rock, shell, and bone medley, and if it were a man, it would be the Sandman!
Now for the final riddle before you get the answer to the one above.
Answer: A Jersey -its name can be a state – Jersey)
Here's another fun riddle for you to try:
If you can't figure out the answer, head over here to see what it is.
Here's a fun one What English word has three consecutive double letters?
Answer: Bookkeeper
Save
Save