Disclosure: I received this product free of charge for my honest review. All opinions are 100% mine.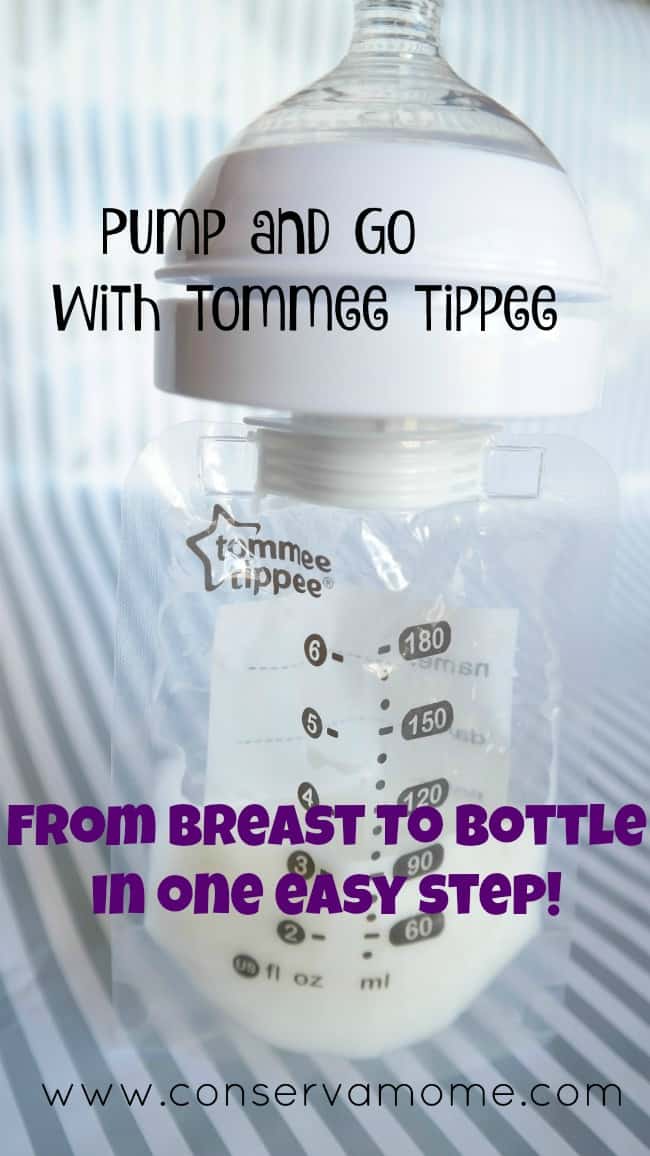 I've breastfed all 5 kids and am still breastfeeding 5.0. However, pumping can be a bit tedious when you're on the go. Although I don't work outside of the home it can be tough when I've had to pump when away from 5.0. Tommee Tippee knew that there was a need to change things up and they  launched a  groundbreaking product line for busy breastfeeding moms that takes milk from breast to bottle with just one pouch.
The Tommee Tippee Pump and GoTM System provides breast feeding moms with  freedom and flexibility, by making the entire breast pumping process easier. By using a single pouch to pump, store, warm and feed, there's no need to move milk at any stage, so you'll never lose a precious drop. Because God knows how heartbreaking it is to loose any of that liquid gold. The Pump and Go eliminates the need to buy, wash, and store pumping bottles & baby bottles. This saves moms time, money, and precious breast milk.
The kit comes with everything you need to store your breast milk in from Pouches, to Bottle warmer and even adapters to help pump directly into pouches.
Product features:

Pre-sterilized Pump and Go pouches – use just one to pump, store, warm and feed, so no transfers, no waste
Bottle and pouch warmer automatically heats milk to perfect temperature from frozen, fridge or room temperature. This was so neat because no more guess work on how long you have to thaw,heat or leave in the warmer.

Compact, lightweight breast milk storage case neatly stores up to 12 pouches in fridge or freezer. This case allows for easy storage of milk when on the go or at home.
Breast pump adapter set connects with Medela®, Lansinoh®, Evenflo®,  Ameda®, Philips Avent® and Tommee Tippee® So the sky is the limit to what you can do.
Breast milk pouch bottle comes with award-winning Closer to Nature nipple. Easy to use and best of all converts your pouch to a bottle so no milk goes wasted.
This system is amazing! Even if I go out of town I know I'll be able to pump easily and store compactly without any issues or milk transfer. No spilled milk. No crying!
You can find this set  exclusively at Babies R Us, the full product line includes an All in One Breast Milk Starter Set, Breast Milk Starter Set, Breast Milk Pouches (20 count and 35 co unt formats), Breast Milk Pouch Bottle (1 pack and 3 pack formats), Universal Breast Pump Adapter Set, Breast Milk Storage Trays, Breast Milk Cool Bag, and the Intelligent Pouch & Bottle Warmer. Retails range from $4.99 – $99.99.