Do you love Pottery Barn but hate the price? Here are 20 Do It Yourself Pottery Barn Inspired Decor Ideas to help inspire you and give you that gorgeous Pottery Barn look without having to pay a fortune!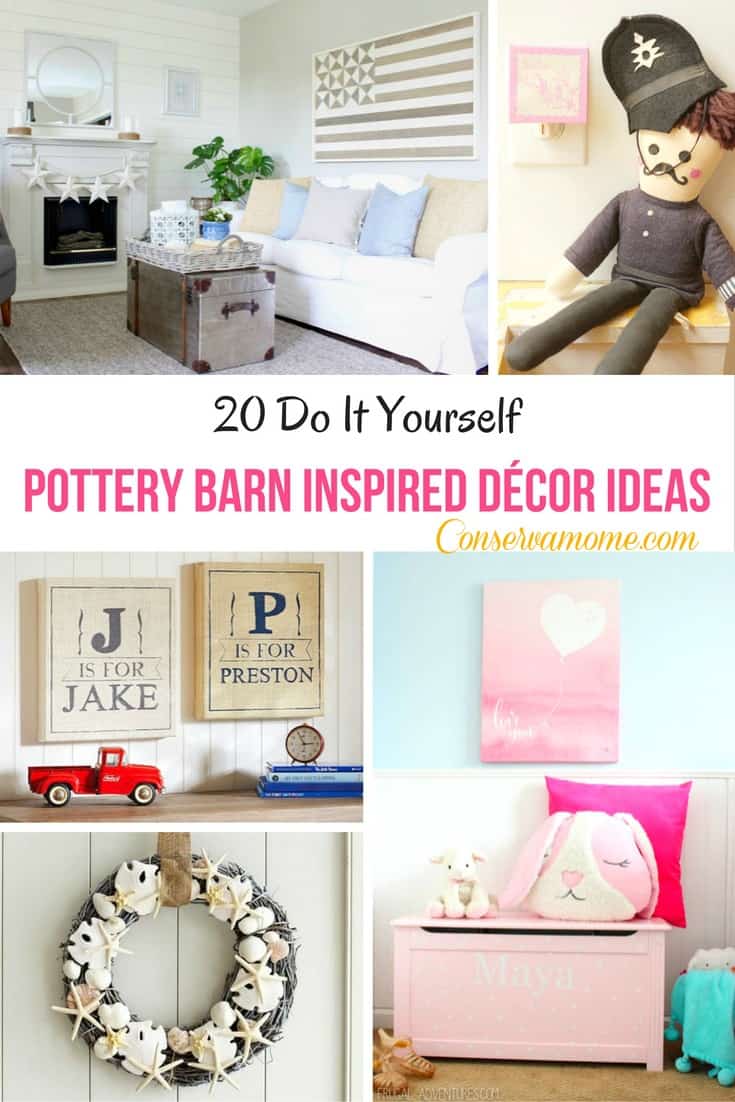 Welcome to our Do-It-Yourself Pottery Barn Inspired Decor Ideas Roundup – a treasure trove of creativity, ingenuity, and design inspiration! If you love the timeless elegance and rustic charm of Pottery Barn's decor but prefer the satisfaction of creating it yourself, then you're in for a treat.
In this curated collection, we've gathered a plethora of DIY projects that capture the essence of Pottery Barn's signature style without breaking the bank. Whether you're a seasoned crafter or a DIY enthusiast looking to embark on a new creative adventure, these projects are sure to spark your imagination and transform your home into a haven of sophisticated comfort.
Drawing inspiration from Pottery Barn's classic designs, our DIY ideas offer an array of home decor options, from charming farmhouse accents to chic modern touches. We believe that creating a stylish and inviting space doesn't have to come with a hefty price tag. With a little creativity, resourcefulness, and the right guidance, you can achieve Pottery Barn-worthy decor on a budget.
Pottery Barn beauty but not for the price
Throughout this roundup, we will take you through each DIY project that provides you with step-by-step instructions to create the perfect craft. From repurposing everyday items to crafting stunning pieces from scratch, you'll discover how even the simplest materials can be transformed into stunning decor elements that rival the elegance of Pottery Barn's finest offerings.
Moreover, these DIY projects offer you the freedom to customize your decor to suit your personal taste and home's aesthetic. Whether you prefer a cozy, rustic ambiance or a sleek, contemporary look, our collection has something to cater to every style and preference.
Beyond the satisfaction of creating beautiful decor with your own hands, these DIY Pottery Barn-inspired projects also foster a sense of accomplishment and pride in your home. You'll have the pleasure of saying, "I made that!" when guests compliment your stunning decor pieces.
Furthermore, crafting your own decor allows you to infuse your personality and unique touches into your living space. Each DIY project is an opportunity to express your creativity and tell your story through design.
So, join us on this exciting journey of DIY Pottery Barn Inspired Decor Ideas. From living room accents to bedroom charm, you'll find an array of projects that will elevate your home and infuse it with the timeless allure of Pottery Barn's beloved style.
Whether you're looking to revamp your entire home decor or add a few stylish touches, our roundup has something to suit your needs. Let your imagination run wild, unleash your inner DIY guru, and get ready to turn your home into a Pottery Barn-inspired masterpiece!
Do It Yourself Pottery Barn Inspired Decor Ideas
Do It Yourself Pottery Barn Inspired Decor Ideas
Check out this gorgeous round-up of Do It Yourself Pottery Barn Inspired Decor Ideas. This is the perfect round-up to get your home looking like a catalog. Some of them are Holiday inspired while others are for everyday beauty. Enjoy!

I hope you are able to find some inspiration ideas in this fun post!
Save