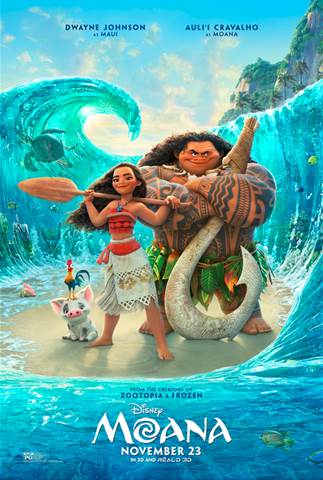 In Honor of Disney's MOANA hitting theaters November 23rd, filmmakers invite moviegoers to venture behind the scenes with "The Way to Moana." Featuring commentary from filmmakers, voice talent, songwriters, and key advisors from the Pacific Islands, the new featurette dives into the research and collaboration that went into the film, helping to ensure the story celebrates the Pacific Island cultures that so deeply inspired it.
You can check this fun featurette below!

Also available is a look at the stunning realization of the original song "We Know the Way." Written and performed by Opetaia Foa'i and Lin-Manuel Miranda, "We Know the Way" showcases the rich and vibrant voyaging life of Moana's ancestors.

Don't forget to get social with Moana!
Like MOANA on Facebook: https://www.facebook.com/disneymoana
Follow MOANA on Twitter: https://twitter.com/disneymoana
Follow Disney Animation on Instagram: https://www.instagram.com/disneyanimation/
Visit Disney Animation on Tumblr: http://disneyanimation.tumblr.com/
Visit the official MOANA website here: http://movies.disney.com/moana
MOANA arrives in theatres everywhere on November 23rd!