Are you looking for a lovely Nativity craft? Then check out this Birth of Jesus Craft for Christmas.
*This post contains affiliate links. That means that if you make a purchase after clicking on a link I may earn a small commission at no extra cost to you
Nativity Craft-Birth of Jesus Craft for Christmas
Jesus is the reason for the Christmas season and that is why I wanted to come up with a fun and sweet craft that embodies what the season is about. This Nativity Craft is perfect for any child you want to teach about the true meaning of Christmas is all about. This is such a simple and easy craft to make and it all it takes is a few household items you have at home.
There are so easy to make and so cute!
Below are some great books you can include with this fun craft:

What you need to make a Nativity Craft
Paper plate
Paint(Black and White)
Scissor
Paintbrush
Popsicle stick
Glue
Construction paper (Pink, black, and yellow)
Cardboard
Pen/ marker
Birth-of-Jesus-Template
How to make a Jesus Craft for Christmas
Pain the entire paper plate black.
Make sure to paint the whole paper plate once the paint has dried, and cut a small curve on the paper plate for the moving star later.
While allowing the paint to dry, print, and cut the templates provided to make Mary, Joseph, and baby Jesus characters.
Make sure to paste it on the right construction papers. Then finish it by drawing their faces using a pen marker.
Once you've created the characters, cut a star shape on the yellow construction paper then paste it on the upper part of the popsicle stick.
Add stars by sprinkling white paint using a brush.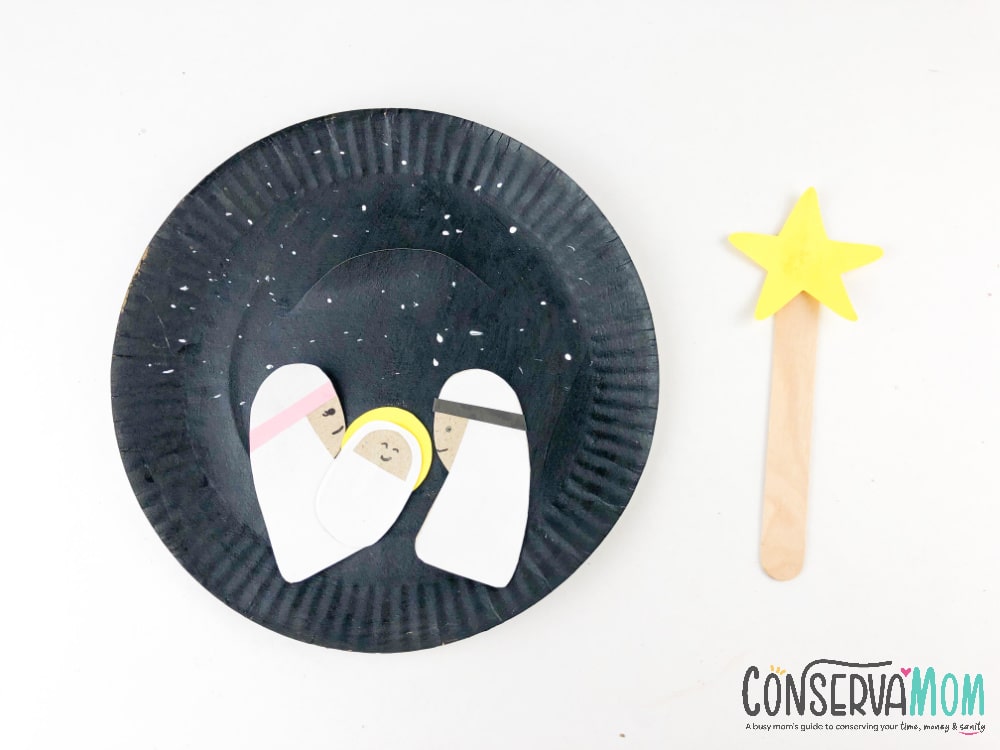 Finish the craft by attaching the characters on the paper plate.
This is such an easy and adorable craft. Best of all it will help you teach about the real meaning of Christmas to your little ones!
Are you looking for more fun Christmas Crafts? Check out these fun Santa Themed crafts.