Disclosure: Although we received complementary accommodations as a part of the Media Grand opening event. All opinions are 100% mine.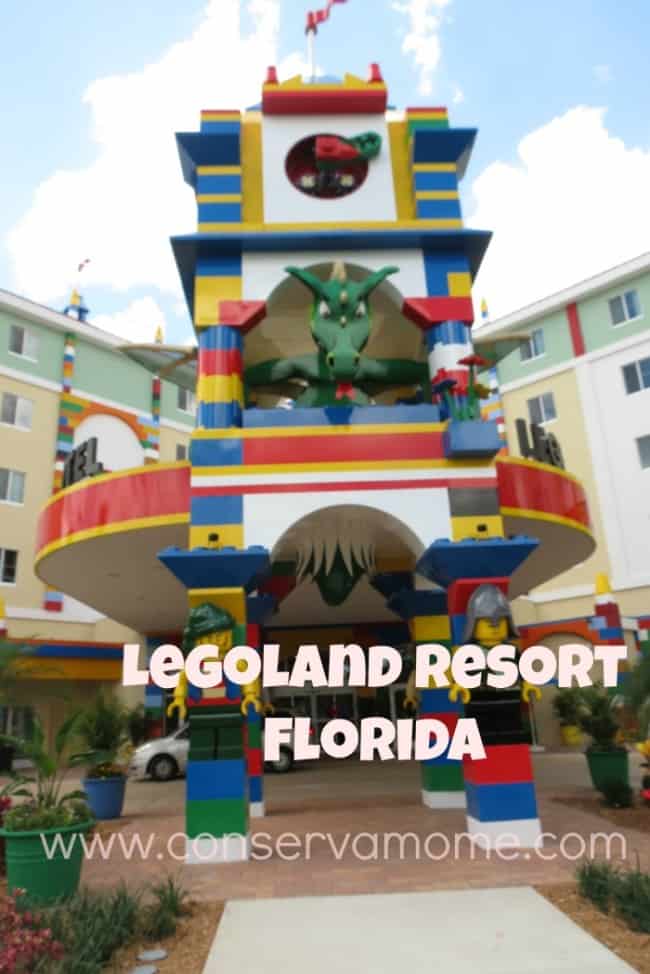 A couple of weeks ago my family and I had the opportunity to attend the Media grand opening at the Legoland Florida Hotel & Resort. This experience was truly a memorable one. Having a future master builder in our a family (our 8 year old) I knew that we would enjoy every second of our stay,however it was truly more than I could imagine it would be.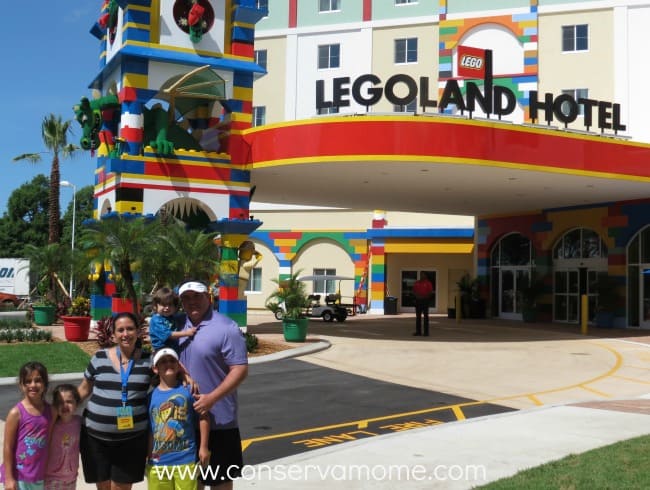 The Hotel itself is nestled between Lake Eloise &  just feet away from the main entrance of Legoland which makes the convenience factor huge! All around the outside and inside you will be blown away by the amazing Lego creations you will discover. From a Dragon who sits in the front and blows smoke throughout the day to giant Lego figurines that are ready to welcome all the guest as they exit their cars.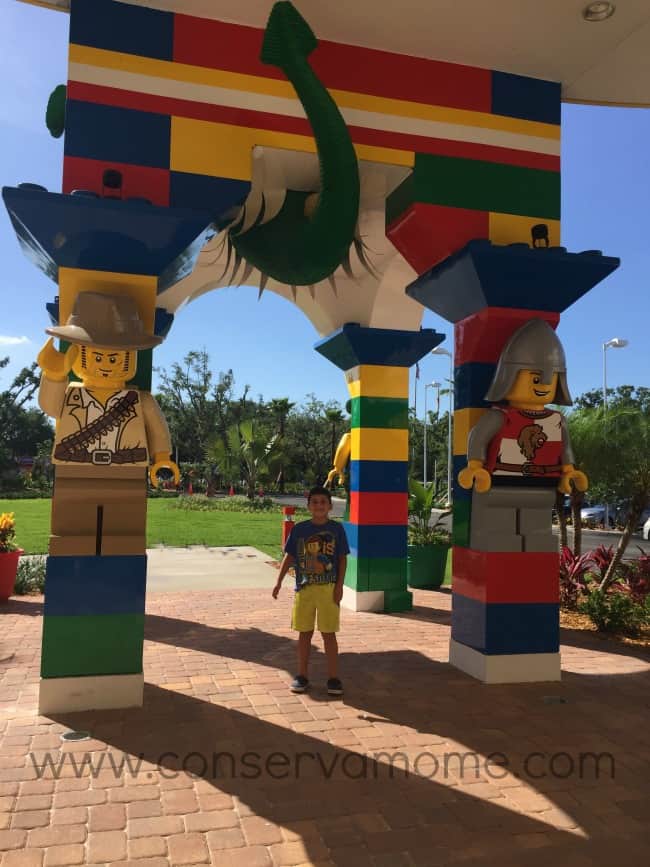 The magic doesn't stop at the door, get ready to be blown away by all the amazing indoor features this hotel has to offer. As soon as you walk into the lobby you'll find a giant Lego Bed welcoming you. YES! A bed made completely out of Legos!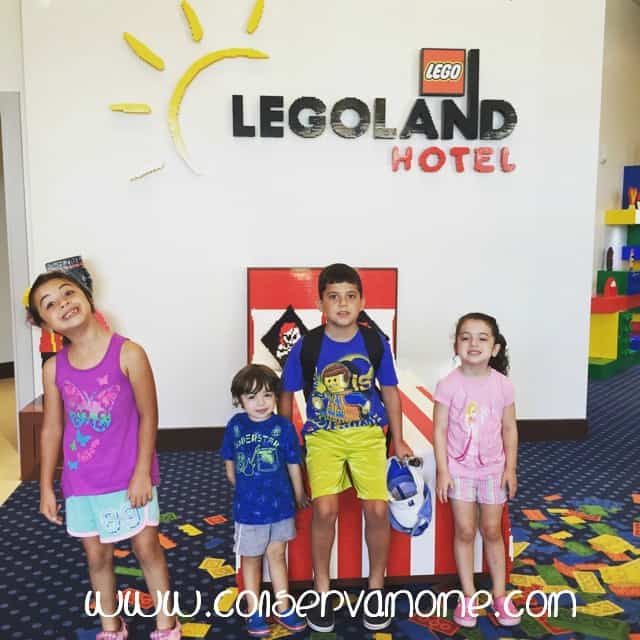 At the check in desk you will be greeted by some really nice employees ready to answer all your questions about the resort. But don't forget to check out all the great details surroundings the check-in desk!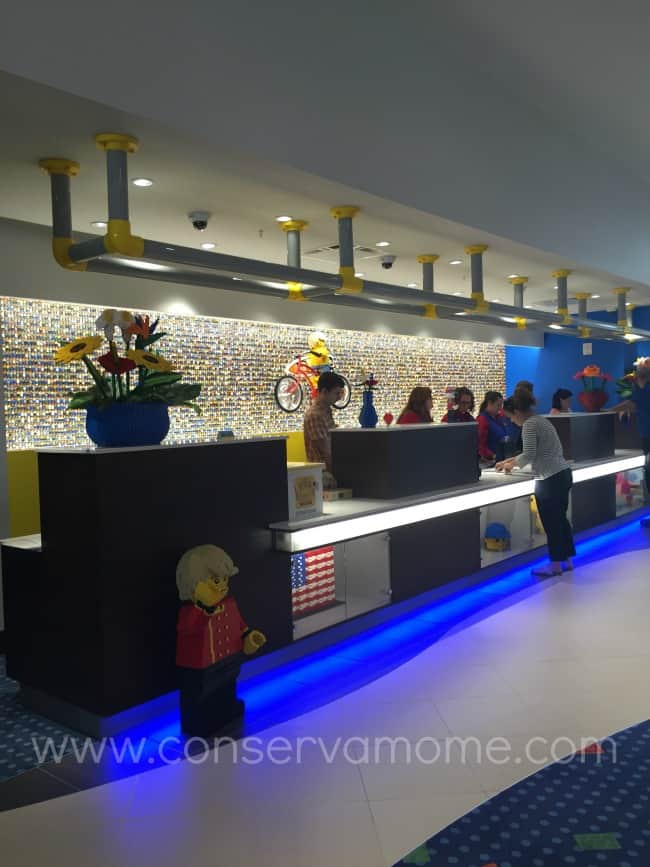 Like their wall of MiniFigs!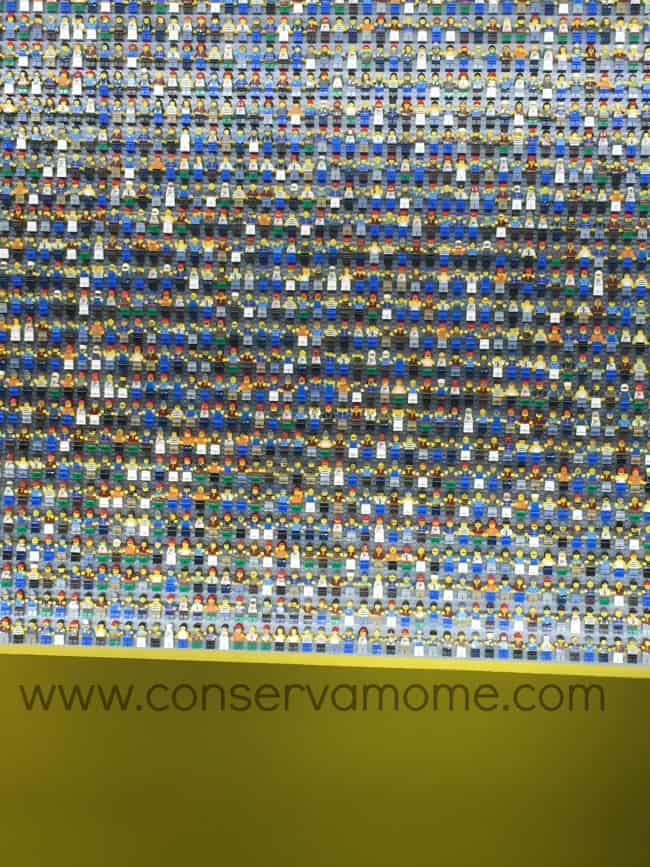 Through the hotel you'll find friendly Lego people that will blow you away with the intricacies of their design.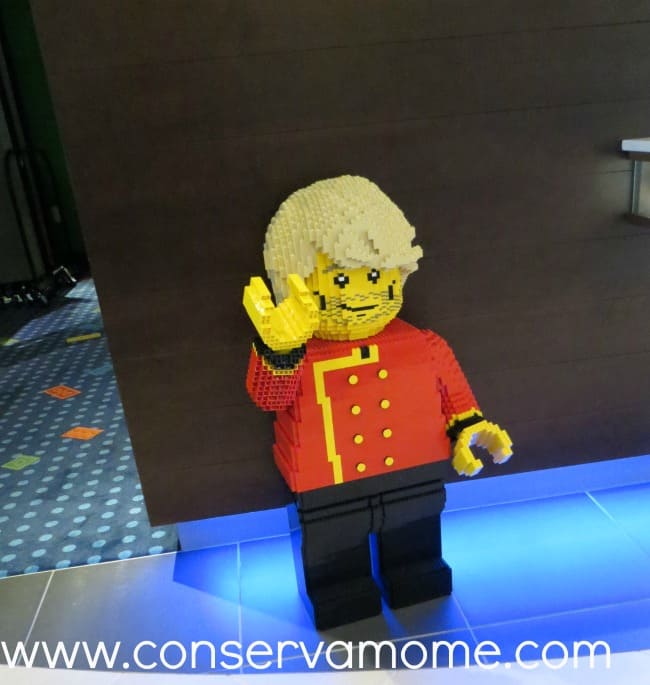 But one of the funnest things you will discover is the HUGE Lego pit right across from the Check in desk ready to have your kids dig in and start building. The sky is limit to what they can create. Most important check in is a breeze as the kids have a blast building in the Lego pit.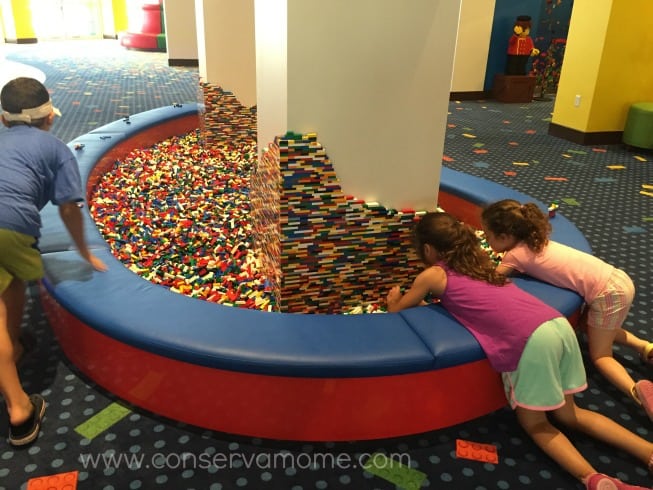 Best of all the wonderful people at the hotel have even set up a section for your little master builder to display their fantastic creations.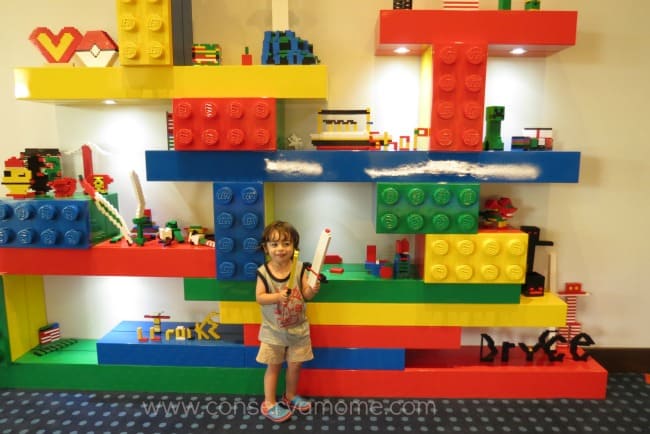 This hotel is truly kid centered and leaves no stone unturned when it comes to the creativity. You will find giant Lego creations in the Lobby as well from a Castle to a pirate ship for your kids to enjoy. At the base of each one you will also find another Lego pit filled with Legos for your kid's creations.
One fantastic thing to keep in mind that although you see all these Legos, the people at Lego land have actually put together a fantastic Lego pit sterilizing process to make sure the health of your little ones is assured.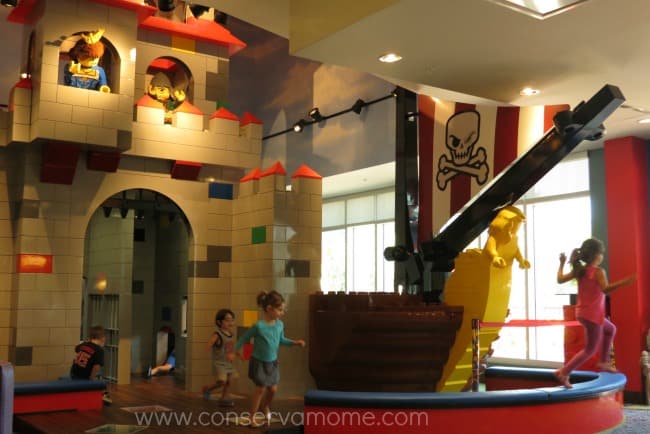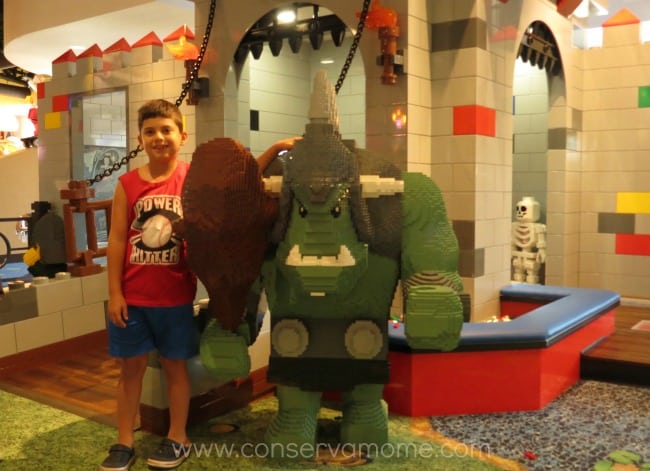 While walking around the Lobby you may even run into some fun Lego Characters so keep your eyes open.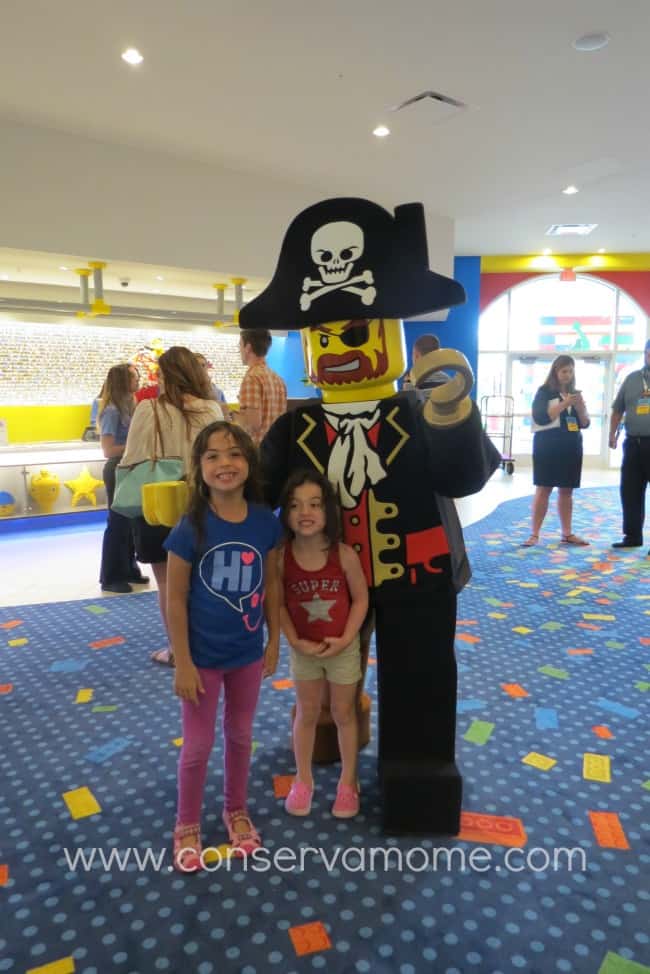 A Night's stay at Legoland includes the following things:
Full buffet breakfast at Bricks family restaurant
Exclusive Master Model Builder Sessions(Only Lego Hotel in the World to offer this)
Early Resort admission
A Treasure hunt in every room, complete with LEGO® prizes!
Nightly LEGO® building competitions
Nightly entertainment
Boardwalk on Lake Eloise
Access to our awesome heated pool
So as you can see you don't just pay for a night at Legoland Hotel you pay for an Adventure.  Now for the rooms! We stayed at the Pirate themed  room. The difference between the basic and Premium themed rooms are  additional LEGO décor and models throughout the room, allowing guests to become fully immersed in the theme. However, don't be discouraged because even the basic brings a big adventure to your stay.
The Actual Adult sleeping area includes a King Size bed complete with the room's decor.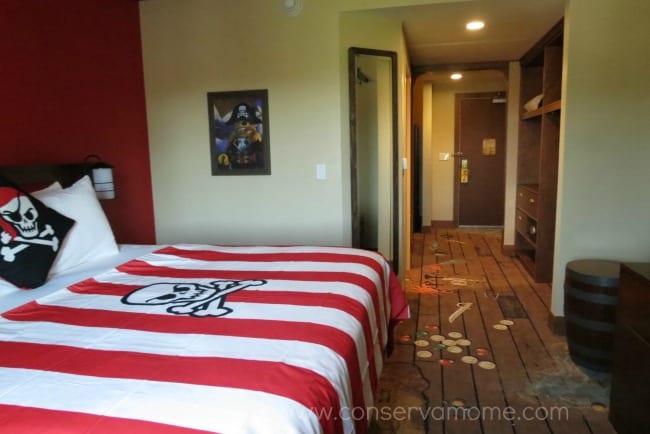 And I have to tell you these beds are AMAZING! I should disclose that I was 34 weeks pregnant during my stay and as big as a house. I actually slept  like a baby (something I haven't done in a long time). As you can see even my girls agree this bed is fantastic.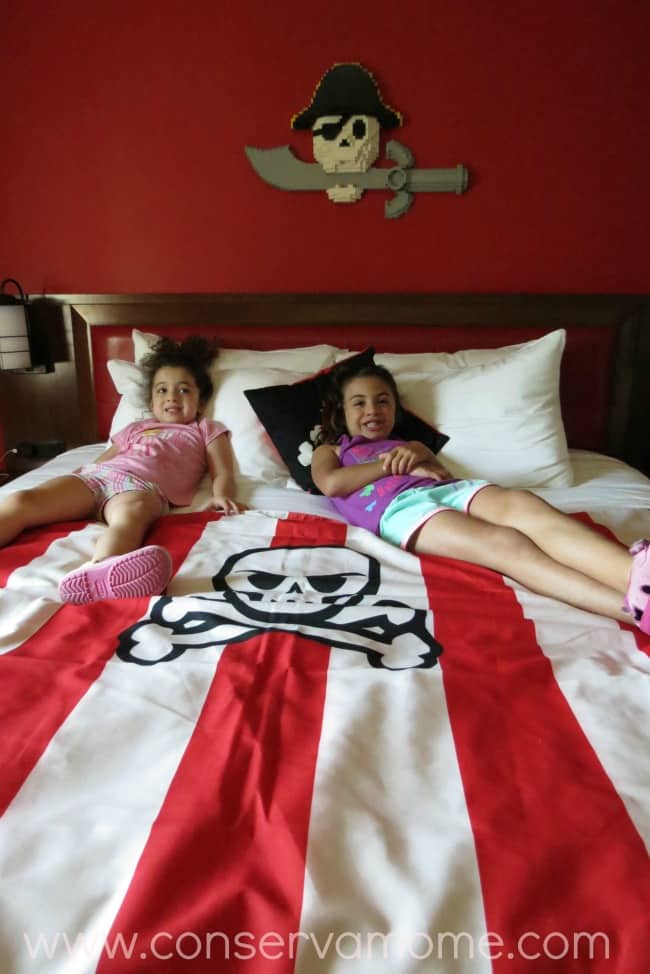 The themes don't stop at the bathroom. Complete with Lego creations on the wall you will be immersed in the fun. And yes that's a Lego spider!!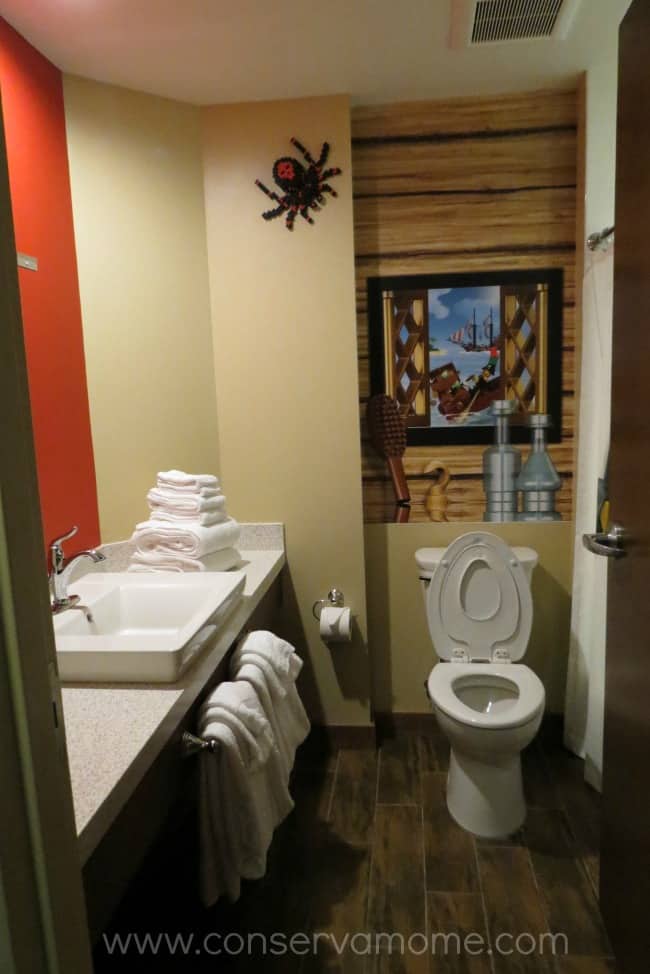 One feature I loved was the toddler toilet seat attached to the toilet allowing for your little ones to easily use the potty. You can also find a little stool right under the sink to help your little ones easily access the potty. I've never seen a hotel do that!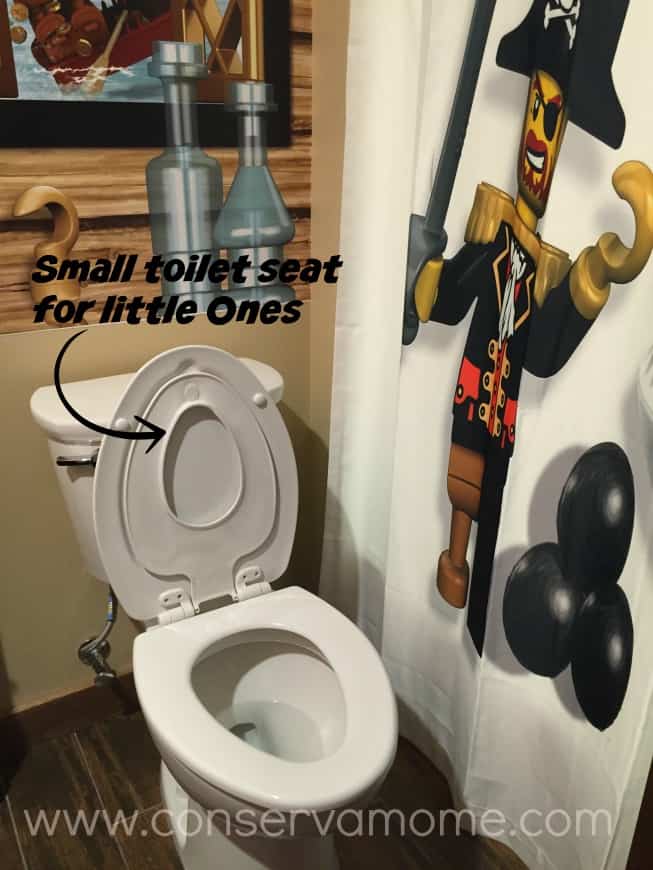 When you enter the room you're greeted by some kid drinks and waters for as well as some legos for your kids to play with while they visit. See the Lego head? That's the room's ice bucket!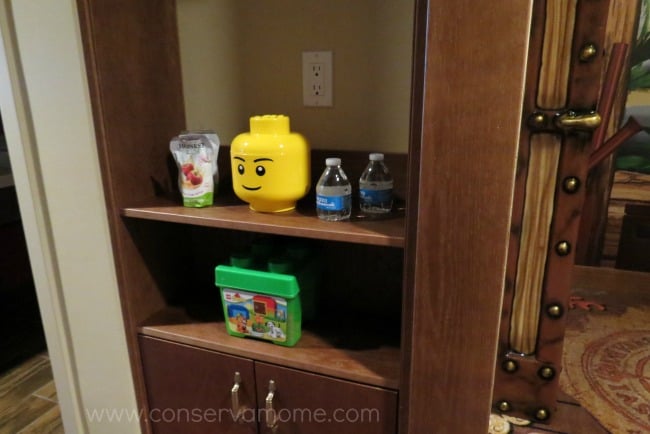 As you can see 4.0 went to work right away with his Duplos.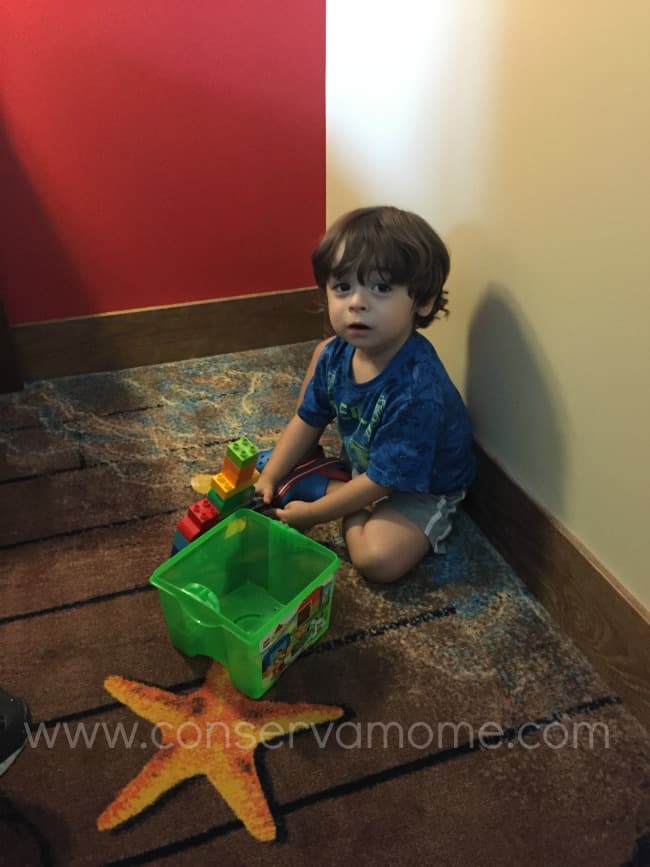 My favorite part is the kids sleeping area. It includes bunk beds and a pull out bed allowing for 3 to sleep comfortably. Themed perfectly in line with the room your kids will love their sleeping area.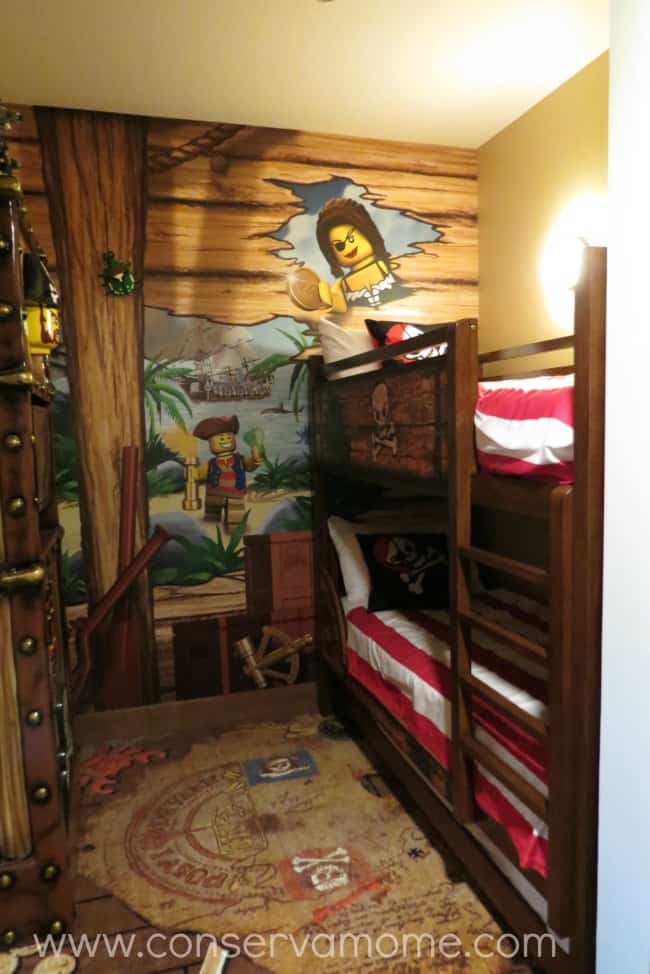 It also includes a fun entertainment area which includes a flat panel HD tv!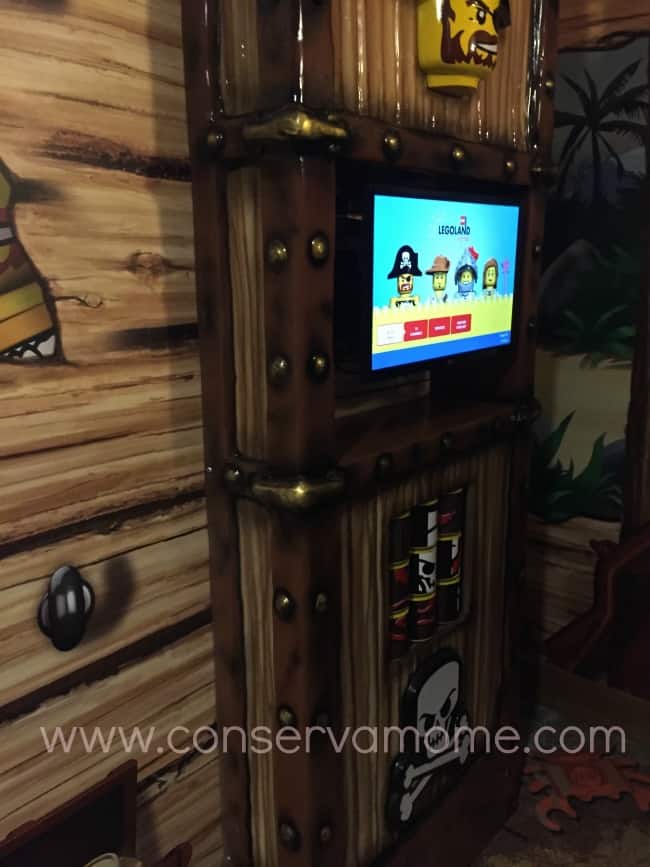 These guys loved the bunk beds and were more than willing to test them out!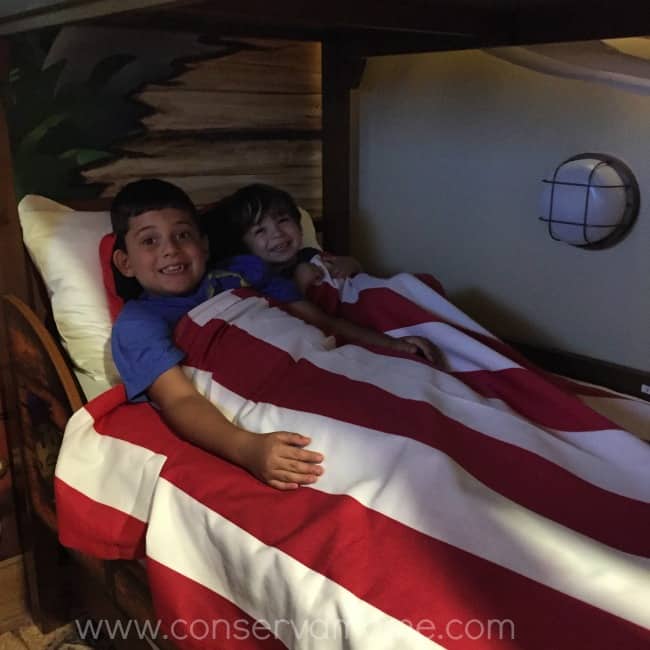 One of the things I love about the Legoland hotel is their attention to detail. They don't just have you stay at this hotel they want every single part of this experience to be an amazing one. Some of the great features you will find in your room are:
Keurig coffee makers in each room complete with a delicious assortment of coffees and hot chocolate.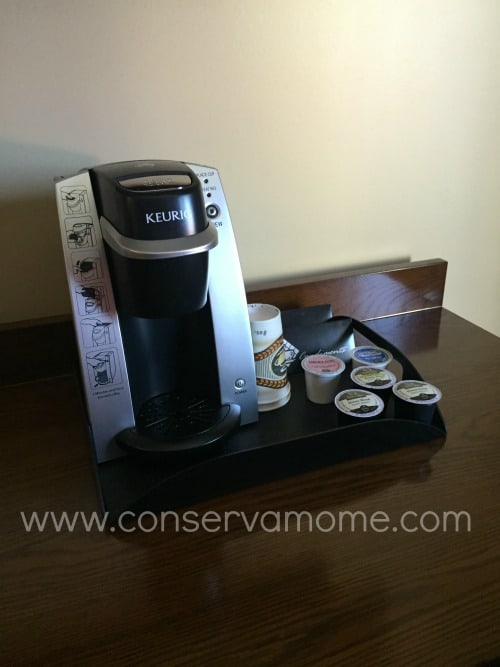 Honest products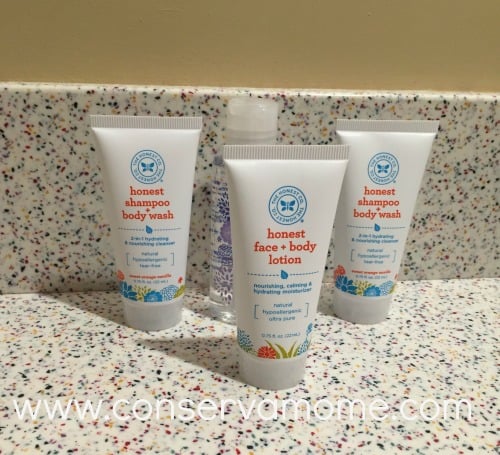 and my kids favorite The Legoland Times waiting for us when we woke up the next day.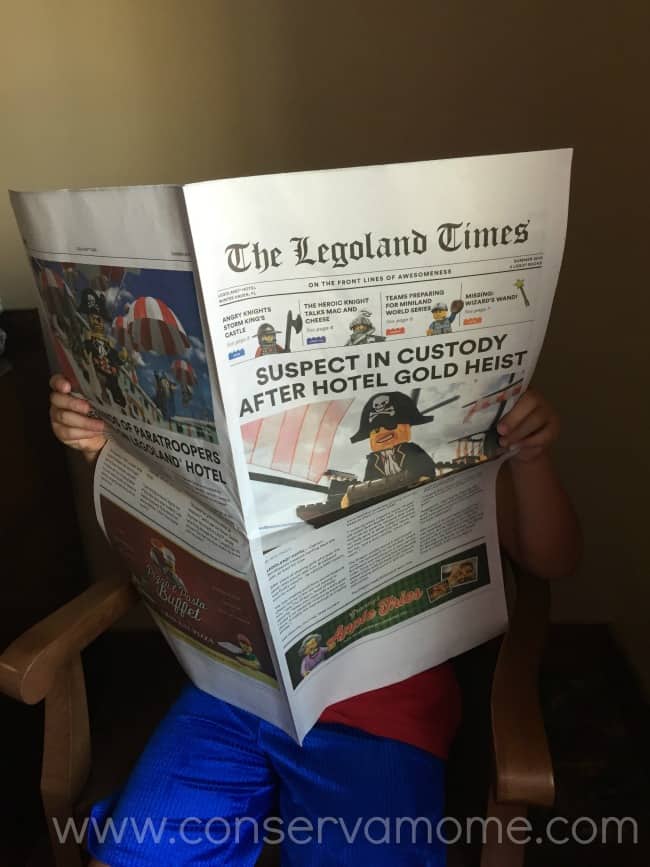 Those are just a few of the small details you will find. I won't say too much more because I want you to experience the surprise around the hotel. Just remember to keep your eyes open because there's surprise in every corner 🙂
Now for one of our favorite parts of the stay….the pool!  This pool is AMAZING! Complete with Giant floating Legos throughout the pool that the kids can use to build with. Now here's the kicker, you can't find these Lego's in stores! They are made specifically for Legoland hotels and are so unique they cost around $20 a brick!!!!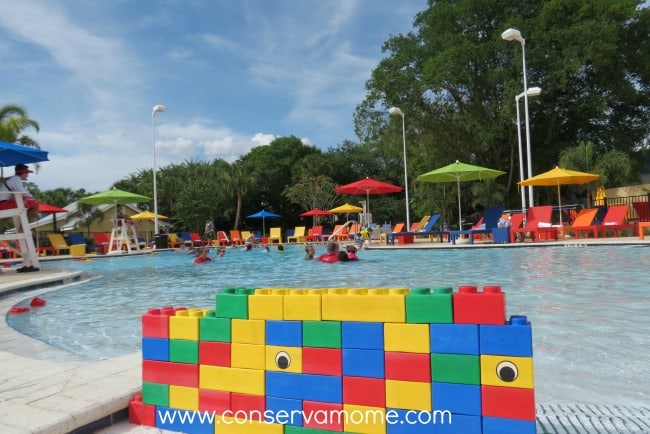 Don't worry if your little one forgot their life vest, there are plenty for them to use at the hotel. However, I should add, floatie wings   are not allowed so make sure and be prepared for this. Only life vest or flotation devices that are Coast Guard approved will be allowed.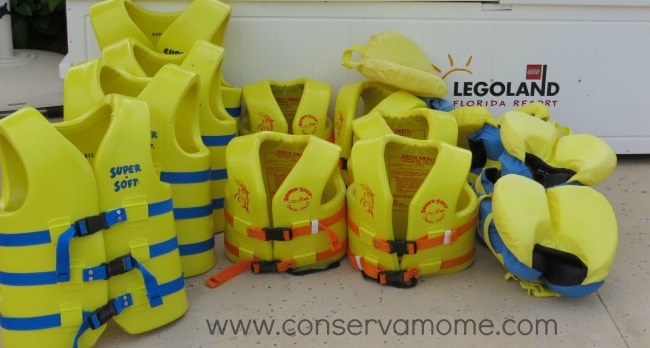 Have a little one that is a bit scared of the pool? Not a problem they have a fantastic fenced in splash area for your kids to enjoy!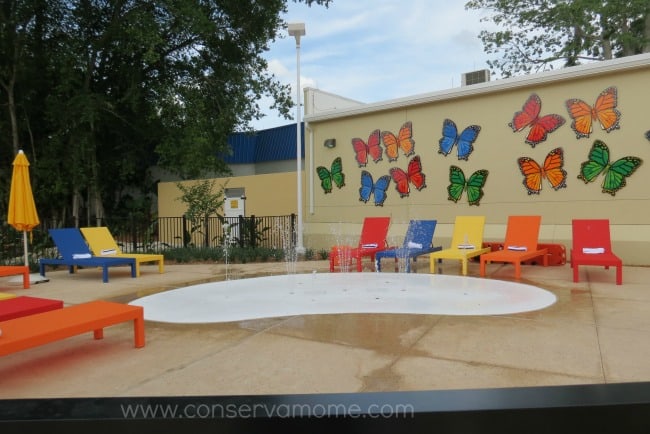 My kids had an absolute blast not only swimming but creating even more Lego fun. My oldest even made his own Lego Chair to enjoy by the pool.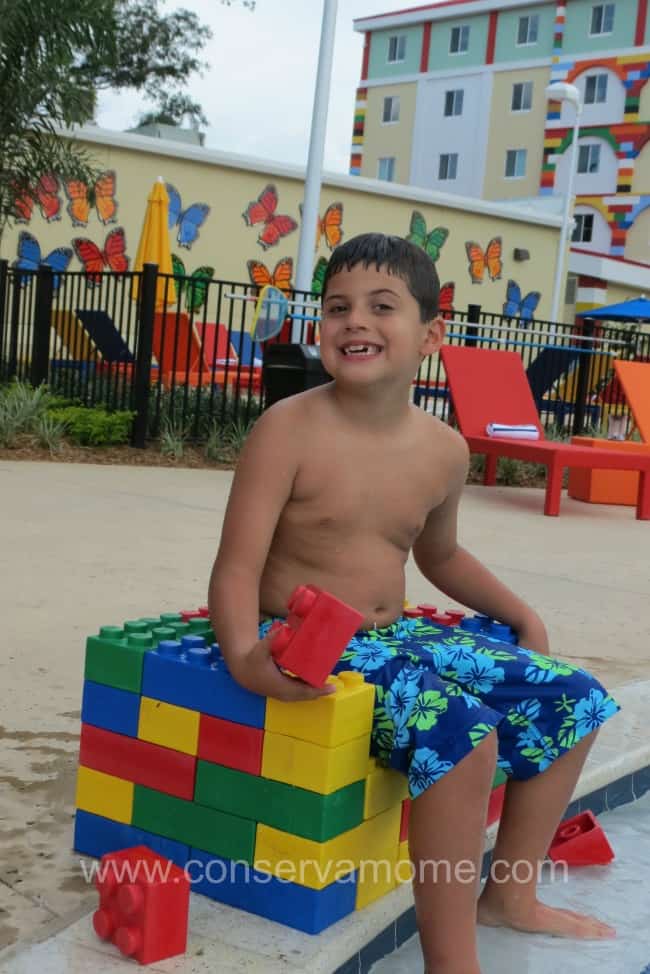 The entrance to the pool isn't too deep so even little ones can enjoy a nice dip. Best of all you have Lifeguards on duty making sure safety always comes first.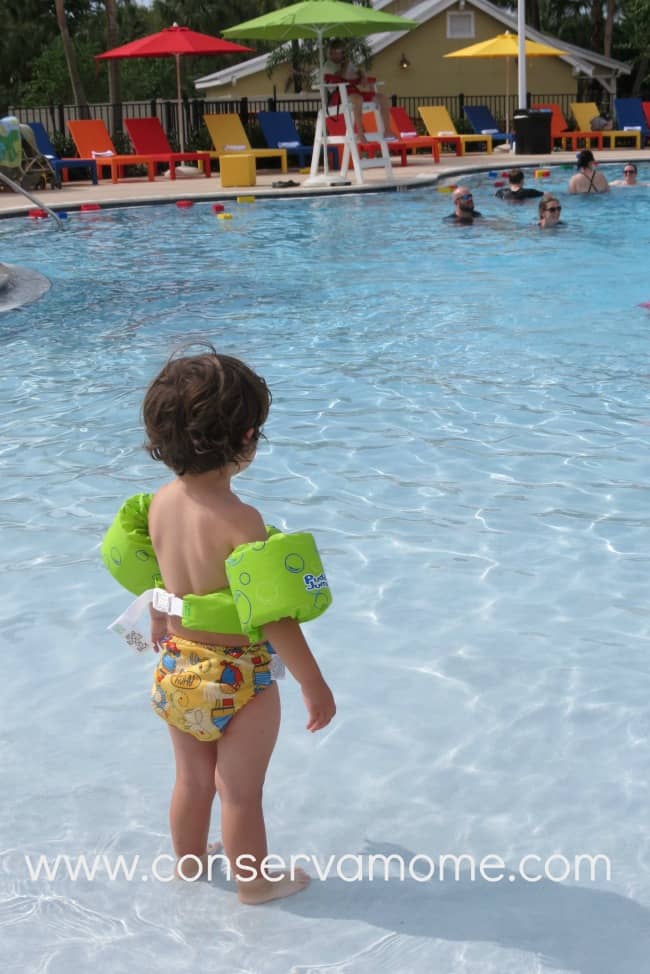 Here's a back view of the hotel. To the right you can catch the enclosed balconies of the VIP suites.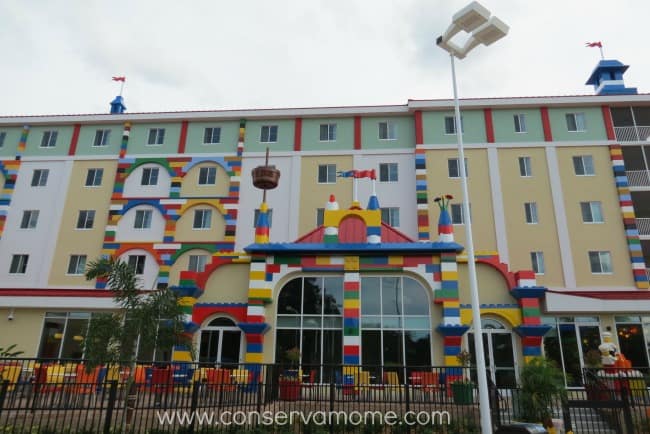 Now for the food! As I mentioned before your stay includes a fantastic and very extensive breakfast buffet. One thing I loved about it was that the middle section was set up with kid favorites allowing for parents to easily get them fed and going.
After speaking to the Kitchen Manager I was so impressed by the details in this restaurant. First off all the meats,fruits and veggies served are local to Florida. He's working closely with Fresh From Florida to bring only the best of the best to the menu. You realize quality is the number one priority for this restaurant. I should add if you happen to be by the pool at certain times you will smell the delectable aroma of smoked meats. I told you, no detail goes without notice! The quality will blow you away!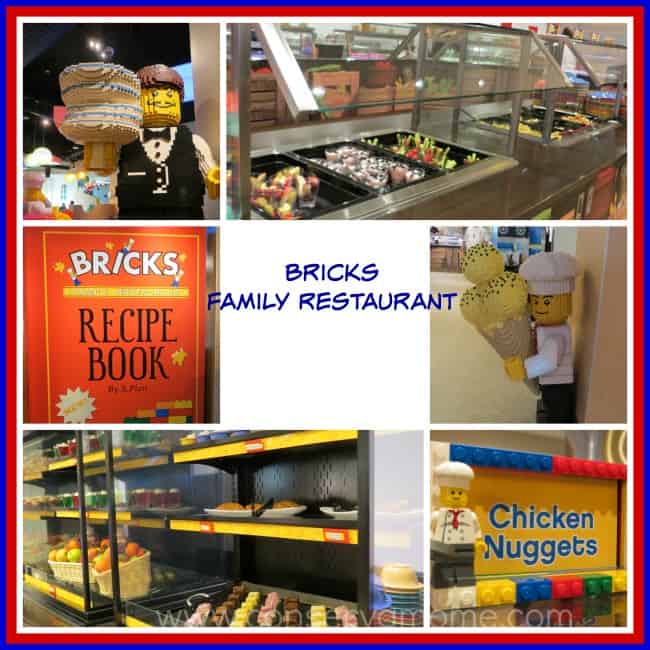 While enjoying your meal you will probably get a visit from one of the many Legoland characters,which include princesses, knights, Court Jesters and even explorers. So keep an eye out as well.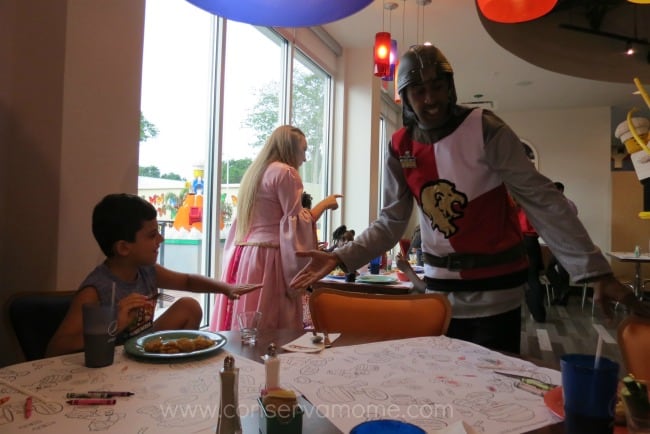 Another one of the dining experiences is the Skyline lounge which is located right next to the castle play area. I love this concept because it allows parents to sit back and enjoy a few cocktails while the kids play in the castle area. This allows parents to enjoy their vacation as well without the stress of trying to keep kids entertained because well even mom and dad deserve a break 🙂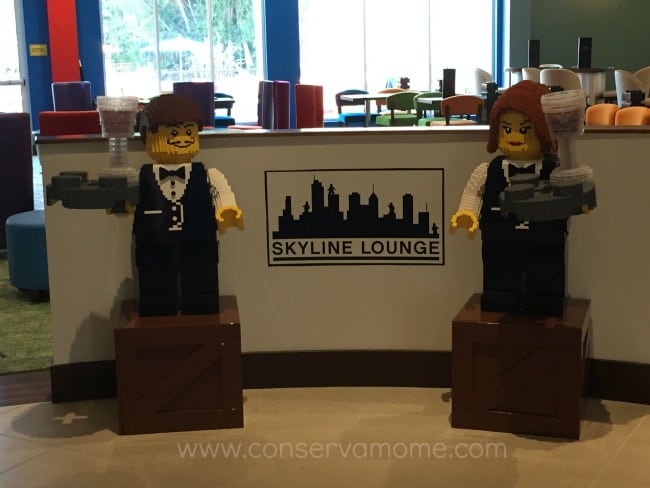 If you look beyond the Skyline lounge you'll find an actual Lego City scape. Make sure and look closely because you'll find some amazing details from Lego scenes to hidden surprises.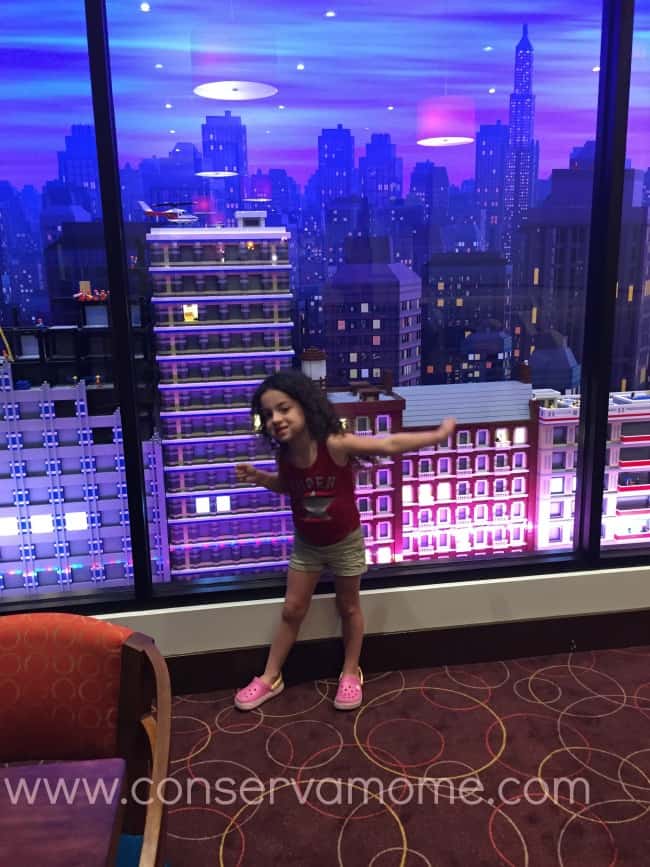 There are 4 basic themes to the hotel. The Adventure,Kingdom, Pirate and Friend's theme (this one is unique only to the Florida Hotel)
The Adventure themed room will get your little explorer ready to seize adventure. With so many incredibly details in every nook and cranny you'll wonder how they were able to fit it all in!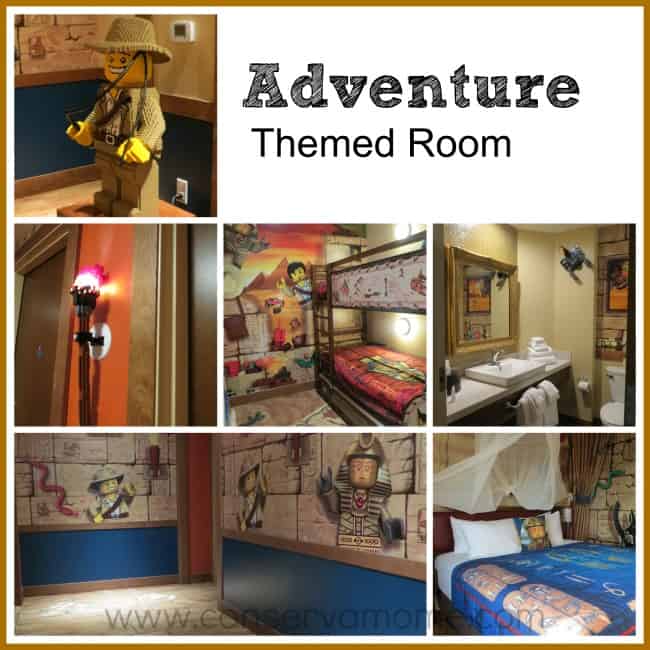 The Friends room is all things girly and fun. This room will have all the Lego Friends ready to enjoy the fun of of their Lego room bringing the five Friends from Heartlake City and their cute pets to life in this gorgeous room!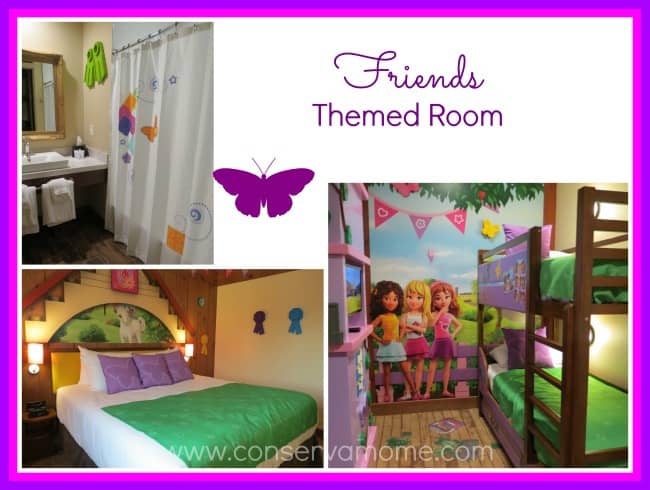 This room is such a royal treat! From Knights to Magic and more your little Royals will have a ball!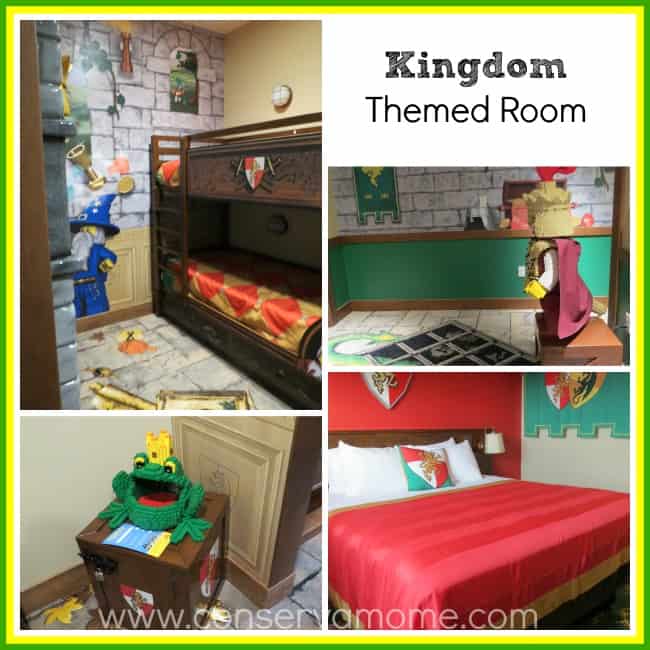 Although you checked out my Pirate Themed room, here's the Pirate VIP Suite. Each  Suite features a king bed and can sleep up to 6 people, with a living room, pull-out sofa, kids' play area and 3 flat panel TV's. If you get the VIP Suite you can also upgrade to the Ultimate VIP Experience which includes:
In Room Character Breakfast
Valet Parking
Evening Turndown service with bed time story
LEGO themed IPad loaned to Guest to use throughout their stay
Valet Parking
Private Check in area
Private Master Model Builder Workshop Experience
Evening Meal in Bricks Family Restaurant (excl alcohol)
VIP Pool Bag
Luggage Bell Hop collection to vehicle
So final thoughts on this hotel are simple. This hotel is simply a blast! My kids are already planning their next visit to the Legoland Hotel. Staying here has been such a treat and is truly a magical experience for all. Even if your kids aren't into Legos they will love all the resort has to offer.  What I loved about this hotel as a parent is that you truly get to enjoy it alongside the kids. You don't have the stress of worrying about them being excited and running around and enjoying all the features because this hotel is for kids and they want them to be kids and embrace their inner creativity.  Because this hotel includes so many amemnities you will get more than you pay for with the amazing breakfast, Lego Treasure hunt, Master builder classes, Nightly entertainment for kids and so much more. I can't wait for our next visit to Legoland Florida Hotel & Resort! So if you happen to be planning an upcoming vacation I highly recommend Legoland Florida Hotel & Resort!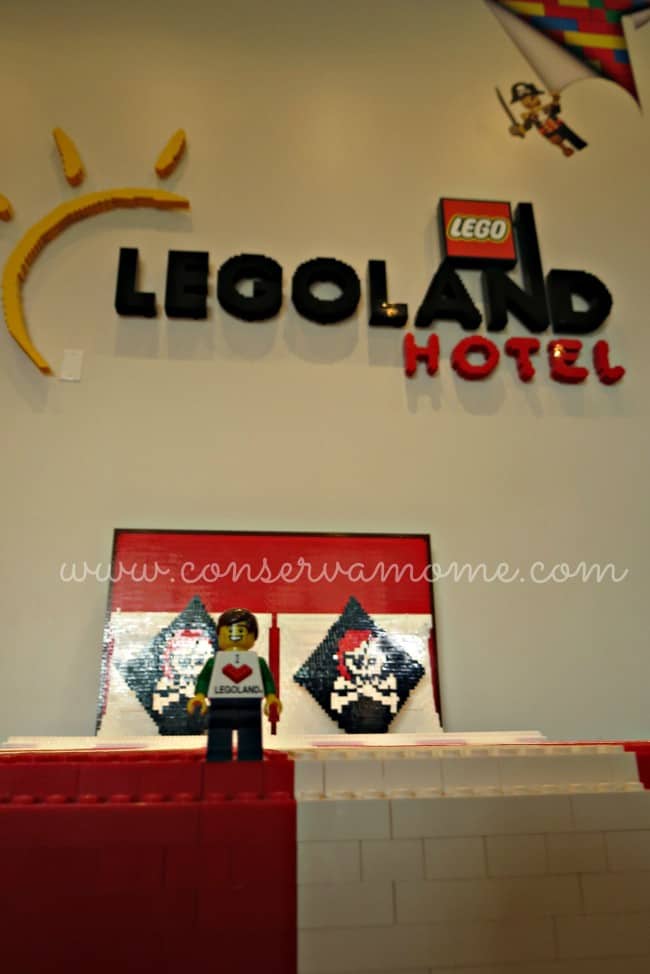 To find out more information or make reservations head over to the Legoland Florida page.
Don't forget to follow them on Facebook, Twitter & Instagram to keep up with all the latest news, specials and more!