This delicious Krispy Kreme Doughnuts Copycat Recipe will be a huge hit. Packed with the delicious flavors that have made these doughnuts a huge favorite, without the drive!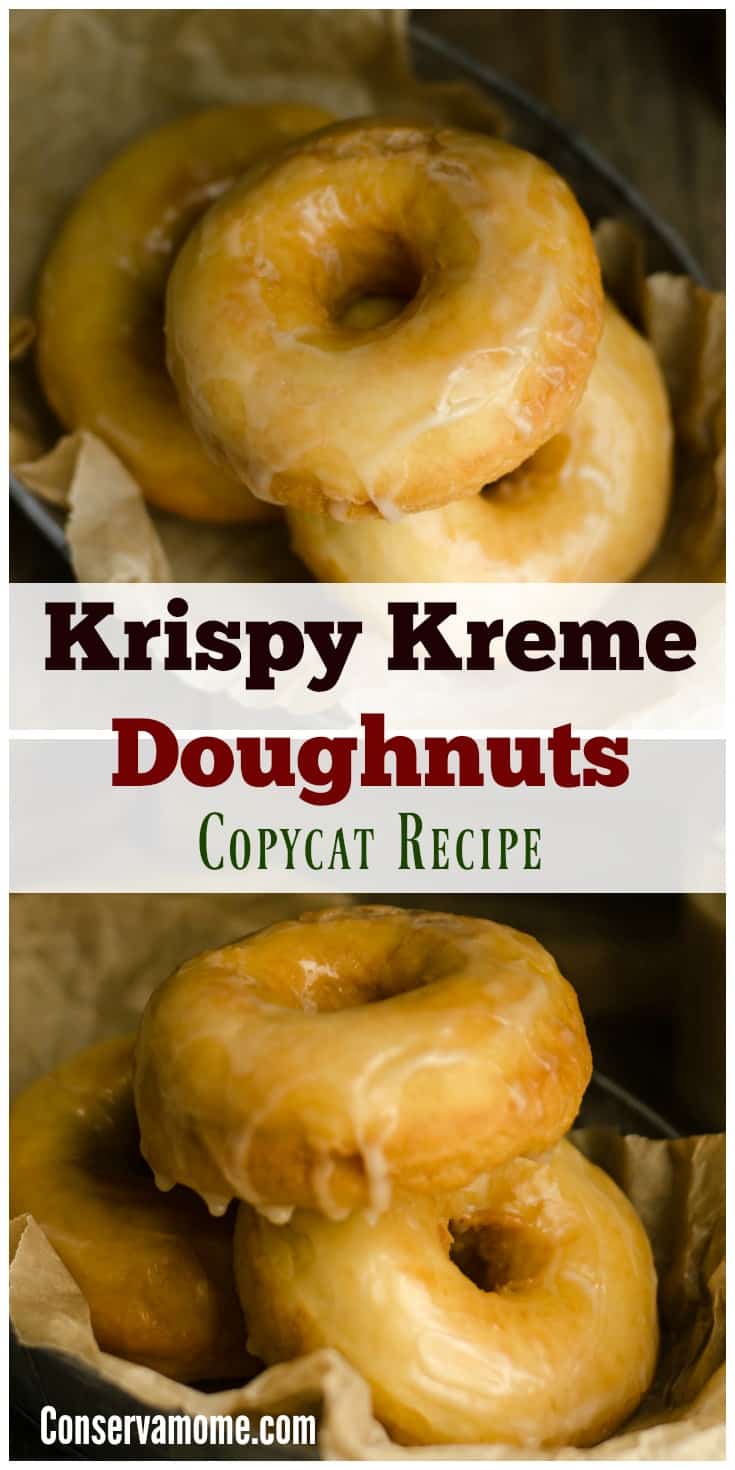 I simply adore Krispy Kreme Doughnuts. They are truly one of my favorite kinds out there. Sadly where we live in Connecticut there aren't any within a driving radius which makes me so sad. That beings said what's the next best thing? Making them from scratch, because lets face it nothing taste better than freshly made Krispy Kreme. This Krispy Kreme Doughnuts Copycat Recipe is so crazy easy to make you'll be shocked. Most important you'll be blown away by the delicious,authentic flavor.  Check out the recipe below.
Ingredients 
 For the Doughnuts: (makes 6, recipe can be doubled)
2 1/2 Cups of All Purpose Flour (plus little more if required)
1/4 Cup of granulated Sugar
1 packet of instant yeast
4 tbsp of lukewarm water (around 110 F)
3/4 Cup of lukewarm milk
1 egg, at room temperature
1/4 tsp salt
1/4 Cup of shortening or unsalted butter at room temperature (use shortening for more authentic taste)
Enough vegetable oil or shortening for frying (use shortening for more authentic taste)
For the glaze –
(whisk everything together into a smooth paste)
1 Cup Confectioners Sugar
1/2 tsp vanilla extract
2 tbsp of water
1 tbsp of butter
In the bowl of your stand mixer, add the water and yeast and let it stand for 10-12 minutes.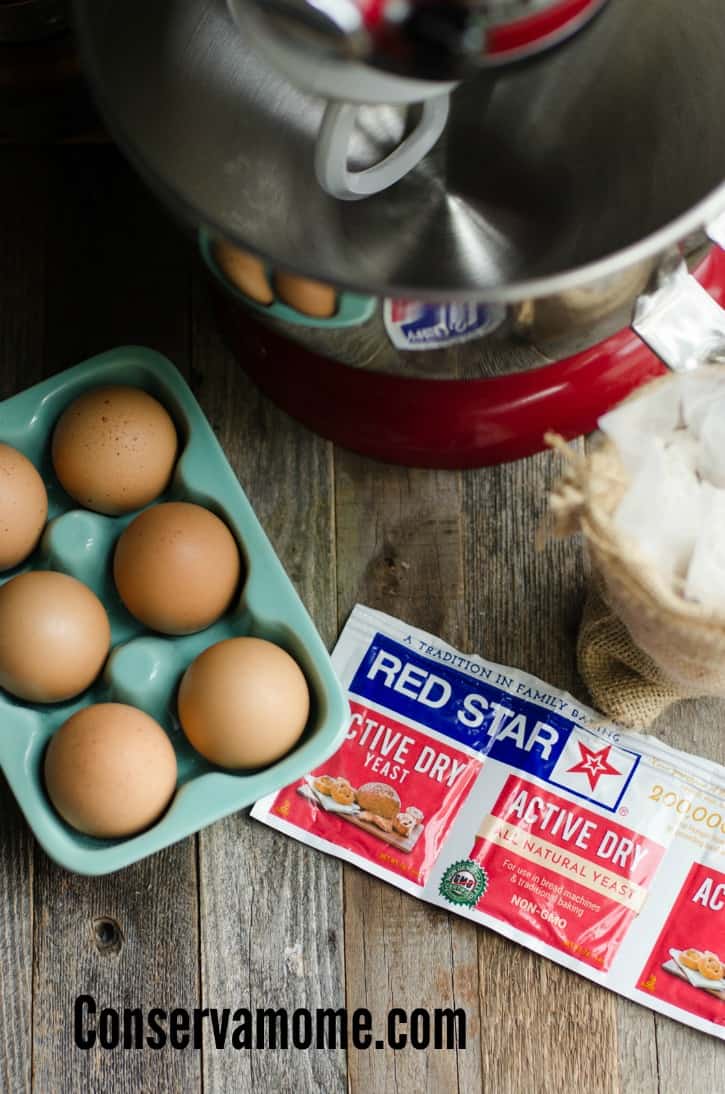 Next crack in the egg in a measuring cup and whisk it. Pour it into the bowl of stand mixer along with the milk and shortening/butter, about a cup of flour and salt.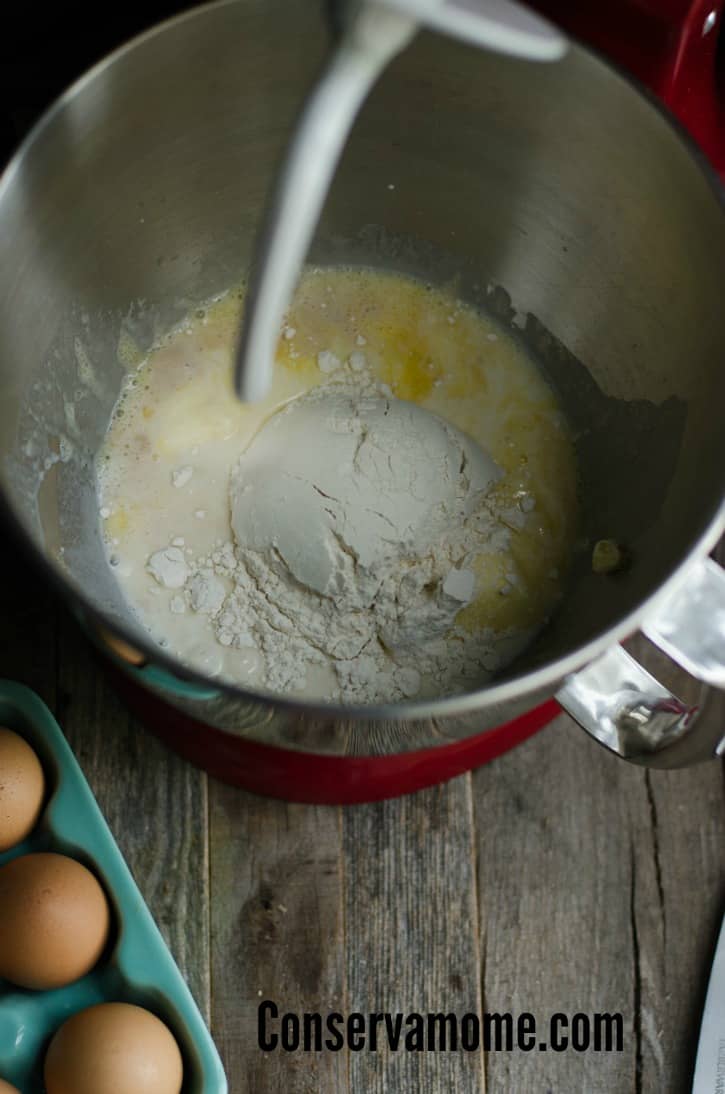 Mix it on medium speed for couple of minutes and then add in the remaining flour and keep mixing till combined.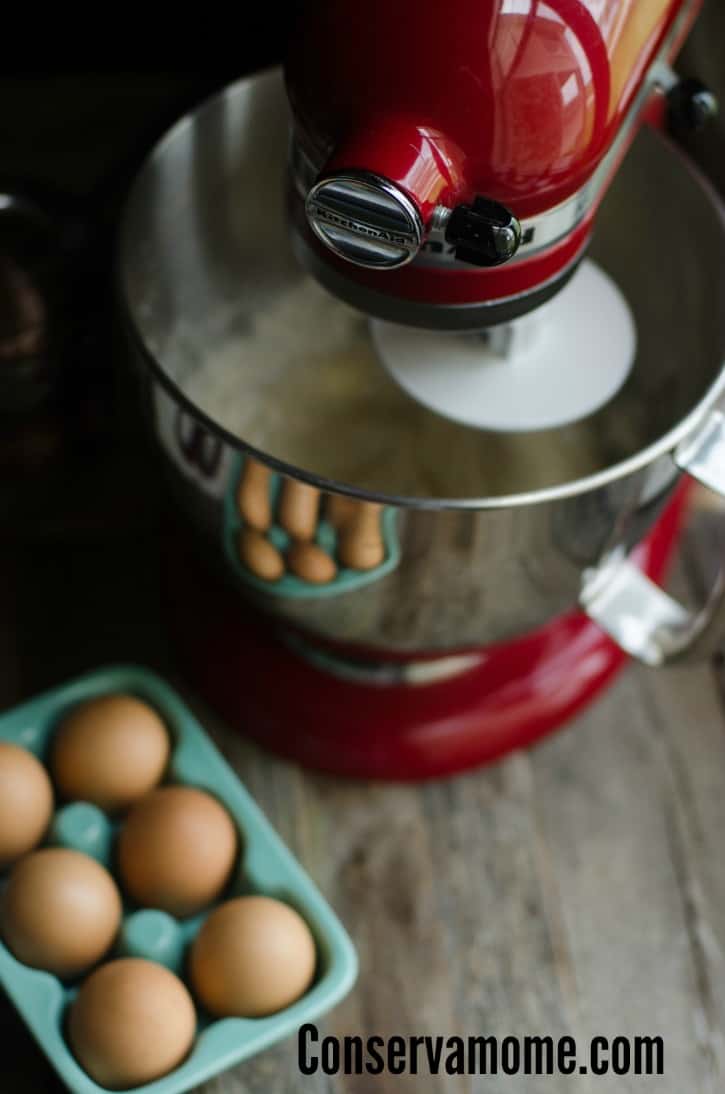 Cover the bowl with a towel and let dough rise for an hour. Dough is ready when the dent stays when you push down with a finger on it.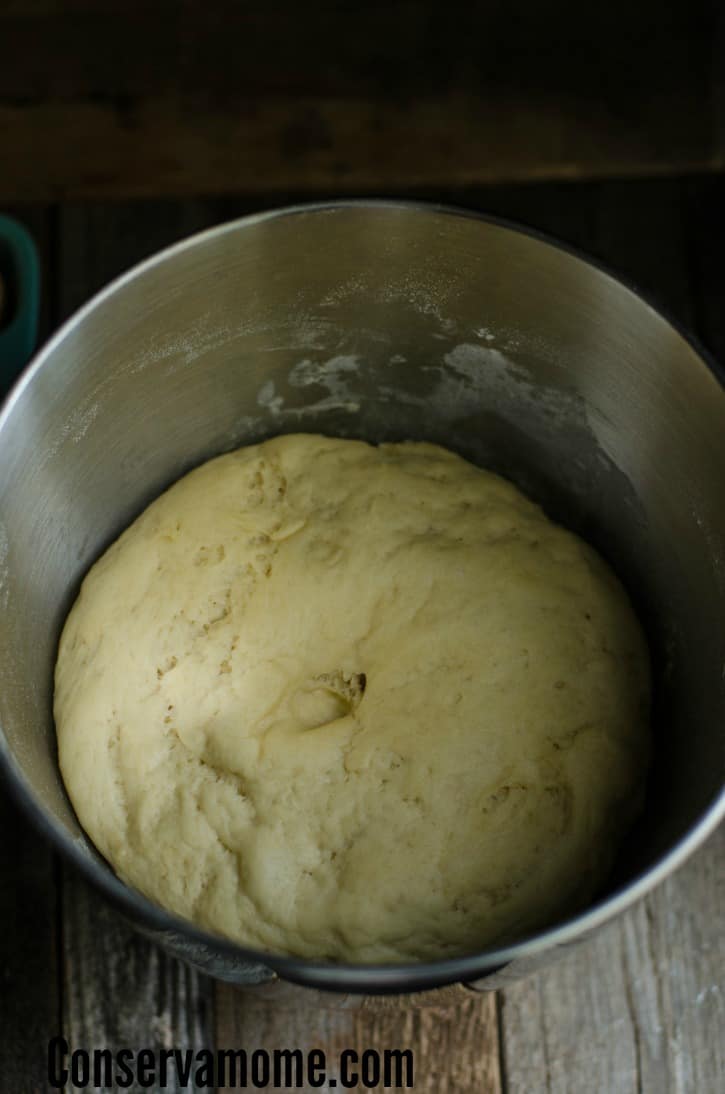 After an hour, take the dough out on a floured surface and roll it out to 1/2 inch thickness.
Cut using a floured doughnut cutter, cover and let it rise for another 40 minutes.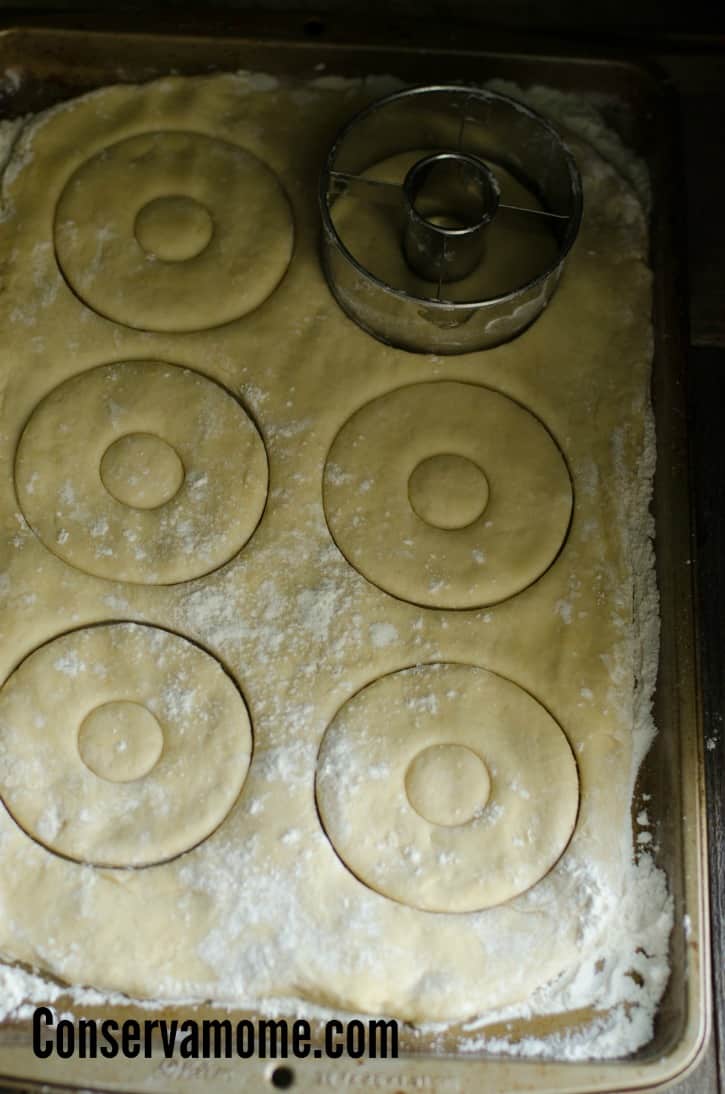 Heat vegetable oil or shortening, and once the oil is hot, slide the doughnuts in. Turn once the doughnut rise to the surface and fry till golden brown.
Transfer to a cooling rack. Once it is cool enough to be handled but still warm, dip it in the glaze and transfer it to the cooling rack.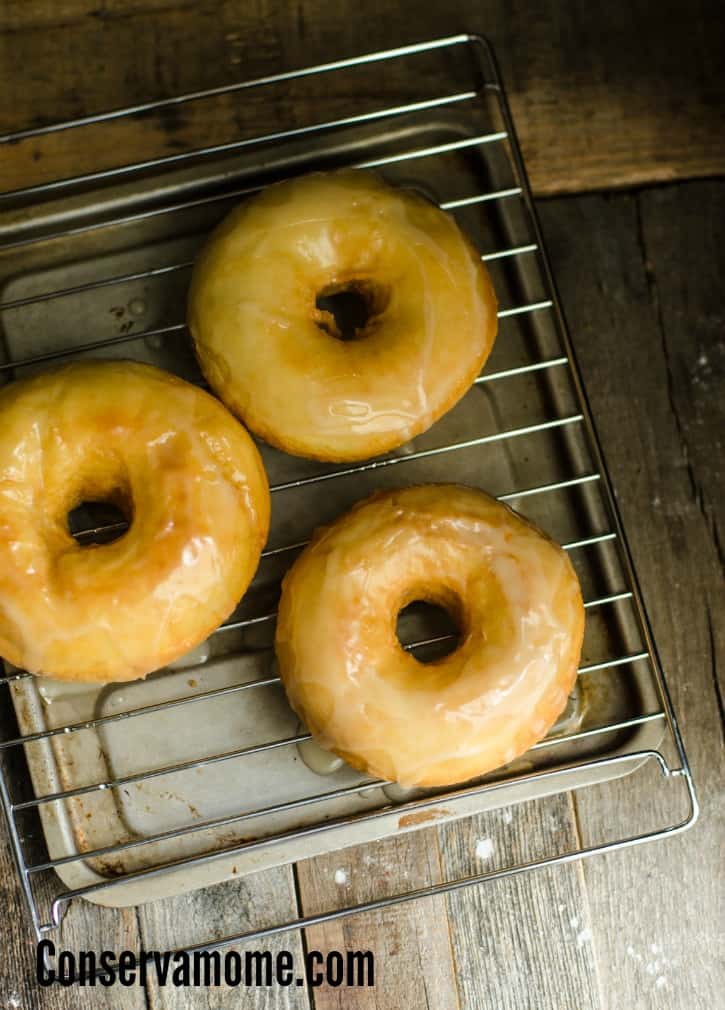 Don't they look heavenly? This is so easy to make and so worth the effort.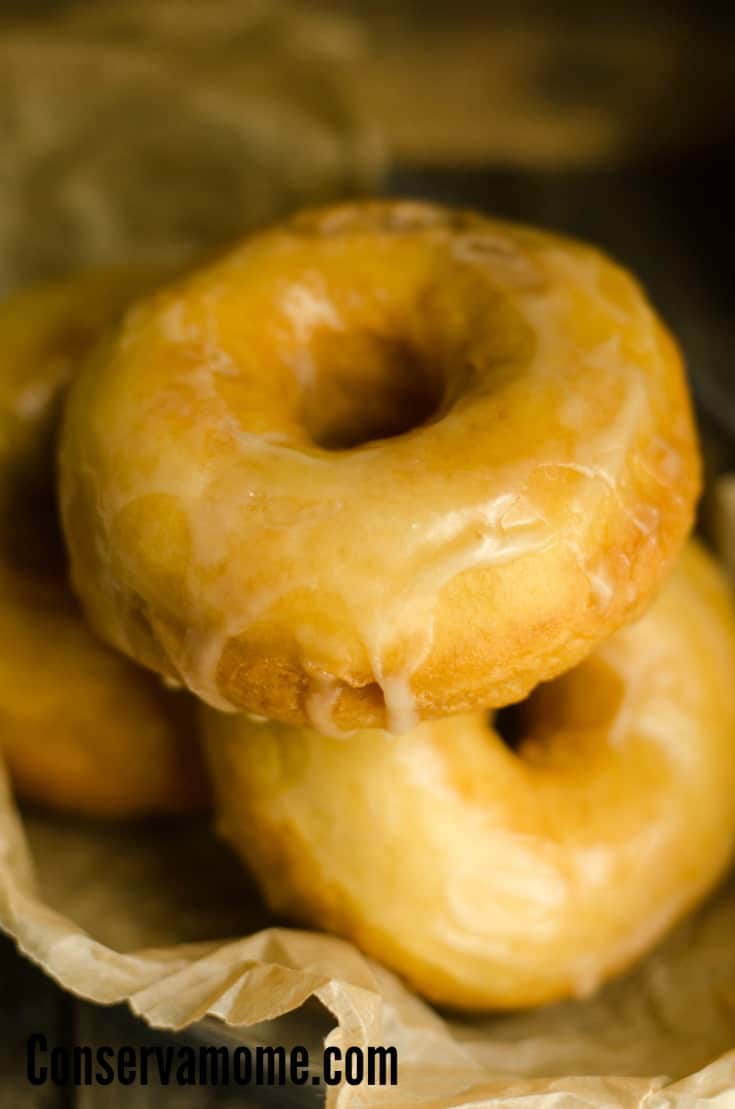 The end results are delectable Krispy Kreme Doughnuts that will be eaten right up!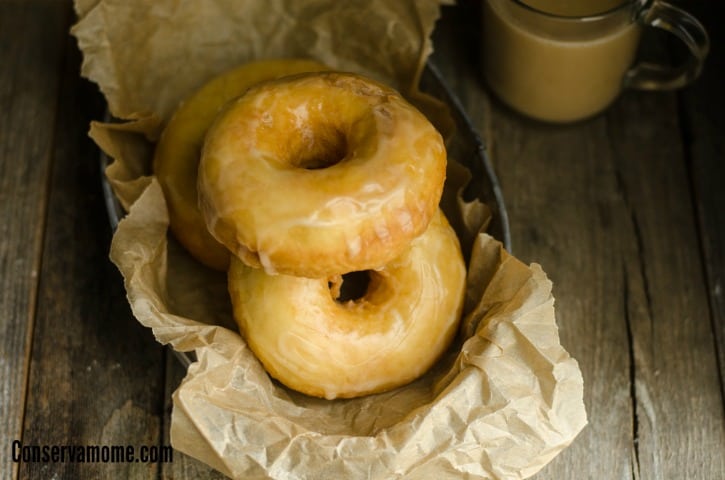 Enjoy!