Christmas is supposed to be fun and stress-free, rather than stressful. It should be simple and it should be more about the giving of yourself and your love rather than gifts. This is why I've put together this list on How To Simplify Your Gift-Giving This Christmas.
How To Simplify Your Gift-Giving This Christmas
We spend a lot of time filling our lives with
stuff
. We hit the Black Friday and Cyber Monday sales to have more things and we rarely take stock of what we are using all of those added things for. We're busier and we love the rush of earning money that we might not have had before, and we're spending a lot of time in the lead-up to Christmas. The holidays are an exciting time of year but in a world where we seek convenience, we are also spending more money – and it's getting complicated.
Christmas is a time for laughter, love, food, and family, but it's also known for the time of year that we give to others. We don't just give our love and time, though. We give gifts; more material things that we or they need, and we cram it all into a few weeks of the year. We pack our shopping days with social events and holiday activities and we don't make it easy on ourselves at all.
Whether you buy blank apparel and make it personal or you shop for the popular gifts of the year, you need to be aware of how you are doing Christmas. Something has to give, and simplifying your Christmas giving this year has to be it. You don't have to do Christmas this way. You can engage in the holiday without busting your budget and making life too stressful, and we've got a few of the best ways that you can simplify your gift-giving this Christmas.
Ways to Simplify Christmas
Don't wait. It's so easy to let life get on top of you and wait until the last minute to do all of your shopping. If you do all of your Christmas shopping early, you can enjoy the build-up to the holiday without any of the crowds and stress when you have to get out to the stores to pick up what you need.
Some people wait until Black Friday to do their shopping as they will be able to get it all done before December even hits. You get more time to devote to your shopping this way and there's much less traffic and worrying about getting stuck in the elements this way.
Go online. Is there really a better option to shop? Pulling up a chair (or sofa) and working all your shopping out online is one of the easiest ways to get it all done without having to brave any crowds at all. Going out can be far more stressful than staying in and when you shop online you have a wide choice and variety of stores and areas to buy from. It may not be the best idea to both wait until the last minute AND go online, though because when you do this you risk shipping being too late.
Don't split your shop. If you're going to a Christmas shop, get it all done at once. You can then smart shop and know what you're doing. You will be engaged in buying gifts even if it's from more than one store and you can set the date on your calendar to do it.
Make a list. Santa Claus makes a list and checks it twice so why can't you do the same? You should consider making a list of the people you're buying from, the stores and the gift and then you can sort them in order of store and collate them all. Online lists can also be built so that when people ask you what you want for Christmas, you can tell them there and then by sending the list to them.
Utilize as many apps as necessary. Don't be afraid to split your Christmas shopping across a few apps. There are apps to plan gifts, organize gift lists, arrange Secret Santa, and more. You can also guarantee that there are apps out there that are designed to help you to get the best deals this year. They'll show you the coupon codes that you need to be successful.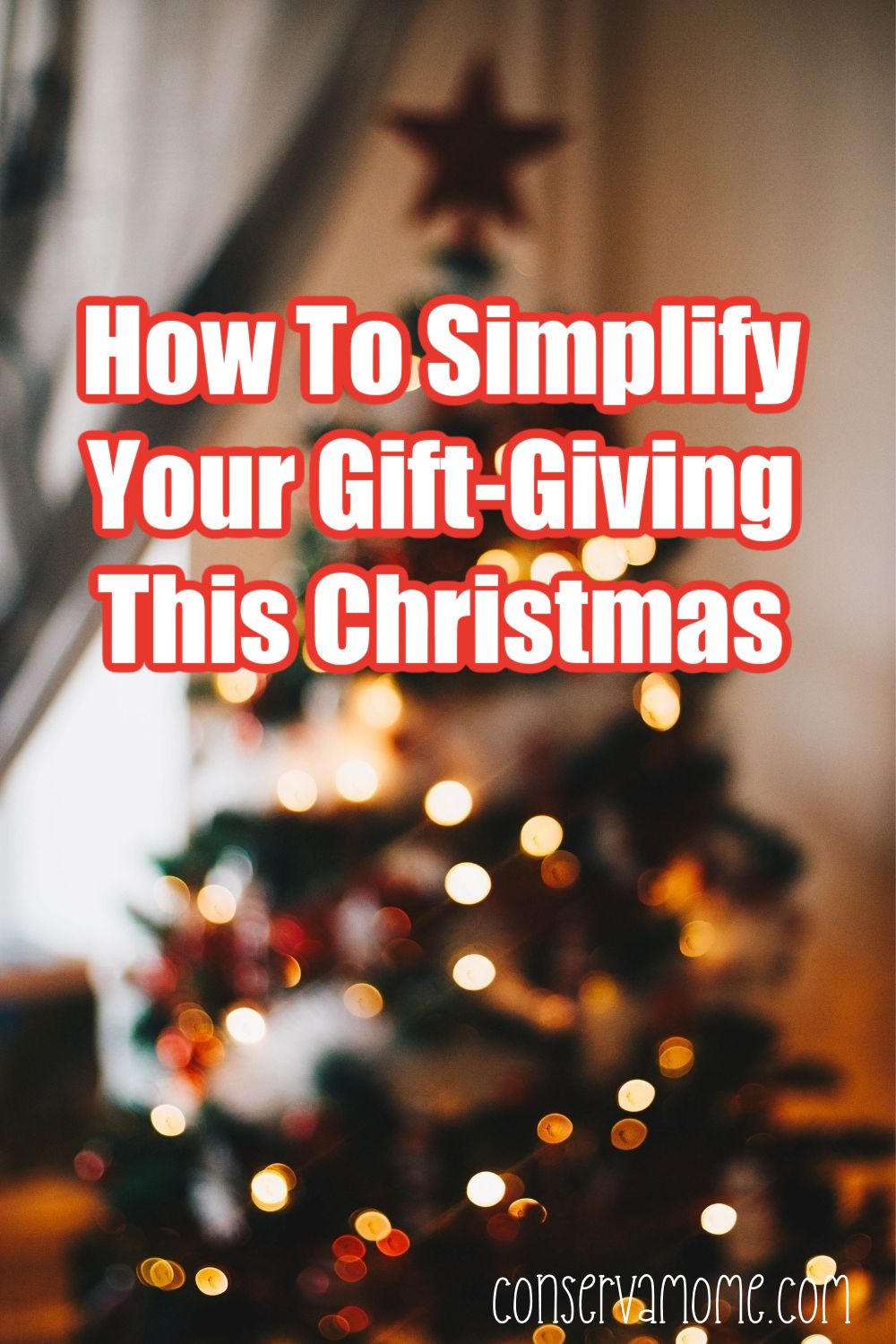 One-Stop-Shop for Christmas
Try to get everything from one store. If you can imagine trying to shop between ten stores, you will be happy with the idea that you can buy everything you need to get from the one store. When you have a one-store strategy, you can have it all covered in no time at all and your shopping will be done!
Set money and time limits. It's so important that you simplify your Christmas by placing boundaries on your wallet. It's very easy to keep shopping and buy all of the things in the store, but if you set some limits for yourself you're not going to do that and you're going to get only what you need. Once you make your list, stick with it and make sure that your budget sticks to it, too. You can even set limits as to how many gifts you buy for each person – even the kids!
Make a list of things to buy every year. If you're spending money on the same people each year, you tend to get a flavor for what people like – even the elders of the family. You'll know the exact gifts to buy for specific people, and you can start buying these in sales throughout the year and then stash them in the house somewhere. If there are things that you buy that aren't gift-related, then buy them in the sales after Christmas and you'll get some awesome deals on them. Create a list of the non-gift things that you shop for and make a point of buying them as often as you can.
Create a calendar. For six months in advance of your Christmas shopping, it's important that you create a schedule to make the entire thing as simple as possible. You don't have to record it all on your phone, you can make sure that your calendar is up on the wall and visible to you. If you go shopping through the seasons, you'll be far more likely to stick to a plan if you map it out properly. You want to simplify your gift-giving, too, so make sure that you calendar the days you plan to hand out the gifts, too. This will make it so much easier to go and visit the right places and people!
Wrap as you buy. It's always so tempting to leave the wrapping until the last minute when you are buying for Christmas, but it's always a better idea to wrap your Christmas gifts as you go. If you buy a bunch of gifts, wrap and tag them on the day and get them bagged and hidden again. If you really can't fit in the time to do it, then pay someone else to do it for you. It can take the weight off your shoulders if you pay someone else to wrap the gifts for you, and you don't have to spend too much money to do it. You could keep the gifts you wrap for others under your tree until you hand them out and you'll have a pretty decoration to look at!
Christmas is supposed to be fun and stress-free, rather than stressful. It should be simple and it should be more about the giving of yourself and your love rather than gifts. However, 'tis the season to be generous, and now you know how to do it in the simplest possible manner.