This is a sponsored post written by me on behalf of Fisher-Price. All opinions are 100% mine.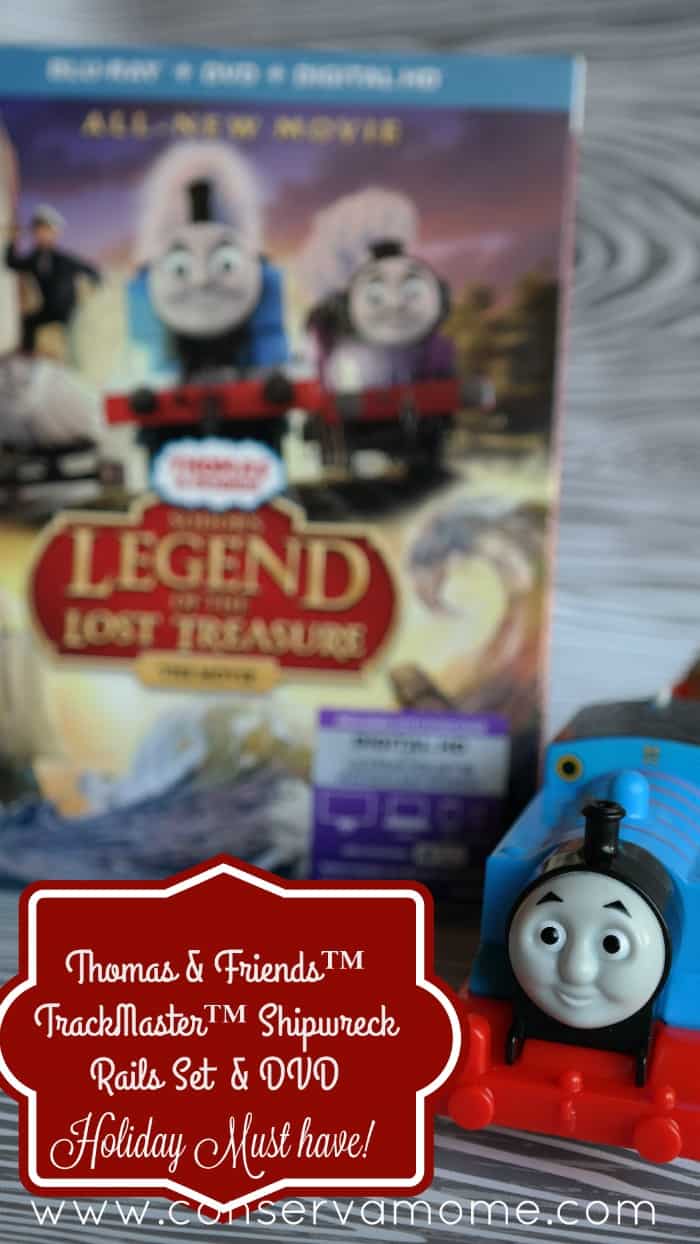 We've been a Thomas & Friends family since my oldest was little. Although he's 9 he still loves the wonder and magic of Thomas and Friends. So much so that he's passed that love on to his 3 year old little brother. So when we had a chance to check out the new Thomas & Friends DVD, Sodor's Legend of the Lost Treasure & Thomas & Friends™ TrackMaster™ Shipwreck Rails Set from Fisher-Price .I knew these would be a huge hit in our home. So much so all of my kids ages 5 months to 9 years were mesmerized by this fun toy! However, the one who definitely fell in love and complete awe was 4.0!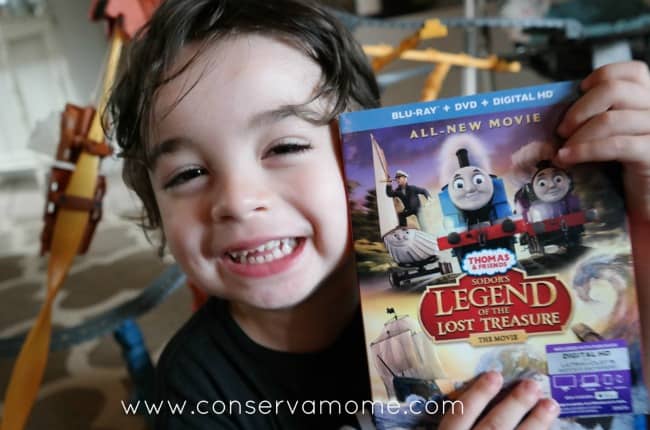 This combo is a definite must. To begin the adventure your little engineer can watch Thomas and his friends dig up their most daring adventure yet in Sodor's Legend of Lost Treasure DVD. Unearthing an old pirate ship, Thomas is on the hunt for Sodor's lost treasure. When Thomas rocks the boat with some new friends, trouble soon rushes in. Will Thomas track down the treasure in time or will Sailor John set sail with it? Join Thomas & Friends™ in this explosive movie adventure! The voice cast includes a host of big stars including Eddie Redmayne, Sir John Hurt, and Olivia Colman. You can check out the preview here http://www.thomasandfriends.com/en-us/moviestv/sodorslegend.html and can be purchased at Walmart for SRP: $26.99 (DVD Blu-Ray Combo) $19.99 (DVD) | Once your little engineer has enjoyed Thomas' new adventure they can reenact all the fun on the Thomas & Friends™ TrackMaster™ Shipwreck Rails Set (CDB61).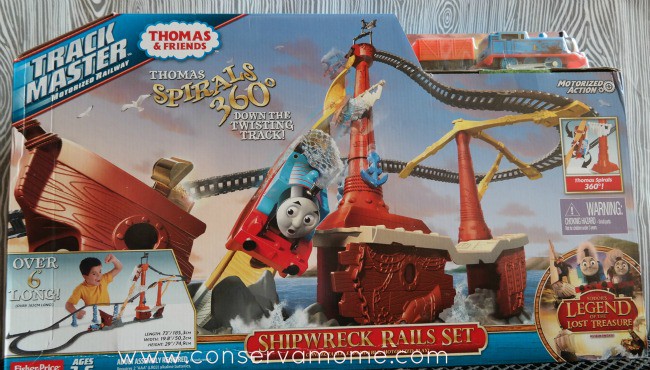 This amazing set that retails for $59.99 and is available at Walmart will have your Age: 3+ years little ones jumping for joy!Inspired by the Thomas & Friends™ DVD, Sodor's Legend of the Lost Treasure, the TrackMaster™ Shipwreck Rails Set from Fisher-Price captures all the adventure of the movie. It easily comes together with picture instructions that my 9 year old put together in no time!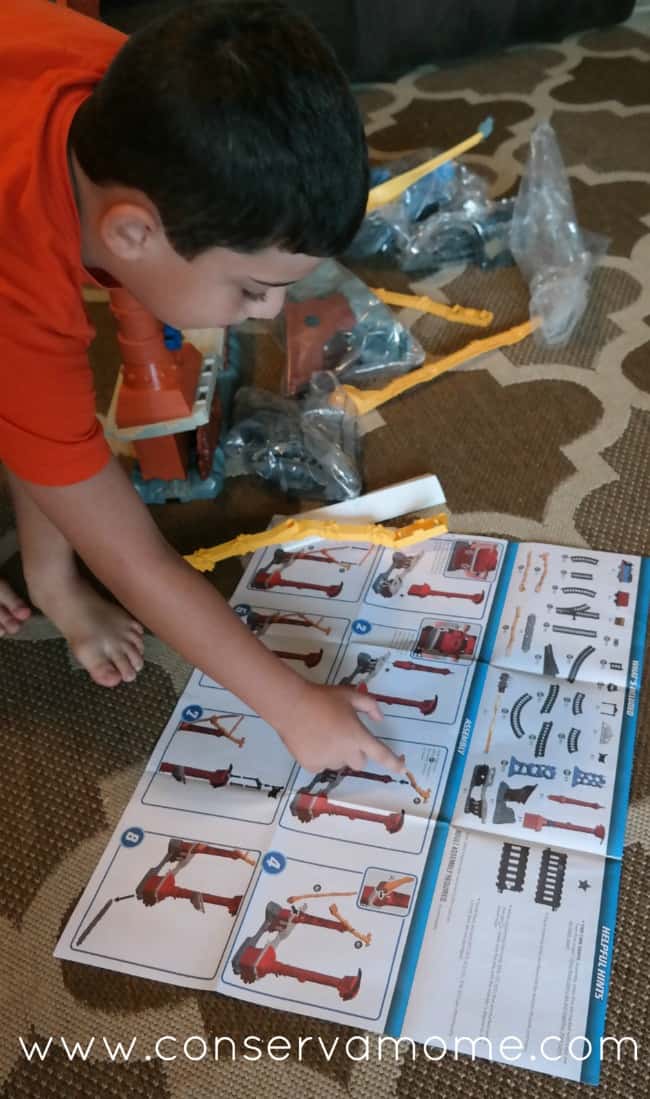 Once it's put together get ready for thrilling, jaw-dropping play as Thomas navigates the perilous Shipwreck Rails! This fun set will be hours of fun for your little one.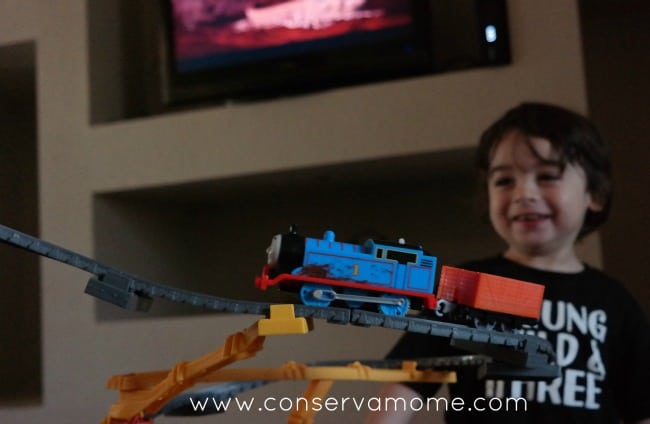 Not only will it provide a fun adventure for them but you can teach them so much while playing with it. From directions like up and down to even some early physics as they grow older. After climbing the long, steep incline to the top of the ship's mast, Thomas plunges towards the deck and completely turns upside-down as he speeds along the spiral track! When he reaches the bottom, he'll discover the lost treasure! This set makes for a perfect combination of Fun, Adventure and learning.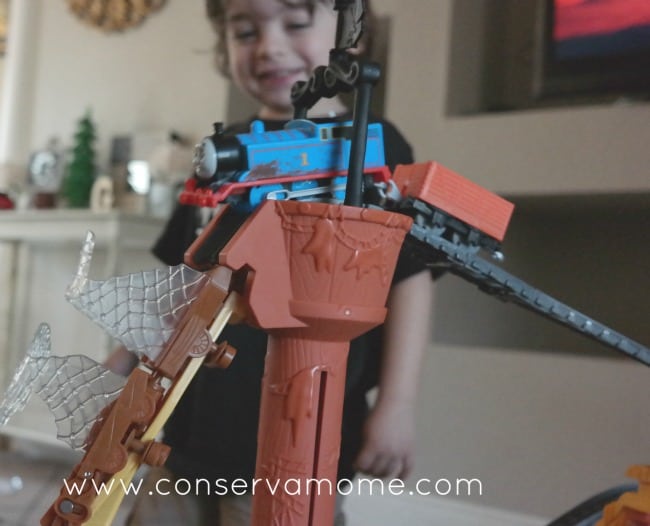 Featuring incredible, upside-down spiraling action, cool molded ship detail, and an auto-reset function that allows continuous play, the TrackMaster™ Shipwreck Rails Set delivers an action-packed playtime experience that's sure to amaze any Thomas fan.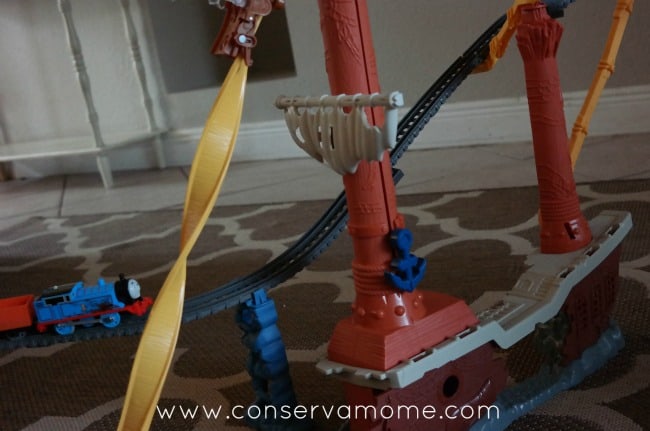 The DVD and track make for the perfect Christmas gift for any Thomas & Friends Fan. This TrackMaster™ set is compatible with all other TrackMaster™ sets, allowing your little engineer to continue to expand on and explore the exciting world of Thomas & Friends ™ TrackMaster™. Purchase the DVD and Playset at Walmart
Check out how fun it is to see Thomas in action on this fun Trackmaster set!