Everyone in the house will love the flavors of this eggnog punch. It's the perfect way to get your tastebuds into the holiday spirit quickly! All you need are three simple ingredients and five minutes!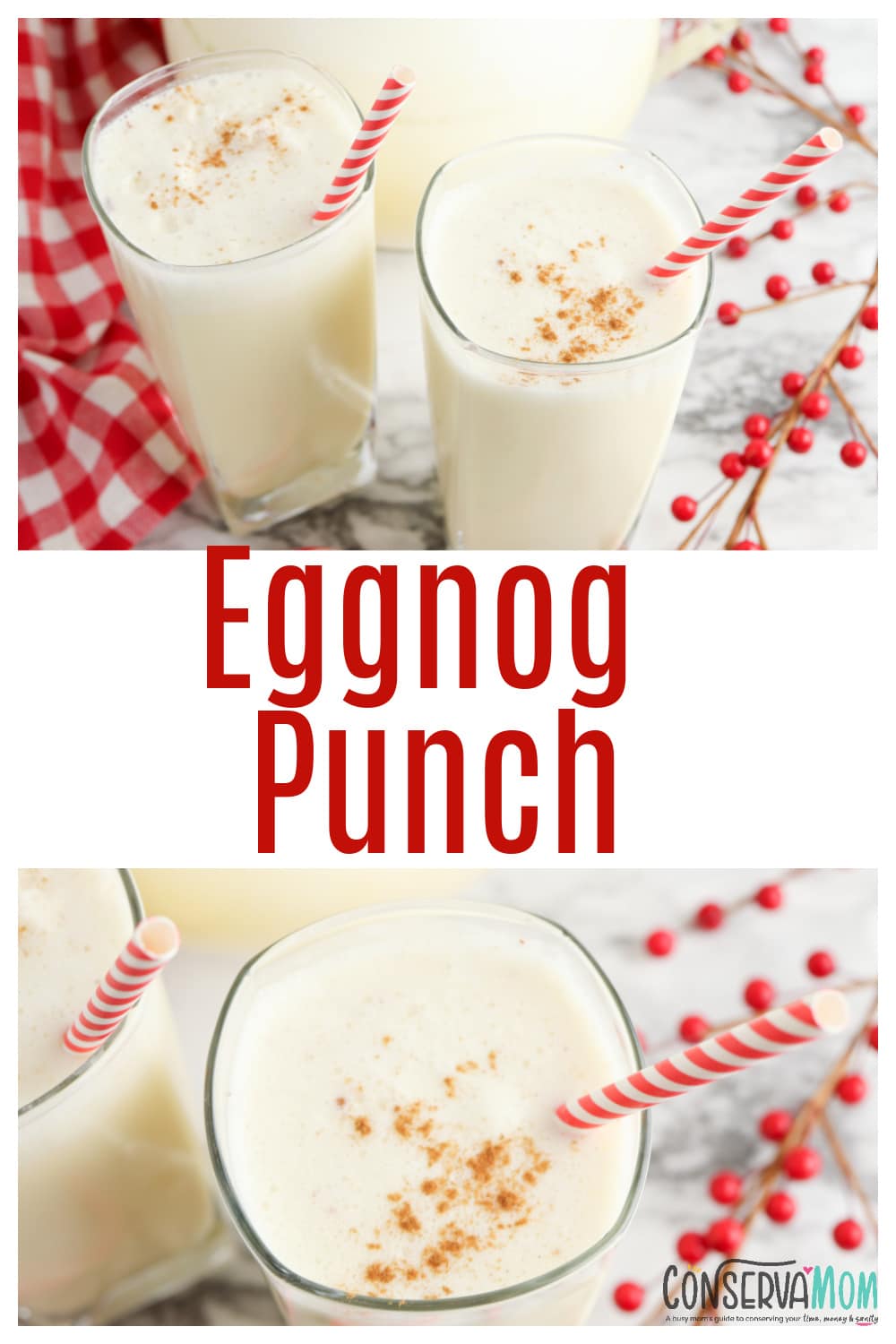 Once Christmas rolls around, our house is constantly thinking about eggnog. Not only do we crave it, but we love making it together as well. The one thing I love about this easy punch recipe is that it couldn't be easier to make.
Eggnog Punch
And "technically" it's a drink, but we also think of it as a dessert – because it has ice cream in it! There's always room for ice cream, especially when you're drinking it.
The other really fun part about this simple eggnog recipe is that each person can easily change up the taste of their own glass. Sprinkling on a little cinnamon, adding a little whipped cream, or even putting adding some pumpkin spice are all great options and toppings suggestions.
Make this up for your next family movie night at home or even as a fun drink recipe for your holiday party or holiday table. It's so good – you can't go wrong!
Makes 10 servings
Prep time: 5 minutes
Ingredients:
1 quart vanilla ice cream, softened
1/2 gallon eggnog
8 cups ginger ale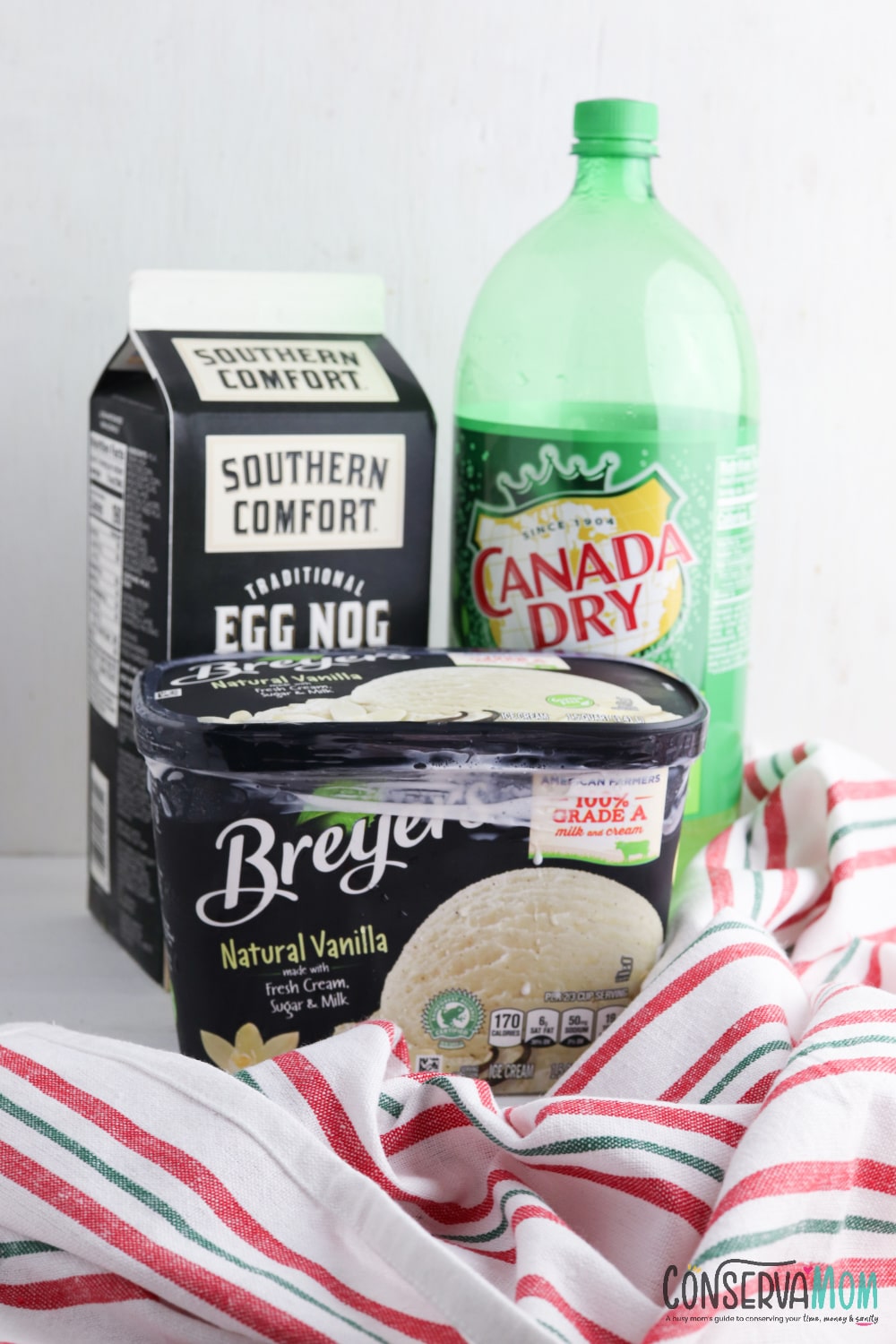 Instructions:
Scoop the ice cream into a large punch bowl or pitcher.
Add the egg nog and stir to mix.
Slowly add the ginger ale and stir.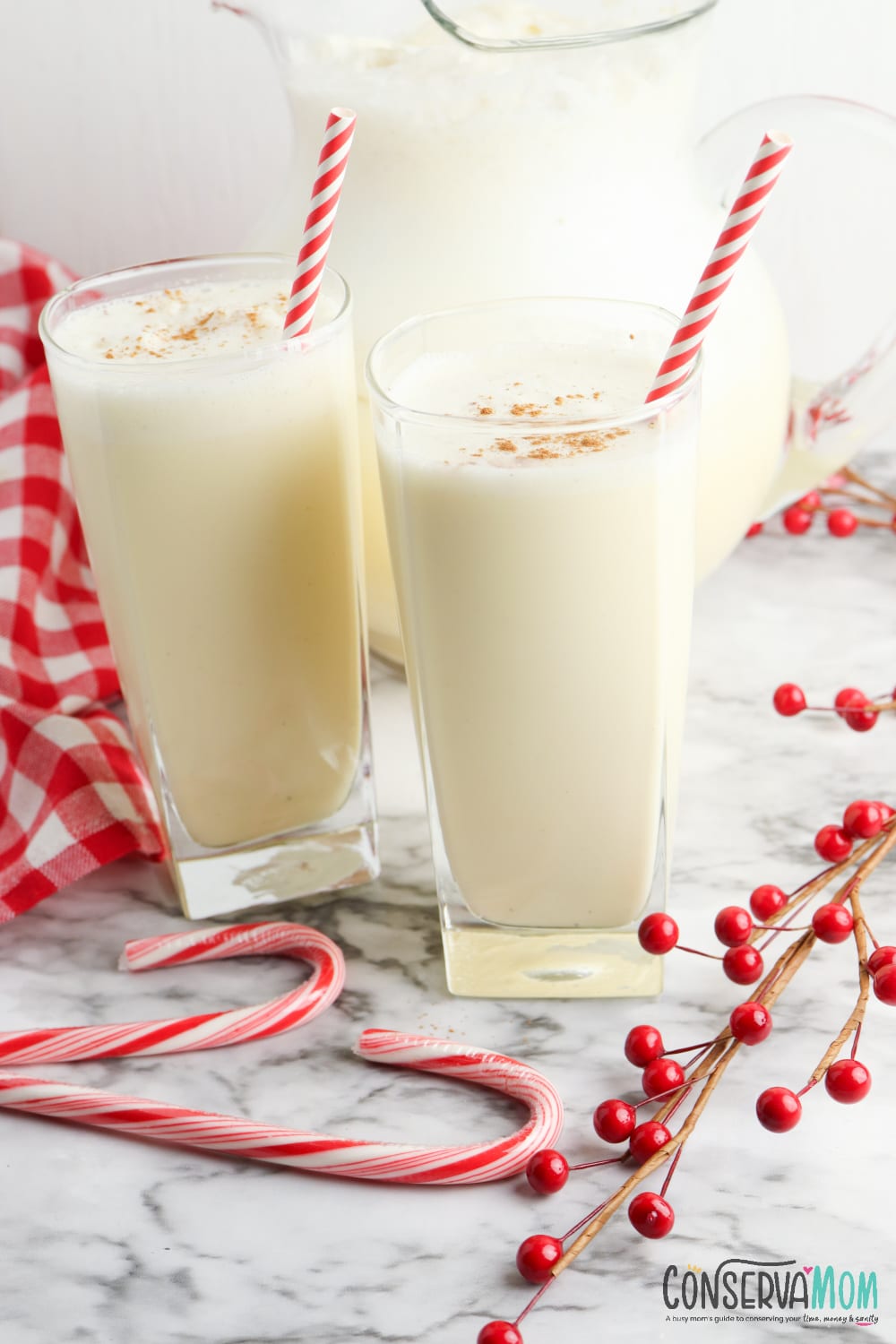 Tips
Adding a dash or two of cinnamon is a fun twist – and let the kids help with this part. Shaking in that cinnamon and stirring it is a lot of fun!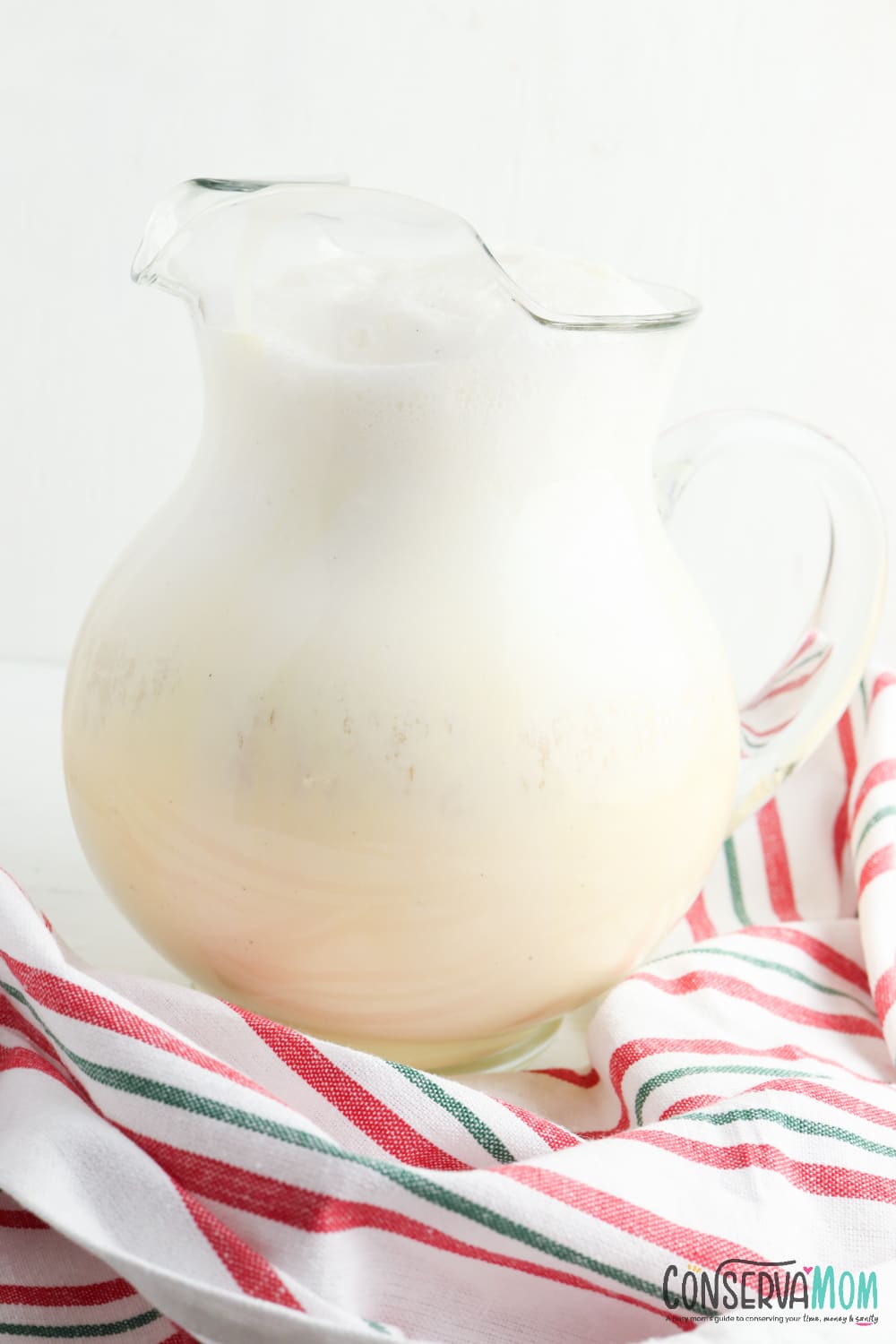 Can I make this eggnog punch in advance?
Since this is such a simple recipe, I recommend that you make it right before you're going to serve it. That way, it's fresh and cold and delicious.
If you make it early and then try to store it, the ice cream isn't going to stay in that creamy consistency, and you'll end up with a drink that will still taste good but won't look quite the same way.
Can I freeze this eggnog?
Even though there is ice cream in this punch recipe, I still stand by the fact that it's the best fresh. Once you create it, it's best to drink it all rather than try and save some for later.
If you feel that this is going to make too large of a portion, you can always halve the recipe as well!
What pairs well with eggnog?
Cookies and sweets, of course! The best way to serve up this eggnog is to have a glass of it in one hand and a cookie in the other. I love having a little platter of holiday cookies out on the table because it just adds to the festive and delicious fun.
And just in case you need some delicious ideas, check out my Kitchen Sink Christmas Cookies. They would pair perfectly with the sweet flavor of this punch. (so would my Oreo Chocolate Chip Cookies Recipe!)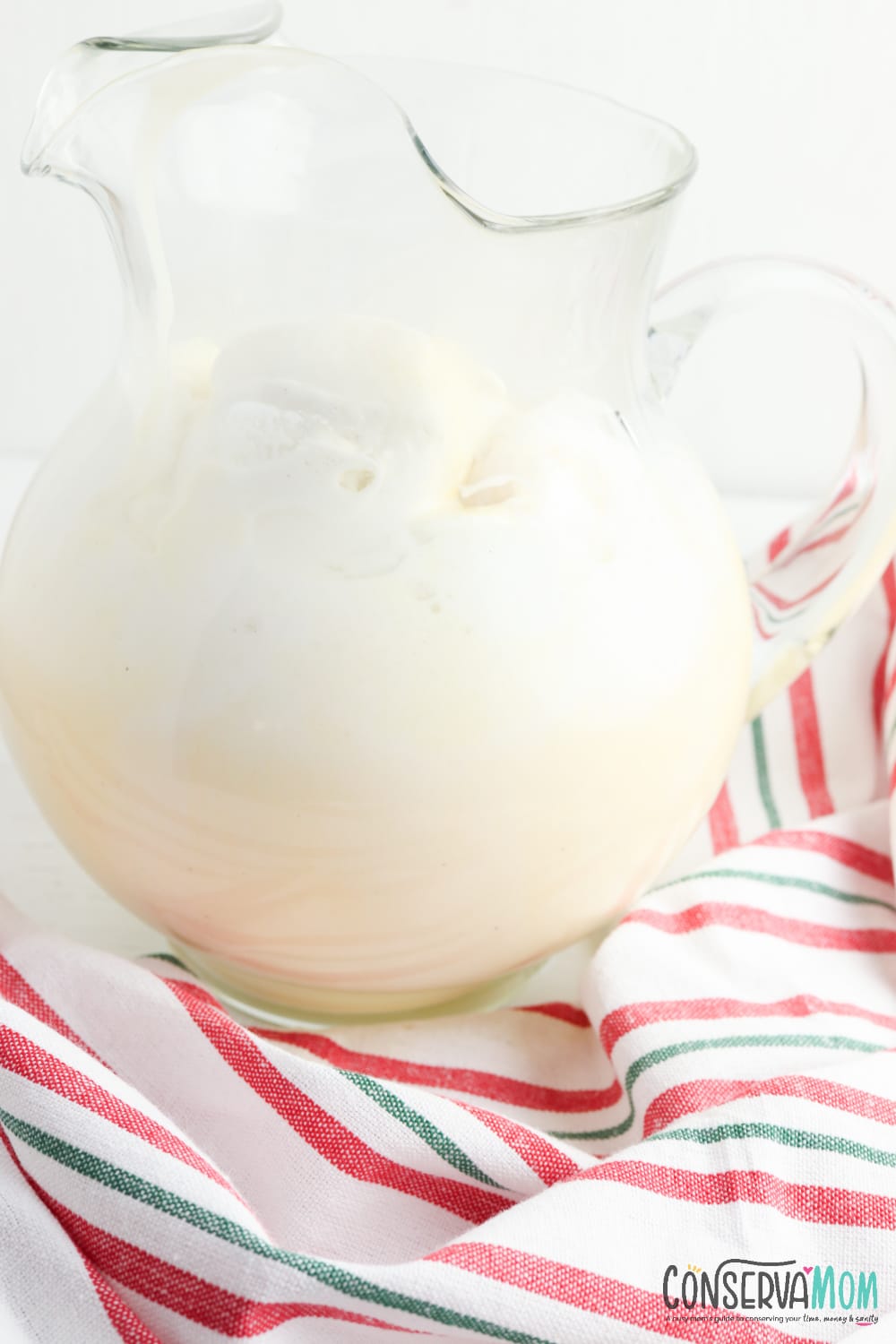 This eggnog punch recipe is a fast and simple holiday drink for all ages to enjoy!
Ingredients
1 quart vanilla ice cream, softened
1/2 gallon eggnog
8 cups ginger ale
Instructions
Scoop the ice cream into a large punch bowl or pitcher.
Add the egg nog and stir to mix.
Slowly add the ginger ale and stir.
Nutrition Information:
Yield:
8
Serving Size:
1
Amount Per Serving:
Calories:

443
Total Fat:

18g
Saturated Fat:

11g
Trans Fat:

0g
Unsaturated Fat:

6g
Cholesterol:

179mg
Sodium:

207mg
Carbohydrates:

57g
Fiber:

0g
Sugar:

56g
Protein:

14g