Making a patriotic dessert was never easier! Check out the Easiest Ever Patriotic Red, White & Blue Cake Recipe. Your guest will be blown away by it's beauty, you'll be blown away by how easy it was to make!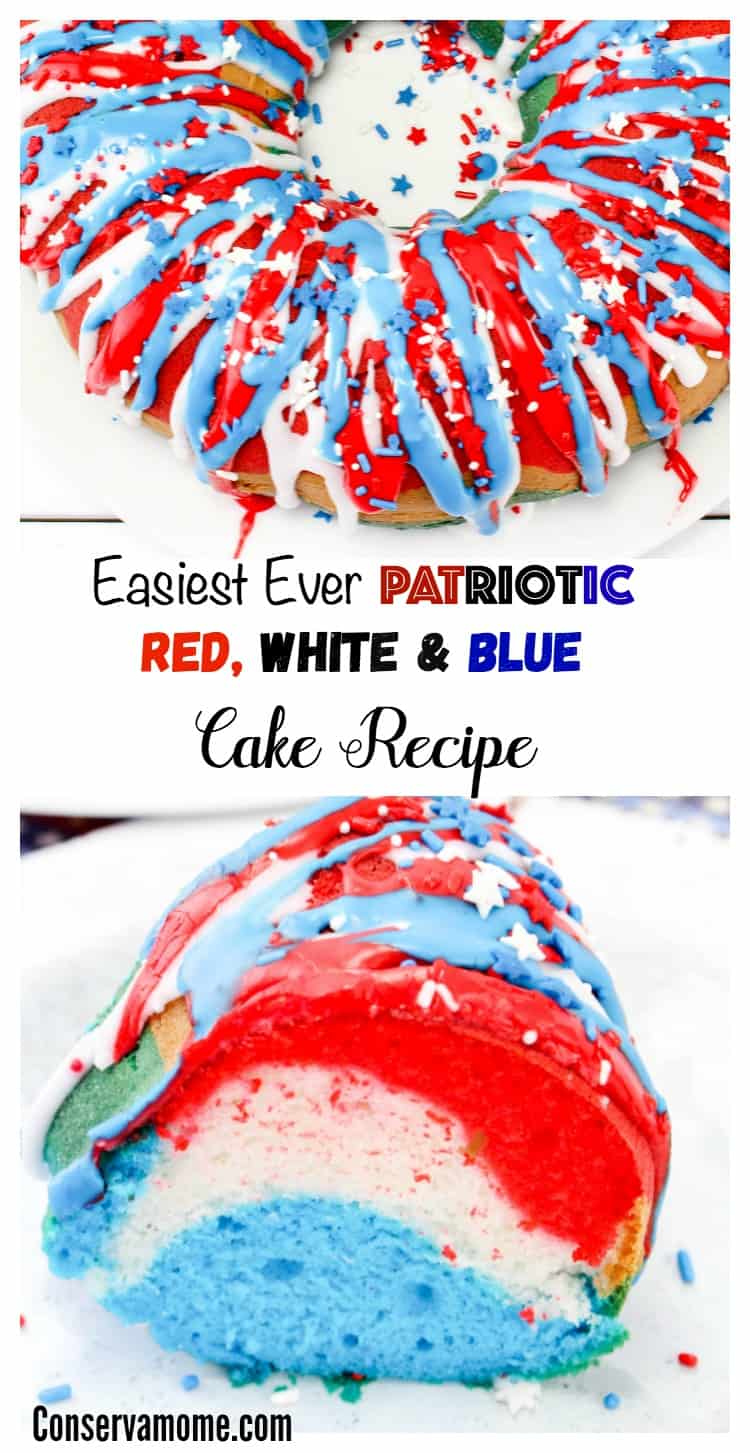 Easiest Ever Patriotic Red, white and Blue Cake recipe
It's almost summer which means you'll be getting ready for some fun patriotic parties and get togethers. Putting together the perfect dessert was never easier thanks to this Easiest ever Patriotic Red,White and blue Cake.
This delicious and beautiful cake won't just taste wonderful but it will make people think you took an elaborate course in baking just to complete it.
You and I will both know how easy it was to make. So head below to check out how easy it is to create this gorgeous patriotic masterpiece 🙂
So head below and check out this patriotic recipe below.
What you'll need:
– 1 White Cake Mix
– 4 Egg Whites
– ½ cup Oil
– 1 ¼ cup Water
– 2 cups Powdered Sugar
– 4-5 Tbsp. Milk or Water
– Blue and Red Food Coloring
– Patriotic Sprinkles
Directions
1. Preheat oven to 350 degrees.
2. Prepare cake mix using the egg white recipe from the back of the box.Divide the batter evenly into 3 separate bowls.
Color one bowl of batter red, another blue, and leave the last bowl of batter white.

3. Grease and flour a Bundt pan. Put the red layer of batter in the pan, then add the white batter layer,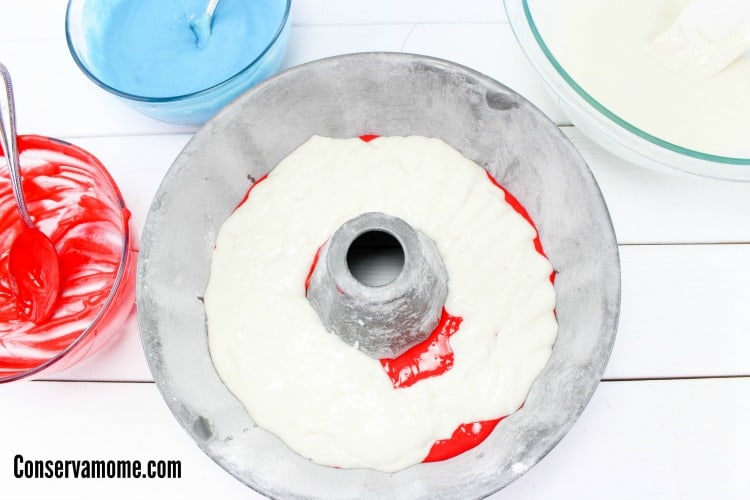 and finally layer the blue batter on top. Tap the pan a few times on the counter and bake the cake per package directions.

4. For the glaze:
mix the powdered sugar with the 4-5 tablespoons of milk or water until you have a runny frosting, but not too runny. It should be able to pour but thick enough that it stays on the cake as it runs down it. Add more or less
liquid as you need to.
5. Divide the glaze evenly into 3 bowls, and color one red, one blue, and leave the other one white.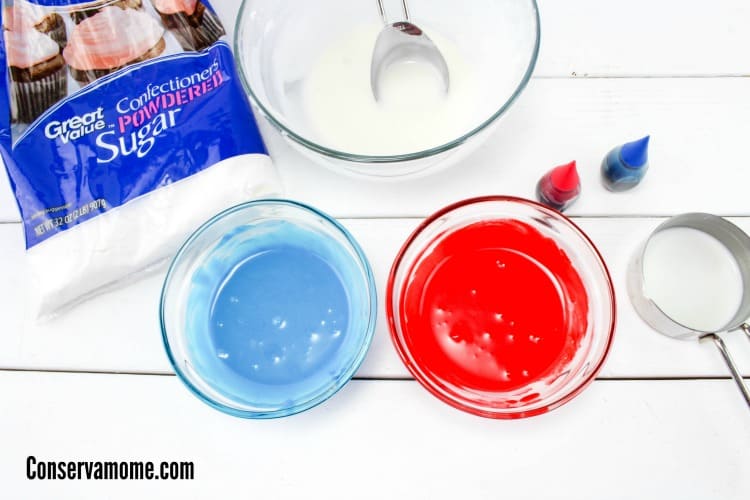 6. After the cake is done baking, remove from the pan, and cool completely.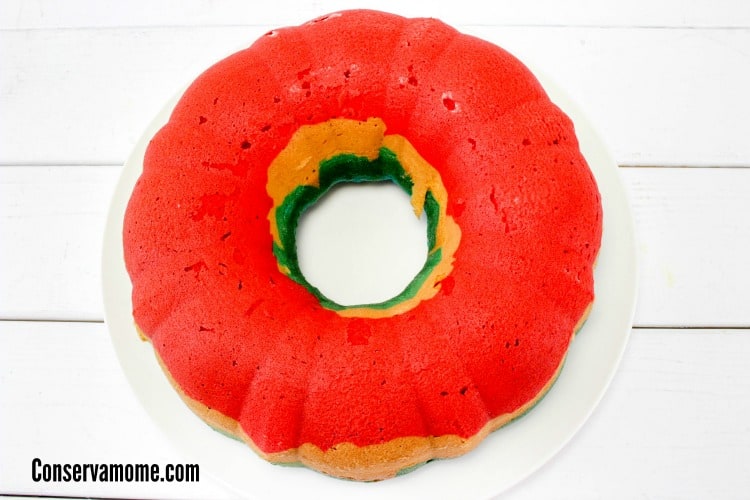 Spoon the glaze over the top so it runs down the sides. Alternate colors so it looks red, white, and blue.
Add sprinkles all over the glaze right away before the glaze hardens.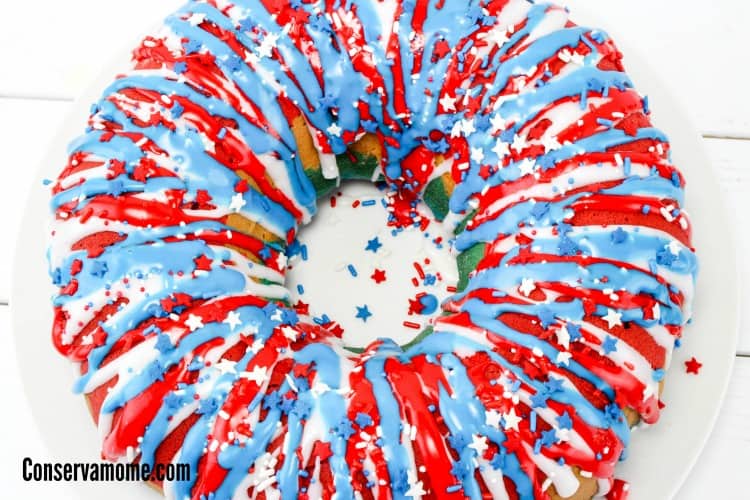 7. Enjoy this fun cake for your Memorial Day or 4 th of July celebrations!
Doesn't it look simply wonderful? Most important it's a delicious treat that will blow your guest away at how cool it looks, yet you'll know how easy it was to make.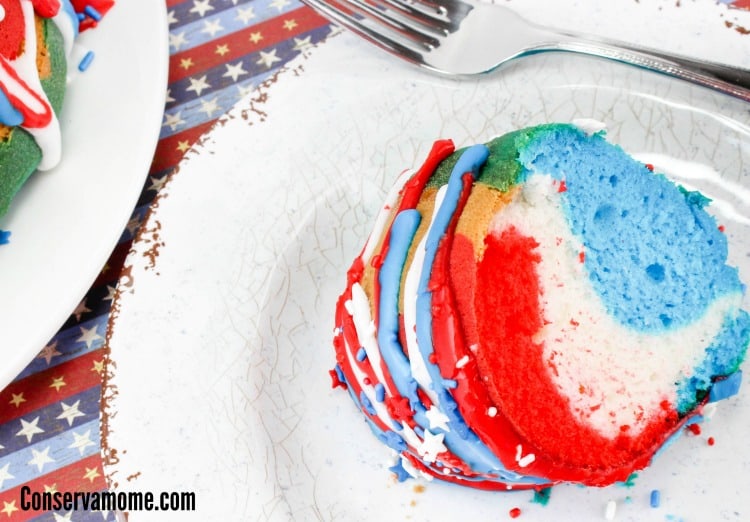 Are you looking for more Patriotic fun?
Make sure and pin this fun recipe below or share it with others so they can make this delicious patriotic cake recipe.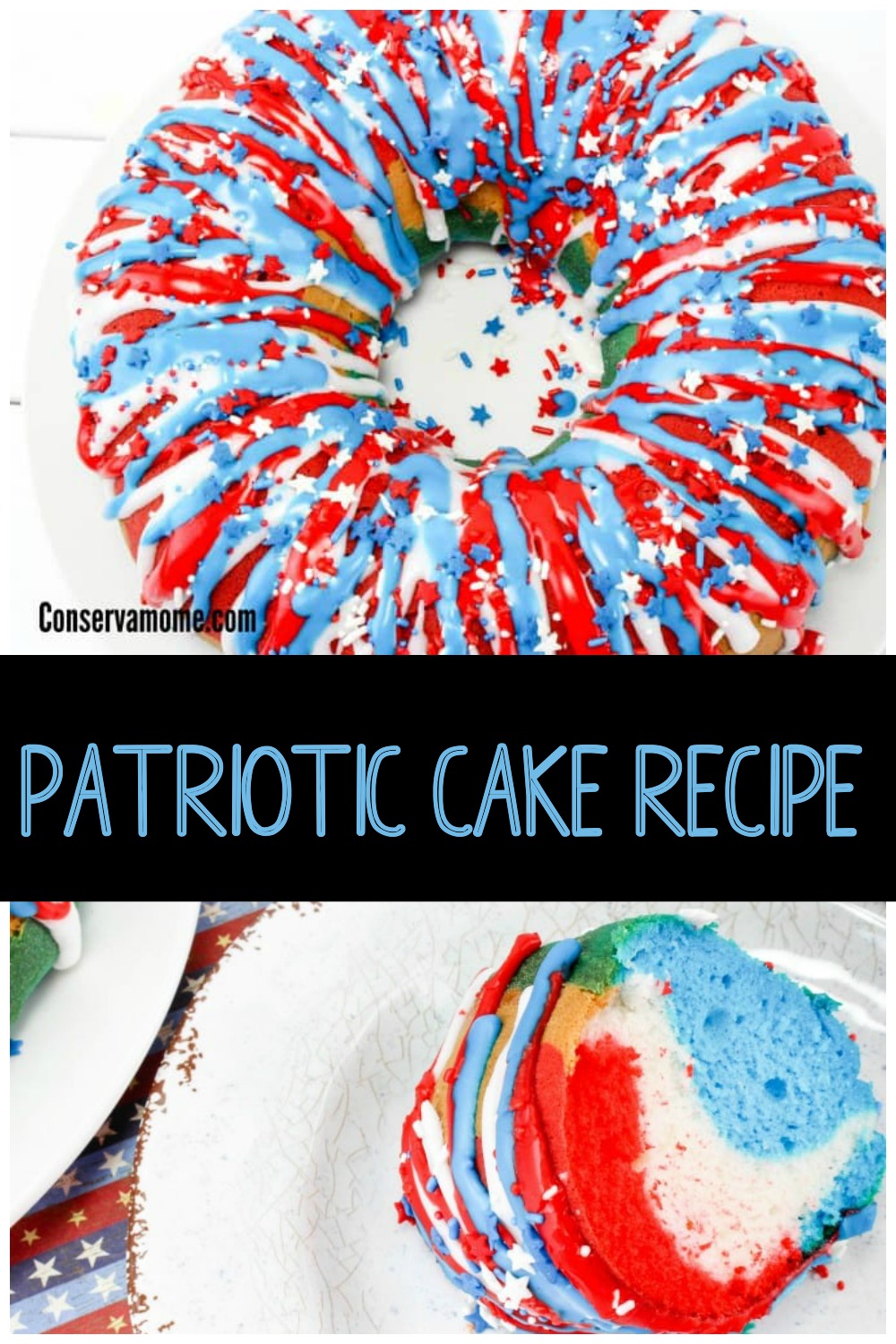 Check out 60+ Patriotic Crafts perfect for Fourth of July, Memorial day and more!