If you're a fan of Rae Dunn then you've come to the right place. Check out how easy it is to make these DIY Rae Dunn Inspired Christmas Ornaments that are inspired by Rae Dunn's farmhouse style.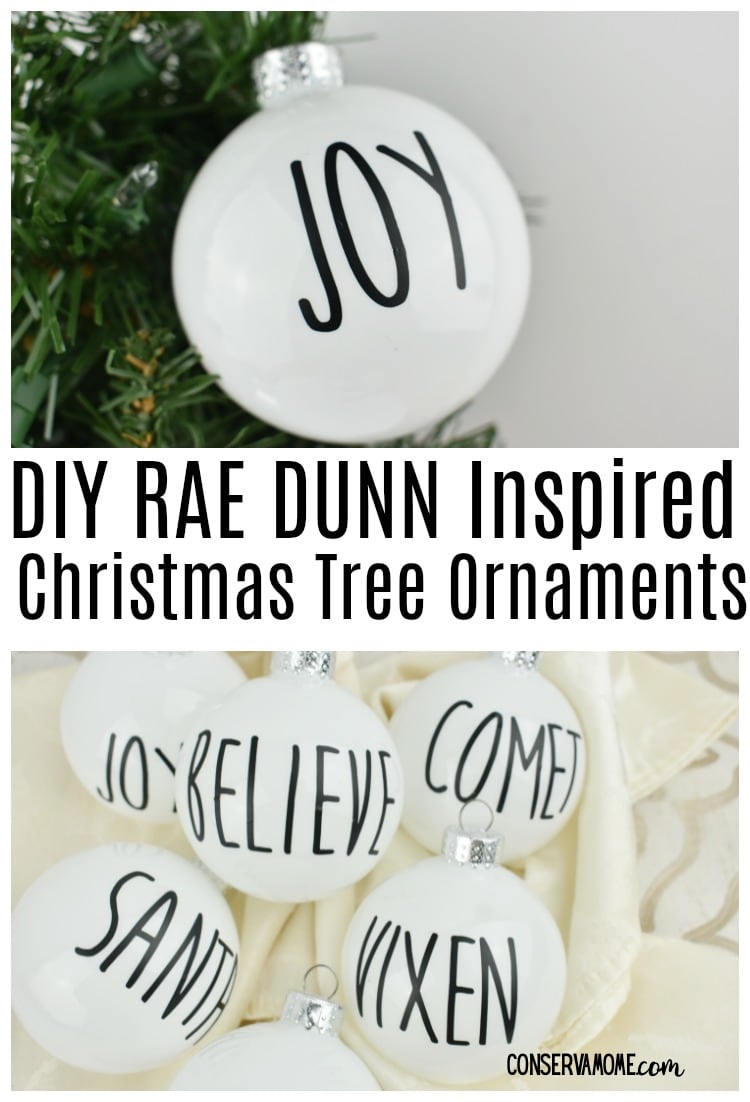 *This post contains affiliate links. That means that if you make a purchase after clicking on a link I may earn a small commission at no extra cost to you.
DIY Rae Dunn Inspired Christmas Ornaments
I am in love with Rae Dunn. I have been steadily growing a collection of Rae Dunn home decor. However, there are some things that are harder to come by or may carry a hefty price tag. With Christmas almost here I am already getting the house ready for all things Merry and Bright and what better way to get your home Christmas perfect then with gorgeous Rae Dunn Christmas Tree Ornaments.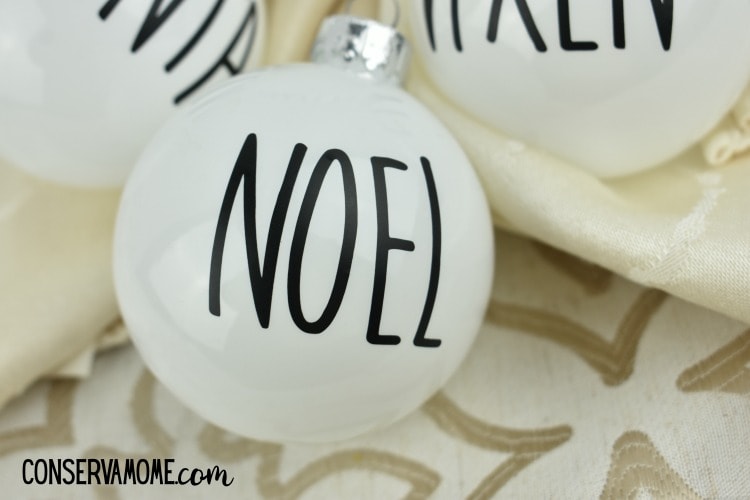 Now you can go online and grab them here at a hefty price of 4 x 30.
[amazon_link asins='B07K8TQKVP,B07K8VW9J9,B07K8TL6LC' template='ProductCarousel' store='eliagarrison-20′ marketplace='US' link_id='6952b5eb-f5cf-4ef0-8bb0-c88337f06f3c']
Or you can make 12 for the same price. Read on to find out how easy it is to make these gorgeous Christmas Tree ornaments.
What you'll need:
Farmhouse Christmas Wording (You can find the 12 pack here of various wording)
White Christmas Tree Ornaments
Scissors
What's nice about this vinyl wording is that you can get it in various colors and it comes in different sets:
Each one includes 12 words. You can choose from:
Mistletoe Holly Group: Mistletoe, Holly, Cheer, Bright, Merry, Santa, Cookies, Sleigh, Jolly, Love, Wish, Peace
Believe Blessed Group: Believe, Blessed, Joy, Hope, Noel, Peace, Faith, Rejoice, Grace, Lord, Star, Manger
Jingle Ho Ho Ho Group: Jingle, Ho Ho Ho, Tinsel, Fa La La, Nice, Naughty, Cookies, Bah Hum Bug, Toys, Jolly, Frosty, Wish
Reindeer Rudolph Group: Reindeer, Rudolph, Dasher, Dancer, Prancer, Vixen, Comet, Cupid, Donner, Blitzen, Santa, Mrs Clause
Christmas Angel Group: Christmas, Angel, Mary, Joseph, Jesus, Bethlehem, Blessed, Heaven, Holy Spirit, Kings, Savior, Lord
It will come in a sheet like you see here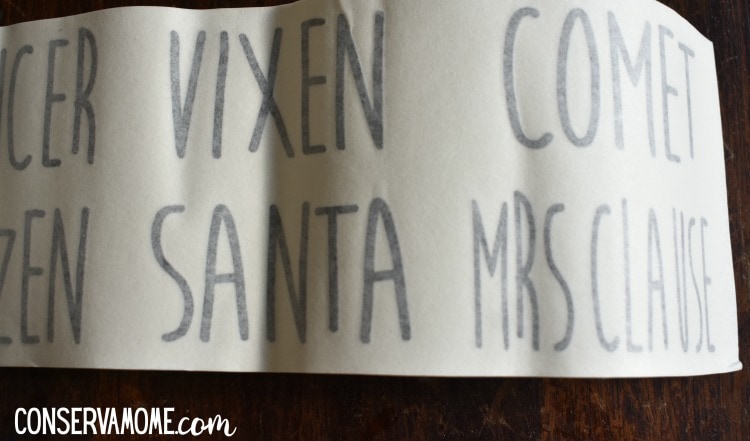 Then just cut them out and stick them on.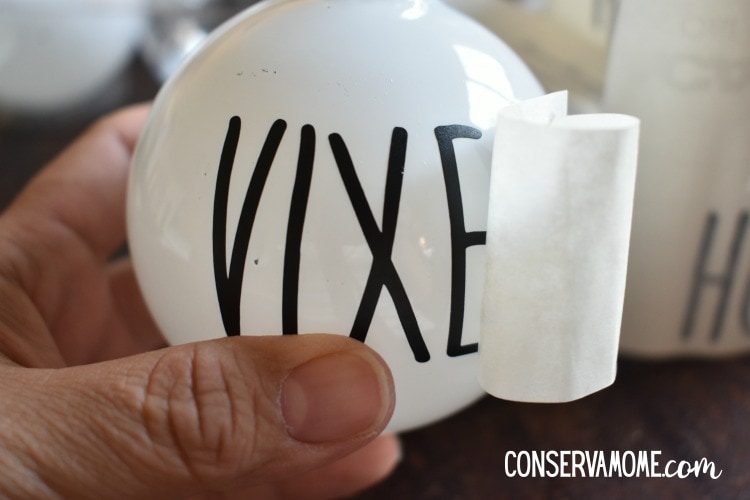 Just remove the backing and you're ready to go.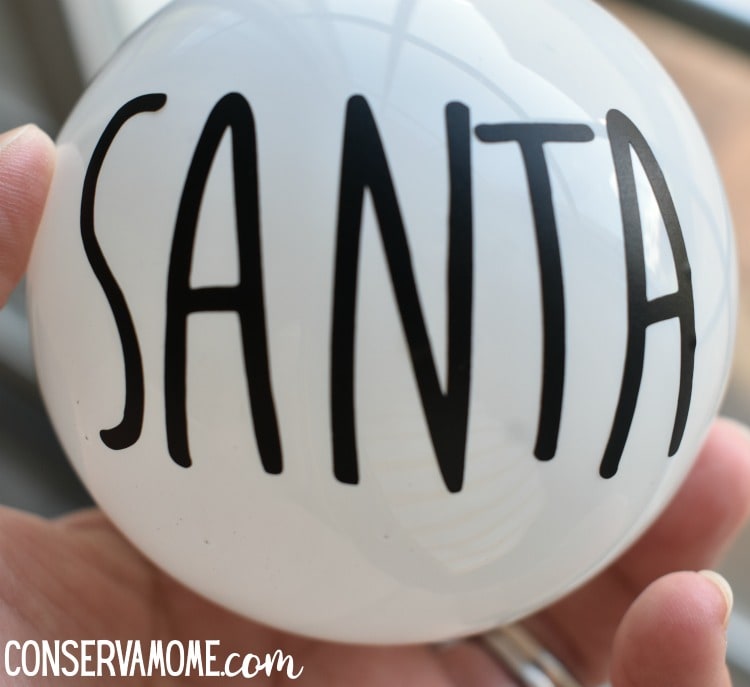 This is such a fun craft because of how gorgeous they come. The vinyl writing is very versatile and you can make a variety of crafts.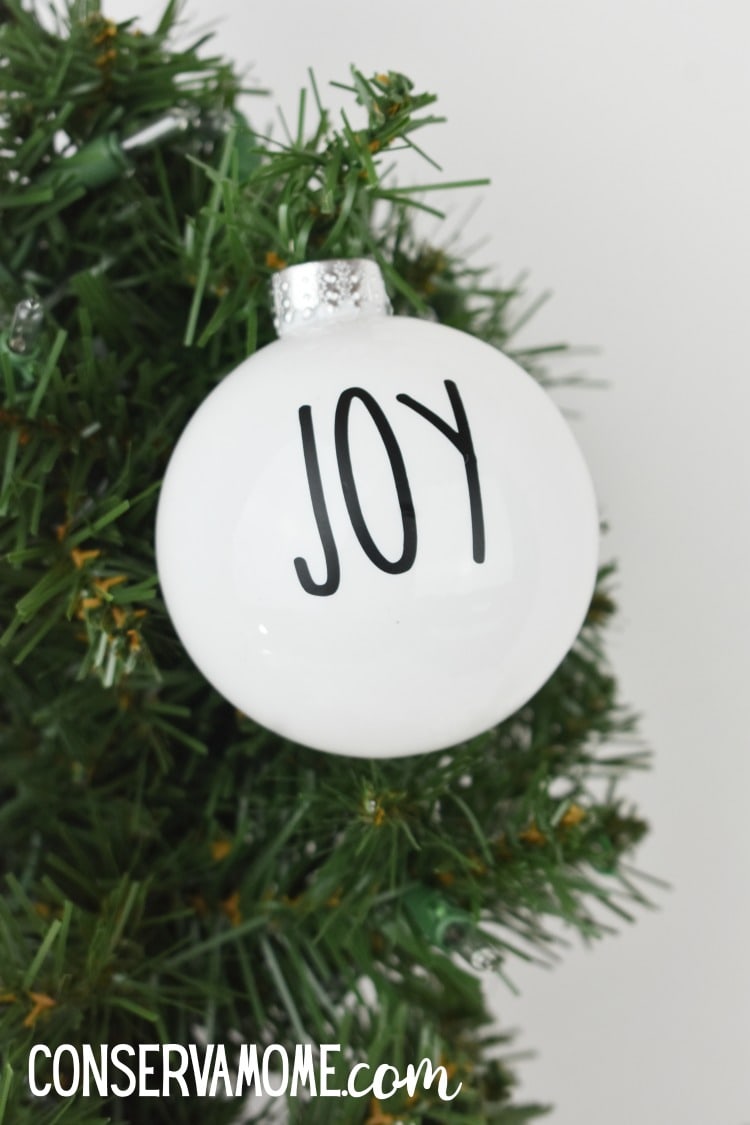 Aren't these simply adorable?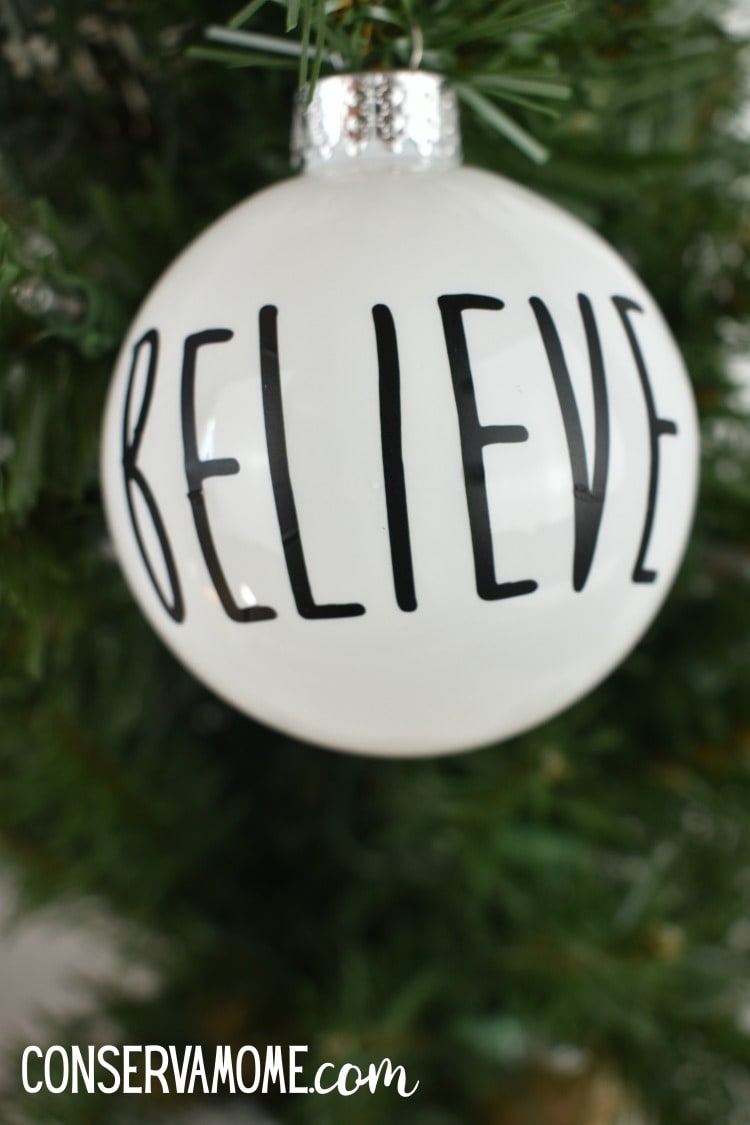 And very easy to make.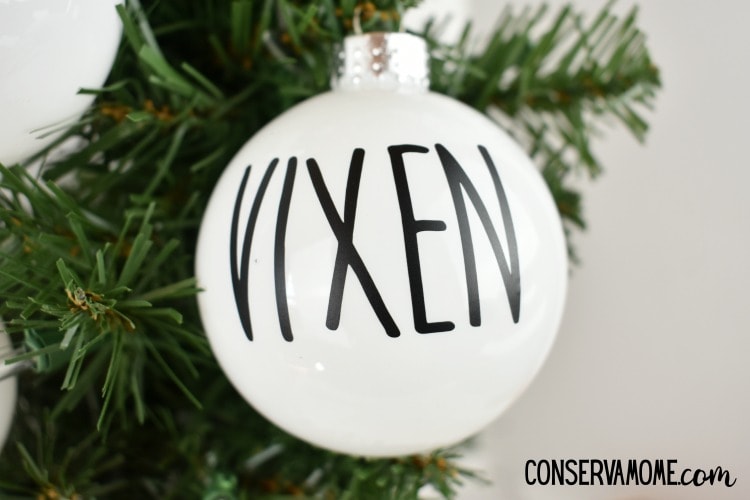 DIY Rae Dunn Inspired gift idea
As you can see these are crazy easy to make and a lot less money than their pricey cousins. Make this fun activity part of a Christmas Crafting party, or put a ribbon on the top and make this part of a Christmas gift.
Ready to make your own? Just grab these fun letters and ornaments and make sure and create these magical Christmas Decorations!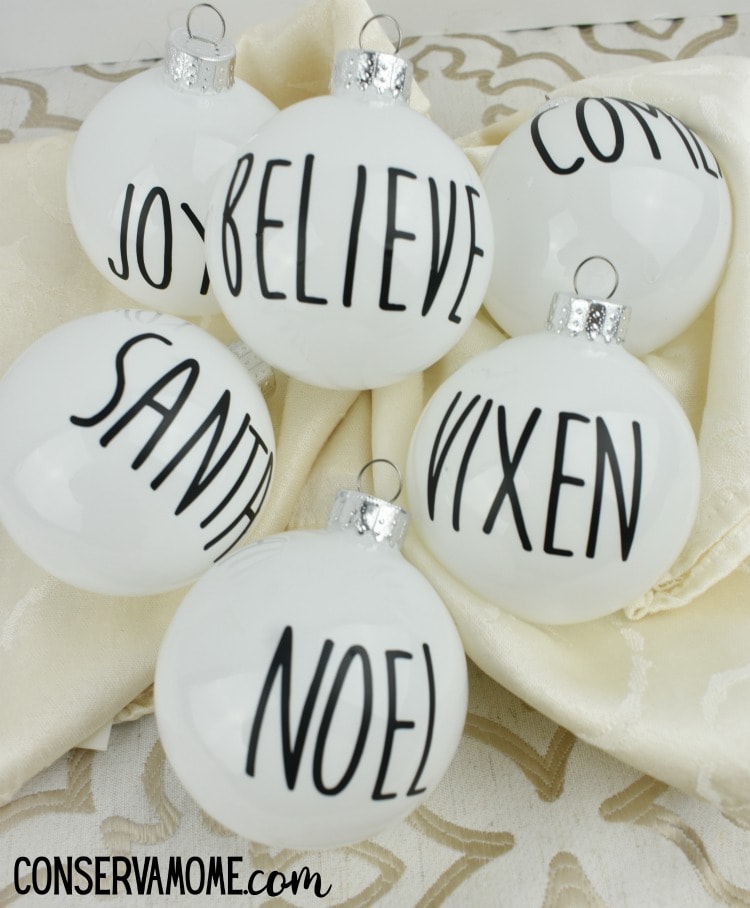 Do you like this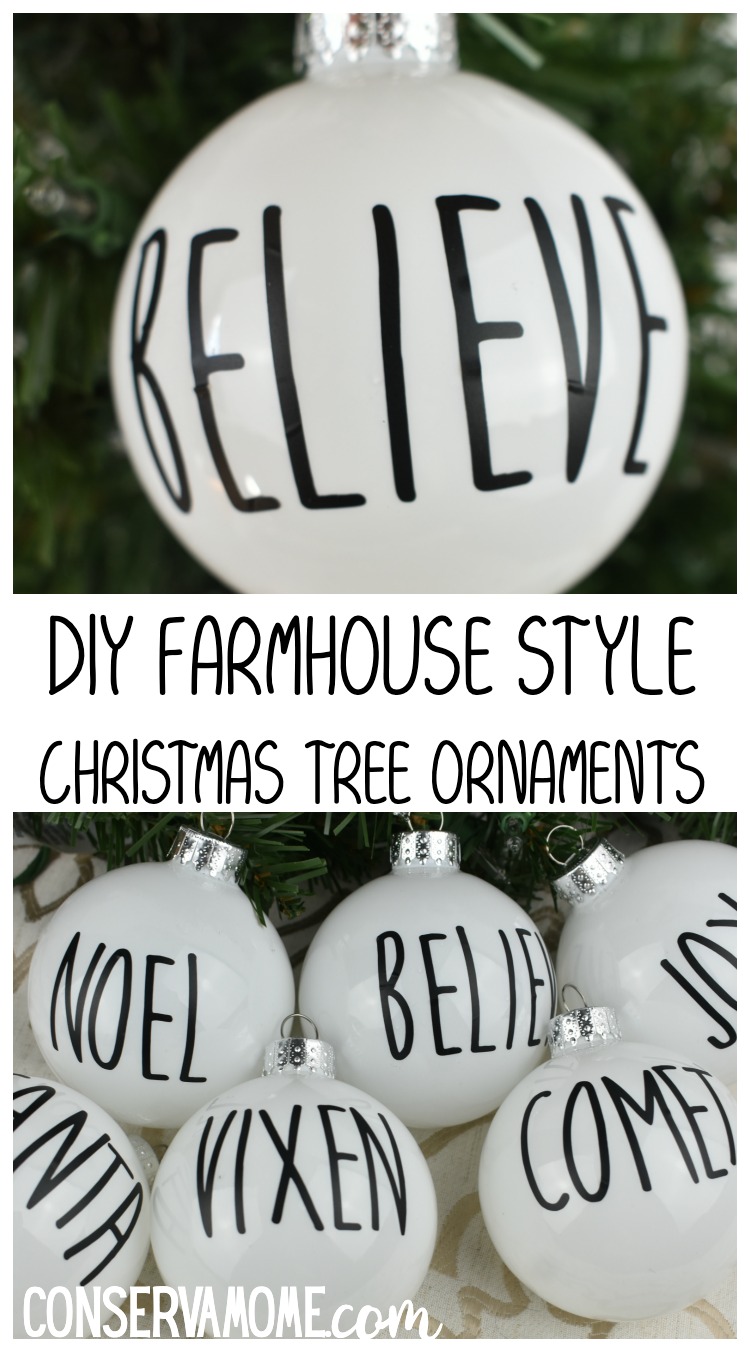 Looking for more fun Christmas Ideas? Check out these Stylish Christmas Decoration ideas here.