If you could wish for one thing what would it be? A bigger house? A  new Car? More money? Health? Wealth?
We all have so many wishes, but what happens when you get your wish? Does it end up being what you really needed or wanted?  In Disney's Into The Woods we get to experience what it's like when 3 Characters have wishes they want so dearly, yet when they have those wishes come true..is it really what they wanted? Cinderella wishes to attend the King's festival; Jack, a simple young man, wishes that his cow, Milky White, would give milk; and The Baker and his Wife wish they could have a child. Into The Woods follows these 3 central Characters along with some other great ones combining for an epic story that joins some of our most beloved fairy tales, some that end up being quite different than what we thought they were.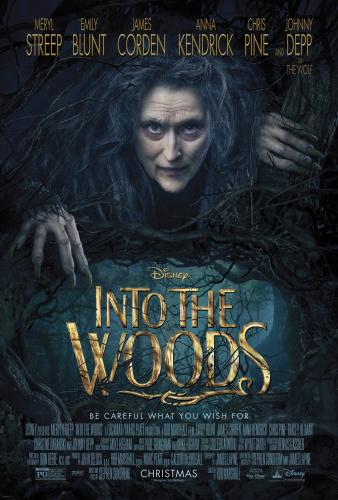 Last week I had the privilege of attending a special screening of this Amazing remake at the Samuel Goldwyn Theater, The Academy theater, in Los Angeles. This special screening not only allowed us to see the movie but ended with a special Q & A with the Director, Costume Designer,Writer and the Main Actors of the film. This was truly the Rolls Royce of Screenings.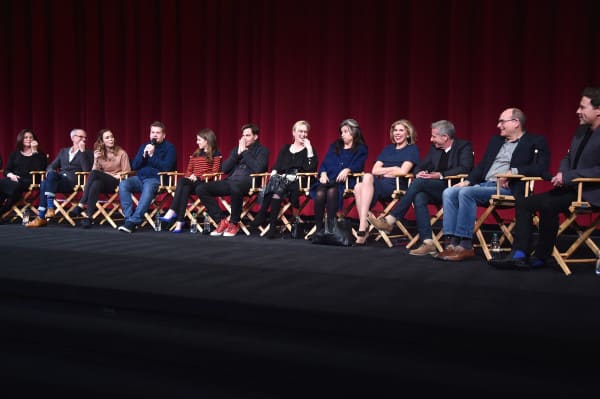 Disney's Into the woods is the remake of the Classic Hit Broadway show that was made famous in the late 1980's . I remember as a child watching this play, soaking it in and loving every aspect of it. This play which was made famous not only by the fantastic soundtrack and incredible story line, but by the characters whom you can't help but love.The remake is nothing short of incredible.  It has a cast that leaves you absolutely breathless just by naming it. Staring Meryl Streep, Emily Blunt, Tracey Ullman, Christine Baranski, Anna Kendrick, James Corden,  and Chris Pine to name a few and even has a cameo by none other than Johnny Depp!
This humorous and heartfelt musical follows the classic tales of Cinderella (Anna Kendrick), Little Red Riding Hood (Lilla Crawford), Jack and the Beanstalk (Daniel Huttlestone), and Rapunzel (MacKenzie Mauzy), all tied together by an original story involving a Baker and his Wife (James Corden and Emily Blunt), who wish to begin a family and their interaction with the Witch (Meryl Streep), who has put a curse on them.  This all leads to a storyline that is so complex, yet flows so smoothly together you will leave feeling so satisfied and enamored by each and every character.
Now for the talent! When remaking a beloved story such as "Into the Woods", one has to be so careful in not taking away from the original masterpiece that was brought together to make a hit. This is when Director Rob Marshall's talent came to show. He was able to combine an incredible force of talent, some obvious and  some that surprised everyone with their amazing acting and singing skills.
To pick your favorite characters in the Movie is to pick your favorite child, But If I had to say the ones I felt most heart for were definitely the Baker & His wife played by James Corden & Emily Blunt. Their characters were not only characters you felt a sense of compassion and love for because of their situation but you felt their desperation and need to do anything to get that child they truly wanted.  You could feel that sense of emotion that was so raw in their roles yet they managed to mix it in with a comedic sweet side that didn't send you into the depths of despair.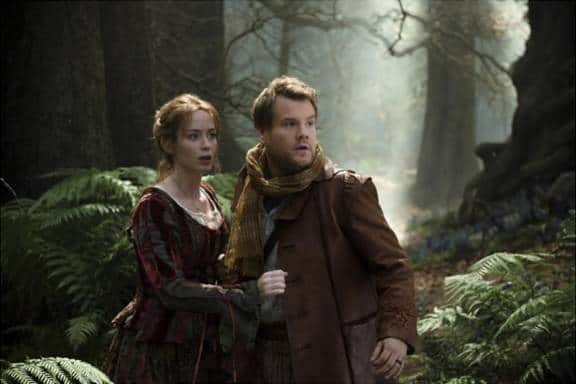 I can't say enough about the vocals on Anna Kendrick who plays an modern day Cinderella. One that doesn't necessarily follow the status quo set by her predecessors. This role plays into  a strong character who although can't make up her mind when it comes to the prince,is able to make a concise one that show her inner strength. I have to admit that Anna Kendrick was not my obvious choice for this role, I had only seen her in a few movies that didn't really capture the extent of her talent. However, she was able to give an unconventional  beauty to Cinderella not only through her body language but through the passion and sentiment in her voice that made you realize Anna Kendrick was born to play this role.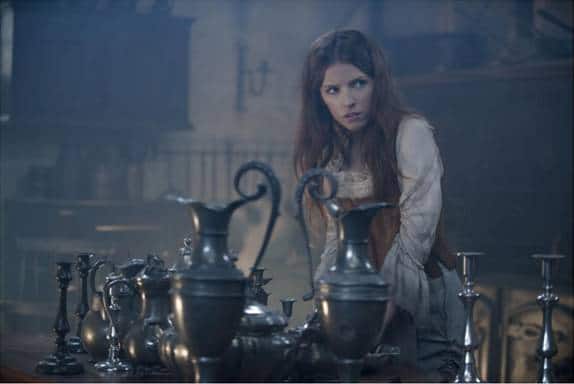 A big surprise for me were the two child actors in this film Lilla Crawford who plays Red Ridding hood and  Daniel Huttlestone who plays Jack (from Jack and the Bean Stalk). A review of this movie couldn't be done without mentioning the powerful vocals on these two and the amazing presences on screen they had. I was truly BLOWN AWAY!  These two added so much to this movie with their presence let alone vocals you were left wanting so much more from them. I can't wait to see what these two have in store for the future because honestly if they showed at least one ounce of the talent they displayed in this movie in future roles I can only imagine he sky is the limit for these two!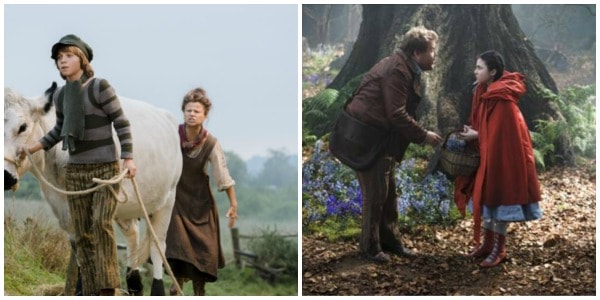 I can't complete this review without  giving an amazing round of applause to Meryl Streep. There is a reason she is a legend and she proved it again in this role. How can a woman as gorgeous as her play a witch you truly hate but then end up sympathizing with so deeply!  She is able to capture so much complexity in this role, not just that of a Witch. She is able to take this role so far and transform so seamlessly that you realize there's a masterpiece being made on screen before your very eyes.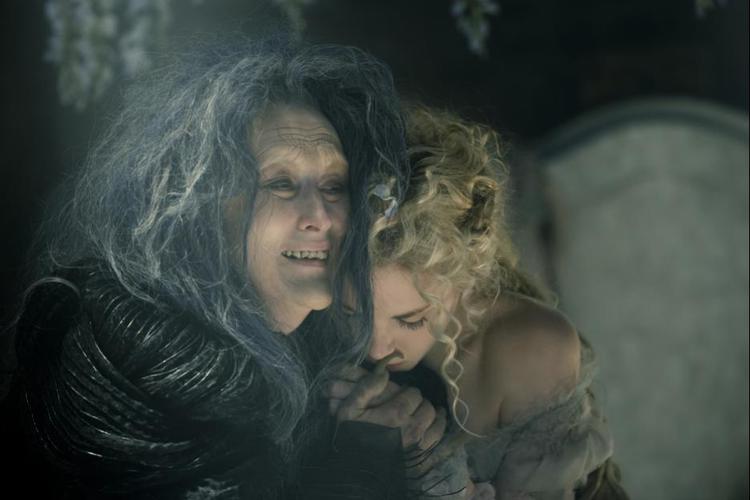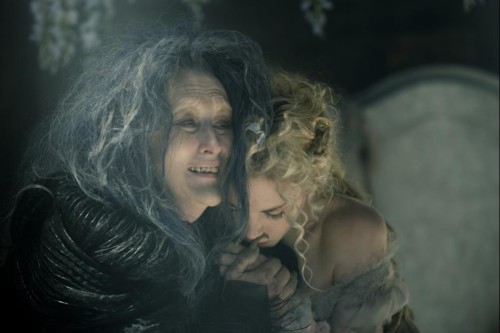 This movie is a Cinematographic Masterpiece for the senses. There isn't one scene that couldn't be captured and framed as art. The lighting, the costumes, the charachters are so much and more! For an adult this movie plays to the senses through an amazing story line that can only be recreated with the amazing choice in cast. For children this will awaken an imagination that only children know how to take to the furthest limits of the brain's scope.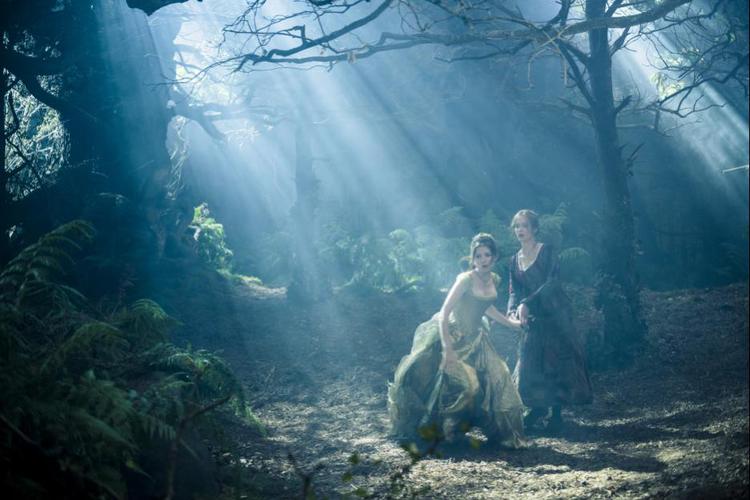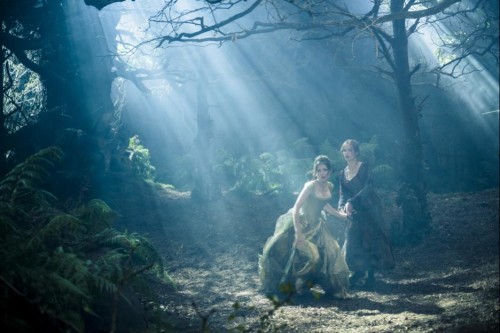 Filled with Characters you will  love or love to hate "Into the Woods" will take you so deeply Into the Story you will be left in awe when the credits role.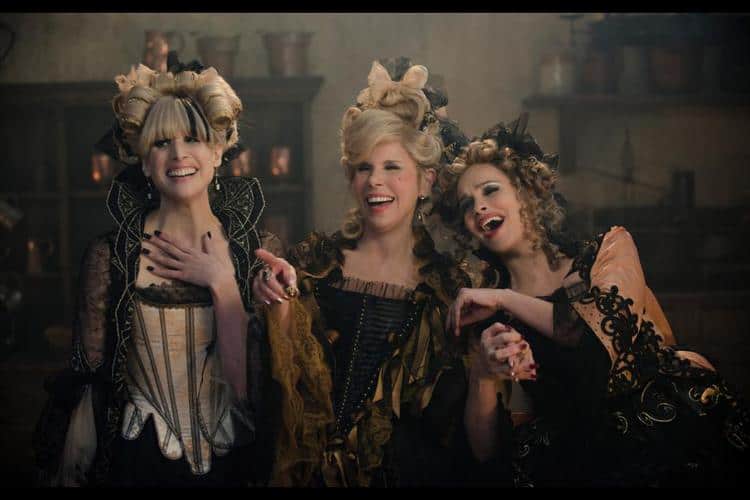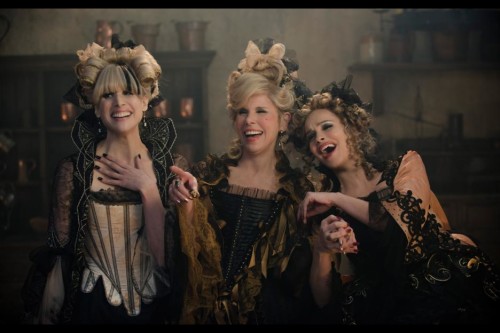 The lessons to be found in this film are as extensive as the talent that portrays them. Each character does an amazing job at capturing their role so perfectly. There is so much to be learned by any who see this movie. Life lessons are abundant in this film, from fighting the Giants in our lives, to being careful what you wish for. Rob Marshall, Steven Sodenheim and James Lapine are truly a force to be reckoned with. This trio of talent is something you only imagine in books and seeing the power of their creativity come together on the big screen is something so magical and amazing it will be talked about for years to come.
So I leave you with the trailer of this Movie, A trailer I don't tire of watching and reminisign of the beautiful magic of Into the Woods!
Don't forget to Like INTO THE WOODS on Facebook: https://www.facebook.com/DisneyIntoTheWoods
 Follow INTO THE WOODS on Twitter: https://twitter.com/intothewoods
 INTO THE WOODS is rated PG and opens in theaters everywhere on December 25th!
Disclosure: This post is part of my press trip to LA, CA with expenses provided by Disney. All Opinions are 100% mine.